Have you been relying on the news or, worse yet, the rumor mill to get your Sturgis Rally information? If so, there's a good chance you've been operating on old info or "alternative facts." When it comes to something as important as a trip to Sturgis, it's best to get your intel straight from the source. And what better source than the rally's largest promoter, Rod "Woody" Woodruff, founder and CEO of the Sturgis Buffalo Chip®?!
Woody will be dropping regular video messages throughout the year with the most recent developments at the Chip, and we'll compile them all here. Here's the latest:
6/10/2022 Update:
As the 2022 Sturgis Rally nears closer and closer, plans are flying fast. Woody is here to let you in on some very important developments that will help you get your rally started with a bang!
5/16/2022 Update:
After many contests and submissions, the 2022 Buffalo Chip Poster Model has finally been announced! Woody wants you to come out and meet our 2022 winner at the Best Party Anywhere®! /span>
4/27/2022 Update:
Big news at the Buffalo Chip! Woody is here to tell you about four rock-n-roll bands that have been added to an already stacked lineup!
4/14/2022 Update:
Woody is back again with some very exciting news about the Buffalo Chip's current charity events! Make sure you stick around, there's a golden opportunity you won't want to miss!
4/1/2022 Update:
It may be April fool's day, but the Chip would never fool you! Woody is here to let you know about a brand-new band coming to the Chip this August. Make sure to keep a lookout for some "King of Sturgis" updates!
3/17/2022 Update:
It's St. Patrick's Day, and Woody is here to tell you how you can get lucky with a sweet giveaway that you won't want to miss! Plus, a brand-new band announcement!
3/3/2022 Update:
March is a busy month at the Chip! Woody is back with exciting news about some upcoming events, including a special surprise at Legends Ride 2022!
2/14/2022 Update:
It's Valentine's Day, and Woody is back to bring you some pretty sweet news about upcoming concerts at the Buffalo Chip!
2/1/2022 Update:
Woody looks ahead to share new concerts coming to the Chip. He also wants to remind you about a very important upcoming contest!
1/5/2022 Update:
There's a lot to look forward to in January when it comes to the Sturgis Buffalo Chip. Woody and crew will be heading to three big events this month to spread the good Chip word, and he hopes to see some of you there!
12/22/2021 Update:
The days are going to be getting longer and warmer, and Woody is looking ahead to August when two recently announced country acts will take the stage at the Buffalo Chip.
12/8/2021 Update:
Woody looks ahead to the Buffalo Chip's signature rides in 2022 and shares some VIP perks you can get by being one of the first to reserve.
11/24/2021 Update:
As the Thanksgiving holiday approaches, Woody shares his gratitude for all those who have helped make the Buffalo Chip what it is today, especially those who stuck with the Chip during the uncertainty of the last two years.
11/11/2021 Update:
Thanks to contributions from riders like you, the Buffalo Chip was able to raise record funds for charity in 2021. Woody signs on to extend his thanks for your generosity and invite you to participate in the Buffalo Chip's charitable events in 2022.
10/27/2021 Update:
The Black Hills & Badlands Tourism Association honored Woody with the prestigious Pioneer Award and the Buffalo Chip with the Special Achievement Award just moments before he steps on camera to remind you there's still time to register to win the Sgt. Will Gardner replica bike.
10/14/2021 Update:
Woody shares his excitement around the Buffalo Chip's recent Snoop Dogg announcement. In addition, he drops the details on two amazing giveaways benefitting Buffalo Chip Charities.
09/20/2021 Update:
With the 40th anniversary a month behind him, Woody shares his thanks to those who joined the party in 2021. He also leaks some insider information on a guest who might be joining the festivities in 2022 and announces the on-sale date for passes.
06/21/2021 Update:
Woody extends a personal invite to some upcoming Buffalo Chip events including the Black Hills Rendezvous, Poster Model Finals, Revzilla Adventure Fest and the Flag Raising Party.
06/09/2021 Update:
Get the details on the all-new Buffalo Chip Garage and find out how you can get a free battery, a free front tire and the most affordable oil change in Sturgis.
05/25/2021 Update:
Learn more about the World Record Poker Run that ends at the Buffalo Chip's free-access CrossRoads, as well as the Chip's lineup of custom bike shows!
05/12/2021 Update:
Three brand new bands and two races have been added to the docket for 2021, and Woody wants to make sure you get your passes before presale prices end.
04/28/2021 Update:
Details are coming together on the next band announcement, and Woody shares his excitement for the 2021 band lineup.
04/12/2021 Update:
As the Buffalo Chip heads toward its 40th Anniversary Party, Woody puts to rest concerns about area fires, including one on property at the Chip.
03/31/2021 Update:
It won't cost you a nickel to get in and enjoy the activities at the Buffalo Chip's free-access CrossRoads. Preview some of the goings-on in this area for 2021.
03/17/2021 Update:
Get the low-down on the Dry RV sites that are still available for the Chip's 40th Anniversary Party.
03/04/2021 Update:
Find out where you can meet up with Buffalo Chip folks during Daytona Bike Week and hear about the next Buffalo Chip band announcement.
02/17/2021 Update:
Set the record straight about the rumors that the Chip is sold out for 2021 (Spoiler alert…it isn't.) and learn about the new high-performance Indian garage called Lloyd'z Garage being built at the free-access CrossRoads.
10/23/2021 Update:
Thanks to the generosity of bikers like you, the Buffalo Chip is able to share news of reaching a huge fundraising milestone for local charity. See Woody express his appreciation for everyone who joined the party in 2020 and share his thoughts on how the party went.
Want to be sure you're staying up to date with all the latest Sturgis Buffalo Chip and Sturgis Rally Information? Be sure to sign up for the Sturgis Rider Newsletter, and you'll get these updates and more sent right to your inbox.
What questions do you have for Woody? Write them in the comments below and you might get a shout out in a future video!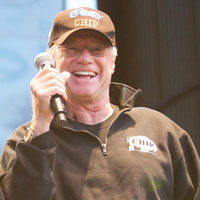 Presented by the Sturgis Buffalo Chip
Known as The Best Party Anywhere®, the Sturgis Buffalo Chip believes festivals should be fun like a burn out, reenergize you like a broken rule, and romance you like someone you just met and have to take home.
This nine-day festival of concerts and motorcycle events promises to bring you exciting events like flat track races and live performances from artists like Aerosmith, Willie Nelson, Five Finger Death Punch, Kid Rock, Rob Zombie and many more.
Find out more or get passes to the Best Party Anywhere at BuffaloChip.com and find out why it continues to be one of the most televised festivals in the world.