Blending in—it's a practice lots of us suffer through in our day-to-day lives. But during the annual motorcycle and music festival many equate with "Adult Disneyland," it's a practice most folks stray from.
That is, unless you're a great photographer.
Truly capturing all the beautiful insanity that unfolds during two magical weeks at the Sturgis Buffalo Chip requires full assimilation. You've gotta embrace your surroundings, make friends with your subjects and get right in the middle of their mischief.
To give you an insider's look at what makes the Buffalo Chip so special, photographer Aaron Packard did just that.
Join him on his adventure through motorcycles, music, freedom and friendship, and you'll see why this place really is the Best Party Anywhere®.
Which moments are your favorites? Tell us in the comments below.
Do you have great photos from your own adventures at the Sturgis Buffalo Chip? Enter them into the Chip Shots Photo Contest for the chance to earn yourself a free pass to the party in 2019!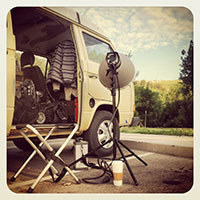 About Aaron C. Packard Productions
Over the years my photography has taken numerous turns but my subject has remained people and the human condition. Studio based portraits photographed on Large format film, reportage style documentary projects, nude studies, and clean commercial lifestyle imagery. This combines in an amalgamation of new media and classic processes, of image making, and artistic presentation; a search for balance in contemporary technology based image creation and the traditional craft of photography. Think of me as a problem solver; a custom style developer.