Riding in the rain takes an activity meant to be relaxing and turns it into anything but. Reduced visibility, poor traction, possibility of hydroplaning, and, for those without good rain gear, the stinging pain felt with each falling drop makes it a pretty miserable experience. Not to mention, it can be extremely dangerous. So what should you do when an unexpected turn in weather leaves you with no other option but to ride in the rain? Check out this article from Jacob Moore of SoloMoto to find out!
This infographic contains several safety tips that any rider can implement when riding in the rain. Check it out, then read on to find out what exactly you need to do in order to stay as safe as possible.

Take it easy and slow down.
It's better to be late than dead on time. Avoid high speeds; you have nothing to prove.
Be particularly cautious before corner entry. If you go slowly, you will have maximum control and efficiency, with minimal risk of an accident.

Check road surface before accelerating.
When you are ready to accelerate, pay attention to the surface your bike is currently on, as well as the surface in front of you. Do not accelerate on a slippery surface.
Apply brakes carefully.
Braking on a slippery surface can cause you to lose control and fall or slide. Always apply your brakes gingerly, to be as safe as possible.
Keep your feet warm and dry for better concentration.
Since boots are very important when you use your gearbox and rear brake, they can mean the world when you're riding in a rainstorm. Cold, wet feet can distract you.
Stay dry and alert with waterproof outerwear.
If you're soaking wet and freezing, your mental faculties will be diminished, and you'll find it even harder to focus on the road. Taking into account that the road is already wet and difficult to ride on, having inappropriate gear can have horrible results. A rain suit (or other weatherproof gear) will allow you to remain comfortable when riding.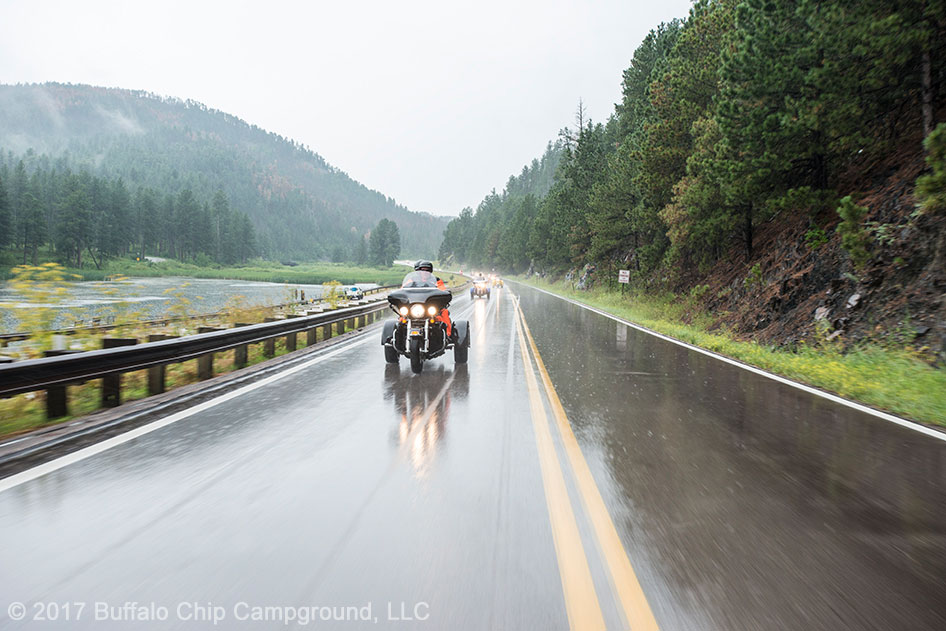 Improve reaction time with waterproof gloves.
In addition to causing hazardous distraction, freezing fingers slow your reaction time. Waterproof gloves are an easy fix that will keep your hands warm and dry.
Treat your helmet with anti-fog chemicals.
Rain and fog can impair your vision, so take good care of your visor. Be always sure your helmet is treated with anti-fog chemicals and that it's clean (and not damaged) before you ride.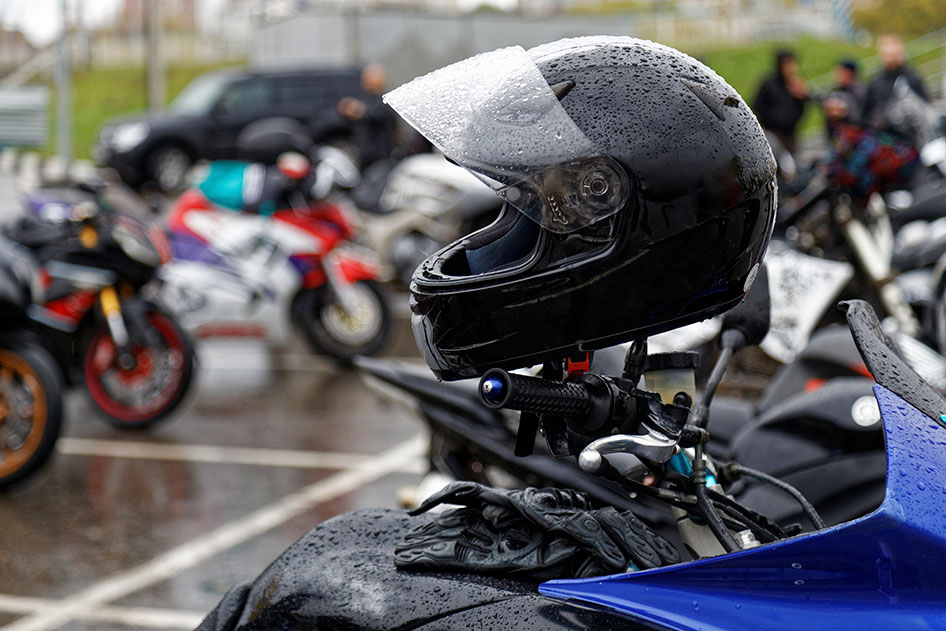 Be sure your tires are good and properly inflated.
You need as much traction as you can get!
Watch for slippery features in the road.
By their nature, certain portions of the road may be much more slippery than others. Be mindful of painted lines, manhole covers and steel plates.
Rain puddles are also problematic since these can cause issues as well. Besides getting you wet, they can splash water into your bike, causing mechanical issues down the road.
*******
To review, watch out for slippery surfaces, watch how you accelerate, check your tires, brake gently, slow down, and take good care of your gear. Here's hoping it doesn't rain on your parade too often!
What tips and tricks have you learned to help you ride in the rain? Share some of your own experiences in the comments below!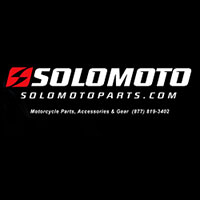 About Solo Moto Parts
SoloMotoParts.com launched in late 2004 as an online retailer of aftermarket motorcycle parts and accessories. They specialize in sport, street and dual sport/ADV segments and are known throughout the industry for their excellent customer care and competitive prices.