After a non-stop nine-day whirlwind of powerful performances, crazy contests and shocking stunts, the 32nd annual Motorcycle and Music Festival at the Sturgis Buffalo Chip® has come to a close. The 2013 Sturgis music festival packed in more events and more patrons than any of its festivals prior.
Events at the Sturgis campground officially began with the second annual Friday Fest kickoff on Aug. 2. The unparalleled Sturgis Rally pre-party delivered 12 hours of music on the main stage from six of the Chip's showcase performers, all leading up to the evening's pinnacle performance by heavy metal rockers, Queensrÿche.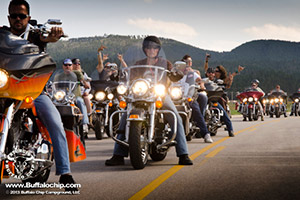 Monday, Aug. 6 marked the sixth annual Legends Ride®, which brought together a record number of celebrities, motorcycle industry leaders and riders, all in the name of charity. The guided ride through the scenic Black Hills, which started at the Silverado Franklin in Deadwood and ended at the Sturgis Buffalo Chip®, included such celebrities as Dee Snyder of Twister Sister, Pat Simmons of the Doobie Brothers, Jim "Hacksaw" Duggan, Robbie Knievel and Paul Teutul Sr. of Orange County Choppers. The Ride that Rocks™ treated participants to a catered reception with a riders-only auction featuring a custom motorcycle that brought $55,000. The event raised a total of $81,490, which the Buffalo Chip presented to Black Hills Special Olympics and the Sturgis Motorcycle Museum and Hall of Fame.
Monday's events also included an electrifying main stage performance by Kid Rock. The concert was filmed in its entirety for CMT's "Kid Rock: Live from Buffalo Chip" special, which aired Thursday, Aug. 22 and continued to rebroadcast in the days that followed….
The Buffalo Chip celebrated with women of motorcycle fame during the Biker Belles celebration on Tuesday, Aug. 6. The celebration began with an inspiring symposium of leading industry women, then lead participants on a guided ride from the Lodge at Deadwood to the Buffalo Chip. Participants of this ride were also treated to a catered reception and riders-only auction that raised funds for Helping with Horsepower and the Sturgis Motorcycle Museum and Hall of Fame. Moto-celebrity, Jessi Combs, added her personal customizations to a Harley Davidson donated by Bruce Rossmeyer's Daytona Harley-Davidson in support of the event. The bike, which was purchased by Pat Simmons of the Doobie Brothers as a present to his wife, raised $22,000. All together Biker Belles raised $36,520.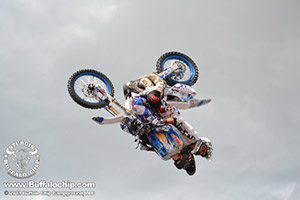 The first ever Daredevil Wednesday showcased some of the world's most courageous stuntmen at the CrossRoads at the Buffalo Chip®. Excited Sturgis Rally crowds waited anxiously to witness death-defying motorcycle stunts including Tim Dyson's passenger backflip stunt, Juli Moody's Human Link stunt, unimotorcycle drag races and Clint Ewing's attempt to travel down a 360-foot tunnel of fire.
The Buffalo Chip spent Thursday, Aug. 8 honoring our nation's military men and women in the annual Freedom Celebration. The day's events included a powerful performance of the Star Spangled Banner by patriotic rockers,
Madison Rising, a parade appearance by the Budweiser Clydesdales and a moving ceremony honoring two fallen Benghazi soldiers.
Viewers at home were able to relive many highlights from this year's party at the Sturgis Buffalo Chip® as CMT aired its first ever Bike Week, Aug. 18-24..
The Buffalo Chip has already begun its plans for the 2014 Sturgis music festival and you can begin your plans too. Reserve your passes today while prices are at their lowest, and we'll see your smiling faces next August!