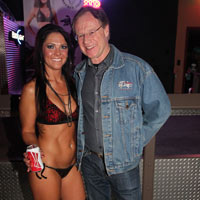 Meet Christine Ruby, the new 2013 Sturgis Buffalo Chip Poster Model, the face of the Best Party Anywhere™ and all its happenings.
Ruby, a secretary and bookkeeper in Gillette, WY, is no Chip virgin, which is why she said she would love to be the poster model, one of the top Sturgis women. Her love for the Sturgis rally and her love for the people and the atmosphere make her the perfect person to be the face of the Buffalo Chip for 2013. Ruby has been coming to the rally for years now, and has enjoyed coming to the Sturgis rally each year.Ruby said her favorite part of coming out to the Chip is being able to enjoy the great music, awesome bartenders, cold beer and hot Sturgis women!
"I've had so many fun and great experiences with my friends at the Chip, and been to so many great concerts at the Chip that it's hard to just choose a single trip," she said, recalling her favorite trip to the Chip when she and her friends stayed up the entire night having a good time. "It would be nearly impossible to tell you all the crazy things we saw and all the events that took place that night!"
Ruby admits to having a daredevil and thrill seeker side to her and enjoys going out skydiving and riding whenever she gets a chance to. In her spare time, Ruby also enjoys spending time with her son and doing things that he enjoys doing, including riding bikes, hiking, skateboarding, motocross, swimming, drawing, crafts, playing video games and wrestling.
"I am super excited to rep the Chip this year as their poster model and just as excited to meet new people, make new friends, make memories and have a great time partying at the Chip," Ruby said. "I can say with 100 percent confidence that I believe this year's rally experience is going to top any other rally experience that I've had. It's going to be on a whole new level!