When you're at the Largest Music Festival in Motorcycling®, certain things are a given.
Rad bikes? Check.
Killer concerts? Mmmhmm.
Biker babes strutting their stuff across the stage every night in leather and bikinis? Well, that's changed a little.
Whoa there…now before you go getting all worked up, let's get something straight. The Miss Buffalo Chip Pageant is not going anywhere. Just because it has been getting motors runnin' since the early days doesn't mean it's gotta stay the same forever.
This year the Best Party Anywhere introduced a bunch of fun new themes to mix things up from the standard biker and bikini rounds because as they say, "different strokes for different folks."
Check out this video and see the debut of these hot new looks and meet Michelle McDaniels, the woman behind the scenes with the International Bikini Team.
The new-and-improved Miss Buffalo Chip now features a different theme every night ending with the traditional rounds that everyone already loved on the last night of the festival:
Friday – LED
Saturday – Leather & Lace
Sunday – School Girl
Monday – Daisy Dukes
Tuesday – Pirate
Wednesday – Super Hero
Thursday – Patriotic
Friday – Pin Up
Saturday – Biker, Buffalo Chip Wear, Bikini
You can see more looks and more girls by checking out the Hottest Biker Babes of the Buffalo Chip photo gallery below!
Still can't get enough of the Buffalo Chip's biker babes? There are even more photos of the Miss Buffalo Chip girls waiting for you on the Miss Buffalo Chip page and all sorts of other beautiful ladies hanging out in Sturgis Rider News' Eye Candy section.
Have an idea for a new theme for these biker babes? Shoot 'em to us in the comments below.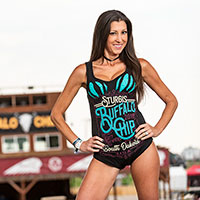 Presented by the Sturgis Buffalo Chip
Known as The Best Party Anywhere®, the Sturgis Buffalo Chip believes festivals should be fun like a high five, reenergize you like a broken rule, and romance you like someone you just met and have to take home.
This nine-day festival of concerts and motorcycle events promises to bring you exciting events like flat track races and live performances from artists like Aerosmith, Willie Nelson, Ozzy Osbourne, Kid Rock, Keith Urban, Rob Zombie and many more.
Find out more or get passes to the Best Party Anywhere at www.buffalochip.com and find out why it continues to be one of the most televised festivals in the world.