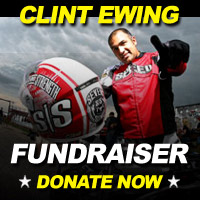 By now, it's likely you've heard of the amazing outcome of Clint Ewing's daring world record attempt in the Tunnel of Fire. Despite his years of careful preparation, Clint's attempt at the mother of all motorcycle stunts was unsuccessful—an outcome that could have easily taken his life. So whether you chalked it up to coincidence, good luck or divine intervention, one thing was certain—seeing Clint Ewing walk away from the same motorcycle stunt that claimed the lives of others before him was nothing short of miraculous.
Although Clint survived his world record attempt on Daredevil Wednesday, he unfortunately did not come out unscathed. The motorcycle stunt rider sustained third degree burns on his hands and back. After being taken to a California burn treatment center, Clint received skin grafts from his legs to aid in the healing process. If all goes as planned, with the help of physical therapy the motorcycle daredevil should enjoy a full recovery by the end of this year.
While things are looking up for Clint Ewing, the cost of such procedures and therapy was not something that the young rider could incur. The Fixing Up Clint Ewing fundraising site was set up by Ewing's friends so that caring citizens could help to defray the cost of his mounting medical bills. Visitors to the site can easily make a donation in any amount as well as leave a personalized message for Clint to encourage him during his recovery.
Stay tuned to the Sturgis Rider® News Blog for updates on Clint's progress as well as other ways you can help this motorcycle stunt rider get back on his bike. Remember, every dollar you donate counts, so donate now!
.