Some things in life you can always count like clockwork. Every day the sun will rise. Every month your bills will come due. And every August bikers will flock to the Black Hills of South Dakota and the Sturgis Buffalo Chip.
During a year when everything became uncertain and so many plans unraveled, riders from around the country intended to stay that course no matter what. The Sturgis Motorcycle Rally couldn't be stopped because there is no official owner of the rally. (Learn more about this controversial reality here.) Short of the National Guard posting up at the state borders, they were coming. They were free to attend. And the Sturgis Buffalo Chip had been preparing to host them.
What awaited them when they arrived was an experience unlike any other in the world.
If you were one of the many who escaped reality and exercised your freedom to party at the Sturgis Buffalo Chip®, you already know that what happened during those nine days was nothing short of magic. Now you can relive all the best moments watching the official 2020 Sturgis Buffalo Chip highlight video.
Did you make a trip to the Chip during the 2020 Sturgis Motorcycle Rally? Tell us about your favorite memories in the comments below.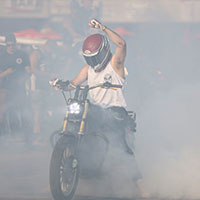 Presented by the Sturgis Buffalo Chip
Known as The Best Party Anywhere®, the Sturgis Buffalo Chip believes festivals should be fun like a burn out, reenergize you like a broken rule, and romance you like someone you just met and have to take home.
This nine-day festival of concerts and motorcycle events promises to bring you exciting events like flat track races and live performances from artists like Aerosmith, Willie Nelson, Five Finger Death Punch, Kid Rock, Rob Zombie and many more.
Find out more or get passes to the Best Party Anywhere at BuffaloChip.com and find out why it continues to be one of the most televised festivals in the world.