Few feelings compare to the one you get when you're free to tilt your head back, scream and thrust your horns upward like you can at an amazing concert. While the feeling itself is unmatched, the feeling you'll get from browsing this collection of Sturgis Buffalo Chip® August music festival photos is not far behind. Check out the best main stage moments from the 2017 Best Party Anywhere® and convert your couch to the best seat in the house.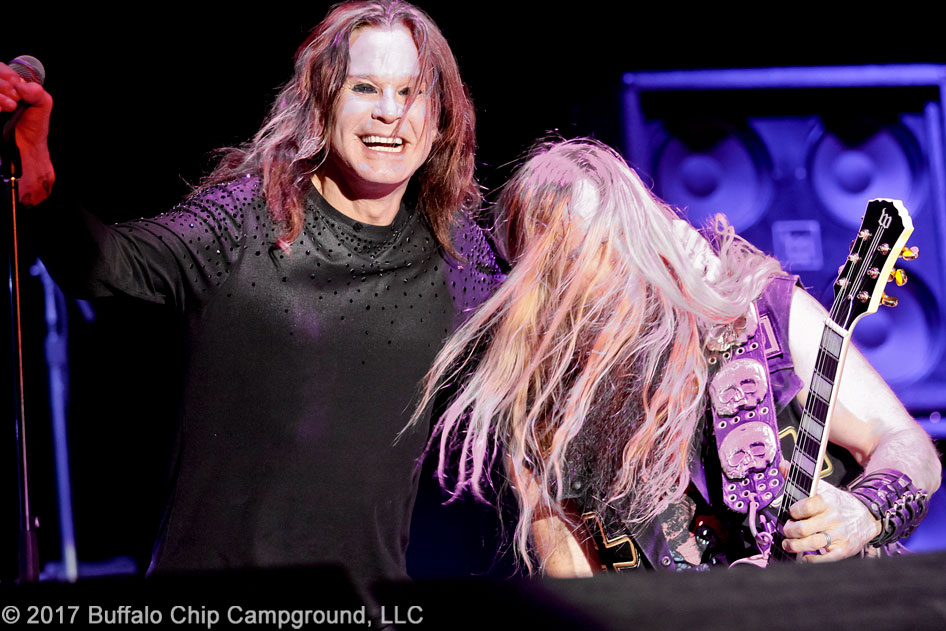 Even the Prince of Darkness couldn't help but grin from ear to ear as fans lost their minds to his and Zakk Wylde's earthquake of a performance. It's easy to imagine Zakk Wylde cracking a smile underneath his sea of Viking hair as well.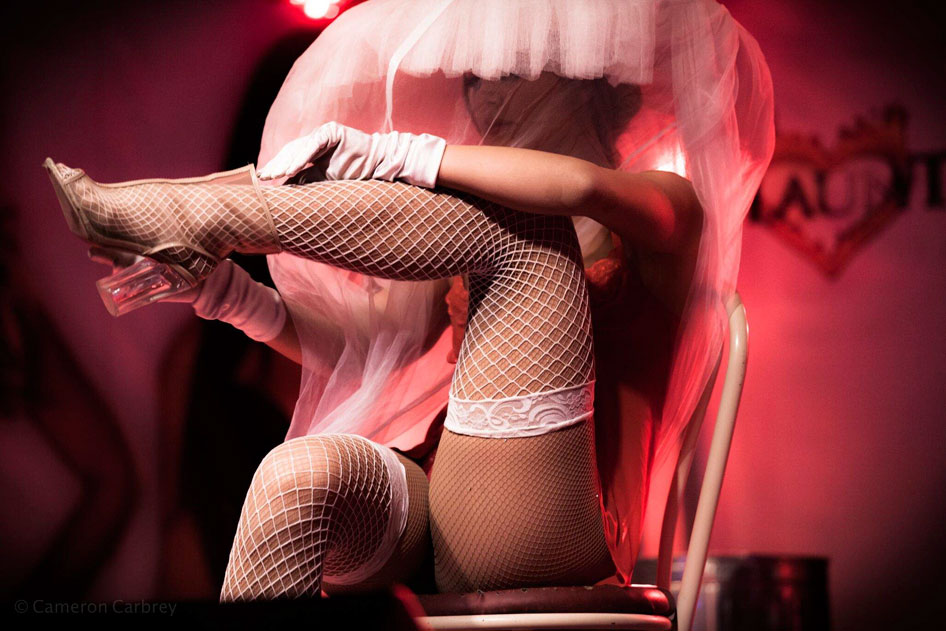 The Flaunt Girls' series of scintillating performances kicked off Friday, Aug. 4 and continued to daze and amaze throughout the 2017 Best Party Anywhere. Transfixed men and women flocked to watch them perform nightly. Image courtesy of Cameron Carbrey.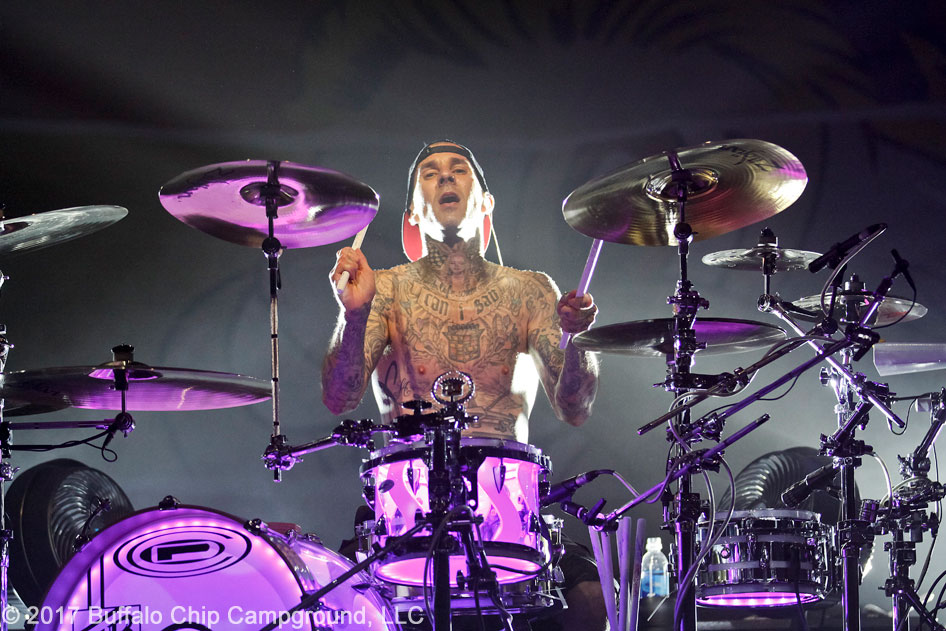 Travis Barker of blink-182 is not easy to photograph when he's drumming like a crack-smoking speed demon. It's a natural side effect of being the driving force behind blink's up-tempo, ridiculously catchy pop-punk masterpieces that had the huge audience going insane.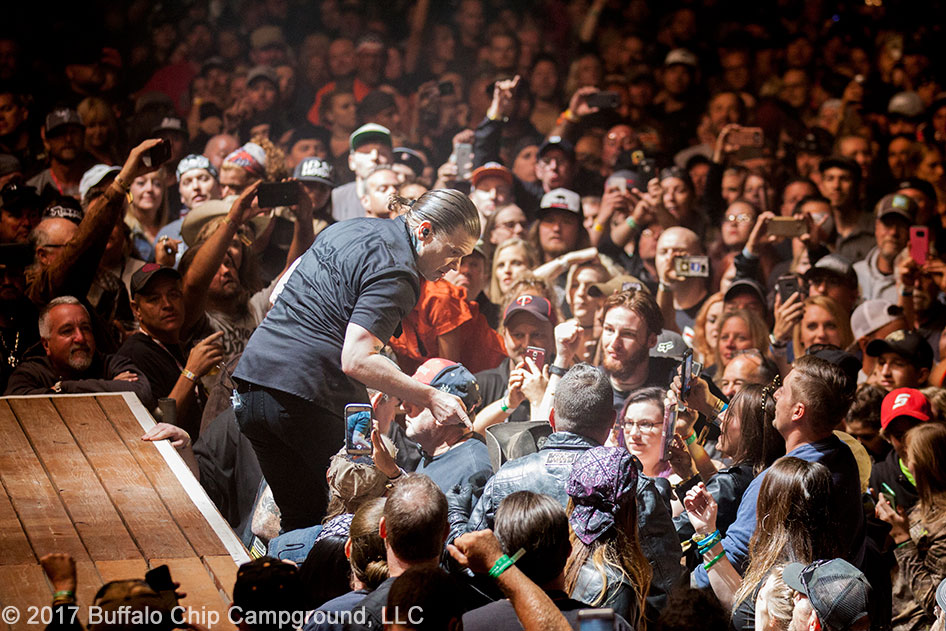 Shinedown's lead vocalist Brent Smith is a master of getting fans involved with their performance. The edge of this platform wasn't close enough for him, so he hopped off the stage to join the audience.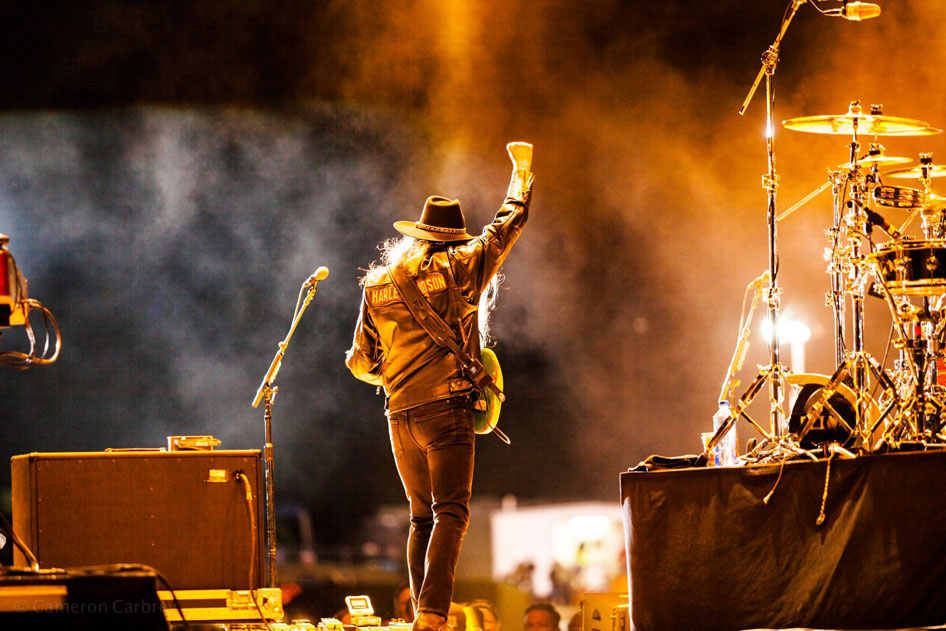 The Doobie Brothers harmonized together with the precision and mastery that only Vocal Group Hall of Fame musicians could. Image courtesy of Cameron Carbrey.
Justin Moore's debut left an indelible mark on the 2017 Best Party Anywhere. His spine-chilling vocal power, moving dedications to the men and women serving our country, and eclectic set of his many hits alongside covers of biker rock classics had the audience eating from the palm of his hand.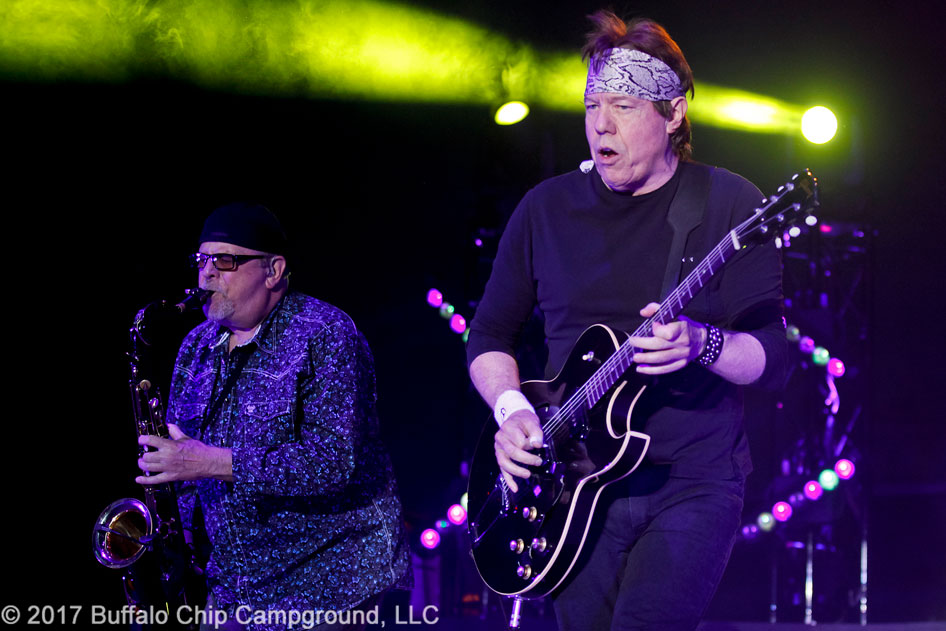 George Thorogood and the Destroyers' performance was b-b-b-b-b-bad. Bad to the bone. These guys sounded so good you could hear the roar of the Best Party Anywhere for miles after they finished each song.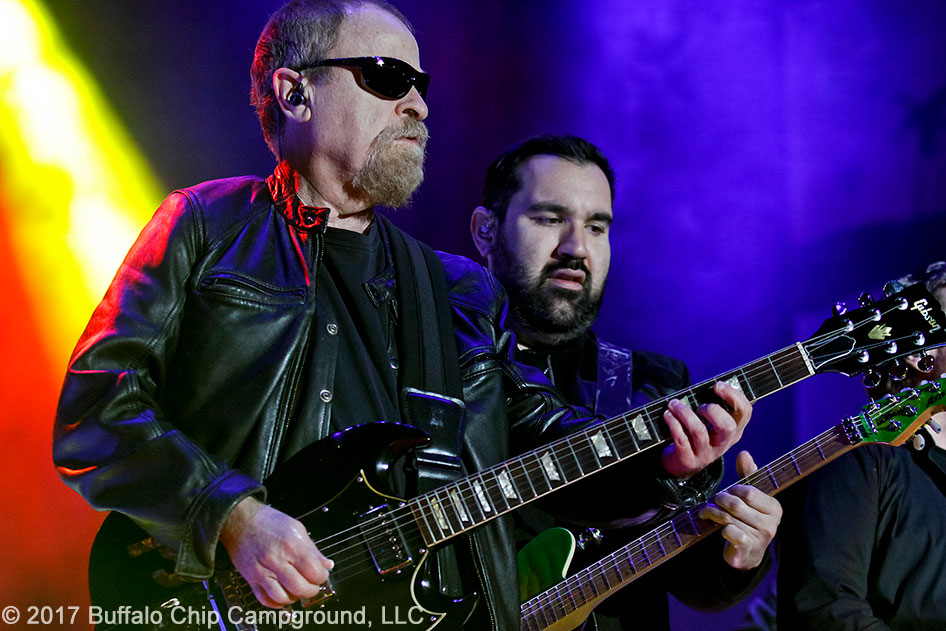 Blue Öyster Cult's mind-bending progressive rock jams took you to another place and had you completely caught off guard with the heavy hooks of their biggest hits. The campground-wide fever fans were experiencing was 100 percent treated by their prescription of more cowbell.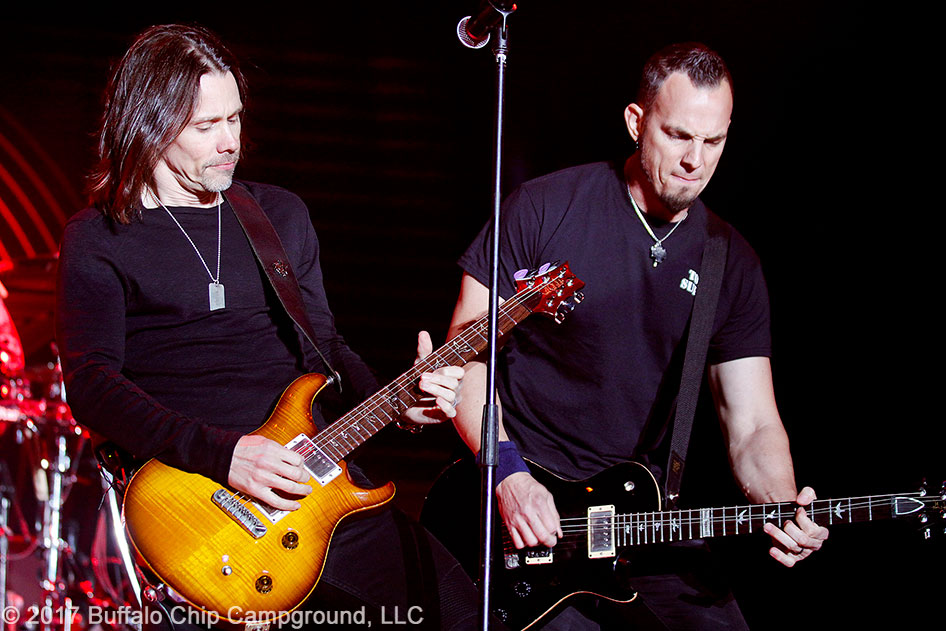 The dual-guitar attack of Alter Bridge's Myles Kennedy and Mark Tremonti wove a melodic and heavy musical tapestry that fans of all generations of rock came together to appreciate and rev their engines to.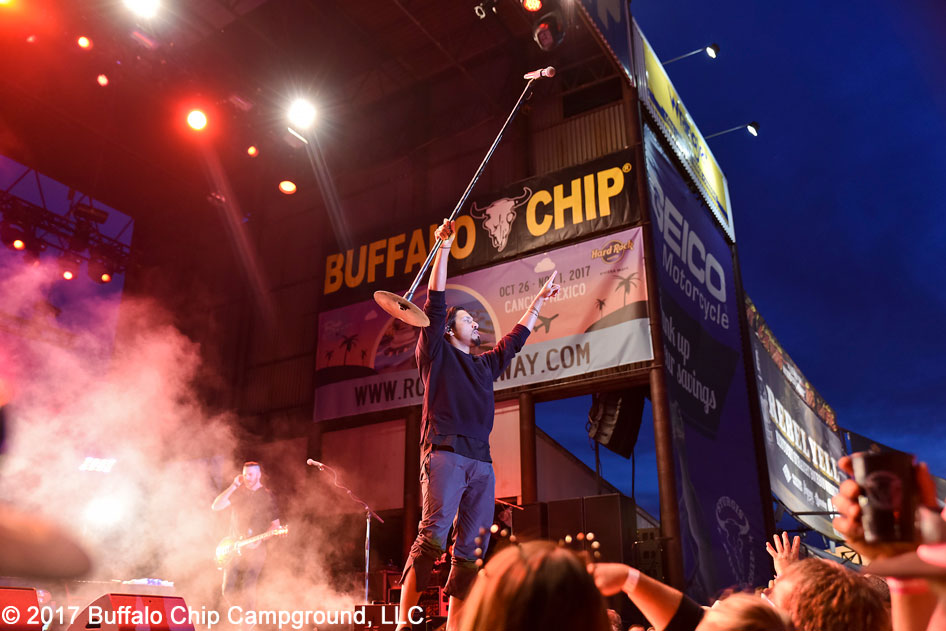 The crowd's energy lifted up Pop Evil front man Leigh Kakaty so much it felt like he transcended gravity for a moment and floated over them.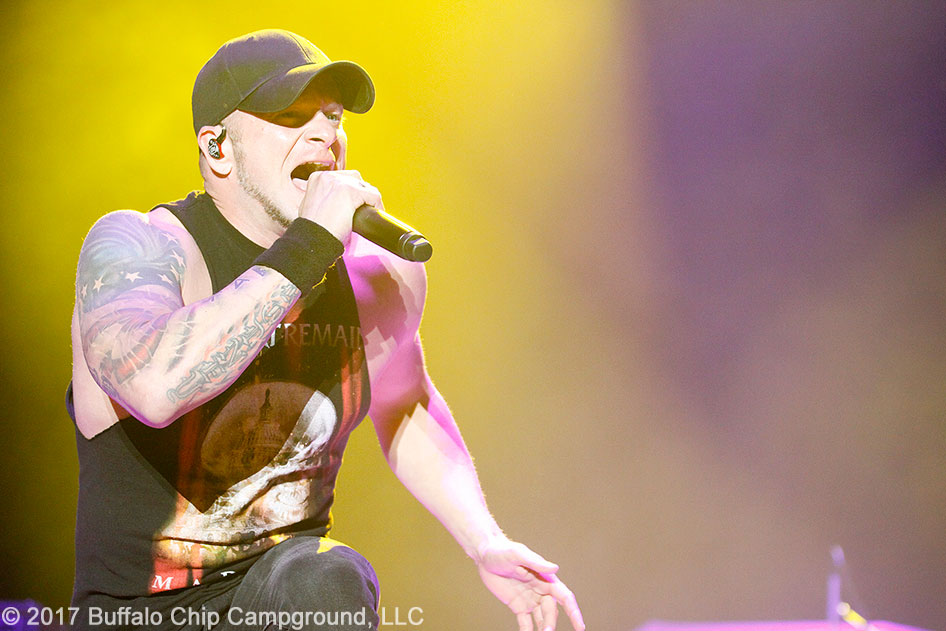 All That Remains front man Phil Labonte and the rest of the band delivered a performance that had throttles pinned and heads hammering for nearly 90 minutes straight.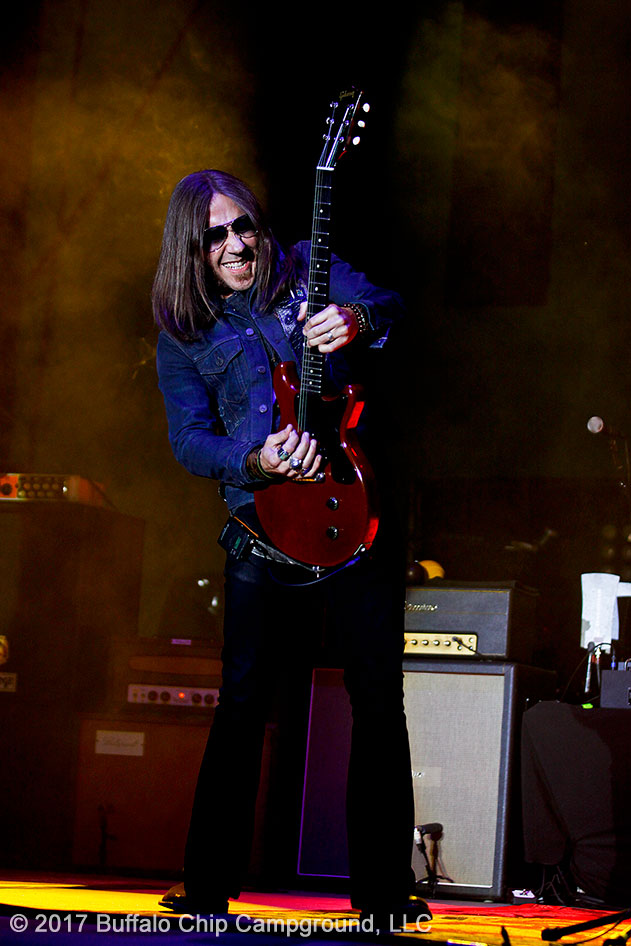 Blackberry Smoke lead singer and guitarist Charlie Starr clutches and shakes out a note on his guitar as deep and soulful as the swampy southern rock tradition the Atlanta, Georgia quintet's music is steeped in. Their debut Chip performance left believers, newcomers and skeptics alike certain that the future of southern rock is in skilled and well-worn hands.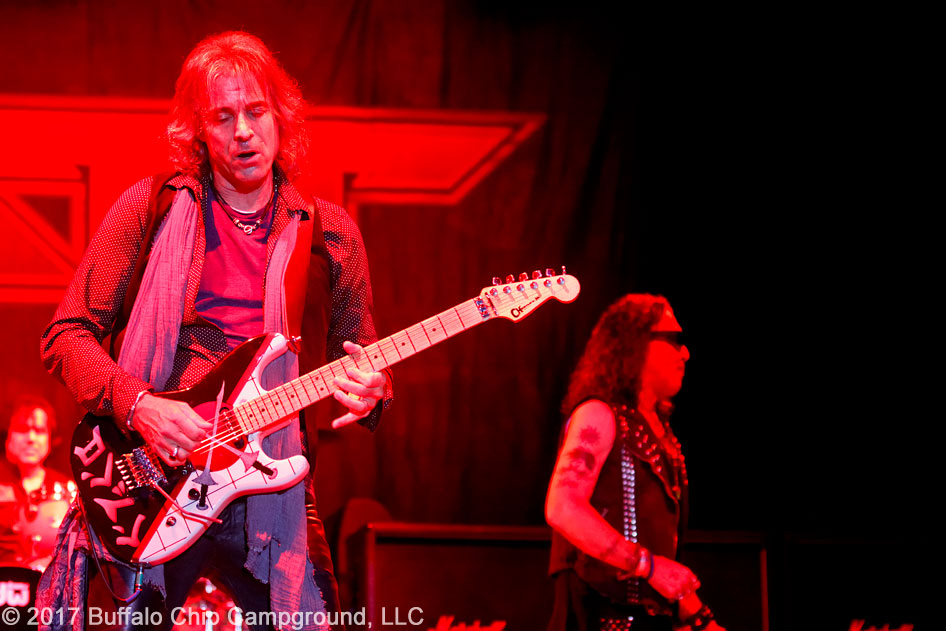 The recently reunited lineup of RATT featuring original lead vocalist Stephen Pearcy and lead guitarist Warren DeMartini had 80's head bangers twisting their throttles "Round and Round" for the duration of their set of hairy hard rock hits.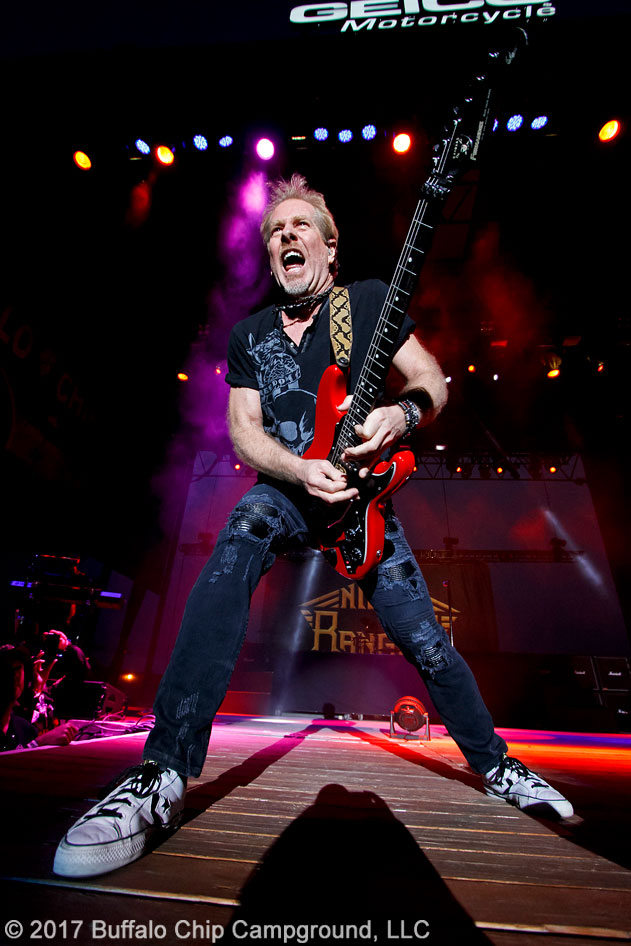 If you're planning on sitting front row at a Night Ranger show, bring a welding mask. Night Ranger lead guitarist Brad Gillis literally gets right in the faces of everyone in the front row and then shreds them clean off.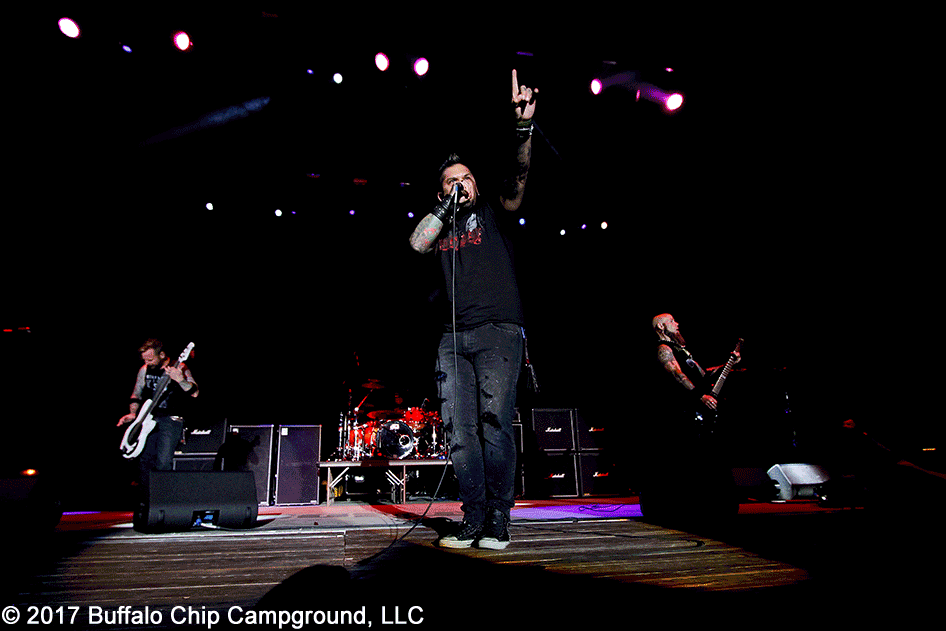 Bodies hit the floor with an auditory hard rock assault when Drowning Pool headlined the 2017 Best Party Anywhere kickoff party.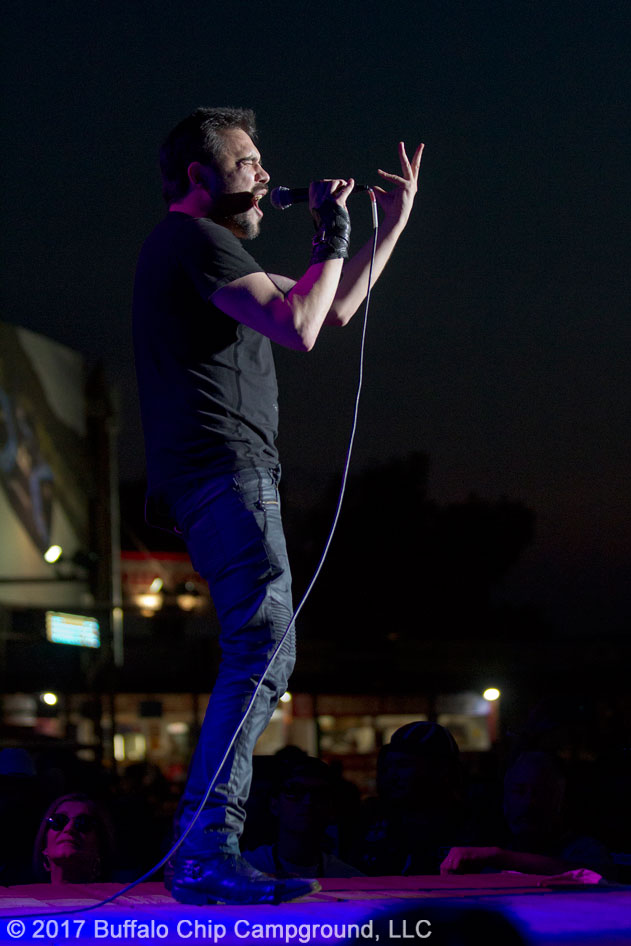 Trapt tested the cranial strength of the Best Party Anywhere, particularly during their set closer "Headstrong," which had the entire place going off like artillery shells doused in gasoline.
Gary Allan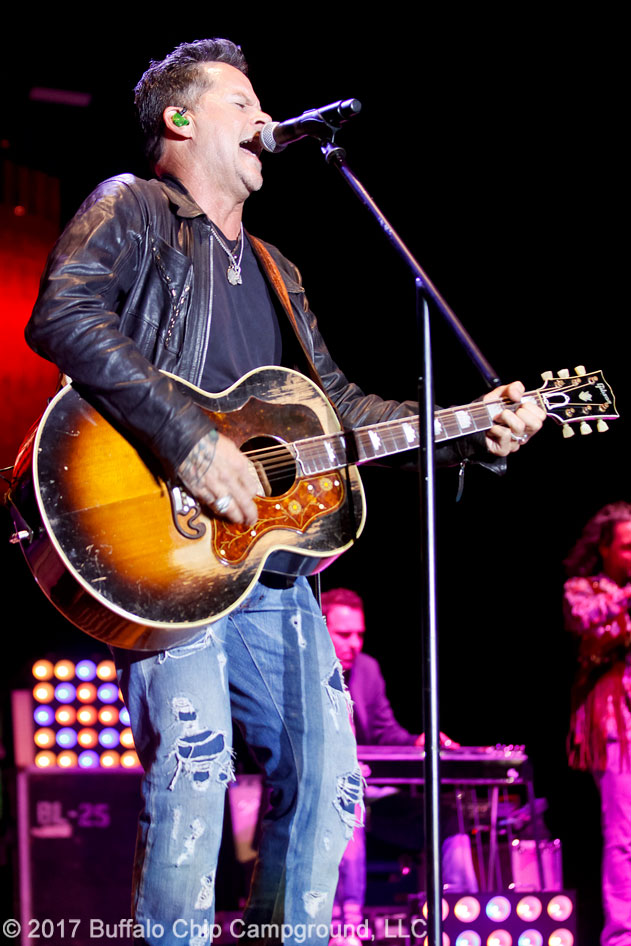 Gary Allan stepped in at the very last minute to cover for a band's unforeseen health-related emergency, and he absolutely delivered the goods. He had gigantic shoes to fill, but he slid right into them and walked around the Wolfman Jack Stage like he was born to be there rocking the sh*t out of the Best Party Anywhere.
Hank Rotten Junior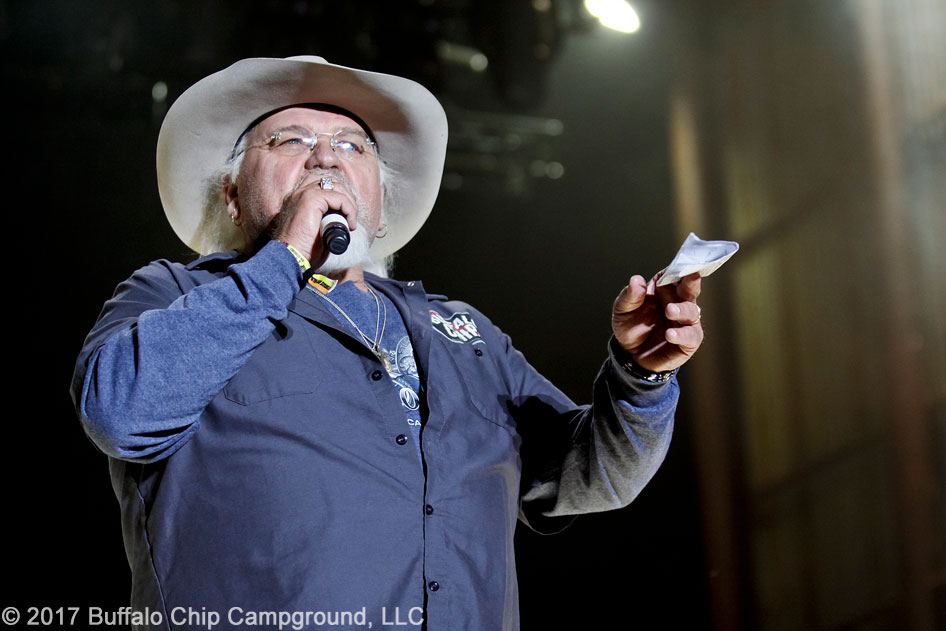 If you've ever been to the Best Party Anywhere, then you know Hank Rotten Jr. Hank logged his 30th year as the voice of the Chip in 2017. As always, he cast his unmistakable sense of humor and booming voice from the Wolfman Jack stage, reminding all in attendance that they were home, once again, at "the Legendary… Buffalo Chiiiiiiiiiiiiiiiiiiiiiiiiiiiiiiiiiiip!"
Jimmie Bratcher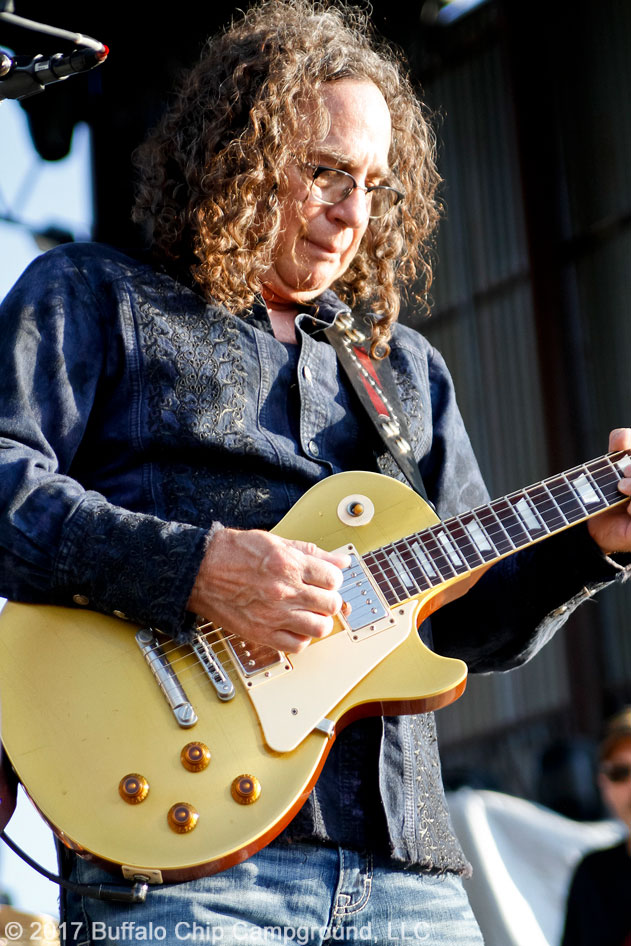 The Electric Reverend Jimmie Bratcher filled the air with unearthly melodies and blistering blues guitar licks. His blend of classic electric blues and Americana set the mood perfectly for the following performances by Justin Moore and The Doobie Brothers.
BC & The Big Rig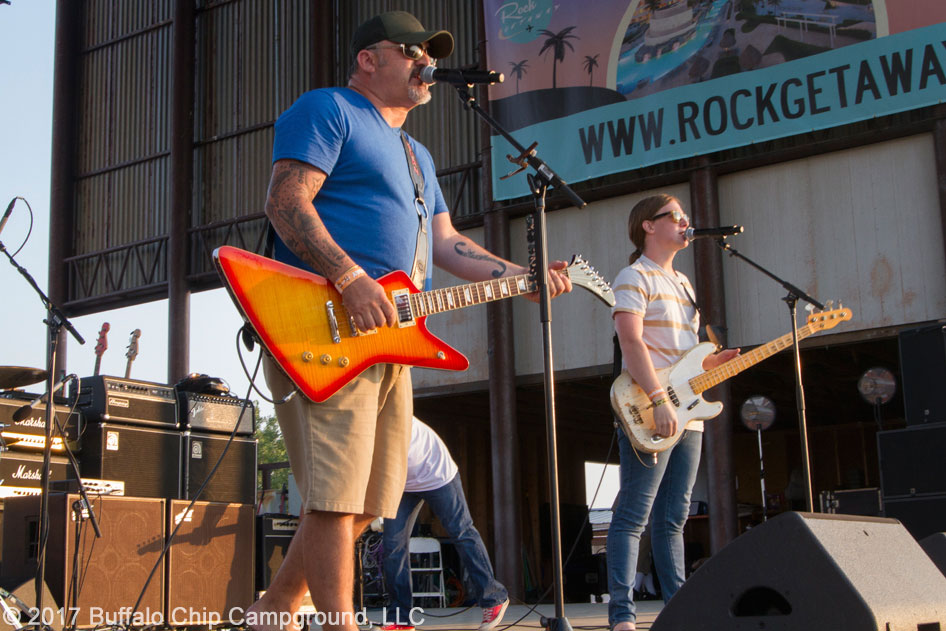 BC & The Big Rig's performance expertly flew a flag that personifies the Sturgis Buffalo Chip– faith in the hard-working American spirit and a deep appreciation for the freedom experienced in this great country. Their musical stew of bona fide Americana evoked influences ranging from Merle Haggard and Johnny Cash to Black Crowes and Roger Clyne, while gaining them a slew of new fans along the way when they opened for Blue Öyster Cult.
Stolen Rhodes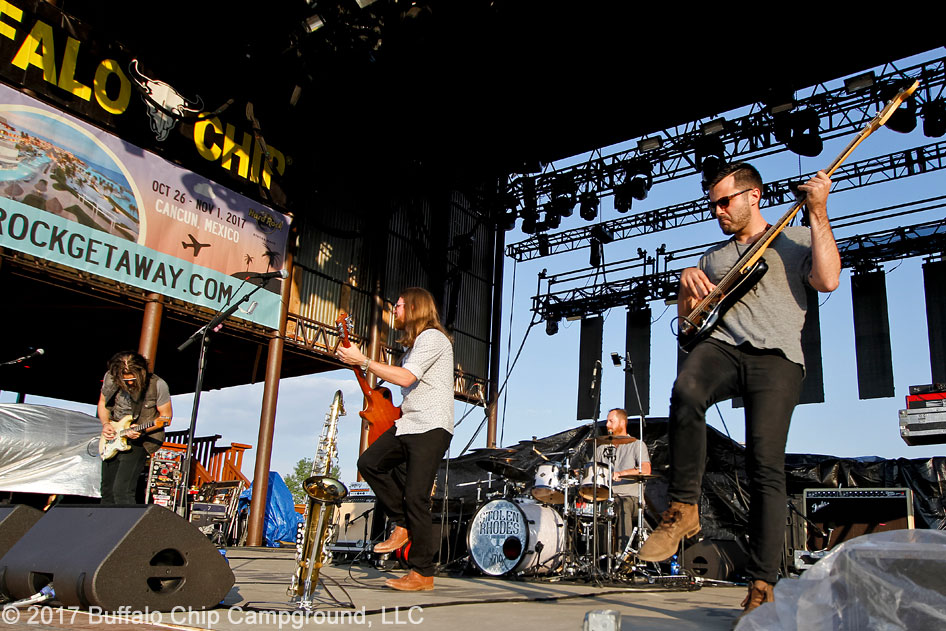 Stolen Rhodes mix of folky songwriting and liberating rock 'n' roll vibes of yesteryear made them crowd favorites all over the campground. No stage was too big or too small as evidenced by their killer shows at the Bikini Beach Stage, the Kinison Stage and their wizardly performance prior to Gary Allan and Blackberry Smoke on the Wolfman Jack Stage.
Carolina Wray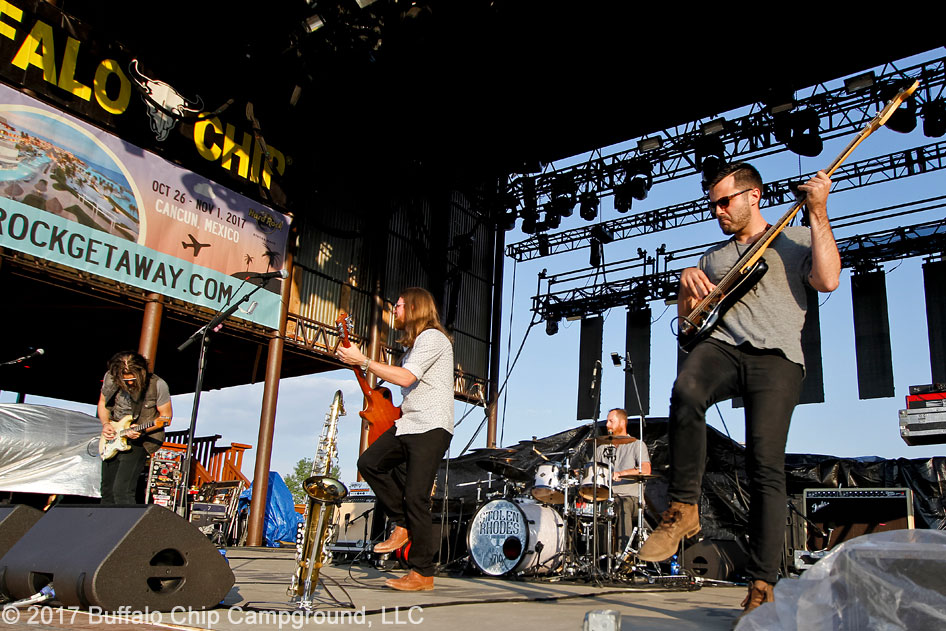 This Asheville, NC two-piece consisting of brothers Rev Wray and Lo Wray blended together the sounds of Southern rock, Top 40 country and pop to keep the party going on the Kinison Stage and get the party started on the legendary Wolfman Jack Main Stage prior to blink-182 and George Thorogood and the Destroyers.
The Dirtboxwailers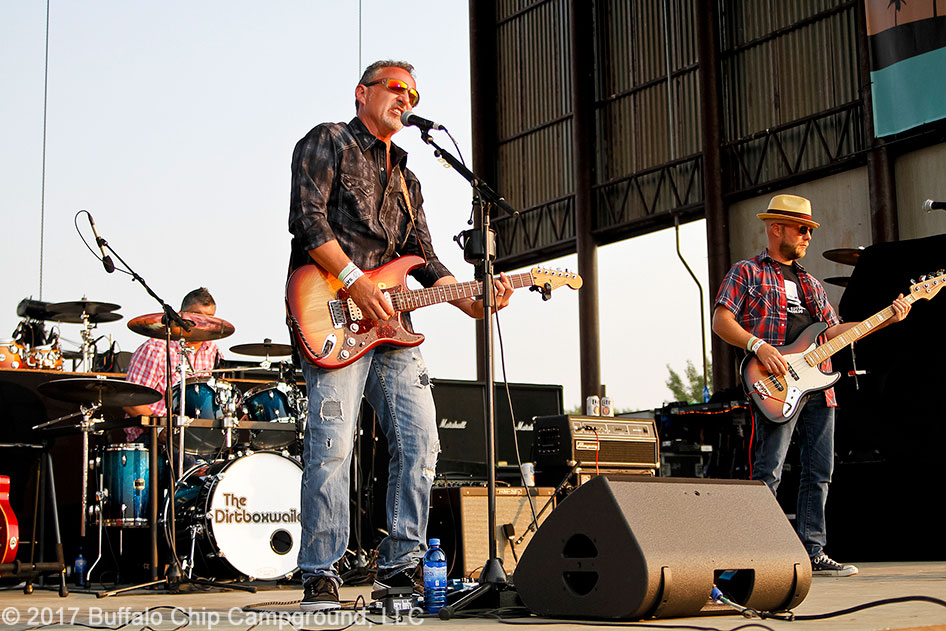 Good music is not in a box with a label on it, but if you saw The Dirtboxwailers during their Buffalo Chip debut during the 2017 Sturgis rally, you knew that's what you were hearing. This incredibly talented Tulsa, OK four piece left the crowd floored when they opened for RATT and Night Ranger and during their showcase stage performances.
Madame Mayhem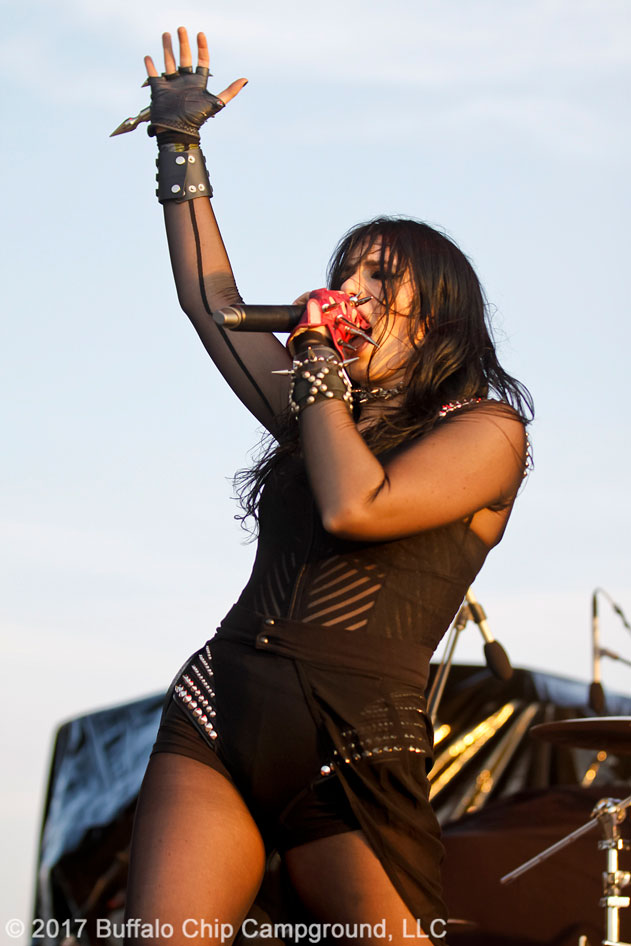 Madame Mayhem's in-your-face attitude, hard rock roots and wide vocal range had already earned her hundreds of thousands of fans across the nation. It was little surprise to see that her debut Chip performances proceeded to add thousands more after she wreaked havoc on the Kinison Stage and the Wolfman Jack Main Stage prior to the Alter Bridge and All That Remains concerts.
What were your favorite concerts while on vacation at the Sturgis Buffalo Chip in 2017? Tell us about them in the comments below.