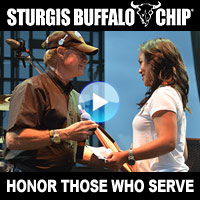 With our nation's upcoming observation of Veterans Day, the Buffalo Chip would like to take this opportunity to salute the men and women of our military. Their tireless fight to preserve our freedoms has allowed us to enjoy a way of life unrivaled by that of any other country; and for this we thank you.
In 2013, these brave men and women were celebrated with a full day dedication at the Buffalo Chip during the Freedom Celebration. The annual military tribute day included a poignant presentation to the families of fallen Navy SEALs, Tyrone Woods and Glen Doherty. The two showed heroic patriotism and courage in Benghazi, Libya, sacrificing their lives while saving the lives of many others. Members of their family were present on the Buffalo Chip's main stage to accept the honors on Thursday, Aug. 8.
Cherish the memories of the fallen and relive the Freedom Celebration's powerful presentation by watching the video below.