From the moment they set foot on Sturgis Buffalo Chip® properly, the country comedy duo Reformed Whores had only thing on their minds—getting to share their hilariously irreverent set with as many folks as possible.
After a chance meeting with long-time Buffalo Chip "social lubricant" Captain Jack, the Whores set their sites on the Chip's legendary main stage and decided they'd do just about ANYTHING to get there.
So just how do Marie and Katie make it big? That part's up to you!
Guide them on their "Journey to Greatness" in this choose-your-own-adventure-style video series that features cameos from many of your favorite Buffalo Chip characters.
Which adventure did you choose for the Reformed Whores? Tell us in the comments below!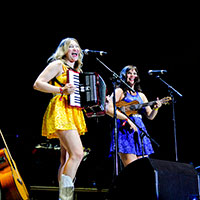 Presented by the Sturgis Buffalo Chip®
Known as The Best Party Anywhere®, the Legendary Buffalo Chip believes festivals should be fun like a high five, reenergize you like a broken rule, and romance you like someone you just met and have to take home.
This nine-day festival of concerts and motorcycle events has featured performances from artists including Aerosmith, Willie Nelson, Five Finger Death Punch, Kid Rock, Rob Zombie and many more.
Find out more or get passes to the Best Party Anywhere at www.buffalochip.com and find out why it continues to be one of the most televised festivals in the world.