Living in the Midwest over the winter definitely comes with its fair share of drawbacks if you're a motorcycle or car enthusiast. But each year when the world starts to thaw, the Donnie Smith Bike and Car Show more than makes up for lost time. On March 25 and 26, 2017, gear-heads, celebrities, custom enthusiasts and their families flocked to the RiverCentre in St. Paul, Minn. to experience the show's monumental 30th anniversary. While checking out the hundreds of amazing custom motorcycles and cars kept the crowd buzzing with excitement, narrowing them down to select winners in 35 motorcycle classes and 22 car classes had to be a tough gig. Now that all the deliberating is out of the way, you can see which customs rose to the top and which stuck in attendees' minds by checking out these highlights.
Motorcycles – Pro Class
1st Place Pro Class Custom
Tim Scates
Waller, TX
2006 ASVE Twisted Bobber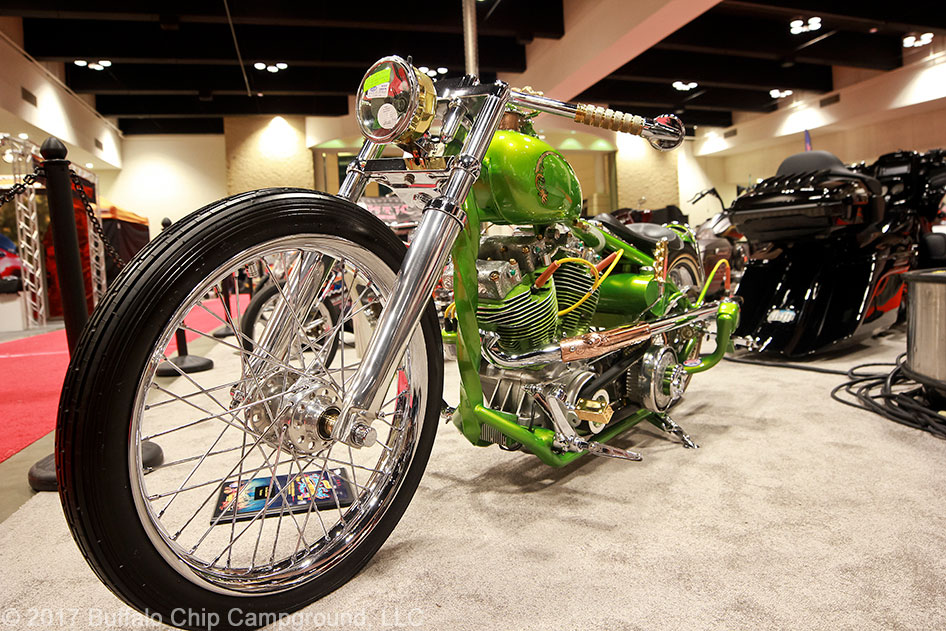 Not one detail was overlooked on this custom shovelhead. Beautifully etched rocker boxes, green engine accents, gorgeous gilding, flamethrowers and a crown infusion straight to the carburetor made show attendees' mouths water.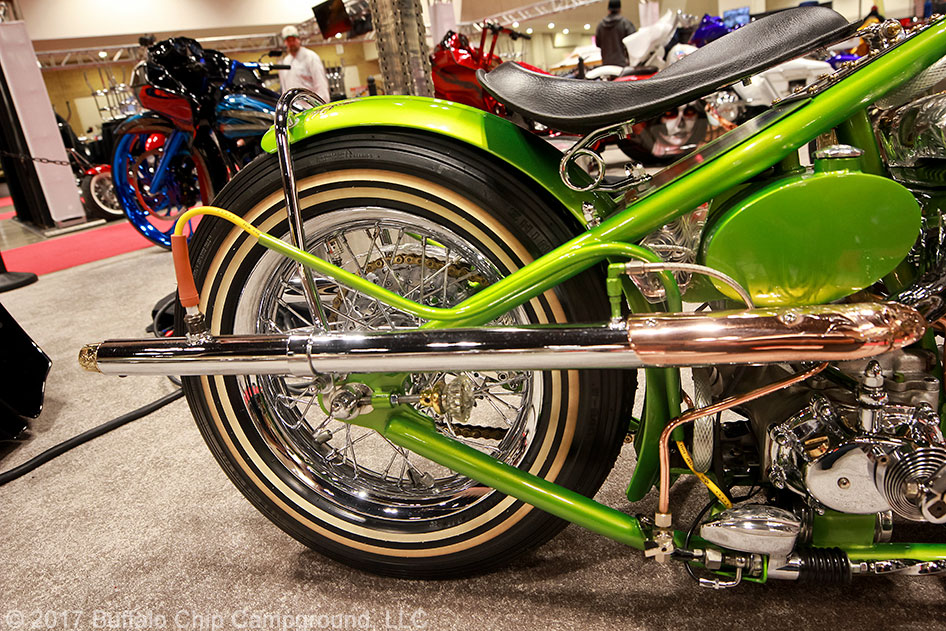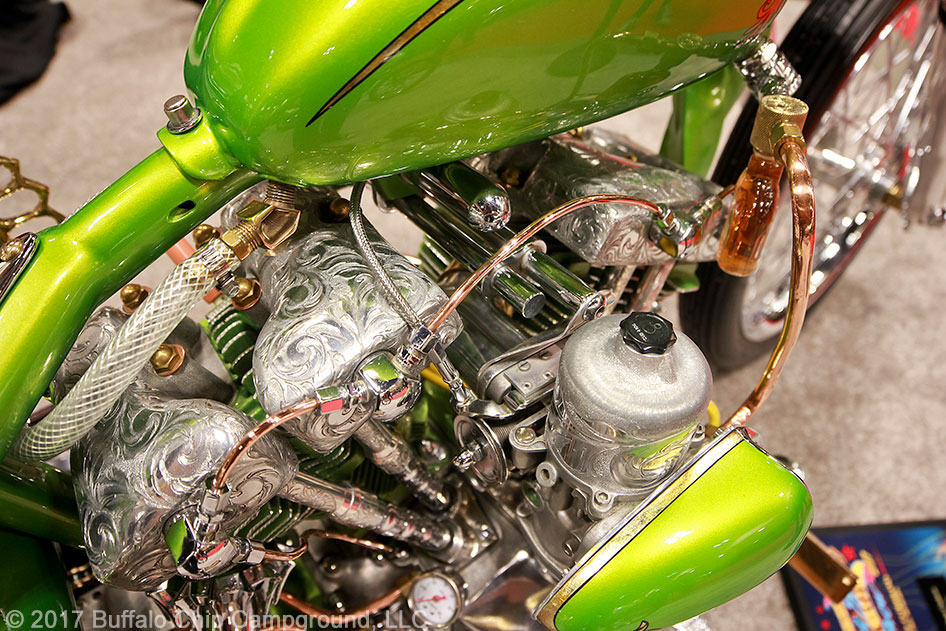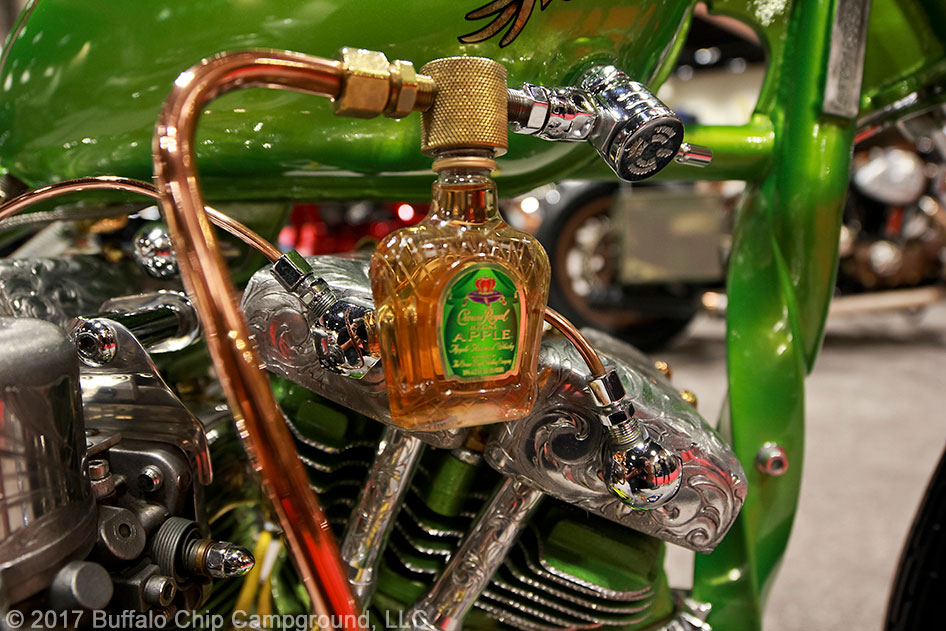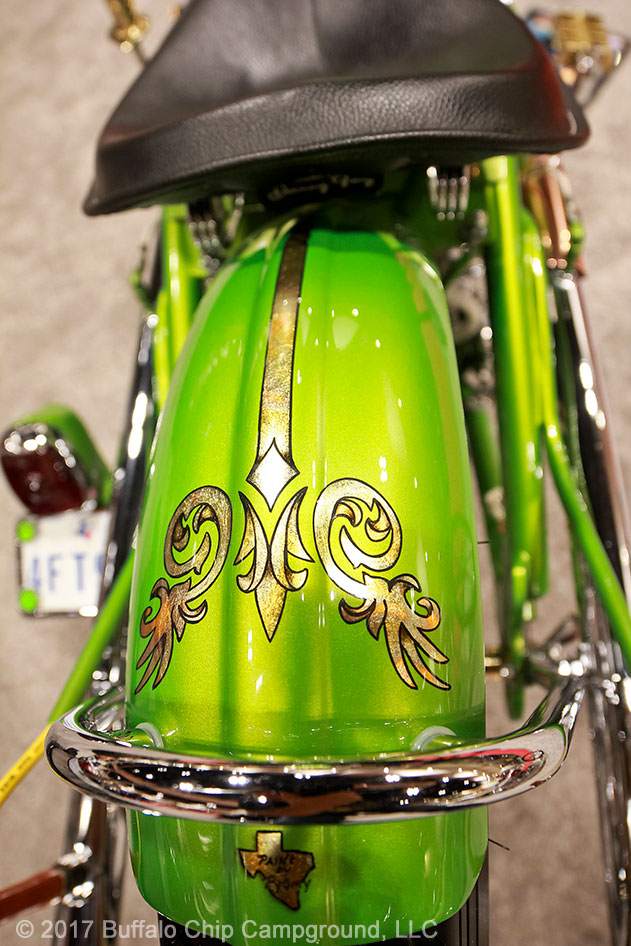 2nd Place Pro Class Custom
Dan Rognsvoog
Cabana Dan's Customs
Franksville, WI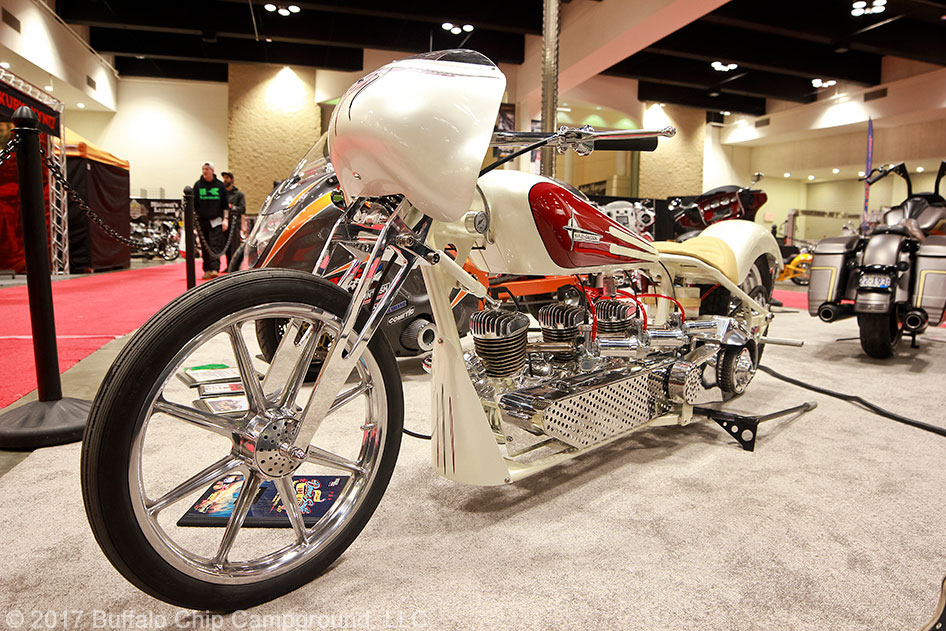 Always one to bring a something fairly unexpected to the show, Dan Rognsvoog delivered again with this three-engine drag bike. The three single cylinder engines were placed in tandem but operated individually.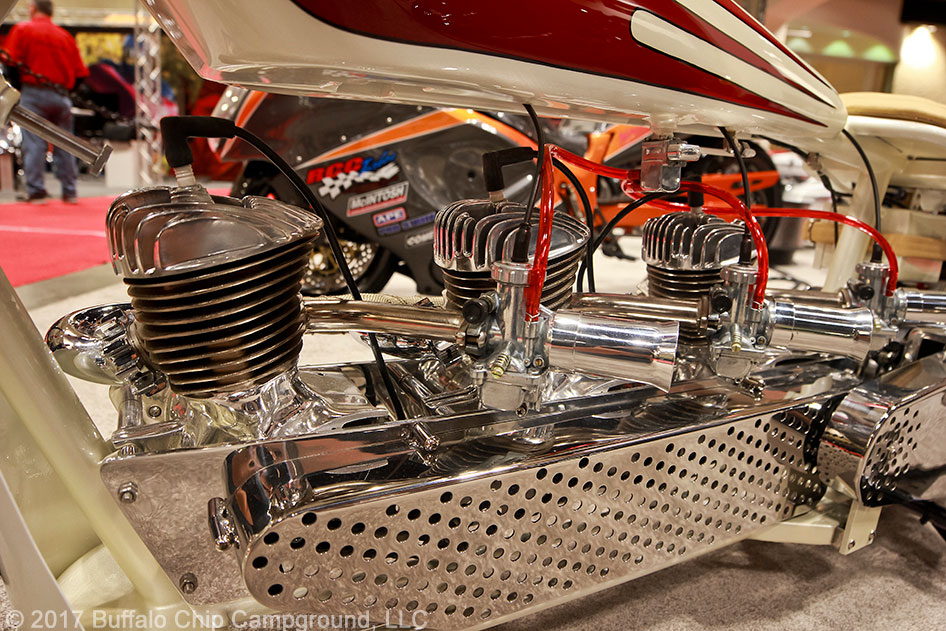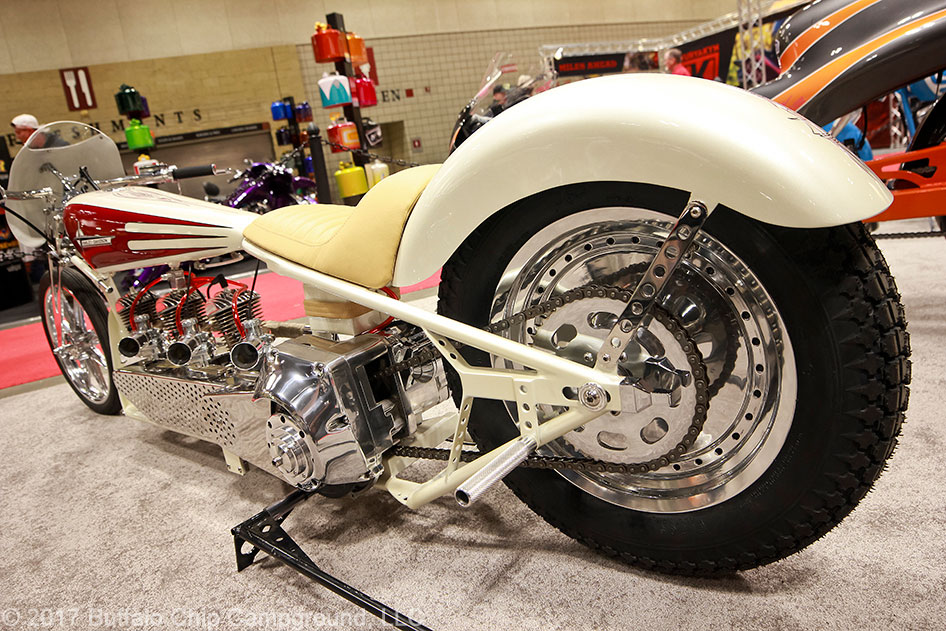 3rd Place Pro Class Custom
Matt Anderson
Gilby's Street Dept.
Ellsworth, WI
1982 HD FXRS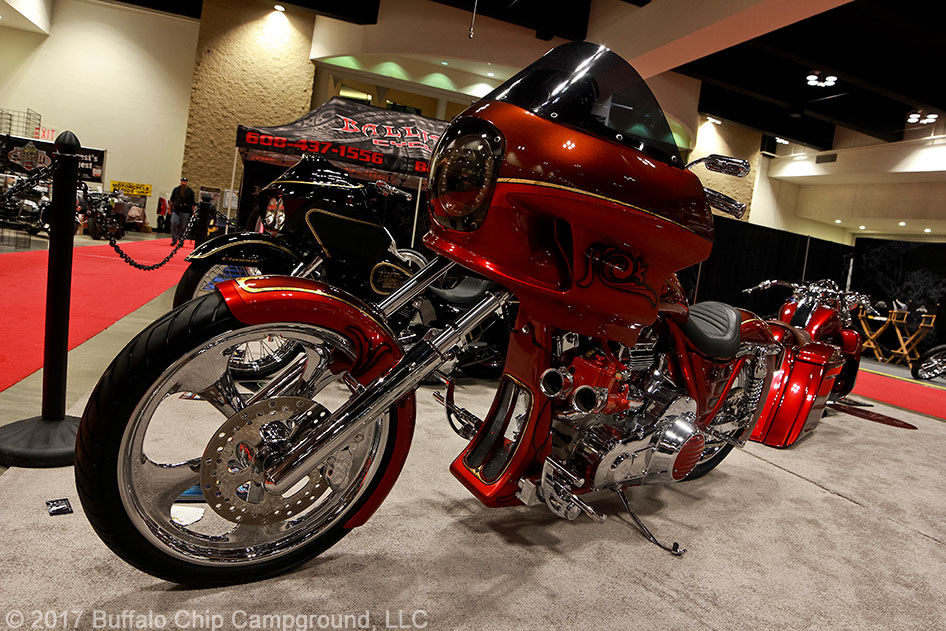 This custom FXRS from built by Gilby's Street Dept. manager Matt Anderson was a real showstopper with chrome everywhere and its cool retro CVO fairing and raked front end.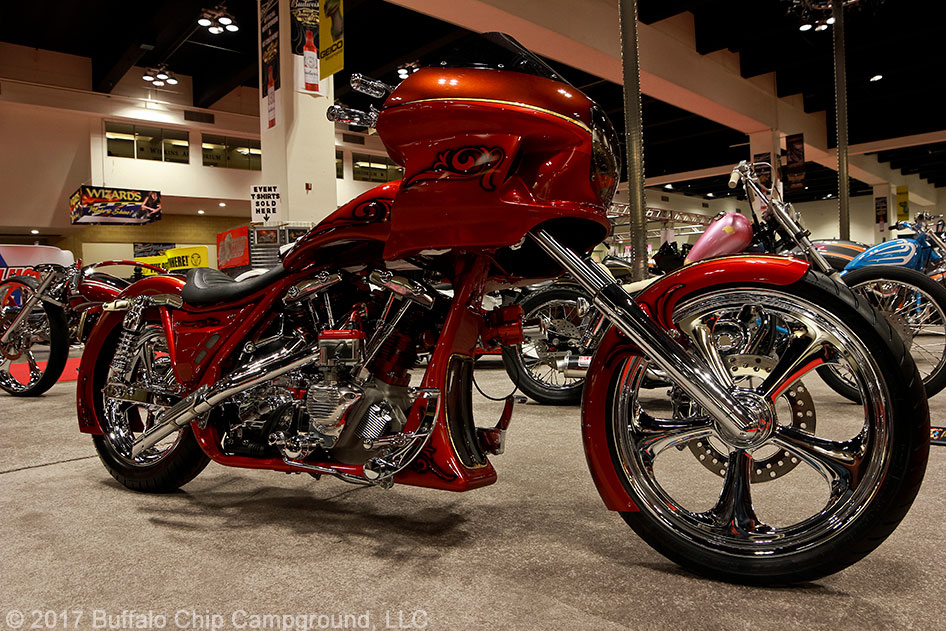 1st Place Pro Class Bagger
Deadline Customs
Nick Popa
Forest Lake, MN
HD Road King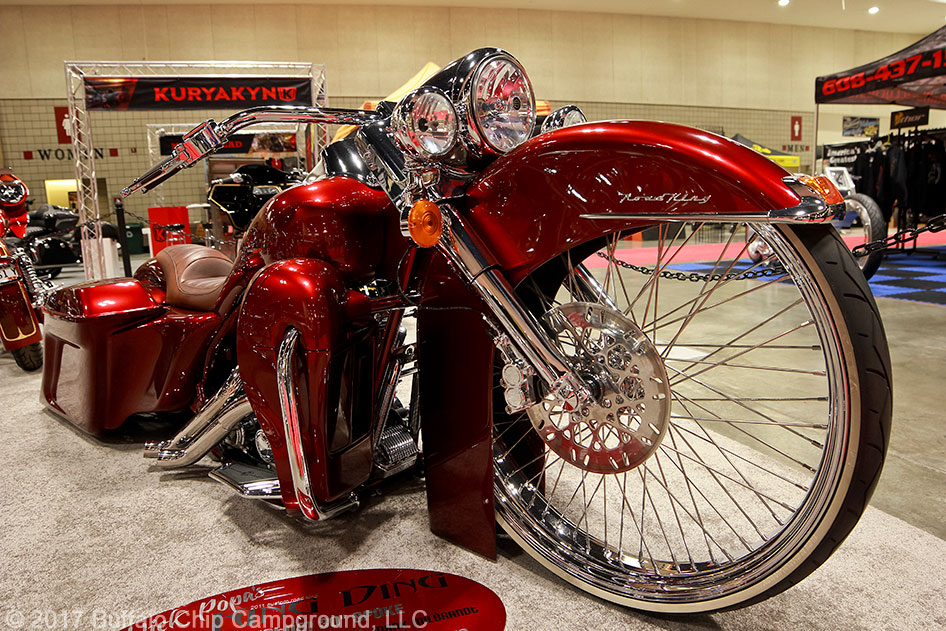 The custom 30" spoked wheel, lay frame front fender and House of Kolor Kandy paint job on "King Ding" stopped show attendees dead in their tracks, giving them time to check out the interior lined bars and custom seat by Mark Milbrandt.
2nd Place Pro Class Bagger
Lucky 7 Custom Cycles
Fort Worth, TX
2012 HD Road Glide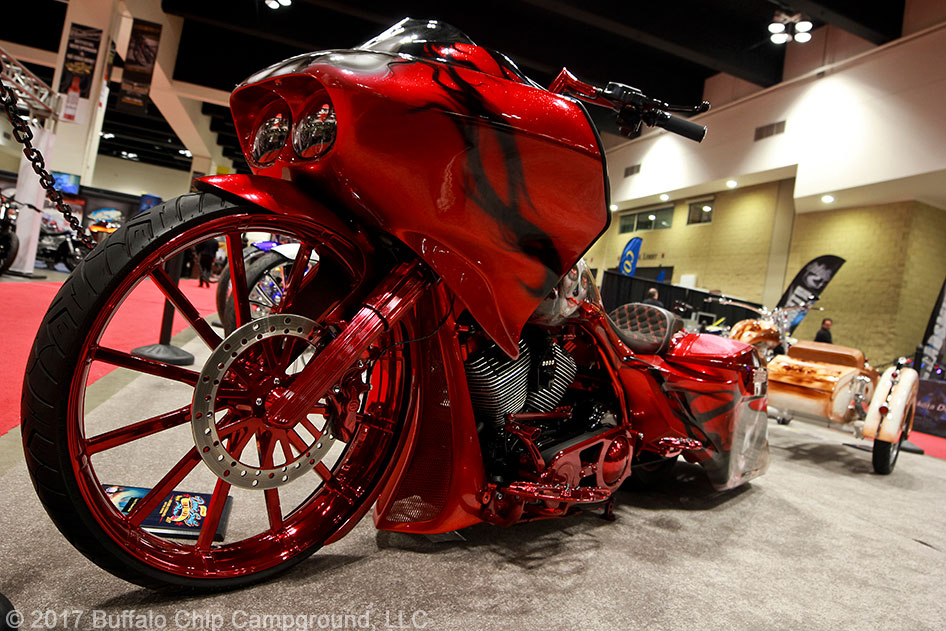 Thought to bring good luck, the sugar skulls seen across this bagger's gorgeous red paint clearly lived up to lore. Hints of the theme could be seen throughout with custom red floorboards and contrast stitching on the seat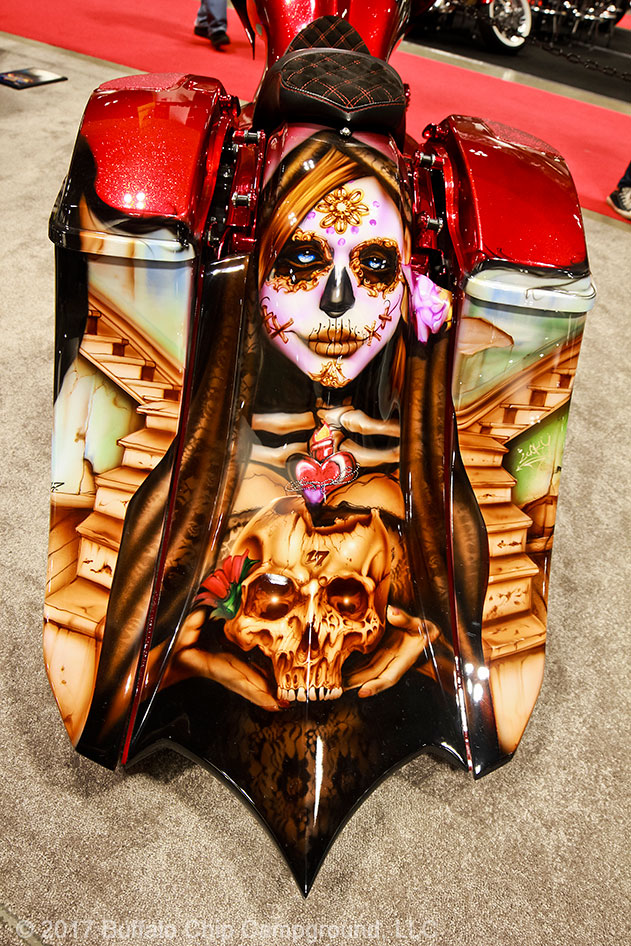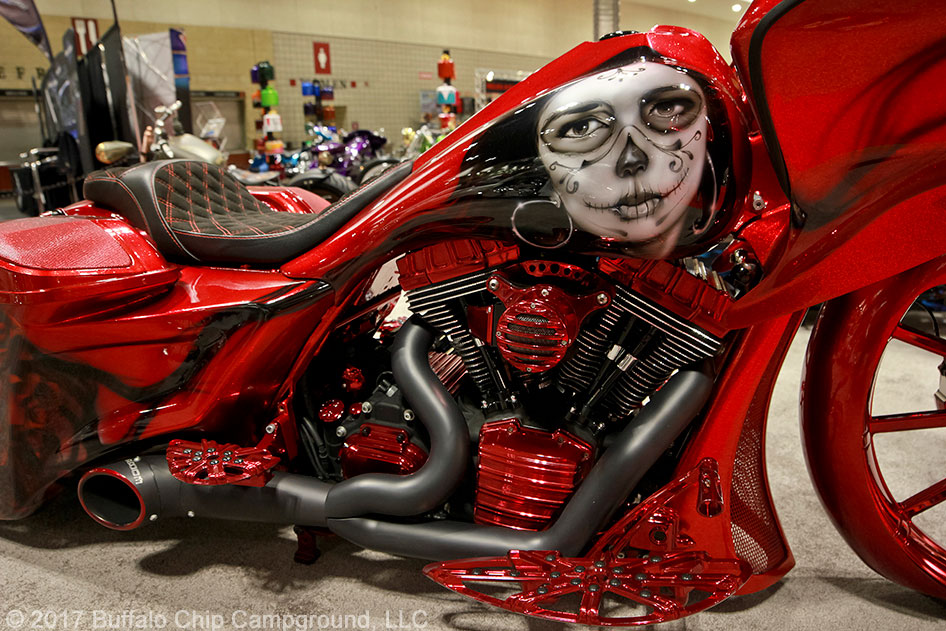 3rd Place Pro Class Bagger
Hofmann Designs
Curtis Hofman
Hanover, MN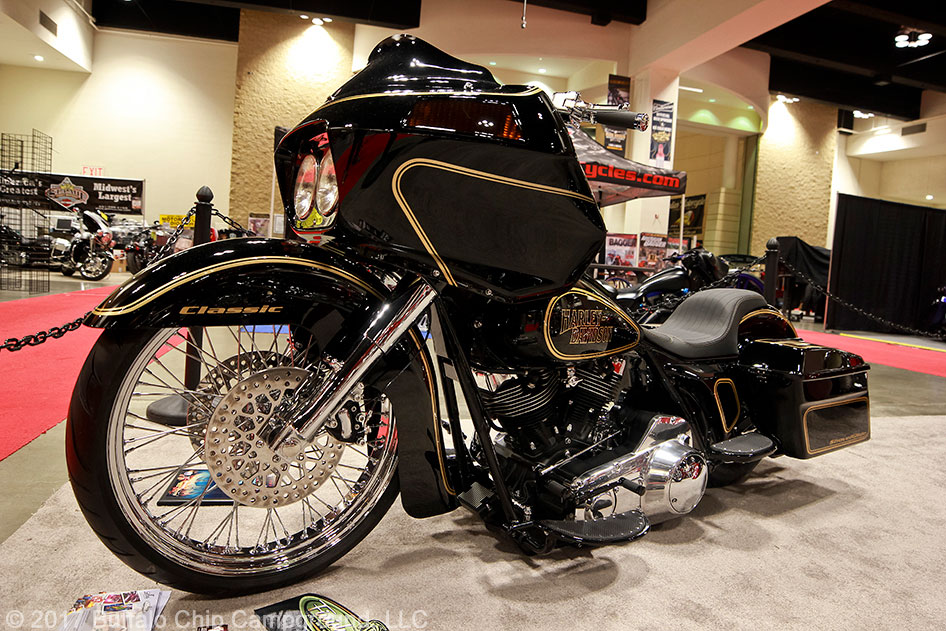 The classic look of this lay frame shovel glide perfectly balanced old and new, with retro styling, an old-style gauge cluster and a cockpit finished off with a Klock Werks windshield.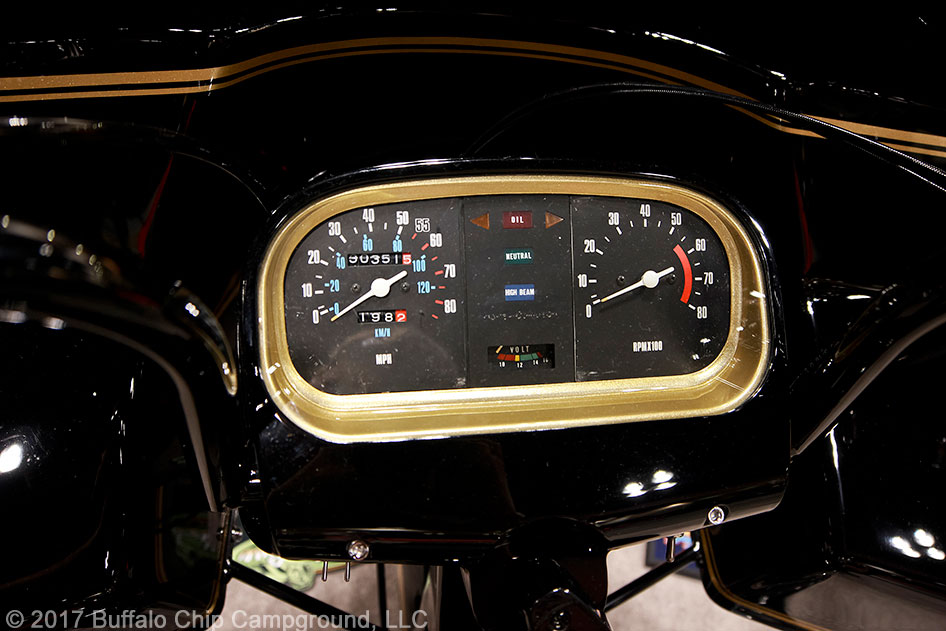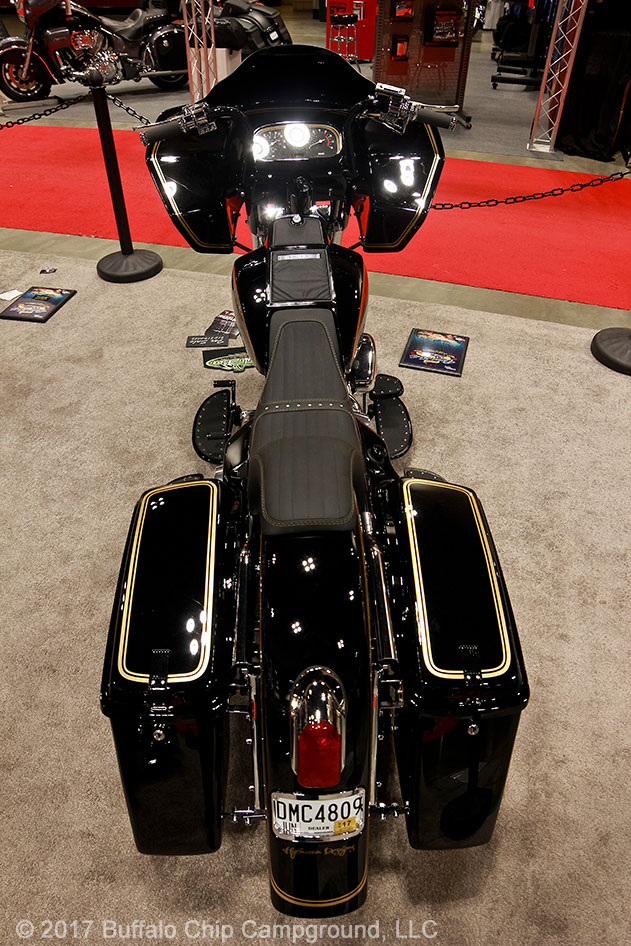 Motorcycles – Open Class
Best Antique
Bill Lykken
Grafton, ND
1959 BSA Super Rocket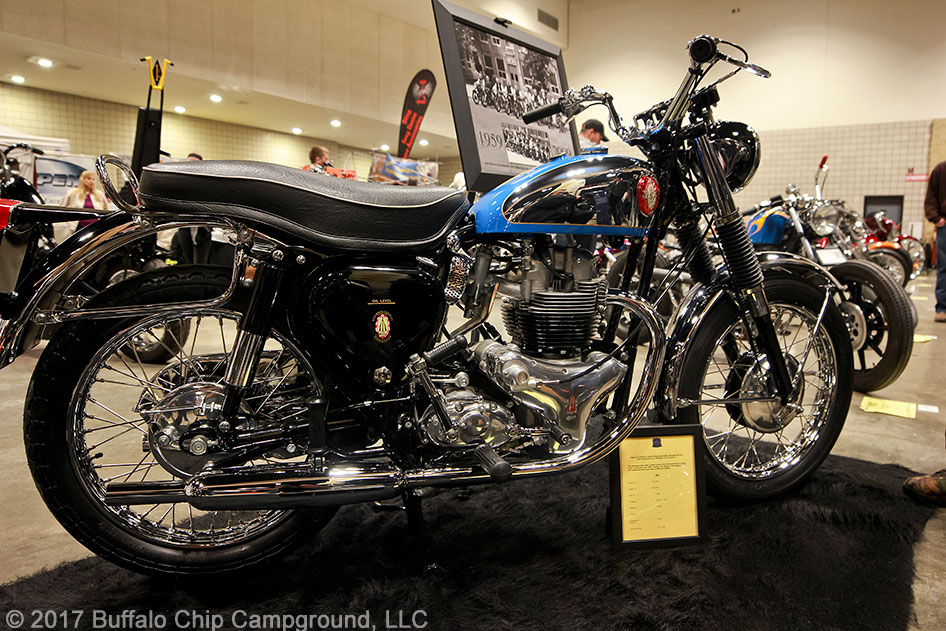 It's not often you come across an old BSA like this. Chrome everywhere combined with the original blue color is quite a striking combination.
Best Bobber
Casey Kenny
St. Paul, MN
2001 HD Sportster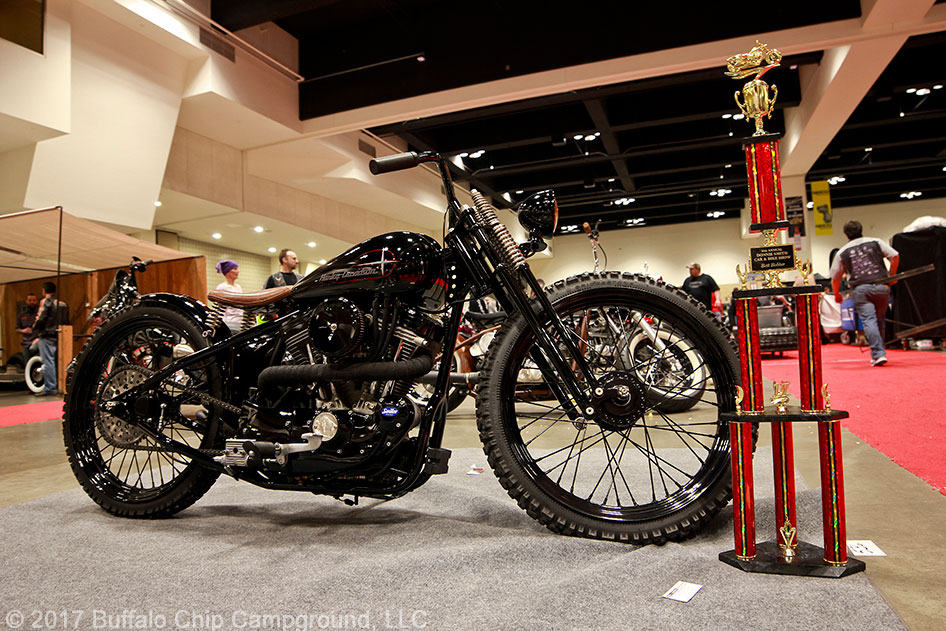 This flat-track inspired Sportster drew onlookers with unique details like its buffalo nickel engine emblem and slide-out license holder.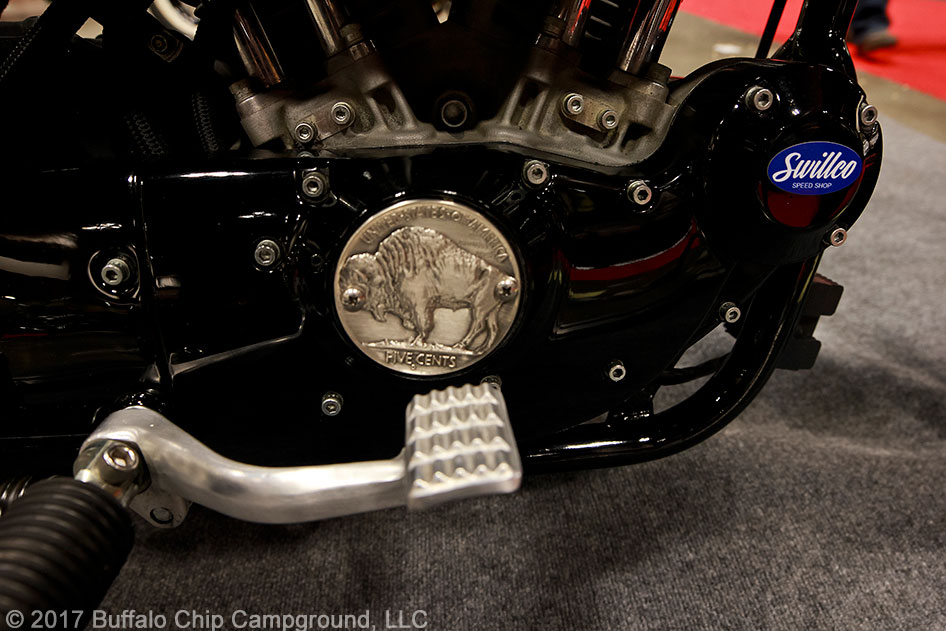 Best Chopper
Gary Davidson
Shakopee, MN
1955 HD FL Chopper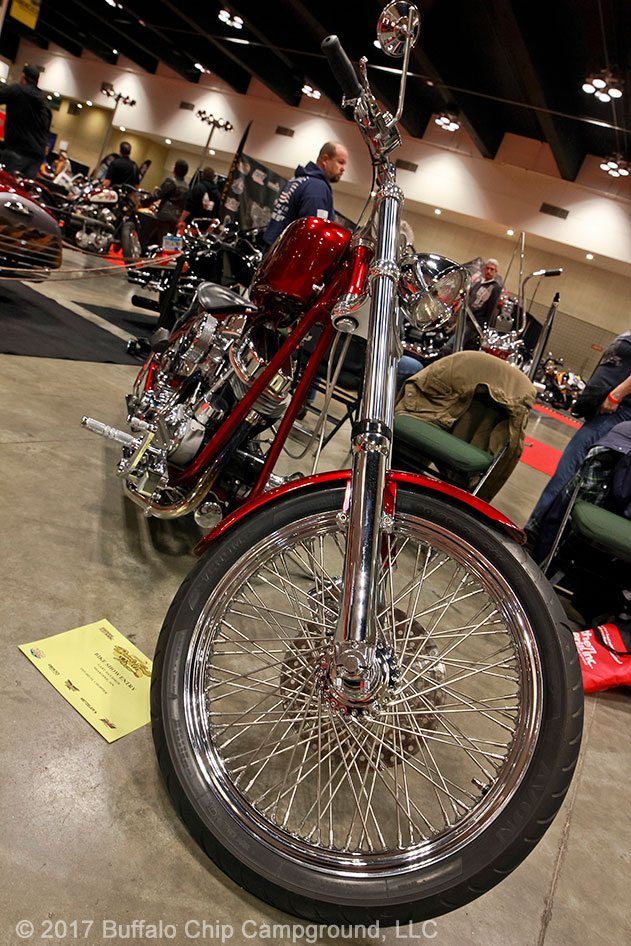 Tons of choppers filled the show floor, and the competition between them was stiffer than the tail of this panhead that ultimately pulled ahead of the pack.
Best Display
Clifton Odermann
Valley City, ND
1968 HD Shovelhead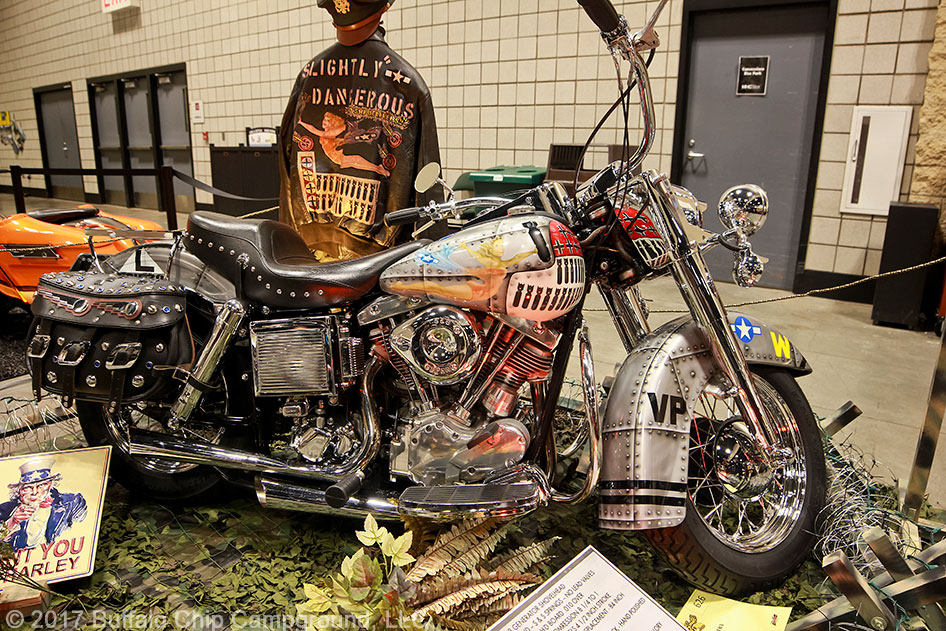 From the riveted leather bags, custom seat and "Slightly Dangerous" jacket, to the military-themed paint job and décor, everything about this bike and its display demanded that you to stand up, take notice and, perhaps for a few, salute.
Best Lighting
Don Shulte
Cedar, MN
2001 Kawasaki Vulcan Nomad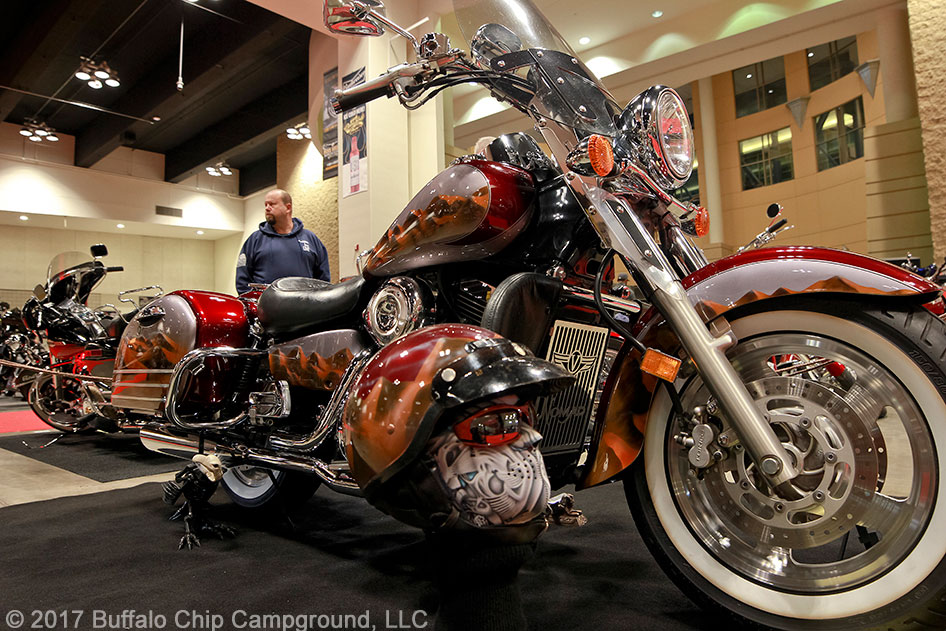 We weren't sure whether the airbrushing on this Vulcan Nomad and its matching helmet was depicting sand dunes or a Martian landscape. Either way, it made us want to go adventuring.
Best Paint
TJ Design
2013 HD Road Glide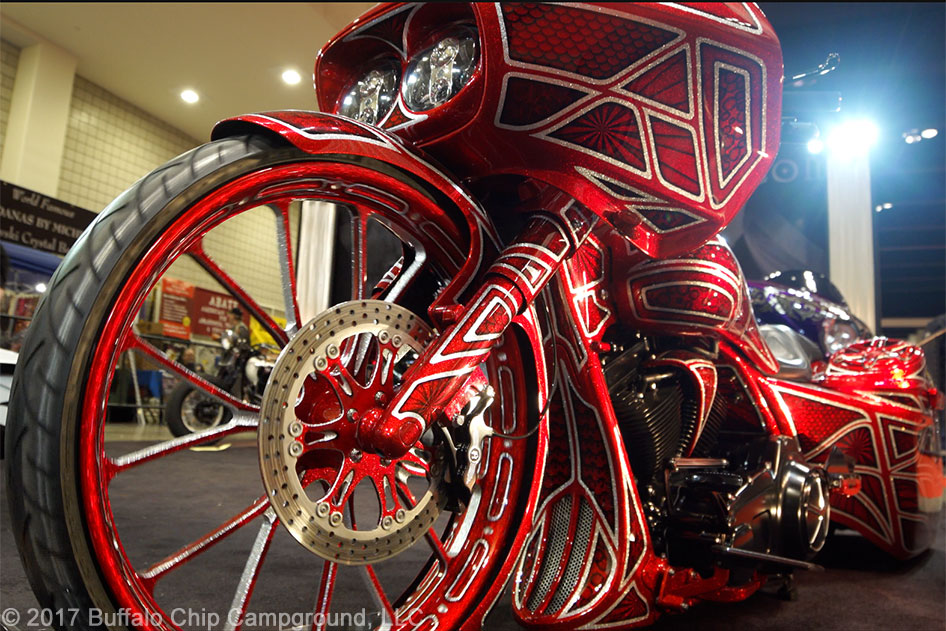 It took three pounds of flake, five gallons of clear and 300 hours of work to cover every nook and cranny of this Road Glide with masterful detail.
Best Sport Bike
Wolff Cylinder Head
1979 Café Iron Head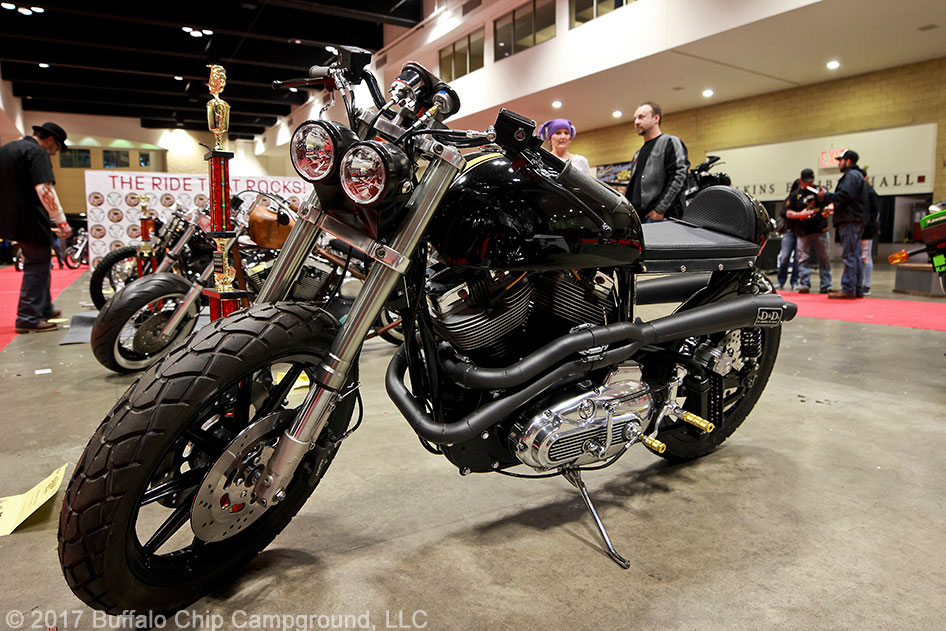 This build brought a more modern look to a café style. No doubt this bike could do a ton.
Judges Choice
Deadline Customs
Dana Hallberg
Forest Lake, MN
2011 HD Road King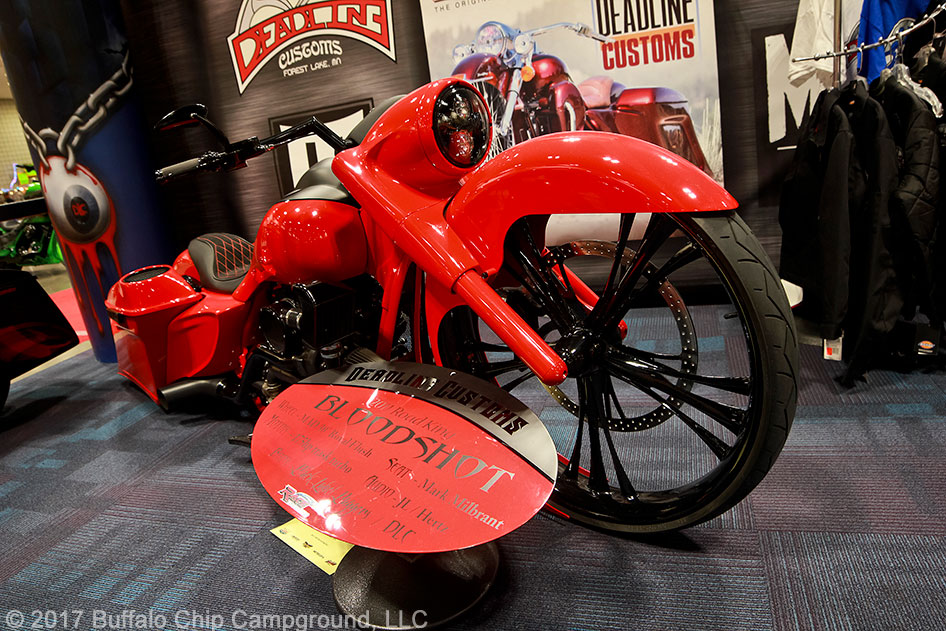 The custom fender, Trask Turbo, custom seat, and custom 30″ front wheel on "Bloodshot" got the judges' blood pumping faster.
Special Awards & Custom Motorcycle Reveals
Perewitz Pick
Dana Hallberg
Deadline Customs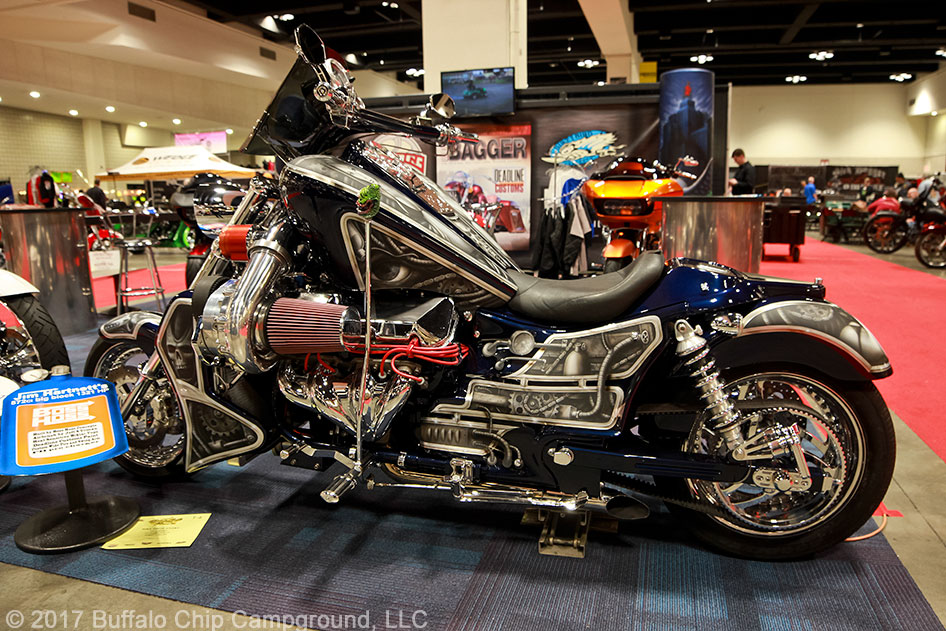 The nitrous injected v8 engine and dual turbo on this custom Boss Hoss produces a whopping 1321 hp, making it a Beast with a capital "B." If that alone doesn't get your heart racing, the heat sensitive paint surely will.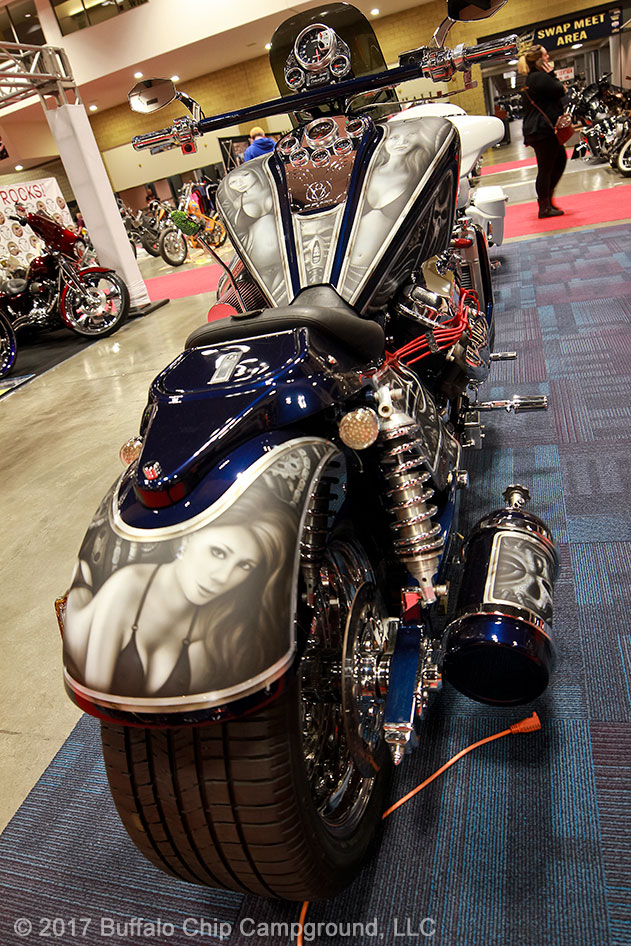 Used exclusively on the painted bikini tops, this NSFW paint disappears when the tank and rear fender heats up.
Sturgis Buffalo Chip's 10th Anniversary Legends Ride Bike Reveal
S&S Cycle, Inc.
2017 Harley-Davidson Dyna Low Rider
In honor of its 10th anniversary, the Sturgis Buffalo Chip's Legends Ride® revealed a sleek club-style chopper built by S&S Cycle that's packs enough power to peel the skin off your fingers.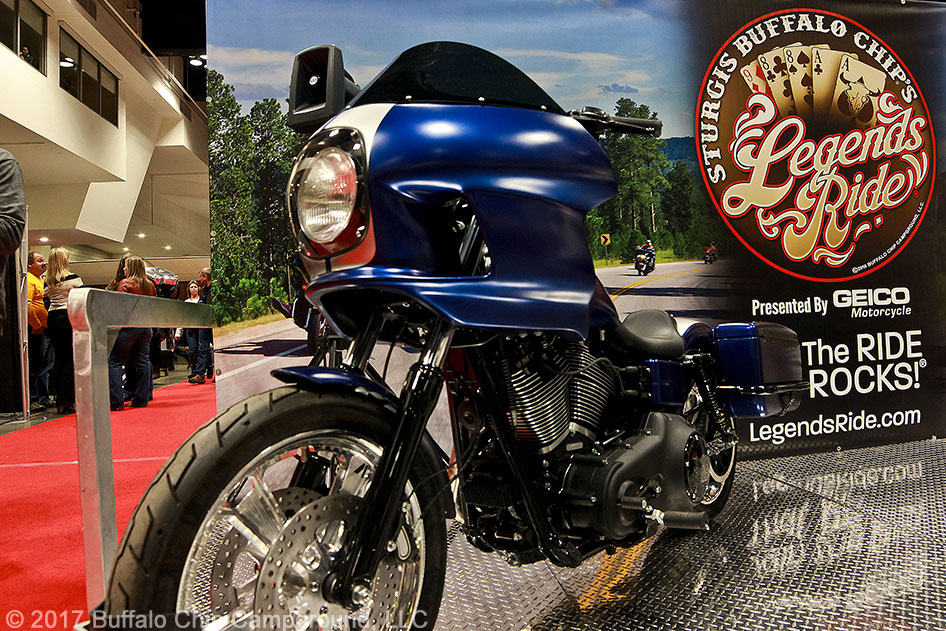 Harnessing 170 hp required S&S to upgrade the transmission, clutch and primary work. Then, to clothe the powerful machine, S&S replaced the fairing and lowers and added some Dyna Defender bags. The blue and white striped paint job that finishes off this muscle machine pays homage to the Shelby Cobra. See the specs here!
You can take home this performance-styled custom and support a great cause by being the winning bid during the Legends Ride auction on Monday, Aug. 7, 2017.
Sturgis Buffalo Chip 2017 Rock, Rumble & Rebellion Bike Reveal
Kuryakyn
2017 Harley-Davidson Street Glide
Together with the Buffalo Chip, Kuryakyn unveiled the 2017 Rock, Rumble and Rebellion custom at the main stage on Saturday, March 25 before it was whisked away for a photo shoot in the RiverCentre loading dock.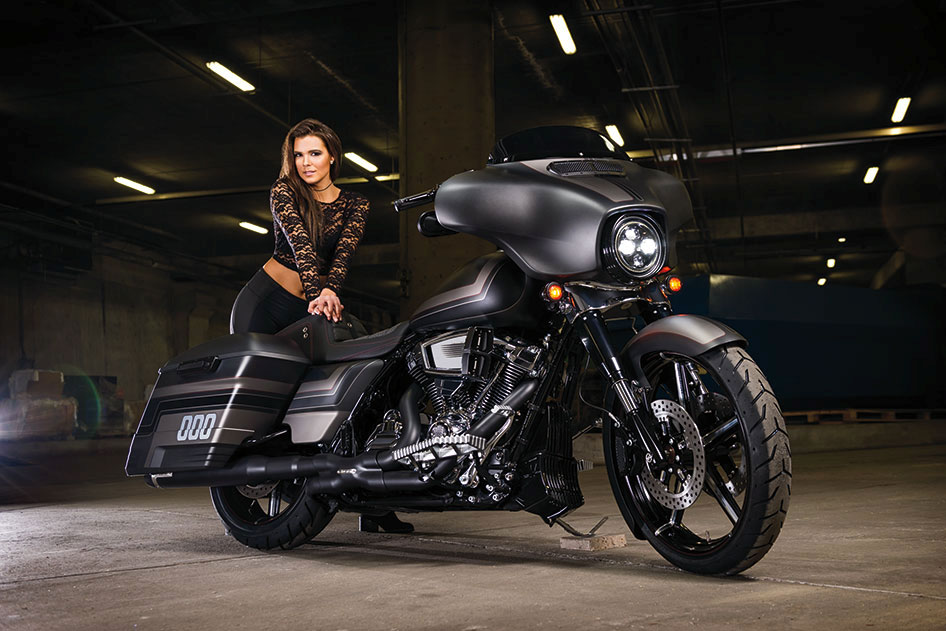 The sleek, industrial appearance of this machine strikes a distinctive balance of refinement and rawness. Kuryakyn designers chose select pieces from their all-new Riot and Mesh Collections, adding customized components and stunning paint by Todd "Gilby" Gilbertson to create a harmonious push pull of mechanical grit and class. This beautiful custom motorcycle is powered by Crusher exhaust and Kuryakyn's iconic, freshly re-imagined Hypercharger ES.
The bike will be up for sale as it makes appearances at various events across the country. It will be on display at Black Hills Harley-Davidson in Rapid City, SD in July 2017 and will be available to go home with its new owner after appearing at the Buffalo Chip in August.
If you're interested in purchasing the bike, call the Sturgis Buffalo Chip at 605-347-9000.
Car Show
1900-48 Street Rod 1st Place
Bob Dunaski;
1937 Chevrolet Street Rod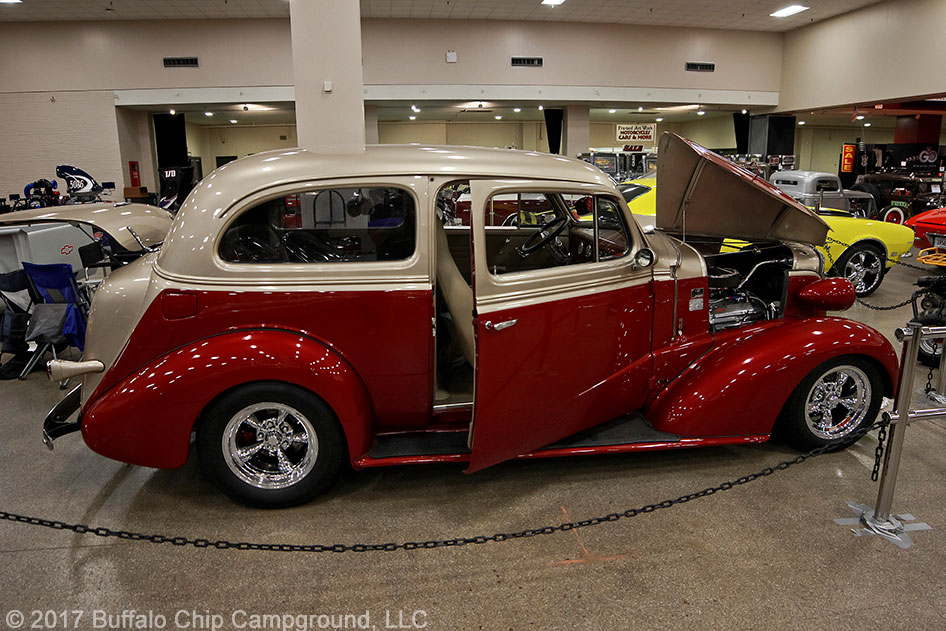 Originally a '37 two-door Chevy sedan, this street rod was decked out with a chromed-out 350 engine and 400 transmission, custom chrome mag rims and a candy apple red and silver paint job. Who wouldn't wanna take this ride out for a leisurely cruise on a sunny afternoon?
Low Rider 1st Place
Skin City Ink
Scottie Perez
Oakdale, MN
1965 Cadillac Deville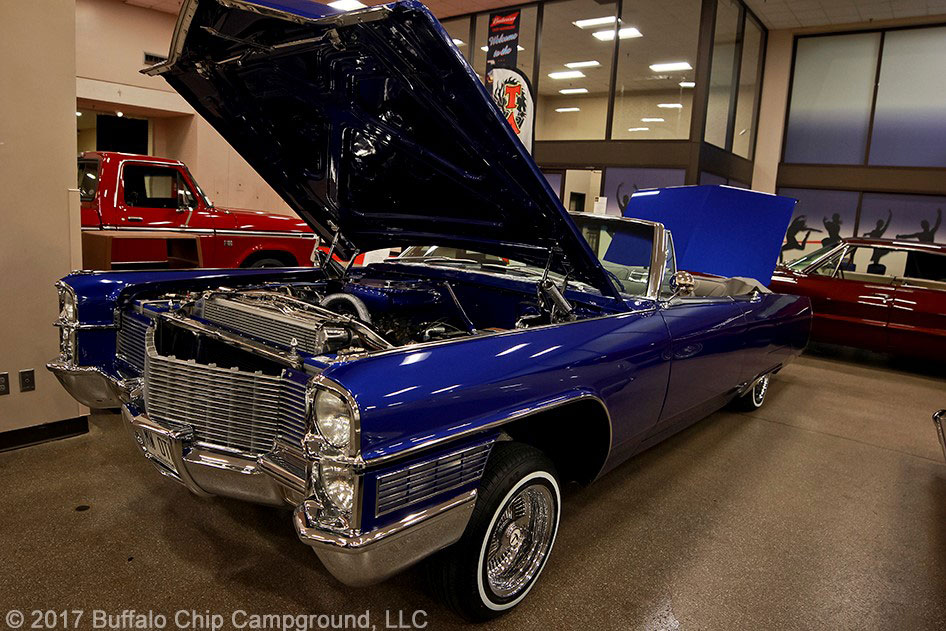 This two-door Caddy convertible grabbed your attention from a distance with its custom clear coat blue paint job, polished aluminum grill, chrome deep dish rims and thin-lined white wall tires.
1948 & Below Truck 1st Place
Duane Gregory
Albert Lea, MN
1939 Ford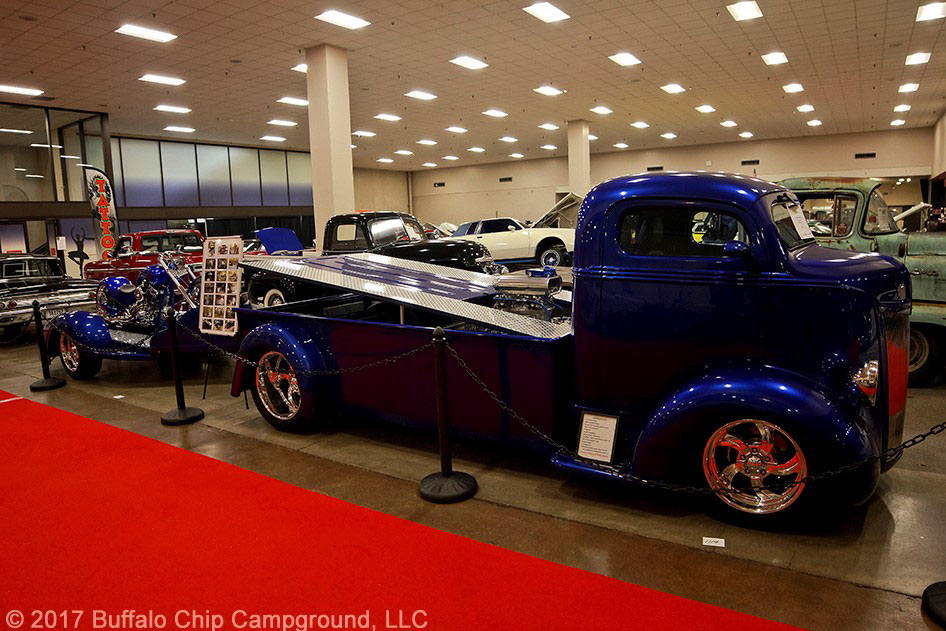 With air ride, a custom Alumicraft grill and a 454 motor behind the cab, it's probably safe to say nobody from 1939 would've ever dreamed a COE could've looked like this.
Drag Non Streetable 1st Place
Lucas Oil
Drag Car
Without a conventional door, whoever gets behind the wheel of the Lucas Oil funny car has lift up the whole top in order to do so.
Rat Rod Car 1st Place
Tim Feidt
Maplewood, MN
1928 Ford Model A Rat Rod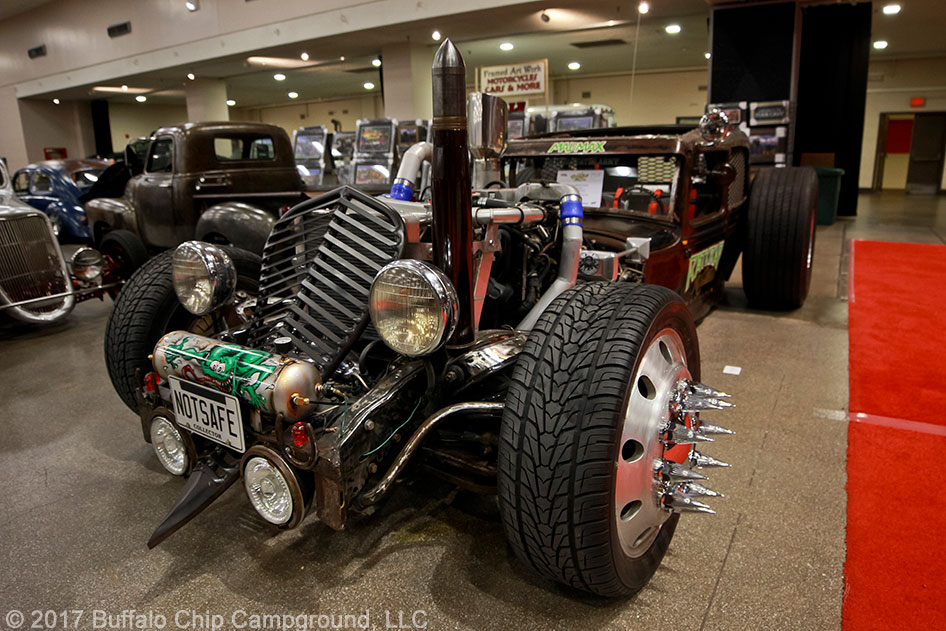 The "Not Safe" warning on the license sure didn't stop us from wanting to climb inside and see what kind of damage we could cause.
More to Explore
Though bikes and cars get main billing at the Donnie Smith Bike & Car Show, the parts extravaganza, new tattoo expo and vendors alone are worth the trip.
Parts Extravaganza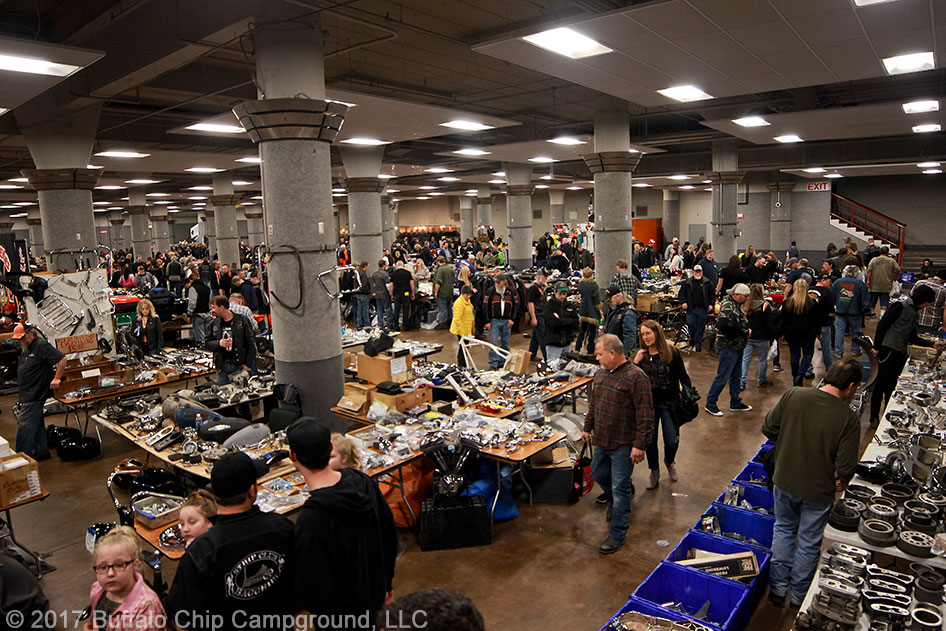 While the Donnie Smith Show is the largest motorcycle event in the Midwest, its parts extravaganza is the biggest on the planet! The proof was in the pudding as tons of folks wandered the vast sea of parts searching for something special to restore, repair or add custom flair to their rides, then poured back out into the bike and car shows with armloads of parts.
Tattoo Expo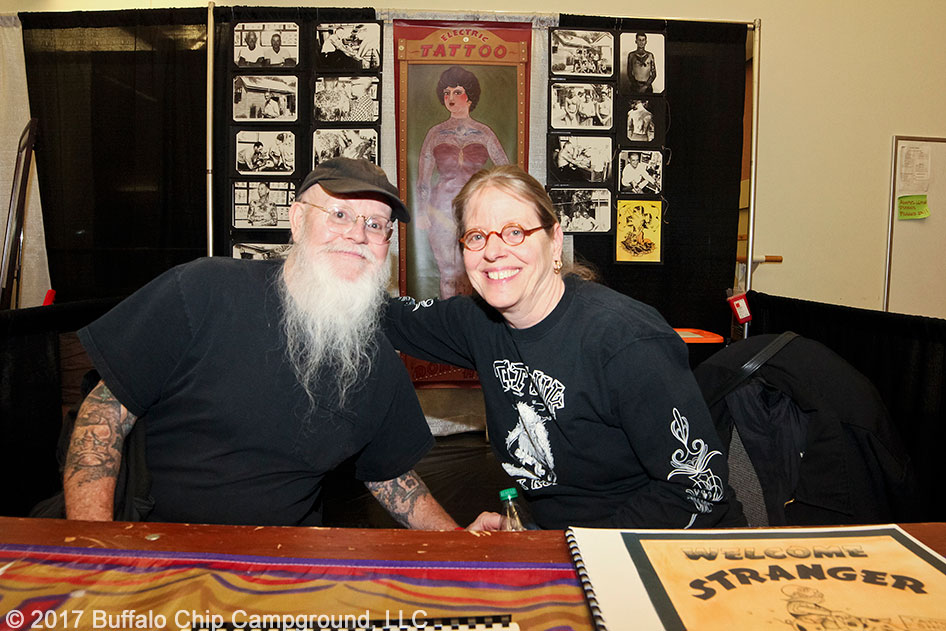 A welcome addition to the show this year, the new Tattoo Expo filled the third floor of the RiverCentre. This area allowed you to immerse yourself in the ancient art of tattoo, seeing work on display as well as live works in progress.
*****
For more details about the 2017 Donnie Smith Bike & Car Show, check out the official show program or visit www.DonnieSmithBikeShow.com.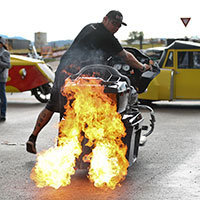 Presented by the Sturgis Buffalo Chip
Known as The Best Party Anywhere®, the Legendary Buffalo Chip believes festivals should be fun like a high five, reenergize you like a broken rule, and romance you like someone you just met and have to take home.
This nine-day festival of concerts and motorcycle events promises to bring you exciting events like flat track races and live performances from artists like Aerosmith, Willie Nelson, Five Finger Death Punch, Kid Rock, Rob Zombie and many more.
Find out more or get passes to the Best Party Anywhere at www.buffalochip.com and find out why it continues to be one of the most televised festivals in the world.
What was the coolest thing you saw at the Donnie Smith Show this year? Tell us in the comments below!