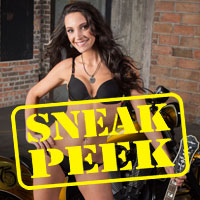 If you've been to the Buffalo Chip before, you know it's a bash with no shortage of biker babes. You'll see beautiful women nearly everywhere you turn, but the one you'll see most in 2015 is Raven Whitman. Raven recently proved she was Sizzlin' Hot and Ready to Rock by winning the Buffalo Chip Poster Model Search presented by Budweiser, which means she'll be making appearances both in print and in the flesh as the face of the Buffalo Chip's Party of the Century. On May 6, she took part in a day-long photo shoot as part of the contest's grand prize, and the shots turned out so well we couldn't resist leaking a few. Check out these six sexy shots to see for yourself!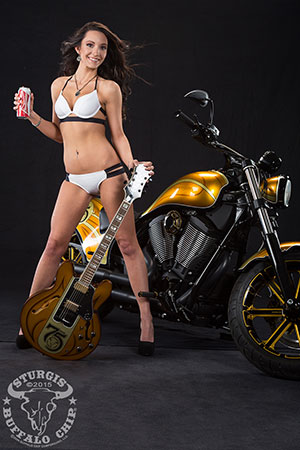 Bands, bikes, babes and Budweiser…This one breathtaking shot really sums up the full Buffalo Chip experience!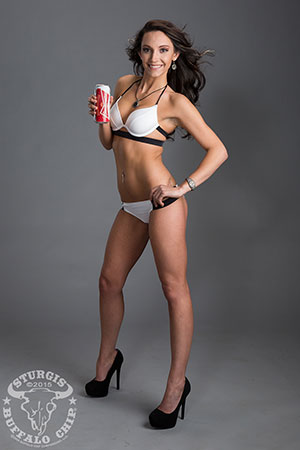 You'll see plenty of biker babes serving up Buds at the CrossRoads this summer. (Buffalo-Chip-themed jewelry courtesy of Black Hills Gold by Coleman.)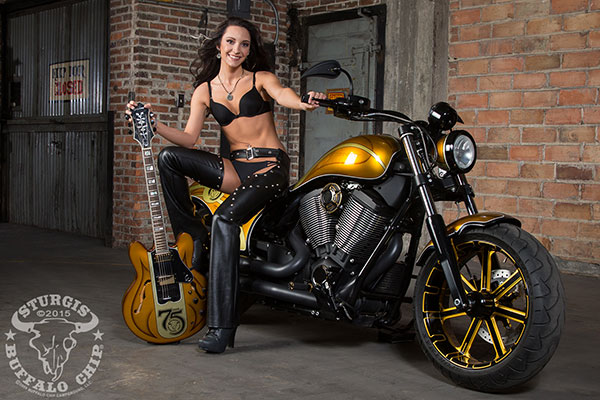 Raven was honored to pose next to this year's Sturgis Rider® Sweepstakes prize.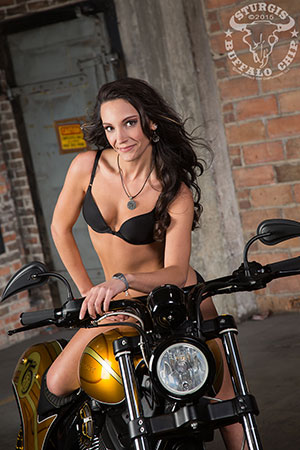 Don't you think she looks like a natural sitting on this 2014 Victory Gunner customized by Cory Ness?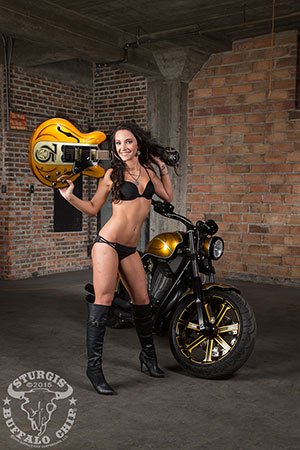 Raven was ready to rock some behind-the-head guitar solos with this Buffalo-Chip-themed Epiphone® Sheraton II guitar.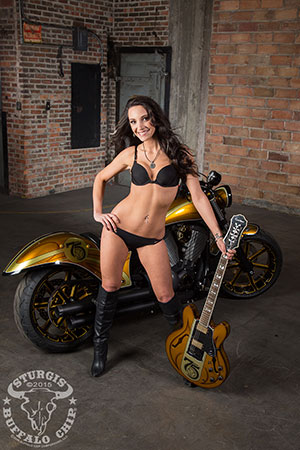 If luck's on your side, you'll be riding home from the Sturgis Rally on this stunning bike with the matching guitar in tow. All you have to do is register to win the Sturgis Rider Sweepstakes! You can sign up online, onsite at the Buffalo Chip CrossRoads or at participating Rider Friendly™ Businesses.
Eyes hungry for more? Check out these sexy boudoir photos of the other Poster Model Search finalists and this sizzlin' hot video footage from the finals.
Still can't get enough? Check out this behind the scenes footage from Raven's photo shoot!
Special thank you to Budweiser, KSQY Radio, Kevin Eilbeck Photography, Jennifer Connell Graphics, Black Hills Gold by Coleman, Marla Browning at High Maintenance Salon, Jason Koppman and North Western Warehouse Co. of Rapid City for their contributions to the 2015 Poster Model Search.
Would you rather go home with the Sturgis Rider Sweepstakes prize or the Buffalo Chip Poster Model after the Sturgis Rally? Tell us in the comments below!