Every year the Miss Buffalo Chip pageant is locked and loaded with sizzlin' hot biker babes strutting across the main stage after every band plays. And while these lovely ladies look mighty fine in both biker and Buffalo Chip wear, it's not until the final round of the night that you find out just how blazing hot the competition gets. That's because the Chip saves the best for last with a bikini round throwdown after each night's headliner. Check out this video to see some of the best bikini-clad moments they caught on camera in 2016!
Hello again. Chances are you might be a little sad now that you've reached the end of the video. Well, don't be, because there's still plenty of eye candy to feast upon!
If you need more Miss Buffalo Chip in your life, then you'll definitely want to check out the 2016 Miss Buffalo Chip photo gallery and these 15 Miss Buffalo Chip Photos You Can Kiss at Midnight if Necessary. If that's not enough hotness for ya, then chances are you'll enjoy these 17 Biker Babes Who Are Hotter than South Dakota in August or the Baddest Biker Babes photo gallery.
Tell us who your favorite hottie was in the comments below!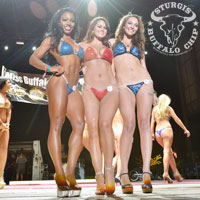 Presented by the Sturgis Buffalo Chip
Known as The Best Party Anywhere®, the Legendary Buffalo Chip believes festivals should be fun like a high five, reenergize you like a broken rule, and romance you like someone you just met and have to take home.This nine-day festival of concerts and motorcycle events promises to bring you exciting events like flat track races and live performances from artists like Aerosmith, Willie Nelson, Five Finger Death Punch, Kid Rock, Rob Zombie and many more.Find out more or get passes to the Best Party Anywhere at
www.buffalochip.com
and find out why it continues to be one of the most televised festivals in the world.