Thousands of motorcycles, beautiful biker girls, unforgettable concerts, and inexplicable freedom made for one heck of party at the Buffalo Chip during the 2014 Sturgis Rally. Late night parties, scantily clad women, drunken debauchery, crazy outfits, you name it—it's all captured here. Check out these 17 Sturgis photos that prove what happens at the Chip doesn't always stay at the Chip!
1. "Girls just wanna have f-u-u-u-n!"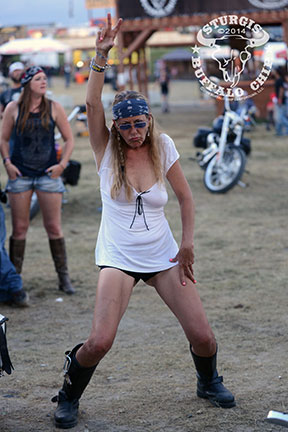 The Buffalo Chip is no boys-only club! Biker girls can have just as much fun as their male counterparts.
2. "I just touched my first butt, and it was soooo good."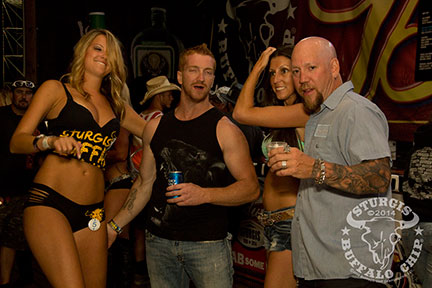 The luscious ladies of the Miss Buffalo Chip Pageant love to entertain crowds on stage and mingle with guests off stage.
3. "Everyone, come see how good I look in the front row!"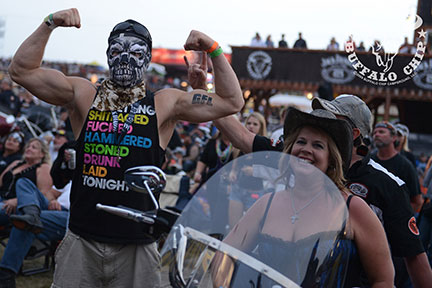 There are plenty of places to get a great view of your favorite band at the Chip, like the front row, the Top Shelf or the Fan VIP Skybox.
4. "You'll have to come closer, sweetie. I can't hear you!"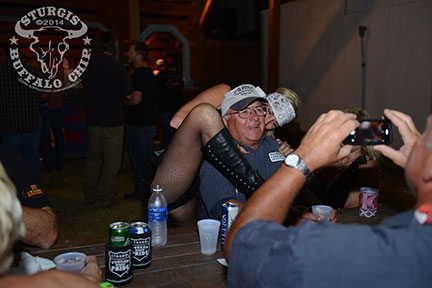 Sometimes things can get a little too wild in our VIP reception area.
5. "My ____ is bigger than yours!"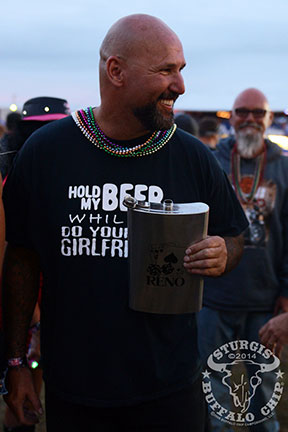 There are few things that make Sturgis concerts at the Chip better, except maybe a little social lubricant. (Or a lot.)
6. "Check it out…These things are real (and as big as my head)!"


The Chip's the place where you can be yourself or be someone else!
7. "This mix is equal parts agave and belly button lint."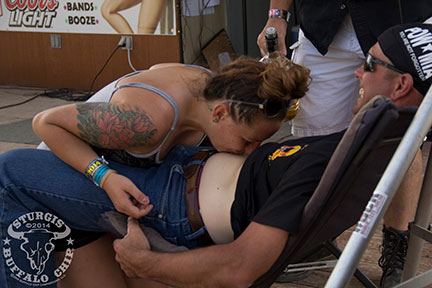 Homemade bikinis, beer bellies, big ol' burps and, of course, body shots. Anything goes at Jose Craigo's daily Bikini Beach Party, and we do mean anything!
8. "You wish you knew what I had to do to get these big beads."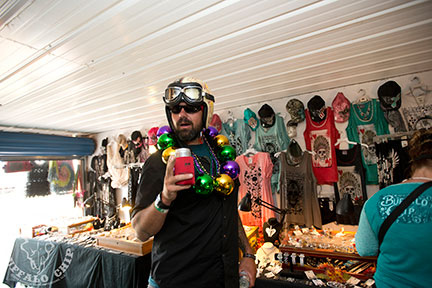 Beads were everywhere at the Best Party Anywhere thanks to Chip vendor Beads Beads Beads and that other word that starts with "B."
9. "This cooler's big enough for a six pack and my nitro booster."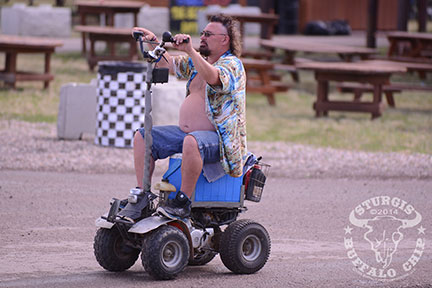 This year riders of all types of vehicles appreciated the Chip's new stretches of paved roads.
10. "Hold on tight…the ride is long."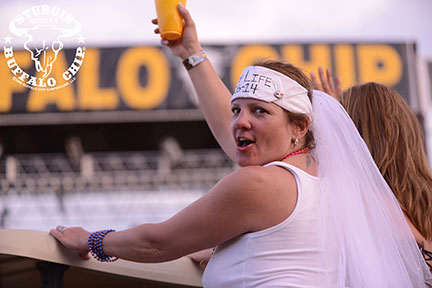 Biker nuptials took place throughout the grounds, including several ceremonies at the ride-through chapel at the CrossRoads.
11. "We are so happy! Are you happy?"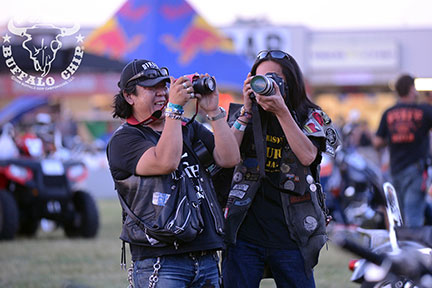 Japanese biker band, MMS, might not have spoken much English, but they proved motorcycles and music are truly the universal language when they rocked the stage.
12. "Hey, PETA! Check this out!"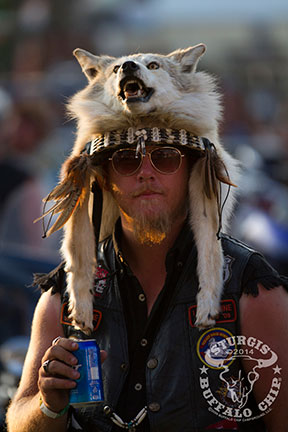 Hats from Chip vendor, Merlin's Hide Out, always find their way into the best Sturgis photos.
13. "How's the view from up there? Mine's amazing!"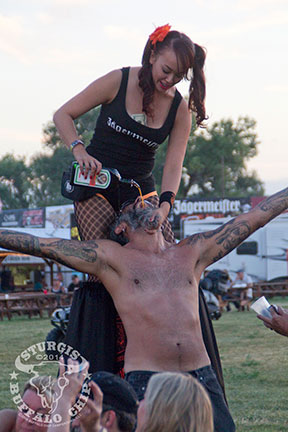 The Jägermeister stilt walkers took the party at the Chip to new heights!
14. "Are you horny? I'm horny."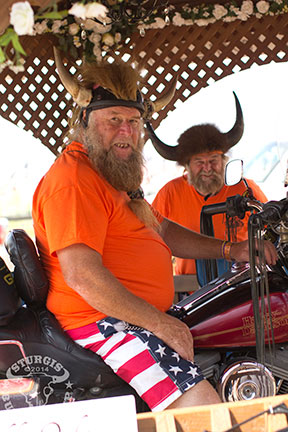 Those with an undying love for their bikes rode through and said "I do" in motorcycle marriage ceremonies at the CrossRoads' ride-through wedding chapel.
15. "We call this jump the 'Double Rainbow.' "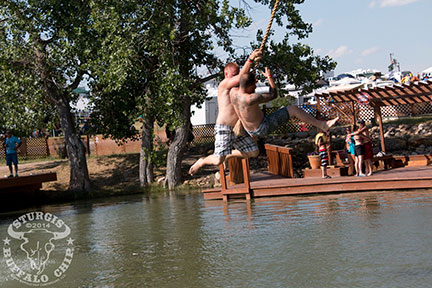 Belly flops, face plants, back flips and cannonballs kept guests cool during the daily Rope Swing Contest at Bikini Beach.
16. "Really wished I'd noticed the sissy bar."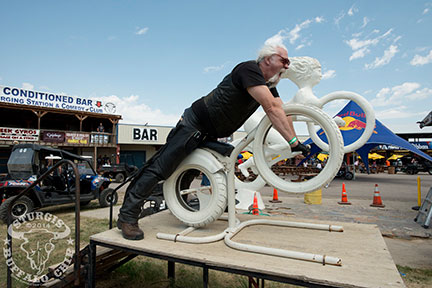 Throughout the Sturgis Rally, guests did their best trying to imitate the "Miss Chippie" statue built by Chip veteran, Har-V.
17. "My eyes are up here!"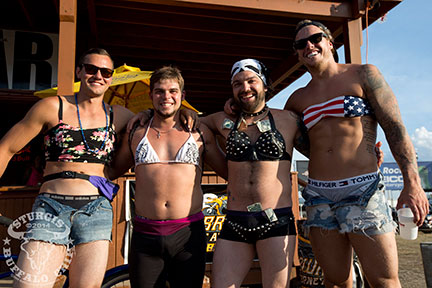 The Buffalo Chip bar backs got tired of the female bartenders hogging the spotlight, so they decided to take matters into their own hands.
Three decades of epic parties has definitely earned the Sturgis Buffalo Chip® its reputation as the Best Party Anywhere™. These photos prove it!
Want to see more shots of party people at the 2014 Sturgis Rally? Check out the Chip's People of the Chip Photo Gallery! Who knows, you might even see yourself!
What was the wildest thing you saw someone do while at the Best Party Anywhere? Tells us about it in the comments below!