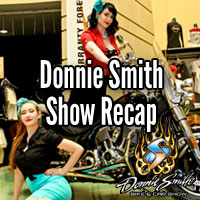 After spending a long, wicked Minnesota winter bundled up to the point of virtual immobility, few things could keep a motorcycle or car enthusiast indoors on a sunny spring day. That is, of course, unless it's the weekend of the annual Donnie Smith Bike & Car Show. Each year tens of thousands of freshly thawed enthusiasts flock to the RiverCentre in St. Paul, Minn. to experience this monster menagerie of motorcycles, cars and parts, and with good reason! Walking the floor, talking with some of the biggest names in the biz and gawking at every impeccable custom detail is a great way to melt your mind so you can start dreaming and scheming for your next scenic ride or customization project. Don't believe it? Check out these show highlights for proof!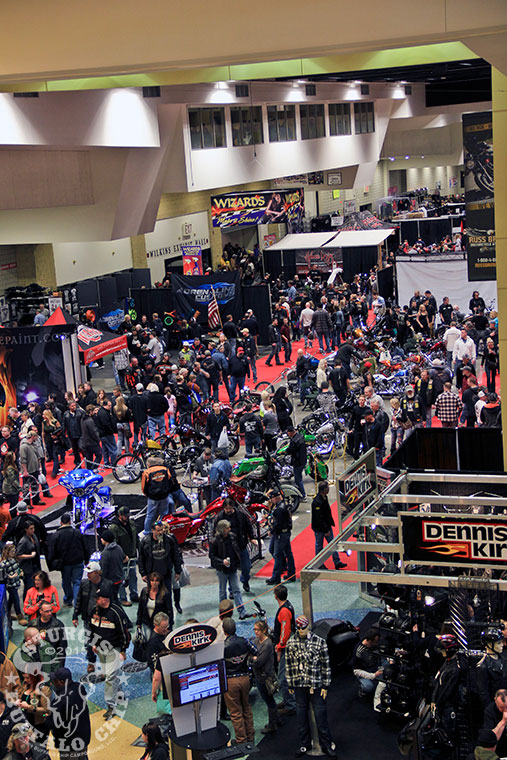 Highlights from the Bike Show
With more than 250 killer customs vying for your attention, repeated blasts of unsettleable stereo wars rattling your bones, and legendary industry names lurking around every corner, the Donnie Smith Bike Show can easily send you into sensory overload. Luckily the Sturgis Buffalo Chip® was able to join forces and make its way through the show floor with someone who knows the territory because she's been living and breathing custom motorcycles since the day she was born—Jody Perewitz.
Check out this video to see some fascinating details Jody was able to uncover while talking shop with some of the builders at the show on Saturday, April 2!
Jody had a knack for spotting winners, because several builders she spoke with went on to win major awards on Sunday, April 3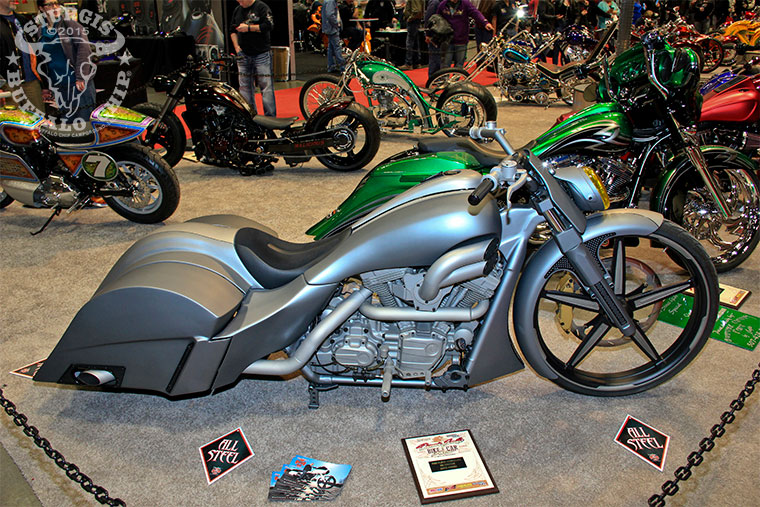 This grey all-steel bagger from DD Custom Cycle featured in the video above won 1st place in the Pro Class and picked up the Baddest Bagger Award.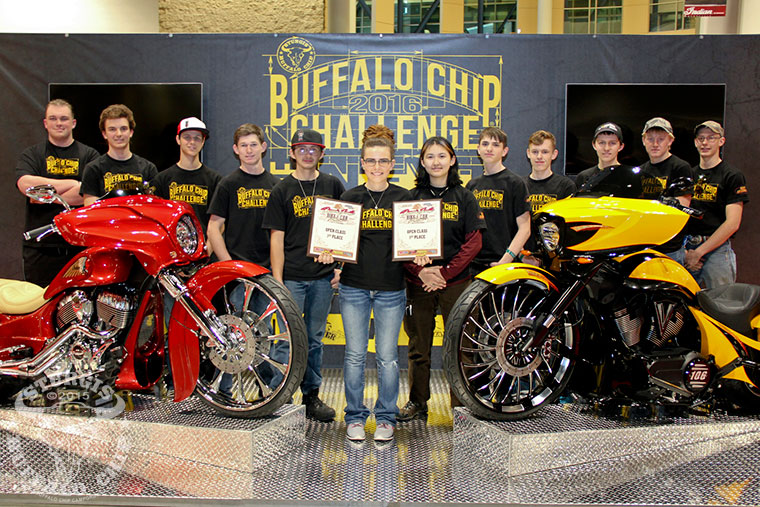 Participants of the 2016 Buffalo Chip Challenge® took home first place awards for both of their bikes—the 2016 Victory Cross Country in the Sport Street (Modified/Custom) Class and 2015 Indian Chief Classic in the All Makes (Full Custom) Class.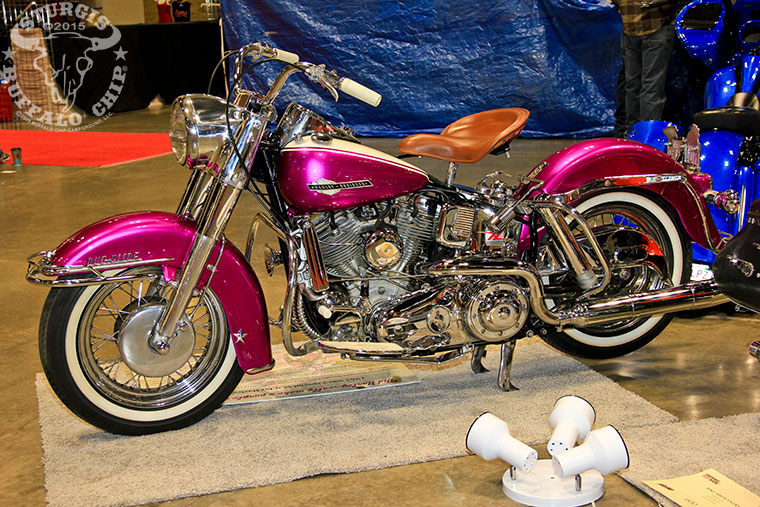 Greg Lew's 1963 Panhead was fully restored with all original HD parts and show plating. The bike took first place in the Antique Class.
Some other bikes, builders and booths that turned heads…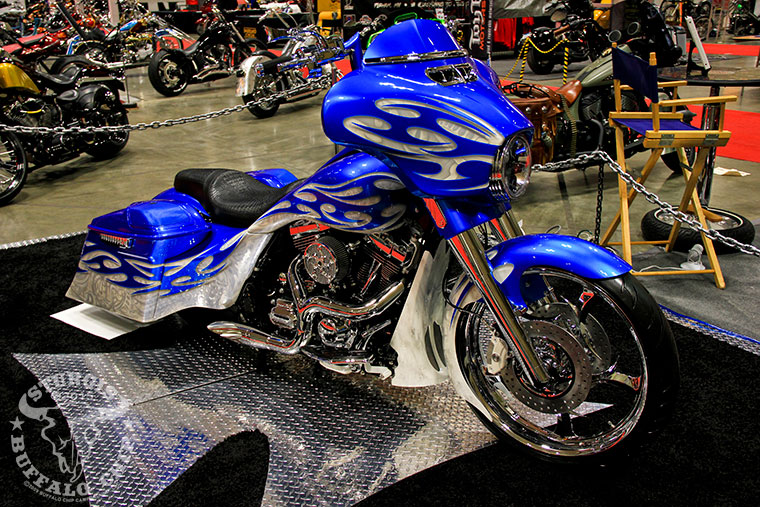 The three-dimensional details on Tim Droger's 2014 Street Glide drew the attention of one of the industry's most renowned painters. Dave and Jody Perewitz hand selected it as the recipient for their prestigious Perewitz Pick award.

It isn't every day you get to see a bike on the show floor that's over 100 years old and still in original condition. Billy Lykken's 1914 Excelsior Twin was one of the crown jewels of this show, winning the award for Best Antique.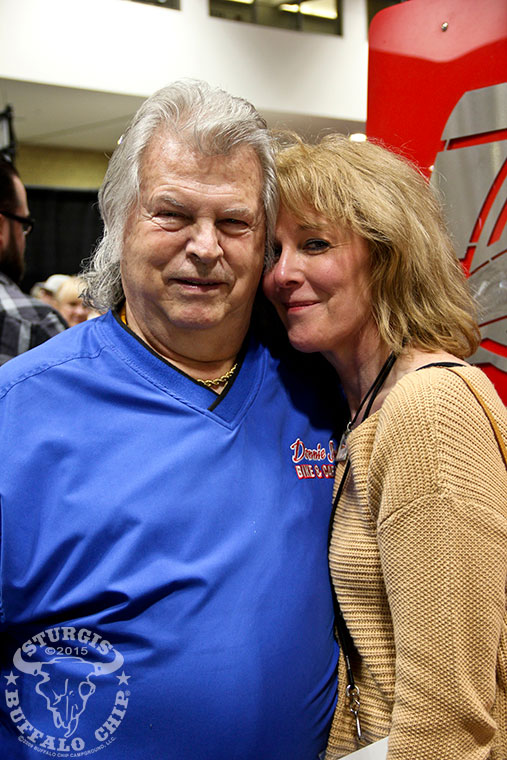 Everyone was eager to stop by and visit Donnie Smith (seen here with his better half, Dawn) to wish him a happy birthday.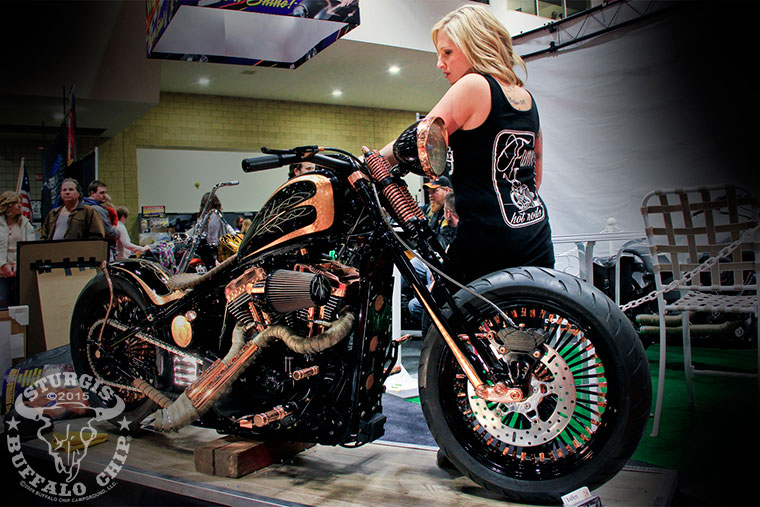 This Fame Hotrods hardtail, known as the "Cash Bike," featured a crazy amount of copper plating and leaf, and paid homage to the Man in Black by painting him right on the top of the tank. This bike walked the line and won the award for Best Bobber.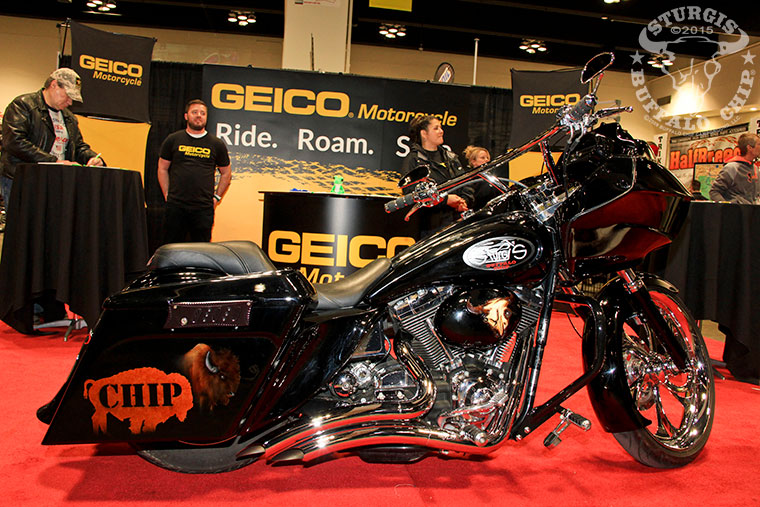 Rod Woodruff's Sturgis Buffalo Chip-themed HD Dyna, customized by Chris Malo from Baggster and Keith Terry of Terry Components, got to hang out with the good folks of GEICO Motorcycle throughout the show.

This display for Kathy Kahler's 1200 HD Sportster was part madness, part brilliance with its pirate theme and inclusion of Jack Sparrow, winning it the award for Best Display.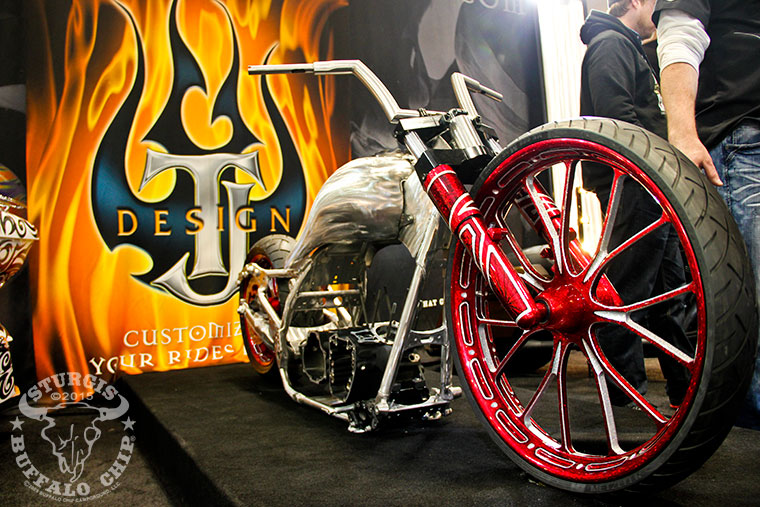 TJ Design rigged up one of the most eye-catching displays, using a roller built into their platform to allow the front wheel of this bike to spin continuously. For their efforts, they won the first ever vendor display award.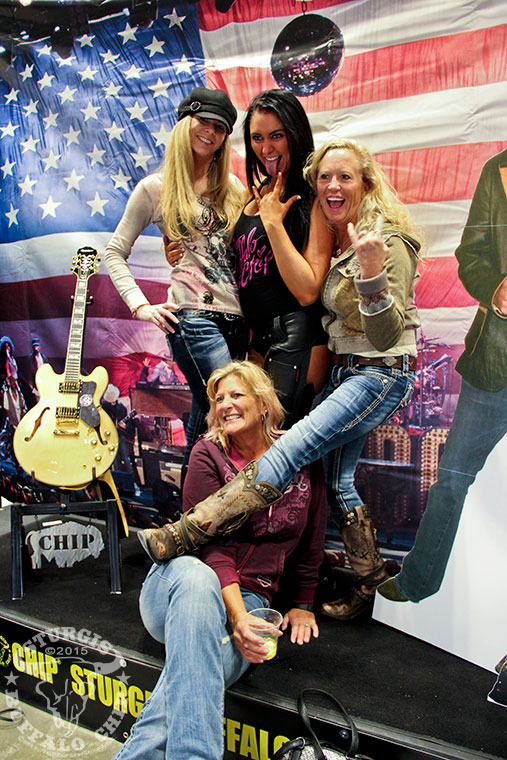 Attendees channeled their inner rockstar in the Sturgis Buffalo Chip booth with Miss Buffalo Chip contestant Michelle Bue, and Chip performers Kid Rock and Miranda Lambert for their chance to win a 35th anniversary edition Epiphone Sheraton II Pro guitar.
Car Show Highlights
You may know the Donnie Smith Show as "The Largest Show on Two Wheels," but this epic event has plenty of eye candy for those of the four-wheeled persuasion too. Just up the stairs from the bike show, you'll find dozens of incredible classic cars and hot rods filling the Roy Wilkin's Auditorium.
Check out a few favorites…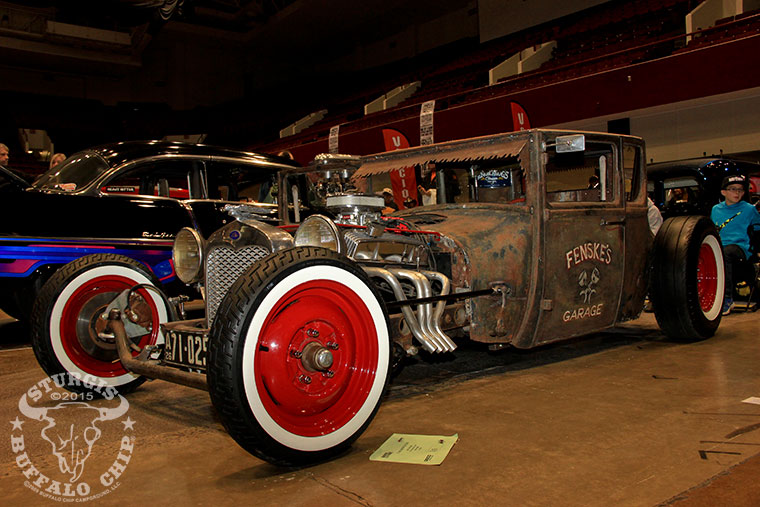 OUCH! You'd better hope you were up to date on your tetanus shots if you came anywhere near this Rat Rod from Fenske's Garage.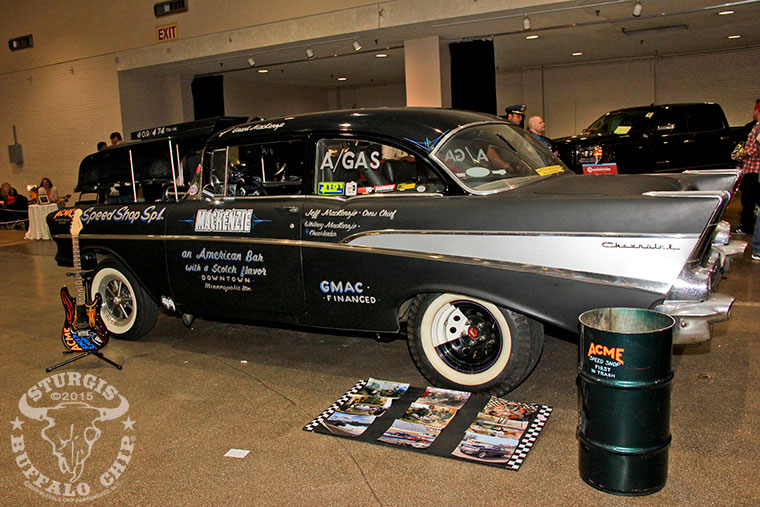 Gary MacKenzie's '57 Chevy 210, with its matching custom guitar, floored its way into first place in the Gasser Class.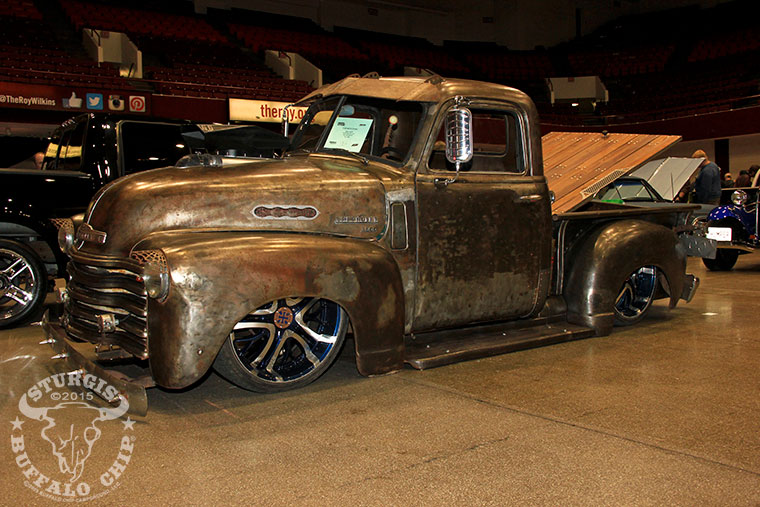 This patina'd 1949 Chevy took first place in the Rat Rod Class.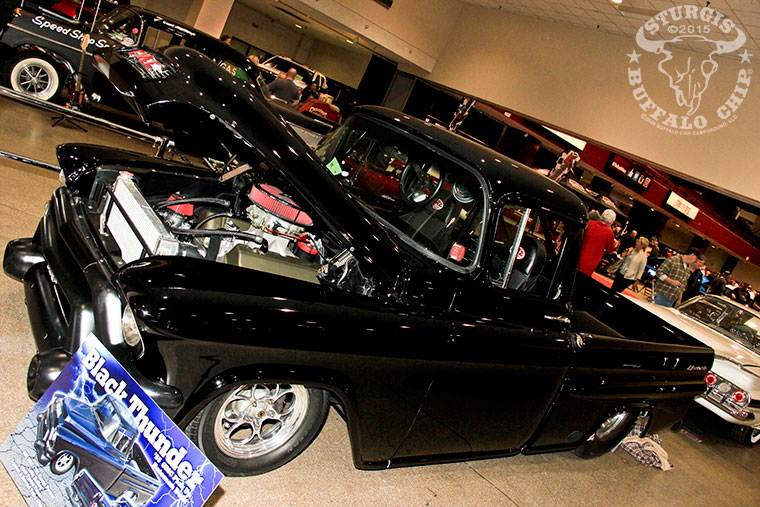 This earth-shaking '55 GMC Bateman Built pickup known as "Black Thunder" took first place in the Pro Street Class.
Passing Down Parts at the Swap Meet
While the Donnie Smith Show is the largest motorcycle event in the Midwest, its parts extravaganza is the biggest on the planet! So whether you're looking to restore, repair or add some custom flair to your ride, you're sure to find something special in this vast sea of parts.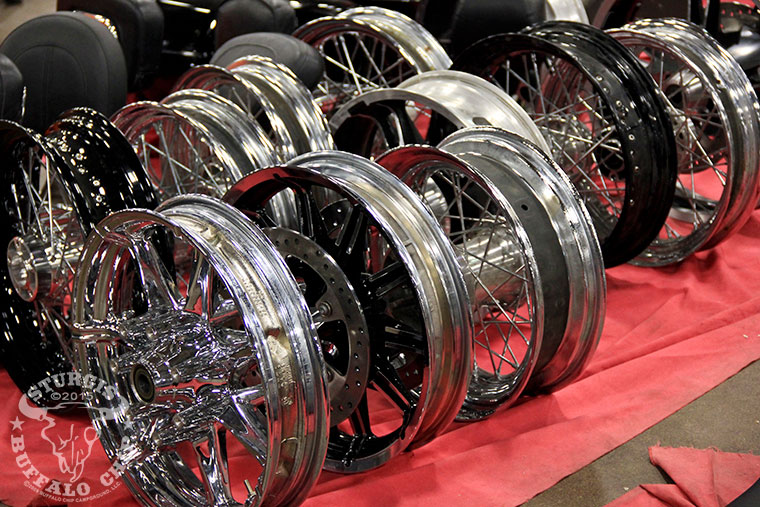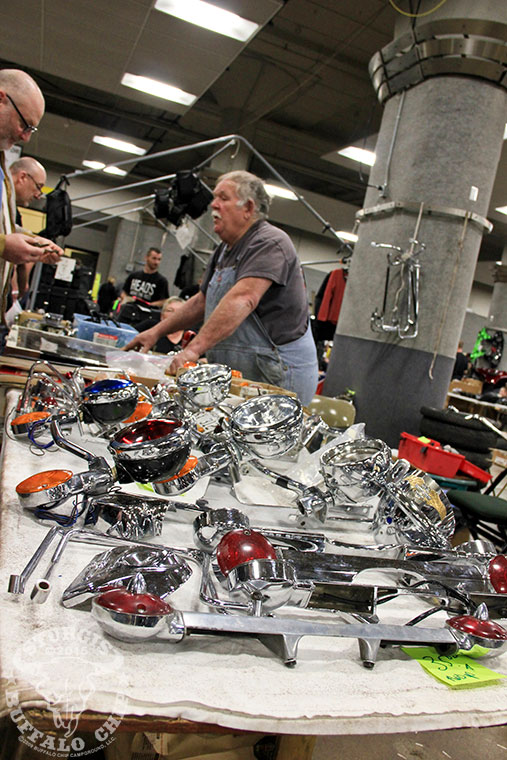 So what's new for next year?
It will be hard to top this year's Donnie Smith Bike & Car Show, but show organizers are already well on their way to pulling it off. For the show's 30th anniversary in 2017, you'll be able to see the work of some of the nation's best tattoo artists at Donnie Smith's first ever Tattoo Expo in addition to all the bikes, cars and parts your heart could ever desire.
The 30th annual Donnie Smith Show takes place March 25-26, 2017. Hope to see you there!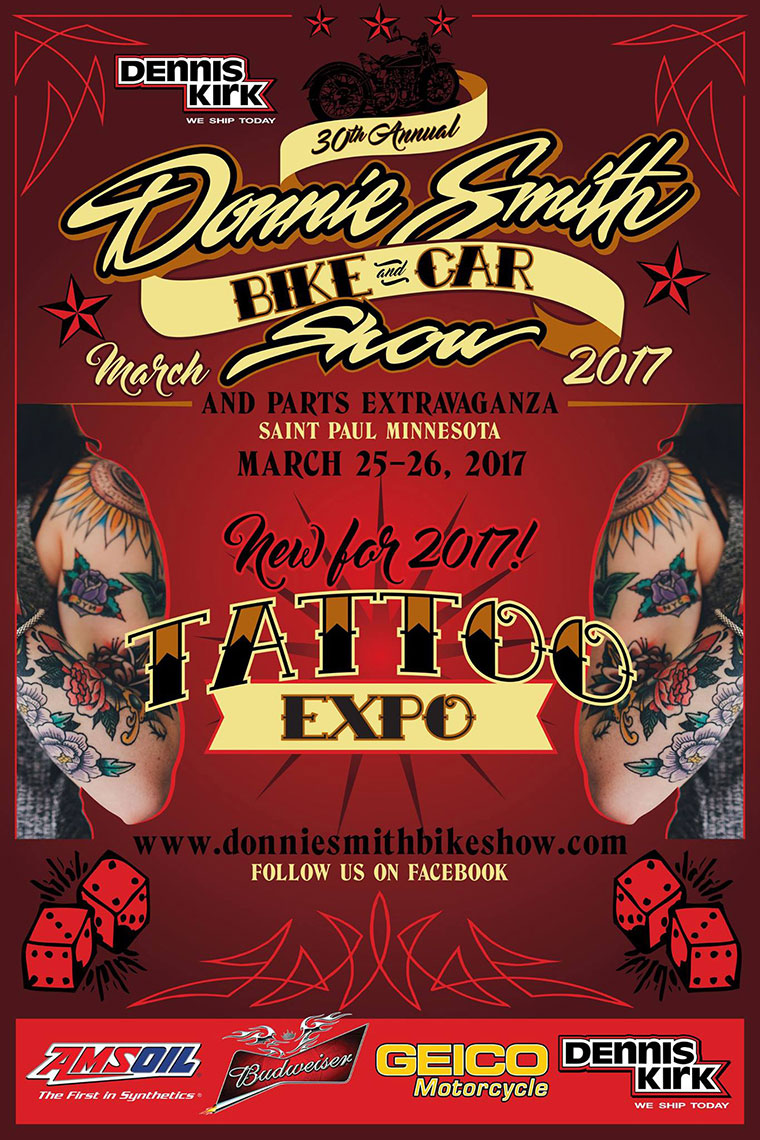 For more details about the 2016 Donnie Smith Bike & Car Show, check out the official show program or visit www.DonnieSmithBikeShow.com.
Got a cool ride yourself that's bad enough to be in a show? Share your photo in the comments below!