It's official. You've decided you're going to the Buffalo Chip for the Sturgis Motorcycle Rally.
Knowing the Chip is the original venue that hosts the rally's most legendary bands, entertainment and events probably helped seal your decision. But now that your plan is in motion, there's a good chance you've come across some things you don't know about the Buffalo Chip.
Just because you're looking for an adventure doesn't mean you have to wing it and risk getting hit with unexpected surprises. Check out the videos below to learn more about what your trip has in store for you!
Skip ahead to specific topics:
Welcome Home Bikers® – Part 1
Where is the Sturgis Buffalo Chip?
Where is the Buffalo Chip? What's the best way to get there? How close is it to the other stuff I want to do?
Get answers to these questions and more in the video below!
The Buffalo Chip Campground is located in the Black Hills of South Dakota. It is just south of Bear Butte State Park and about 4 miles east of Main Street Sturgis, South Dakota.
There are two main entrance routes to get to the Buffalo Chip. You can take Hwy 34 through Sturgis and east 4 miles till you get to the Chip.
Or you can take the faster route by taking I-90 Exit 37 and Fort Meade Way.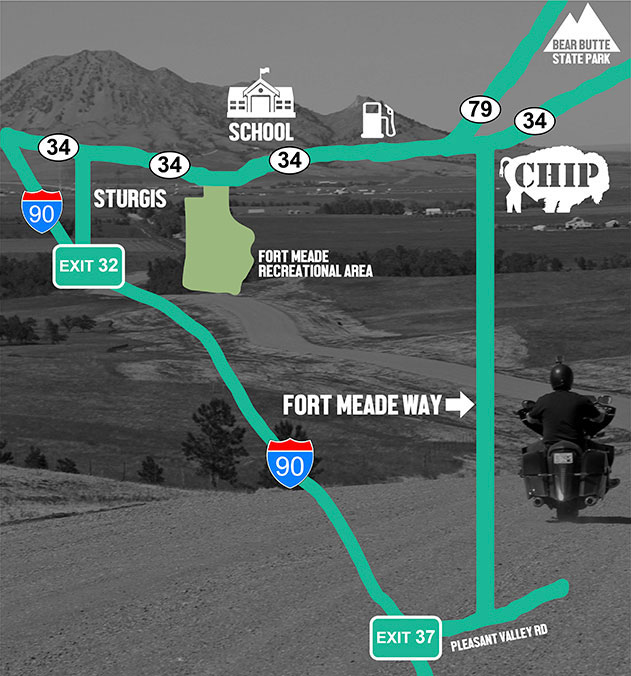 Once you're here, you'll be staying within a 600-acre venue with all the facilities, amenities and supplies you'd need to survive for the entire festival without leaving.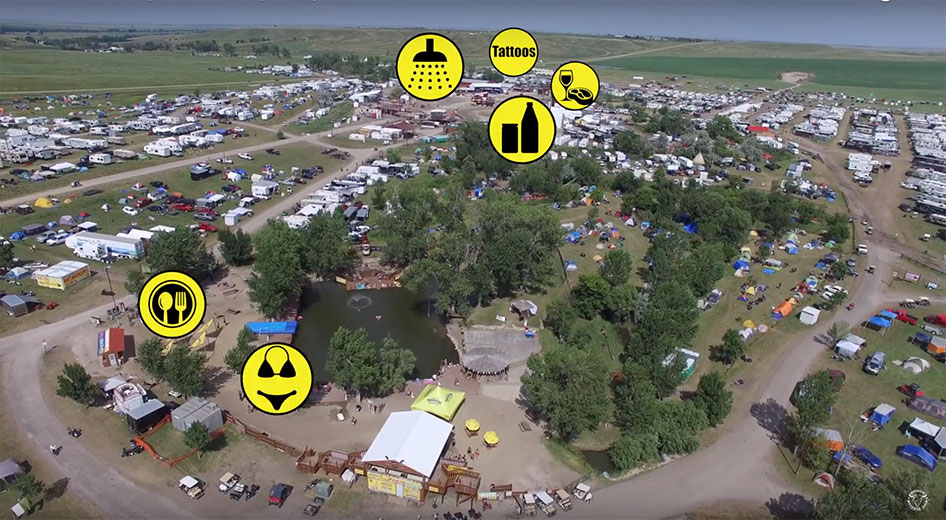 But we know you're going to want to get out and ride. The Buffalo Chip is a great place start from to explore the beauty of the Black Hills. Here are some popular tourist destinations and their distance from the Chip…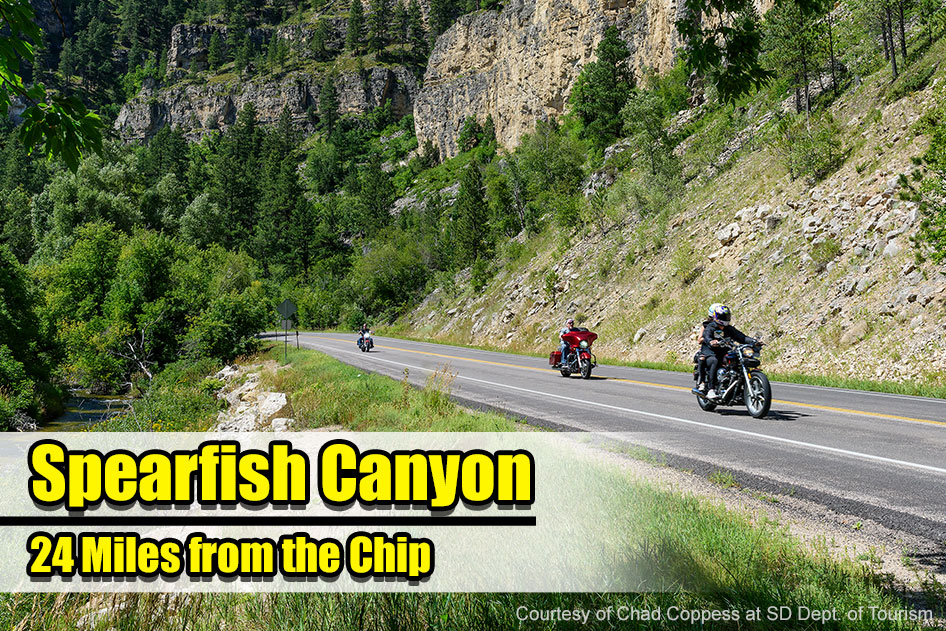 Spearfish Canyon is 24 miles away in Spearfish, which is also a great little community to visit while you're here.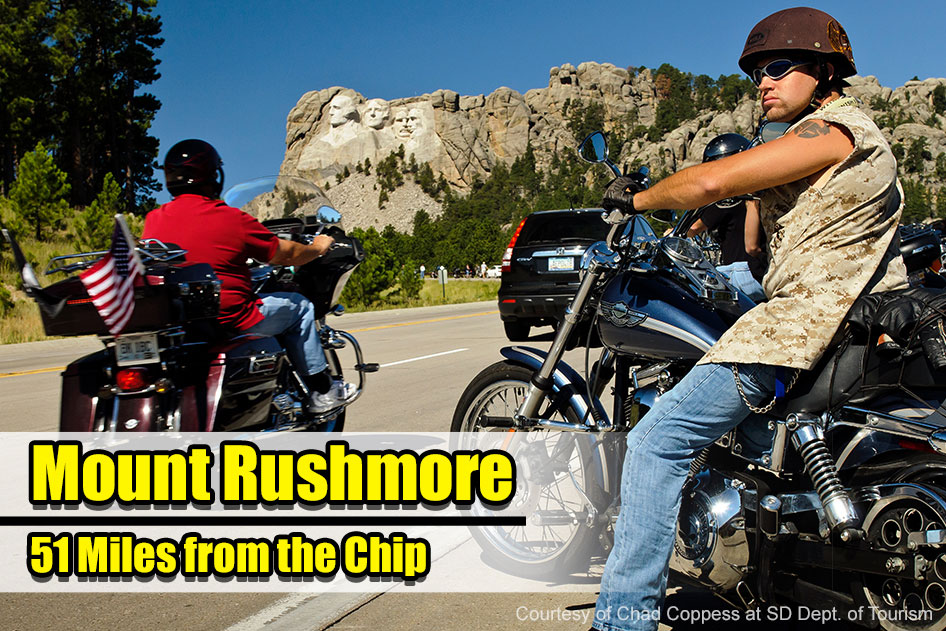 Mount Rushmore is only a 51 mile ride from the Buffalo Chip and is also very close to some popular ride spots like Needles Highway and Iron Mountain Road.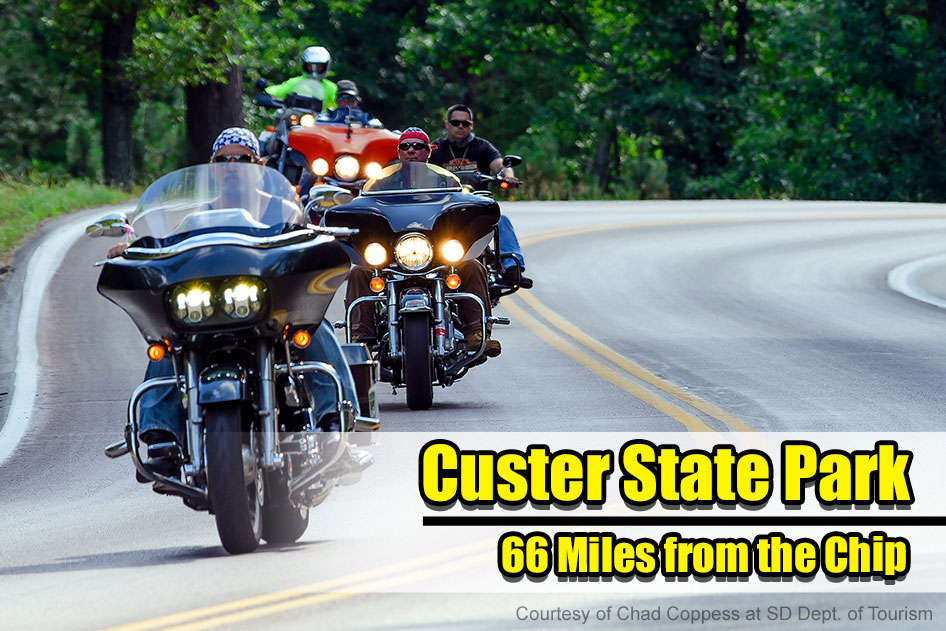 Custer State Park is 66 miles away and puts you in the heart of the southern hills and some serious wildlife sightseeing.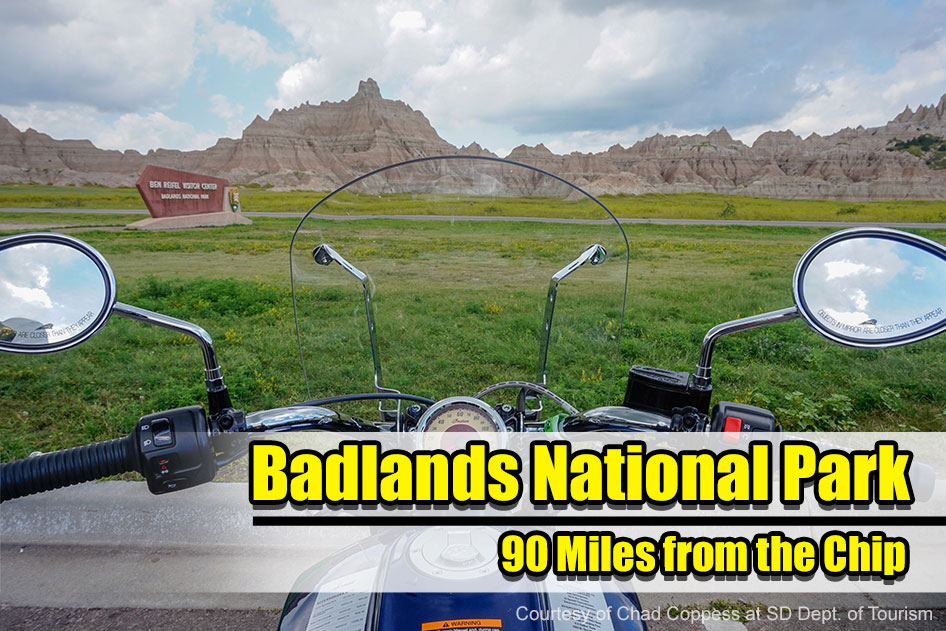 You can also ride to some world famous destinations like Badlands National Park southeast and Devil's Tower to the northwest. Both are about 90 miles away.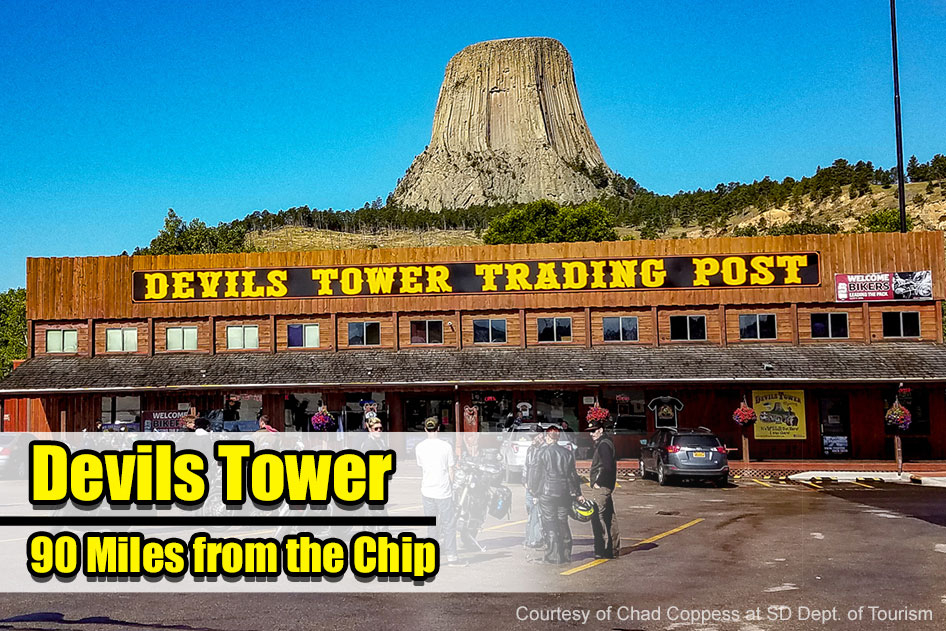 Staying at the Buffalo Chip puts you in the middle of the largest motorcycle rally in the country and some of the most beautiful scenery and rides you can experience.
Welcome Home Bikers – Part 2
A Quick Tour of the Chip
What is there to do at the Buffalo Chip? What else is there besides concerts?
What amenities does the Buffalo Chip have? What do I do if I left something at home? Where can I get a beer?!
Get answers to these questions and more in the quick tour video and information below!
One of the first things you'll see when arriving at the Buffalo Chip is the CrossRoads. This free-access site is located outside the west gate, and it's immediately identifiable by the World's Largest Big Twin Engine Sculpture near its center. During the day, Crossroads is rally in itself, with lots of vendors, bike shows, and entertainment like stunt riders live music, and contests.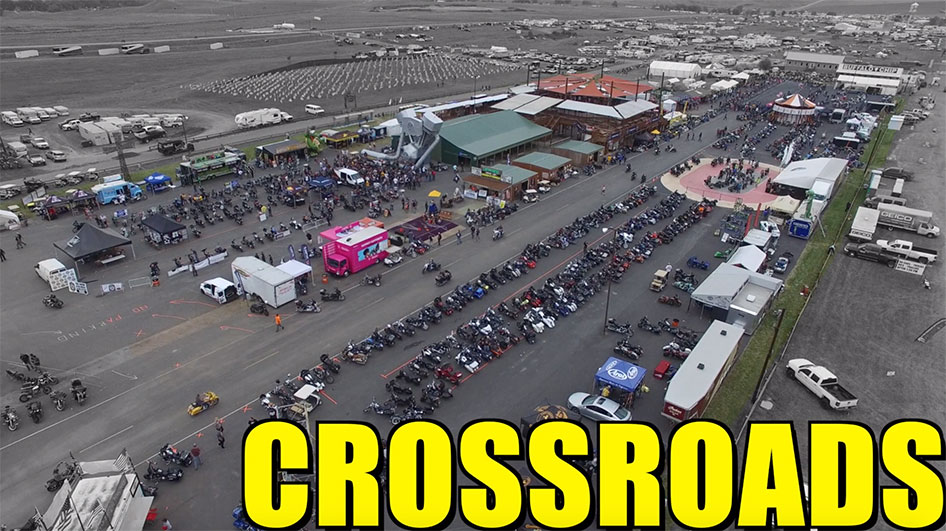 Pass through the CrossRoads and you'll discover the West Box Office, where you can grab your wristband and enter the main festival campground. Once inside, there's a whole world of activities, entertainment and amenities available to you.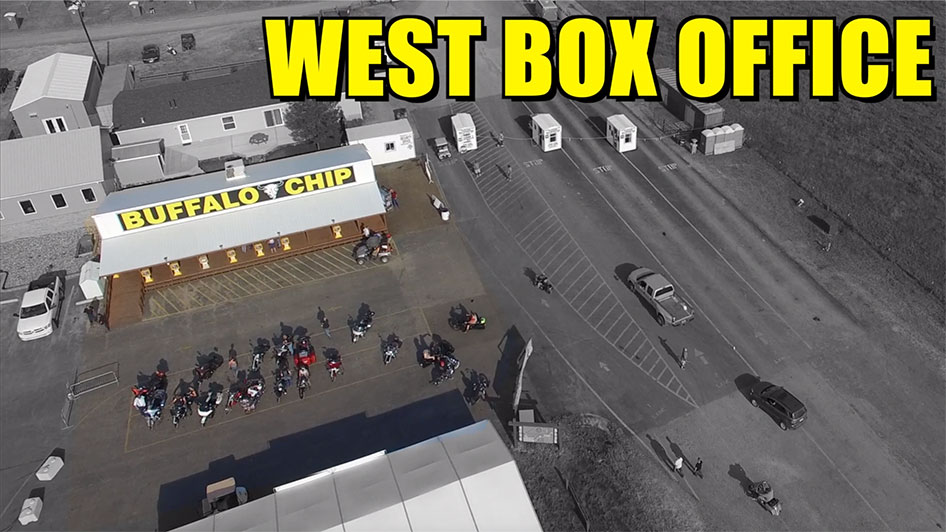 The natural amphitheater is the epicenter of activity that has helped earn the Buffalo Chip recognition as the "best outdoor concert venue in South Dakota" by MSN.com. This is where you'll find the Wolfman Jack Main Stage and nine days of some of the biggest and best names in music performing nightly.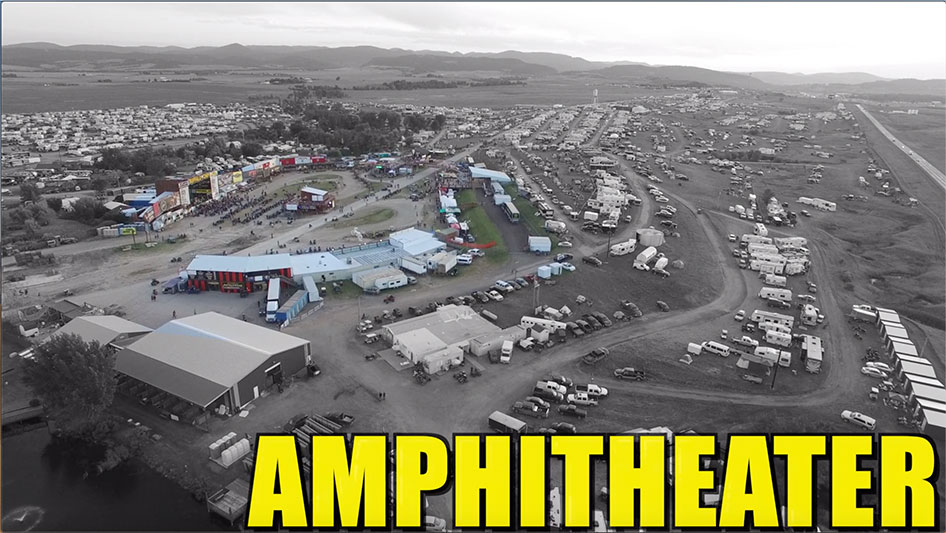 Also located within the amphitheater, you'll find the General Store, SpeakEasy Steakhouse and other eateries, numerous bars and vendors, Club Chip and even a Zipline.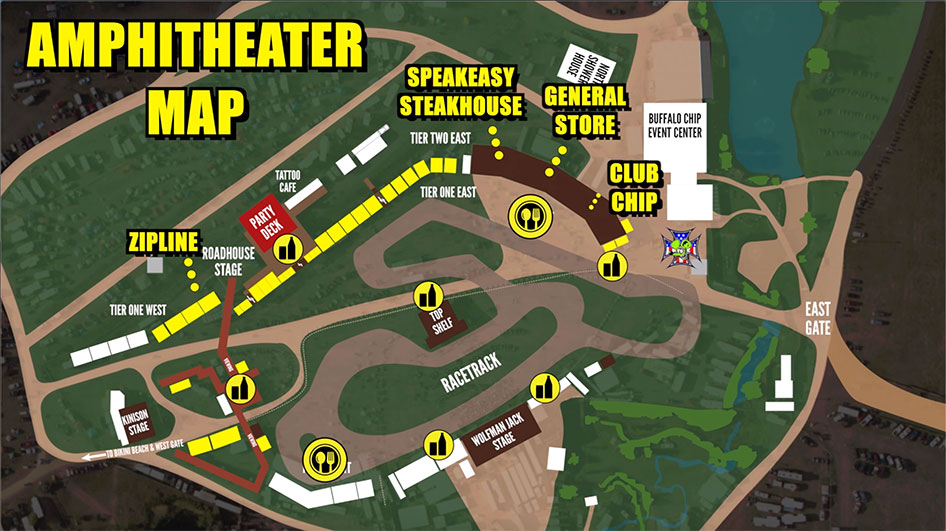 But don't just hang around the amphitheater all day. Venture out into the campground for more places to enjoy your time at the Chip.
Bikini Beach is located just down the road from the amphitheater. This natural swimming hole is wrapped on three sides by a large deck and boasts a rope swing and slip n slide. There are fun games all day on the Beach Stage and live music every night.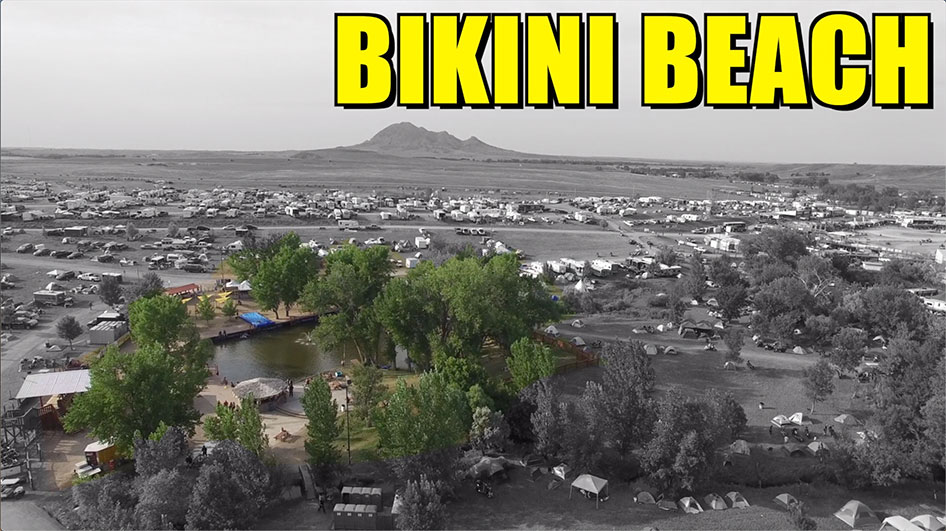 We know you'll need more than just places to hang out with your friends though. So the Buffalo Chip provides you with plenty of amenities to keep up with your rally festival needs.
There's off-sale beer and ice up at the Water Tower Junction. That's also where you'll find the drop-off laundry service.
There's free shower houses in two locations on the grounds—north and south—that also provide a coin-op laundry for guests to use on a first-come-first-served basis.
If you're looking for a more premium bathing experience, visit Deluxe Showers at the Water Tower. (You can prepay for passes right now on the Buffalo Chip website.)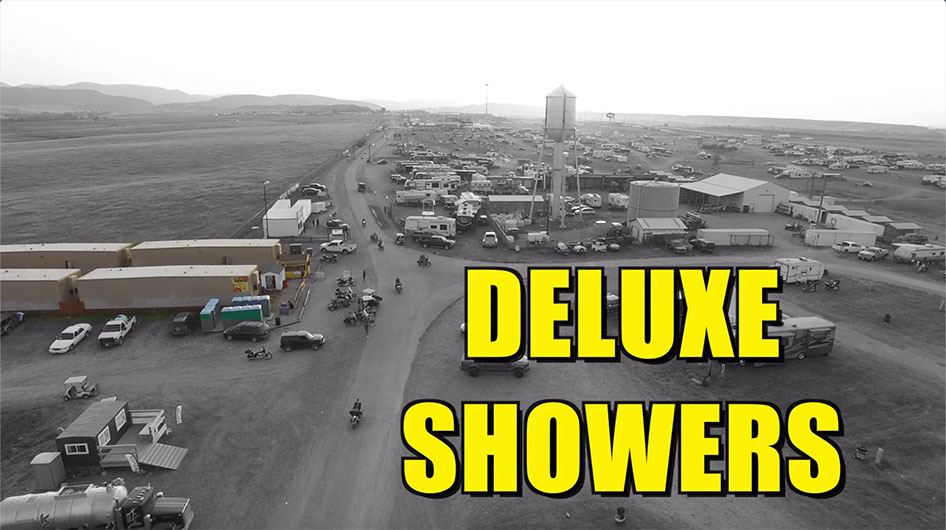 When you stay at the Buffalo Chip, you'll have everything you'll need to enjoy your rally vacation.
Welcome Home Bikers – Part 3
Festival Pass Options
What are my pass options? Can I buy single day passes? Can I buy bundles of day passes for cheaper?
What kind of camping is included in my pass? How do I get VIP?!
Get answers to these questions and more in the video and information below!
The Sturgis Buffalo Chip is the Largest Music Festival in Motorcycling®, and with nine days of concerts and races, there are a lot of pass options available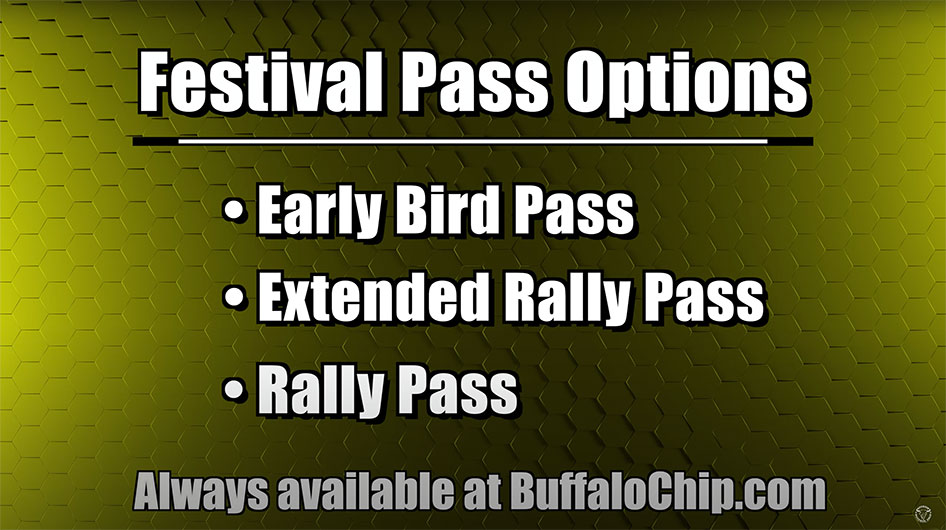 Depending on the time of year, the Chip offers a variety of passes to fit your rally vacation needs. Early Bird, Extended Rally, and Rally Passes are always available to buy at BuffaloChip.com.
The Early Bird Pass is a 14-day wristband that starts the Monday before the rally begins. This pass gets you in early to set-up camp, and there's even a Pre-Rally Party with live music to help you kick things off.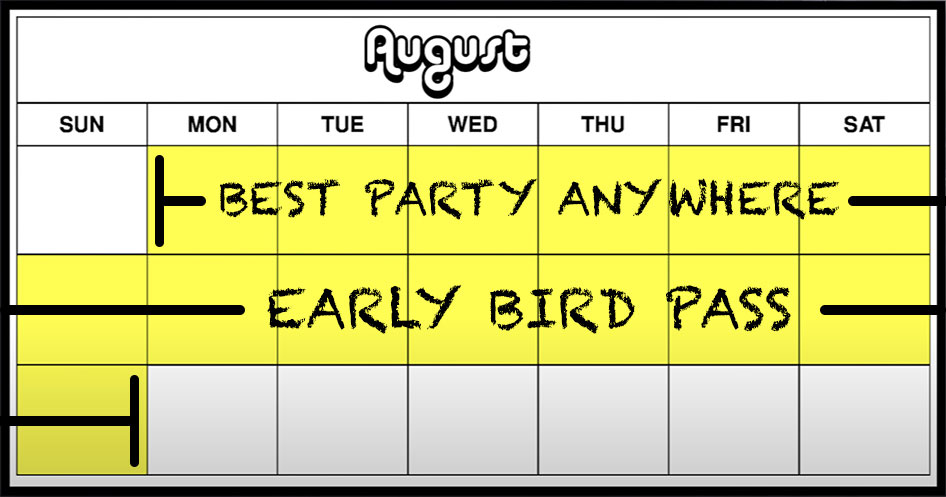 The Extended Rally Pass is a nine-day wristband that starts on the first Saturday of the rally. This gives you eight nights of the best headlining concerts in Sturgis.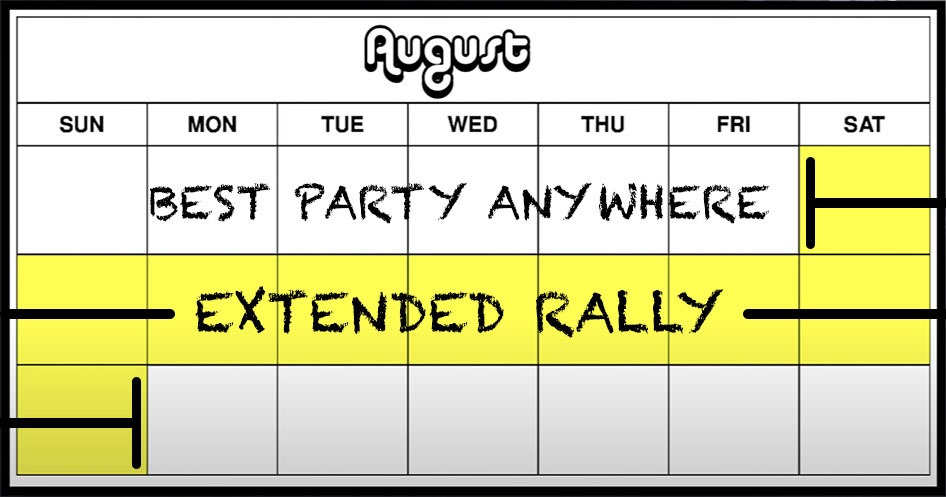 The Rally Pass starts the first Monday of the rally and runs seven days. These are the traditional rally dates and puts you smack dab in the center of the Sturgis Motorcycle Rally.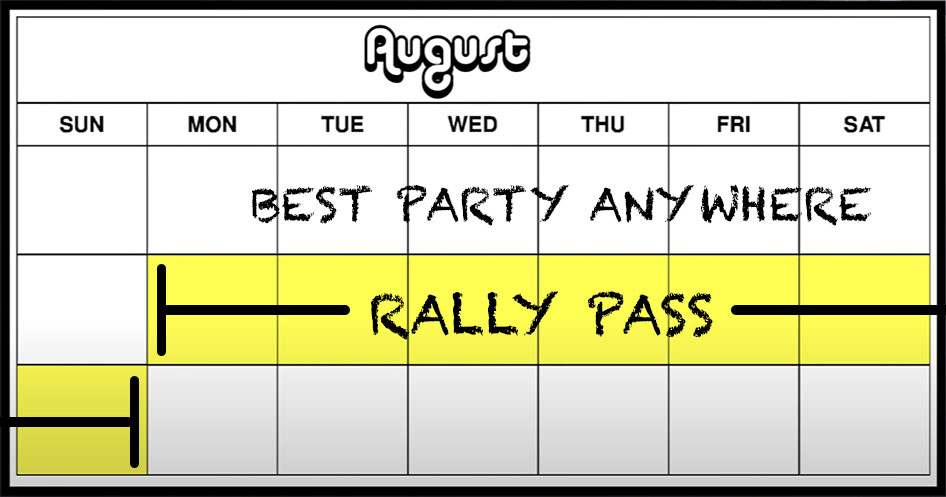 These three festival passes give you the biggest bang for your buck and are always cheaper the earlier in the year you book them. In fact, many of guests buy next year's pass at the box office as they leave to head back home.
If you can't stay 6 to 14 days at the rally, the Buffalo Chip also offers 3-day passes and single day passes.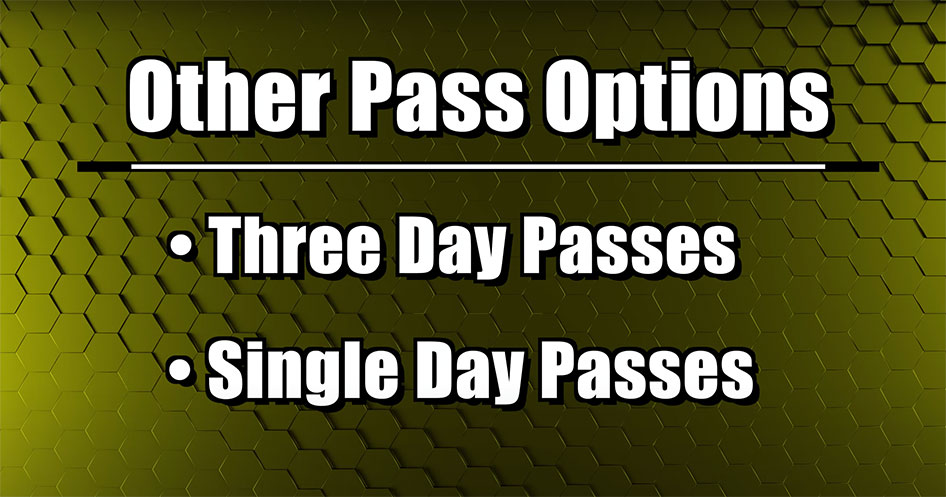 Three-day passes go on sale sometime at the beginning of the year and are sold in blocks of three.
Package A includes the first Friday, Saturday and Sunday. Package B includes Monday, Tuesday and Wednesday. Package C includes Thursday, and the final Friday and Saturday.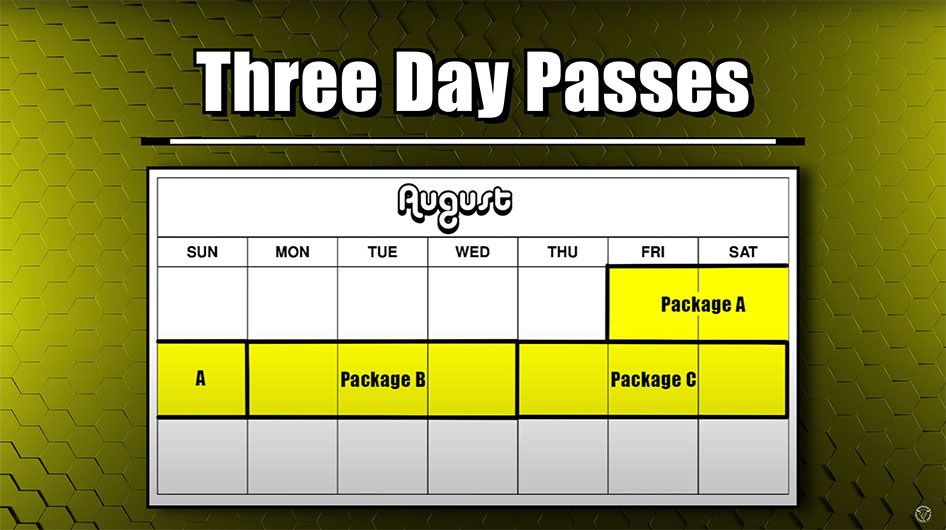 Finally, for those of you who only look to venture out to the Chip for one night to see a band you like or visit your rally family, the Chip offers single day passes.
No matter what wristband you have, your pass entitles you to set up camp anywhere at the Buffalo Chip that isn't a designated RV site. Concerts are free with camping. So is access to the Buffalo Chip's unique entertainment areas.
If you'd like to upgrade your accommodations…RV sites, cabins, EZ Camp and RV rentals can all be booked separately at BuffaloChip.com.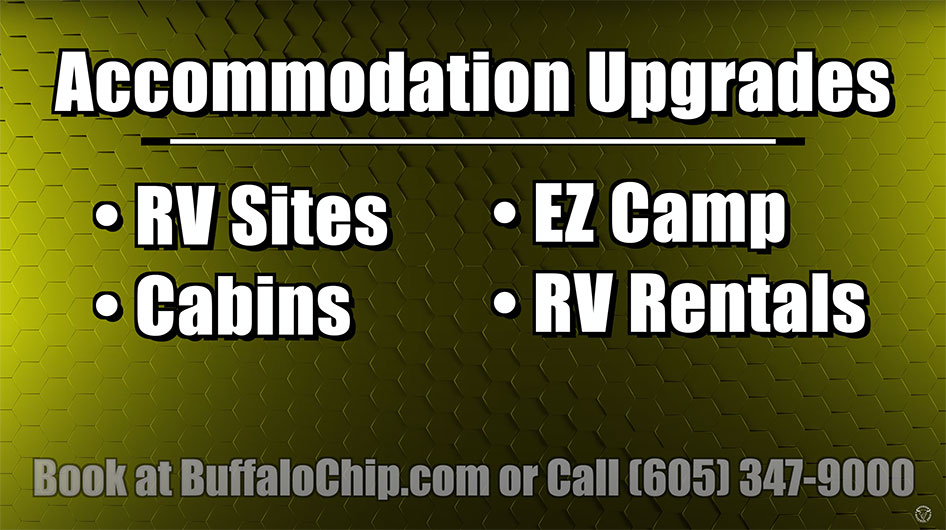 You can also upgrade your concert experience with VIP passes. 3-day passes and single day passes also have VIP options available that put you in the best seats and viewing areas available on the main stage.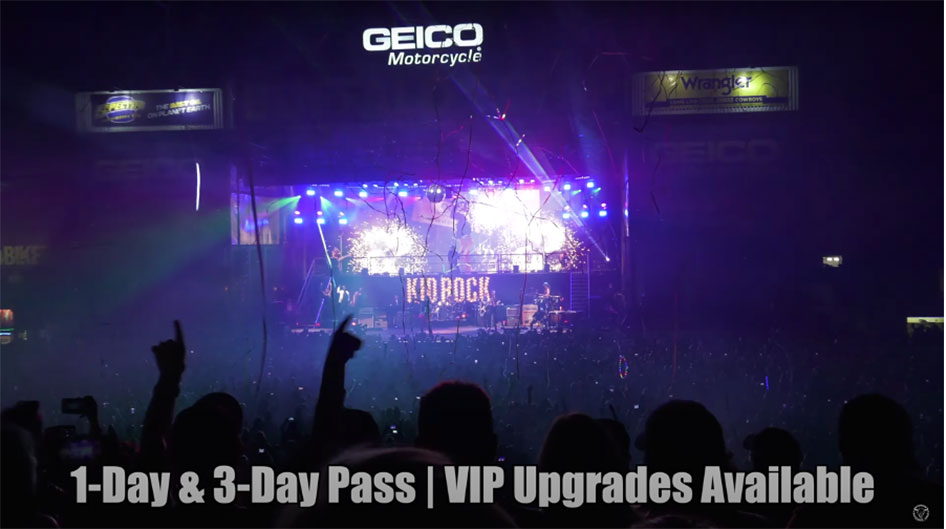 No matter what kind of timeframe you have to rally in August, the Sturgis Buffalo Chip has you covered. Join the Best Party Anywhere and have a rally experience you won't ever forget.
Welcome Home Bikers – Part 4
Festival Pass Options
What are my accommodation options at the Buffalo Chip? What camping is included with my pass?
What kind of hookups do they have? Can I camp without power and water? Will my RV fit in the spots available?
Where can I pitch a tent and camp? Where's the shade?
Get answers to these questions and more in the quick tour video and information below!
If you're planning on staying at the Sturgis Buffalo Chip this summer, you're making the right choice.
The Buffalo Chip is a full-service campground with all the amenities and infrastructure to support many different levels of camping. Learn all the options available and choose the one that's right for you.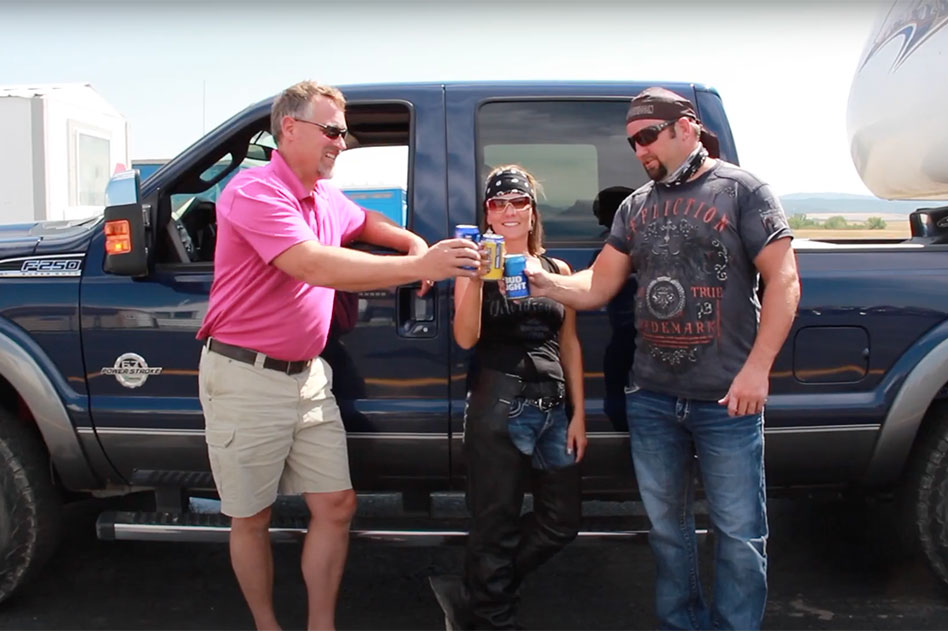 Tent camping is the original way to stay at the Chip, and it doesn't come with many rules. Set up anywhere that isn't a marked RV site. If you're looking for some shaded or tent camping only spots, the Buffalo Chip has specially designated "ride in, walk in" sectioned off areas just for you to enjoy.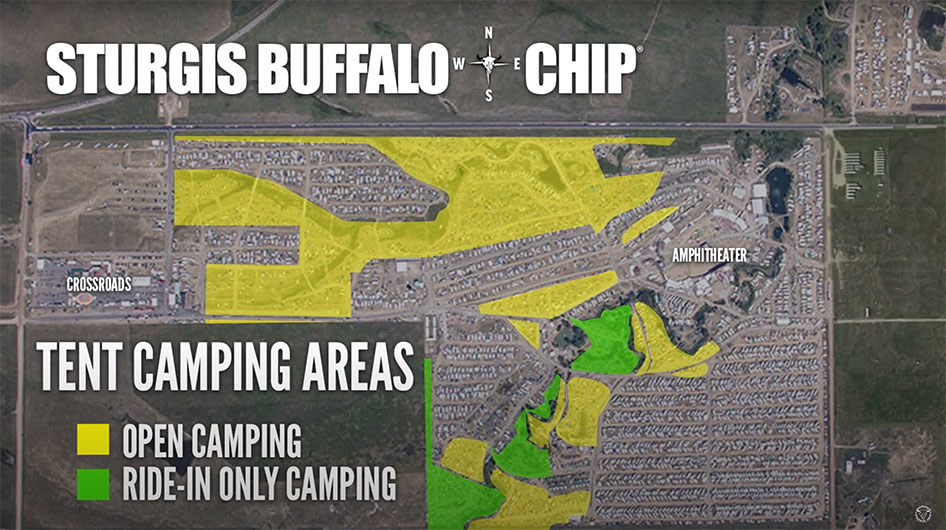 If you're riding into the rally, and you are not wanting to sleep in a tent on the ground, the Buffalo Chip also offers some great options that are easy and comfortable.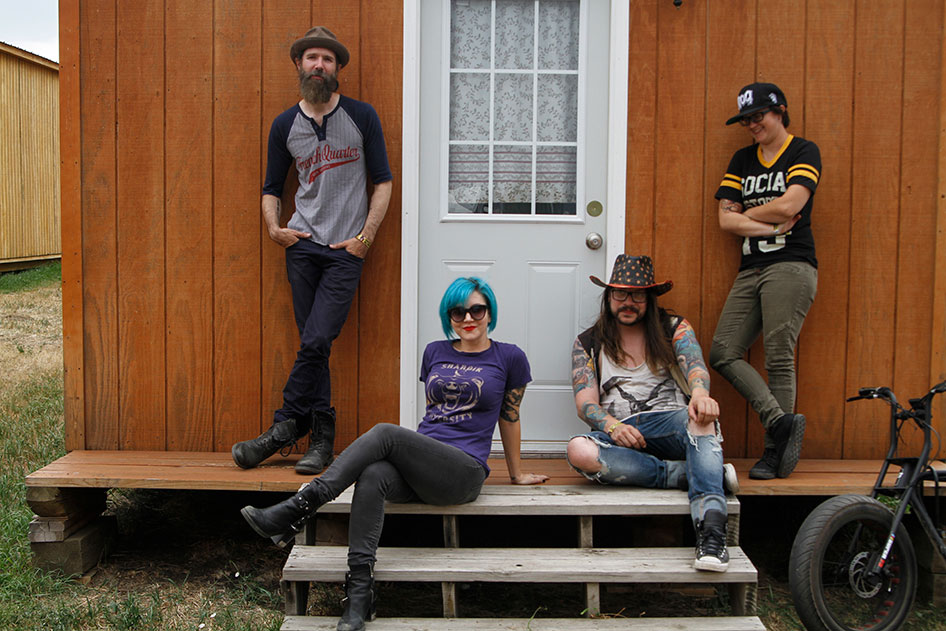 Cabins are a great way to stay at the Chip. Pick one up for the entire festival, and you'll have a dry and comfortable place to rally without the hassle of bringing along an RV or tent.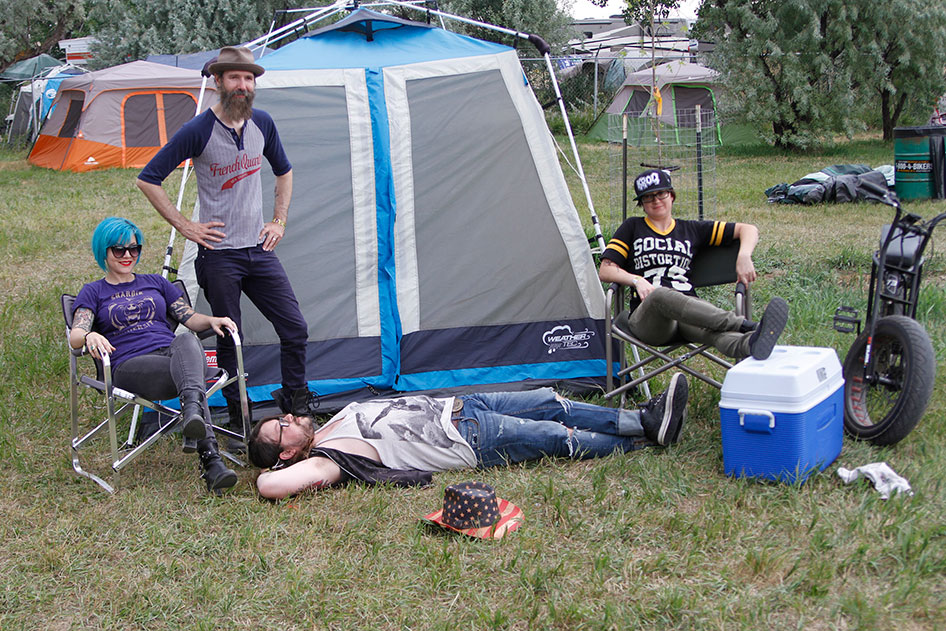 Don't want to spring for a cabin? There are other premium camping options that might work for you. You can rent an RV that will be setup and ready for you when you arrive. Or you can book an EZ Camp package and have a large cabin tent and mattress setup and waiting for you in a semi-private camping area.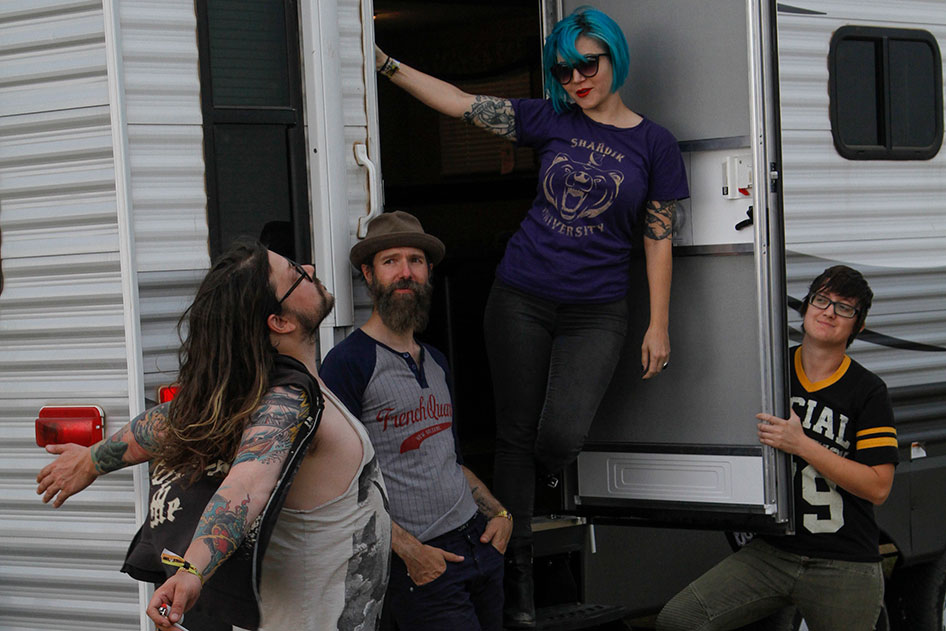 There are many different areas designed specifically for RV campers that fit any kind of recreational vehicle you can think of. RV campers have 30 amp and 50 amp electrical service available with full water hookups. The Chip can accommodate any size with sites as long as 50 feet.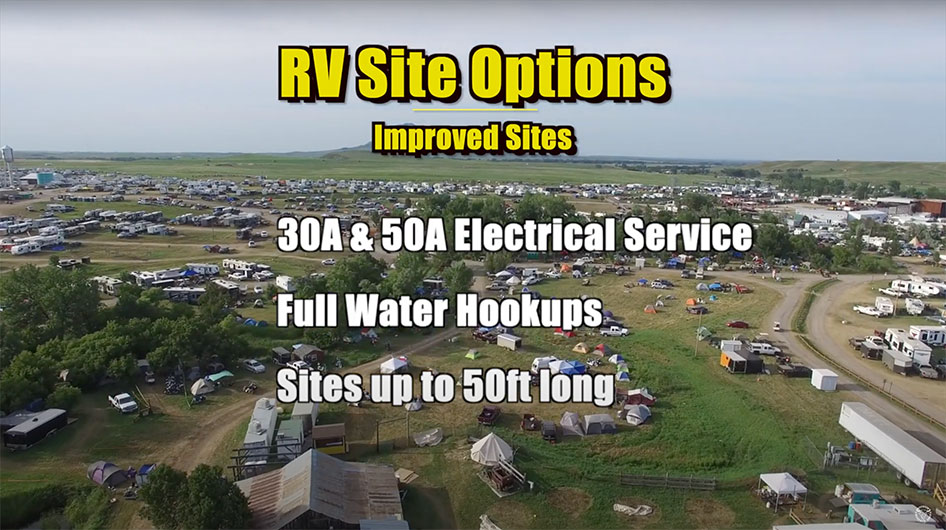 If you're not bringing an RV and just need a place to park your camper without water or electric hookups, the Buffalo Chip also offers sections for dry camping.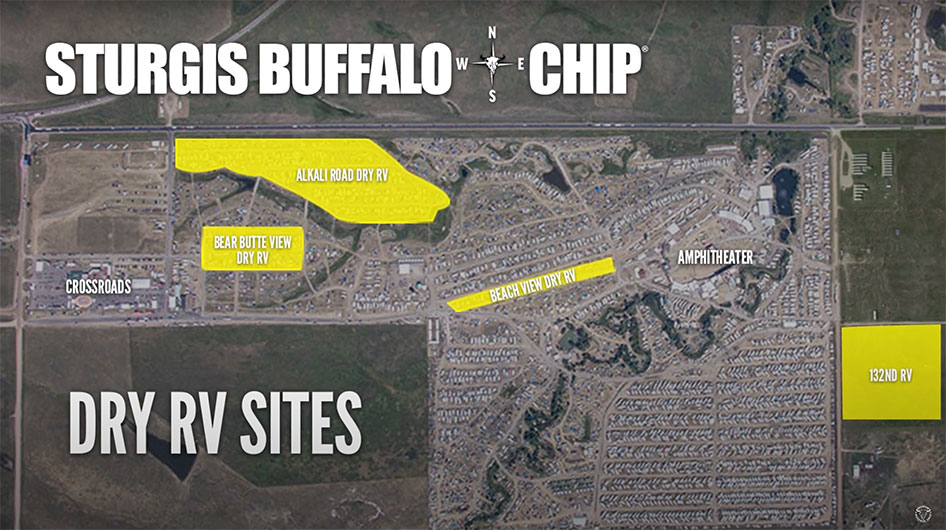 All RV camping options come at an added charge to the cost of your admission pass.
No matter what level of camping comfort you desire, the Buffalo Chip has an option for you. The best part about the Best Party Anywhere is that you never have to drive home. Stay where you play…at the Legendary Buffalo Chip.
Need a catchier way of remembering all the ways you can camp at the Chip?
The Sturgis Buffalo Chip teamed up with the rock band Well Hung Heart to show you all the options you have for staying at the Best Party Anywhere in this fun music video.
Welcome Home Bikers – Part 5
Concert Guide
Where do I go to see a headlining concert at the Buffalo Chip? Where do I park?
Can we ride our bikes into the show? Can I buy passes at the gate? Can I just go to a concert and not camp?
Get answers to these questions and more in the concert guide video and information below!
Attending a concert at the legendary Sturgis Buffalo Chip is something that is on every Sturgis rider's bucket list. And if it isn't on yours, it should be.
The list of artists who have performed here are some of the most influential in music history. And the people and atmosphere that make up the event are unique and special to experience.
No matter who you're going to see or how long you stay at the Chip, you'll want to head to the amphitheater to experience the world-class concerts.

Over the course of nine nights, the Buffalo Chip hosts world-class artists on the Wolfman Jack Stage located inside the Buffalo Chip amphitheater.
The amphitheater is rimmed with bars, restaurants, vendors and even a dance club. Right in the middle is the Top Shelf Lounge, home to the best VIP concert viewing anywhere.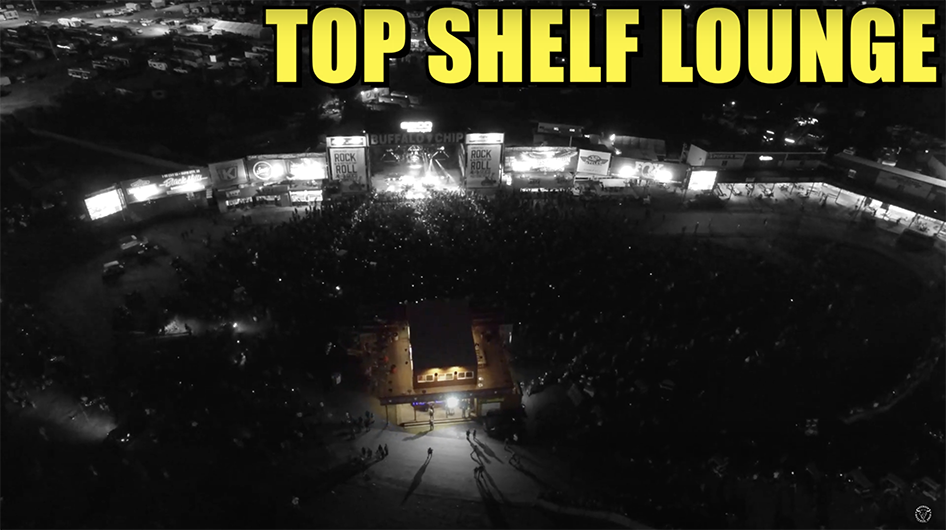 Scratch the plan you thought you were making where you go see xyz band and then head back home for the night. Get ready to dive into the Best Party Anywhere with this guide that will give you everything you need to know about concerts at the Sturgis Buffalo Chip.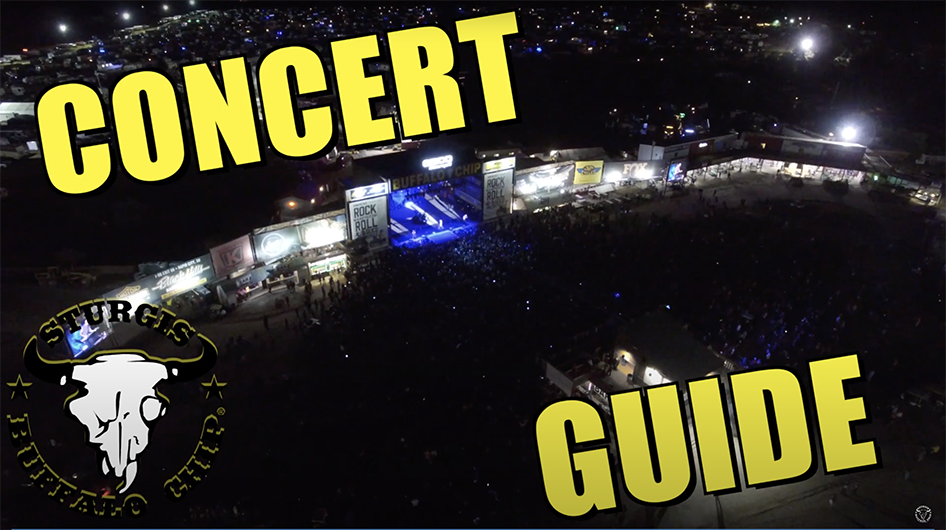 If you're arriving from offsite and not intending to camp, you'll want to go to the east entrance, which is located on 132nd Avenue, about a mile down Alkali Road from Fort Meade Way.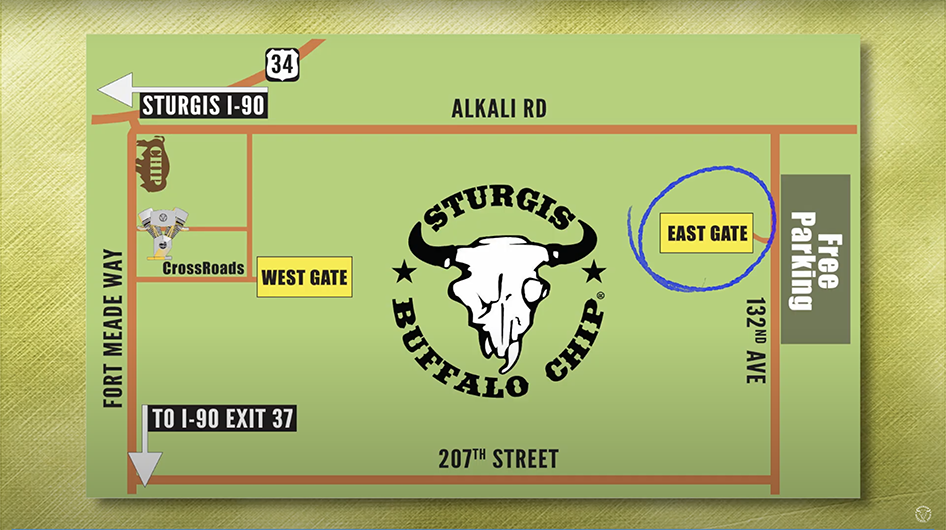 If you are in a four-wheeled vehicle, find a spot in the free parking, located directly across the street from the east gate, visit the East Box Office for your wristband and walk in. If you intend to ride your motorcycle in, you'll need to enter from the West Gate off of Fort Meade Way.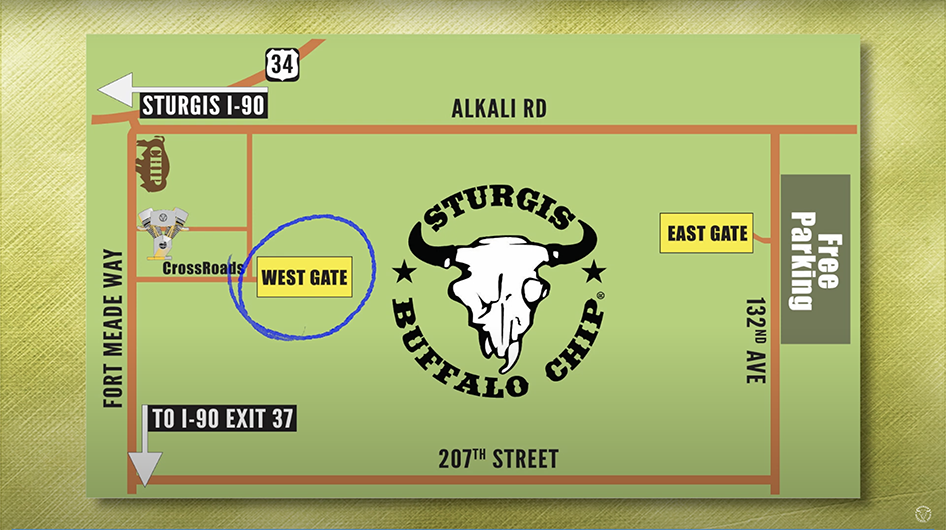 No matter how you bought your pass, you'll need to stop at a box office to pick up your wristband. If you didn't get a pass ahead of time, don't worry! You can buy passes right at the gate.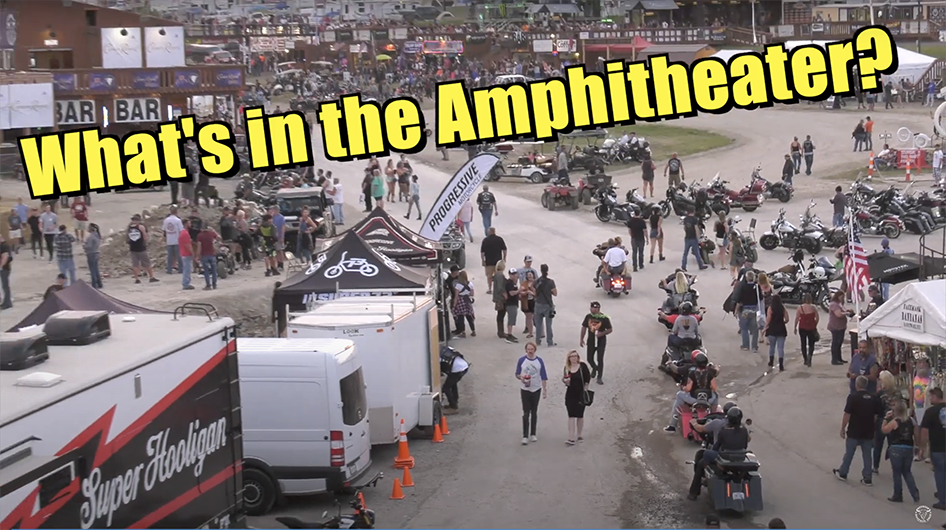 Once you are inside there are a lot of places to eat and shop. And you'll find bars scattered throughout.
There are a lot of things you can see and do. We recommend you arrive before 7 p.m. and check out the Kinison Playground or venture out to Bikini Beach where fun contests and entertainment await your discovery.
Just be sure to make it into the amphitheater by 7 p.m. when the mainstage performances begin.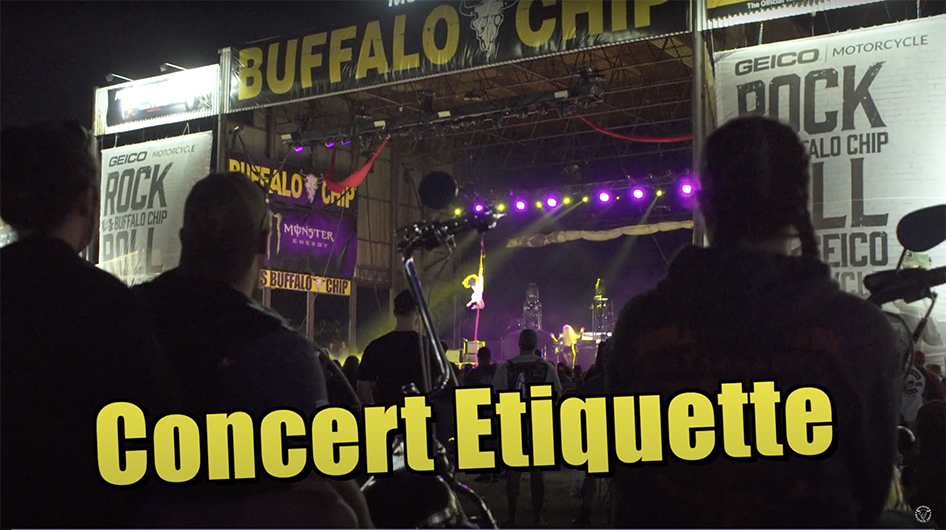 It's been a long-standing tradition at the Sturgis Buffalo Chip that folks can ride their bikes right up to the stage and watch the show from the comfort of their saddle.
In between songs, when the audience roars with applause, a few enthusiastic guests will fire up their hog and give a few twists of the throttle to add the roar of motorcycle engines to the mix.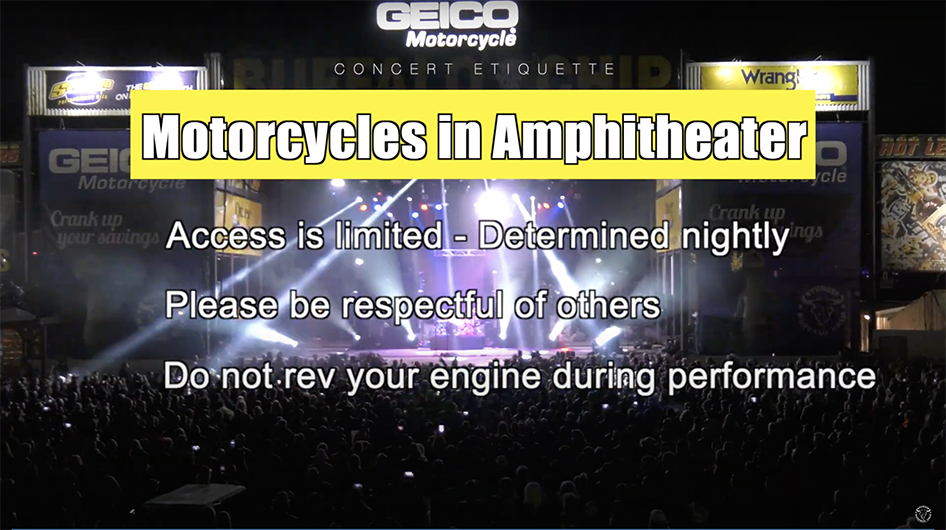 This tradition lives on to this day, but depending on how big the concerts will be that night, the Chip limits the number of motorcycles allowed into the amphitheater and also asks that those lucky few who make it in with their bikes be respectful of others. Please don't ruin it for everyone by red lining your throttle excessively or firing your bike up during the performance of songs.
Once the headliner exits the stage…and the final round of Miss Buffalo Chip plays out, the nightlife at the Chip begins with live performances on the showcase stages and an afterhours dance party at Club Chip. Don't feel like you have to take off if you're having a good time. Remember that concerts are free with camping, which means your pass is good to stay the night with us.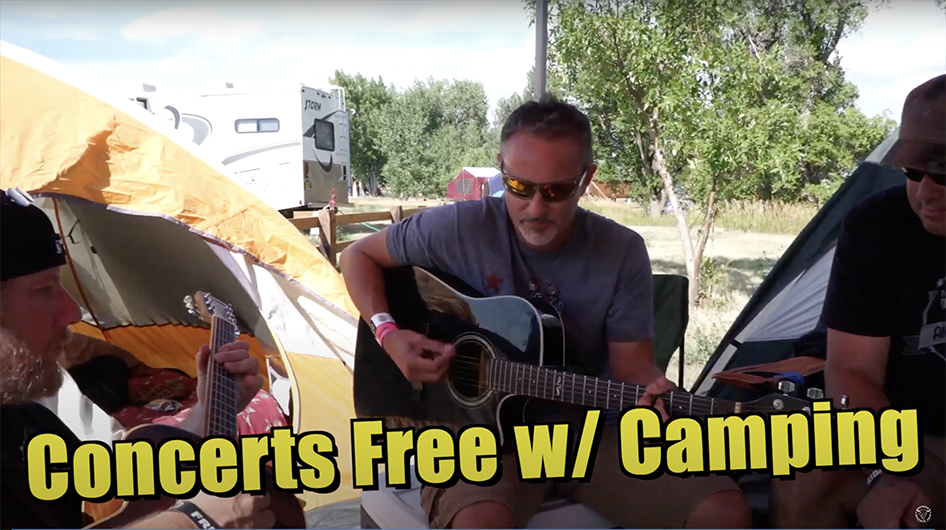 Grab your tent and sleeping bag and make a night of it.
After all, it's the Best Party Anywhere, and you don't want to miss any of it.
This is the fifth installment of the Welcome Home Bikers series. Check back for more soon!
Are you a first-timer looking for more Sturgis Motorcycle Rally information?
Check out the articles below and discover more on these topics:
Ready to experience the Sturgis Motorcycle Rally at the Buffalo Chip? Reserve now.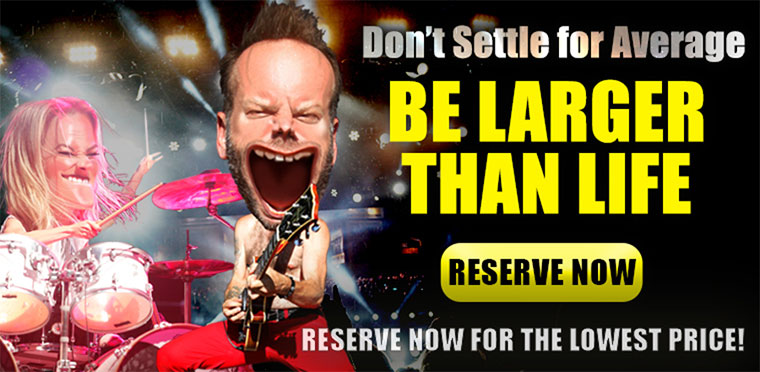 Have more questions about the Sturgis Buffalo Chip? Drop them in the comments below to get them answered!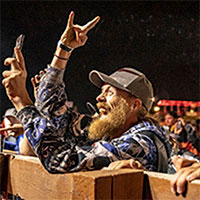 Presented by the Sturgis Buffalo Chip
Known as The Best Party Anywhere®, the Sturgis Buffalo Chip believes festivals should be fun like a high five, reenergize you like a broken rule, and romance you like someone you just met and have to take home. This nine-day festival of concerts and motorcycle events promises to bring you exciting events like flat track races and live performances from artists like Aerosmith, Willie Nelson, Five Finger Death Punch, Kid Rock, Rob Zombie and many more.Find out more or get passes to the Best Party Anywhere at
www.buffalochip.com
and find out why it continues to be one of the most televised festivals in the world.