Finding the words to process a tragedy can seem impossible. When terrible things happen, it can be hard to feel like there's any good in the world at all. But where words fail, music speaks. Less than 48 hours after Eric Church headlined Route 91 Harvest Festival in Las Vegas, that same location became a grisly scene of carnage. Church considered cancelling his next performance at the Grand Ole Opry until he learned about a fallen fan and his wife who also had tickets for the Opry performance.
He honored his Opry gig, and that night Church debuted "Why Not Me," a new song he wrote for the victims of the atrocious Las Vegas shooting. Through tears, he explained, "That night something broke in me, and the only way I've ever fixed anything that's broken in me is with music. So, I wrote a song…"
The news of this tribute and song debut hit home for country music fans everywhere including Rod Woodruff, the owner of the Sturgis Buffalo Chip®, where Church is scheduled to perform this August. "During times like this, it's really uplifting to see someone as deeply honest and connected with his fans as Eric Church is," Woodruff said. "His story of the moments shared with the fans during his Vegas performance, the profound sadness he experienced from the aftermath of that senseless act and his need to write this beautiful song says to me that music is indeed medicine for the soul. It enhances our highs, carries us through our bleakest moments and, in this instance, creates unity when it is needed most. And it seems to work that way regardless of which side of the microphone you're on."
If you'd like to help the victims of the Las Vegas shooting, you can donate to this GoFundMe set up by Steve Sisolak, Clark County, NV Commission Chair – http://bit.ly/2yMGcWK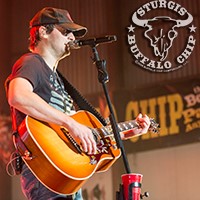 Presented by the Sturgis Buffalo ChipKnown as The Best Party Anywhere®, the Legendary Buffalo Chip believes festivals should be fun like a high five, reenergize you like a broken rule, and romance you like someone you just met and have to take home.
This nine-day festival of concerts and motorcycle events promises to bring you exciting events like flat track races and live performances from artists like Aerosmith, Willie Nelson, Five Finger Death Punch, Kid Rock, Rob Zombie and many more.
Find out more or get passes to the Best Party Anywhere at www.buffalochip.com and find out why it continues to be one of the most televised festivals in the world.