After years of dreaming and scheming, you're finally doing it. You've decided this is the year to embark on a journey you've heard will be the greatest adventure of your life—you're taking a trip to Sturgis!
But now that you're excited and all your Facebook buddies are jealous, questions start swirling through your head.
What are the local motorcycle laws?
Do I need a helmet?
HOW DO I GET TO MOUNT RUSHMORE?!
You could spend a ton of time scouring the Internet for answers to all the questions a first-timer has before heading to Sturgis. OR you could find the answers to them all in this article series presented by the largest and longest-running rally venue in the Black Hills, the Legendary Sturgis Buffalo Chip®.
Ready to tackle some broad questions about the greater Sturgis and Black Hills area? Read on!
This blog was first published on February 3, 2018.
Are helmets required in South Dakota or neighboring states?
Unless you are under the age of 18, motorcycle helmets are not required in South Dakota. Wear one or don't. You make the call.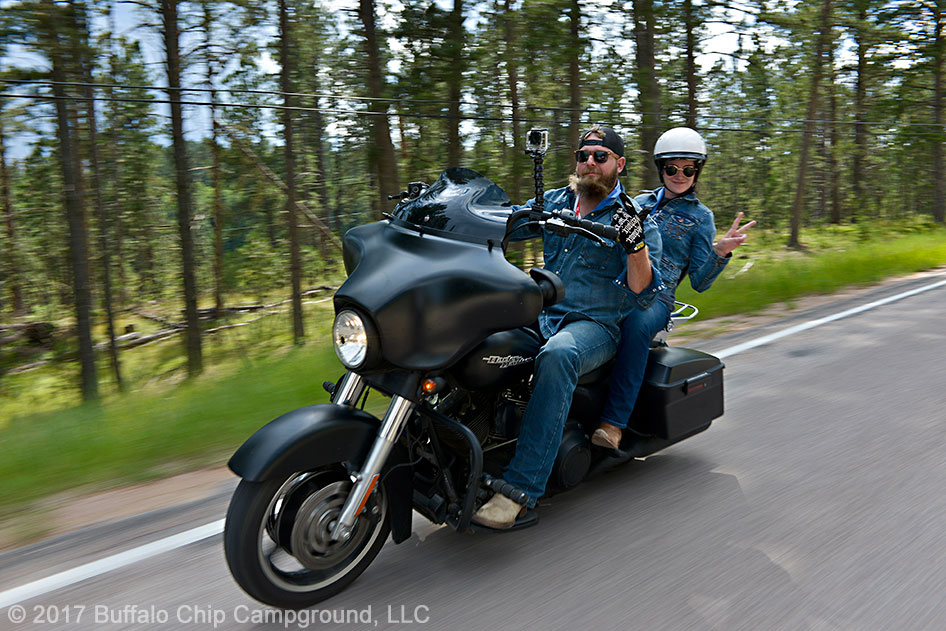 Depending which direction you're traveling from, state motorcycle helmet laws vary greatly. Here's what to expect in South Dakota's surrounding states.
Surrounding State Motorcycle Helmet Requirements

North Dakota
Under age 18 only
Minnesota
Under age 18 only
Iowa
None
Nebraska
All Riders
Wyoming
Under age 18 only
Montana
Under age 18 only
If you're traveling through several states on your way and aren't sure of their laws, this handy map shows the motorcycle helmet laws for all 50 states.
What will the cops ding me for?
If a run-in with Johnny Law ranks low on your list of experiences to check off during your time in Sturgis, using common sense can get you a long way. But when you get down to brass tacks, knowing the local laws is a must.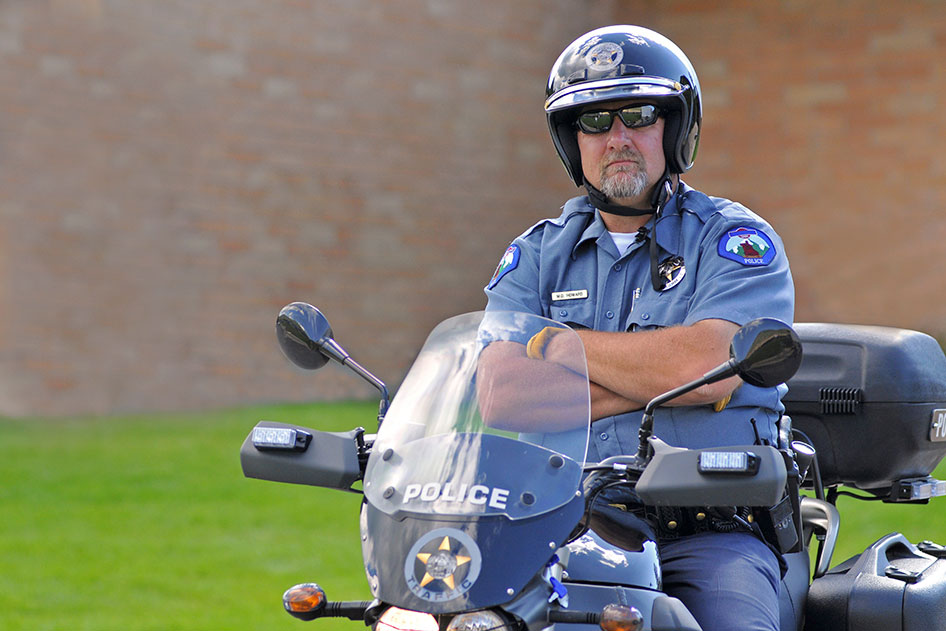 Violations Police Watch For:
Drinking and Driving
Illegal Drug Use
Failure to Stop at Traffic Lights and Stop Signs
Passing on the Sidewalk or Shoulder
Removing the Baffles on Your Exhaust
Indecent Exposure
Parking Violations
For more details on local laws, check out What Sturgis Police Will Be Watching For During This Year's Motorcycle Rally.
Where are the best places to ride while I'm there?
The Black Hills are home to so many beautiful roads and iconic bucket-list destinations, it can be hard to know where to start writing, let alone riding.
Knowing you don't have all day to read about them, we've selected a few of our favorites to highlight below. If you've got a little more time, you can learn about even more rides by diving into our Black Hills Ride Guide.
Mt. Rushmore
A visit to America's Shrine of Democracy is on most visitors' bucket lists. If it's not already on yours, it should be.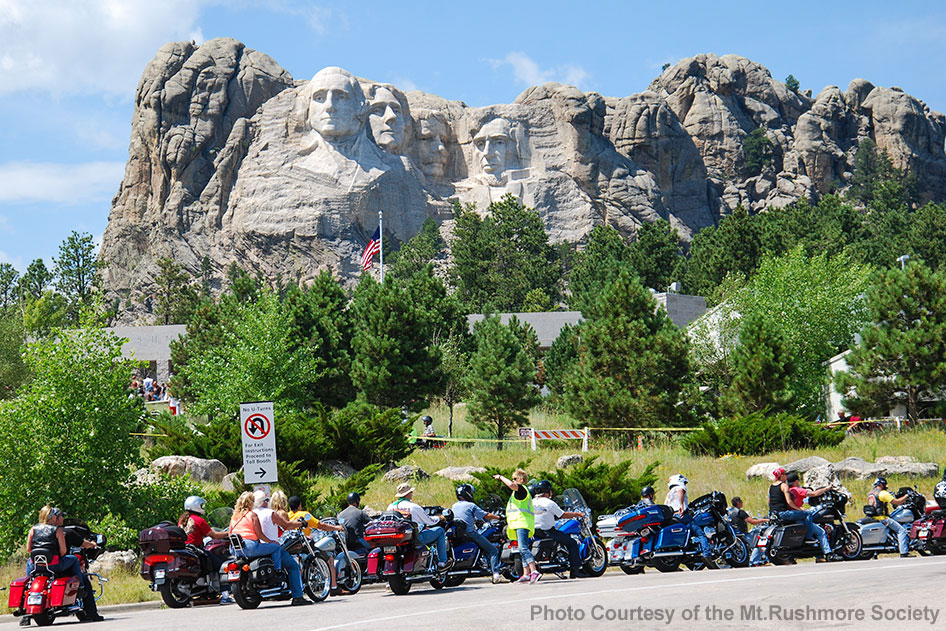 You don't have to go into Mt. Rushmore National Memorial to see the sculpture as it's easily viewed from route 244 as you snake along the ridge. But it's well worth the admission to experience the beautifully designed park and learn the history behind the monument.
Mt. Rushmore is also a great taking-off point for rides down Iron Mountain Road and Needles Highway.
Part of the Peter Norbeck National Scenic Byway, US 16A, also known as Iron Mountain Road, begins between Keystone and Mt Rushmore and ends just east of the Custer State Park Wildlife Loop.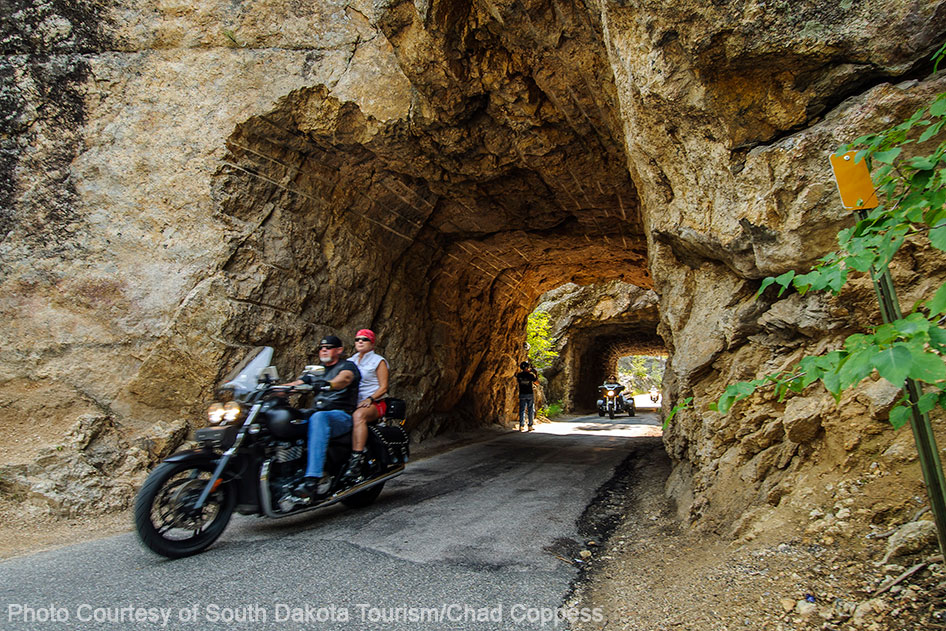 It offers spectacular views of Mt Rushmore and includes three granite rock tunnels to pass through. You'll also travel over three pigtail bridges, which are corkscrew structures engineered to curl and pass over themselves for a challenging ride and an upper body workout.
Learn more about Iron Mountain Road in the article "From Pigtails to Past Presidents, Iron Mountain Road is a Singular Experience".
Alt. Route 14 through Spearfish Canyon, which can be accessed off I-90 exits 12 or 14, is without question one of the best 22 miles you can travel on two wheels.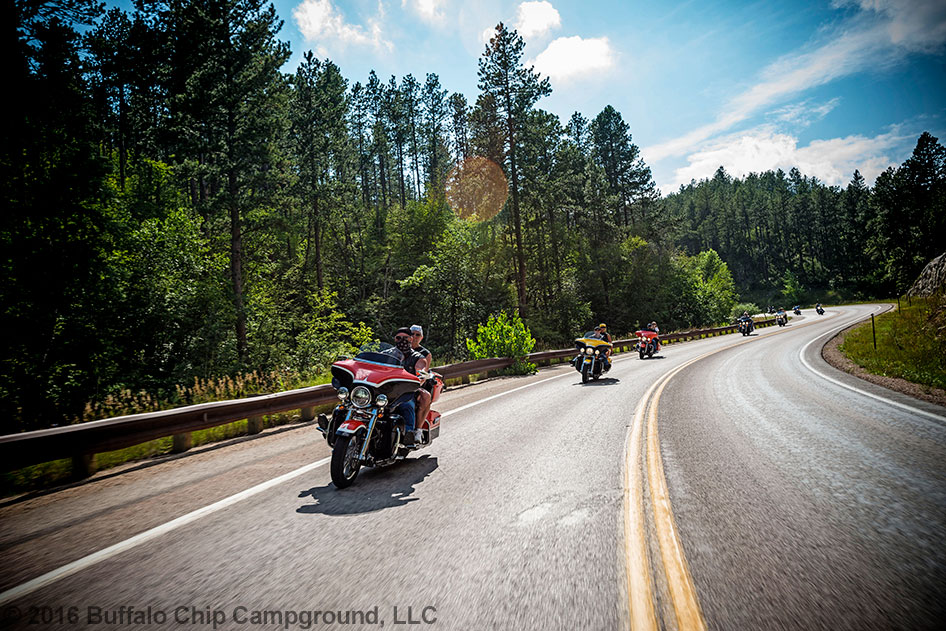 It's the quintessential scenic road adorned with steep cliffs cut through the gorge, bubbling streams, waterfalls and striking vistas at every turn.
A group of seasoned riders unanimously singled out this ride when we asked them to share their favorite. See the compilation of their experiences in the Sturgis Rider News® article "One Ride You Must Take Before You Die."
The 17-mile run down Vanocker Canyon Road (Forest Service Road 26) is arguably one of the most exhilarating Black Hills motorcycle rides, with pronounced twists and curves giving way to an exciting downhill plunge after about five miles.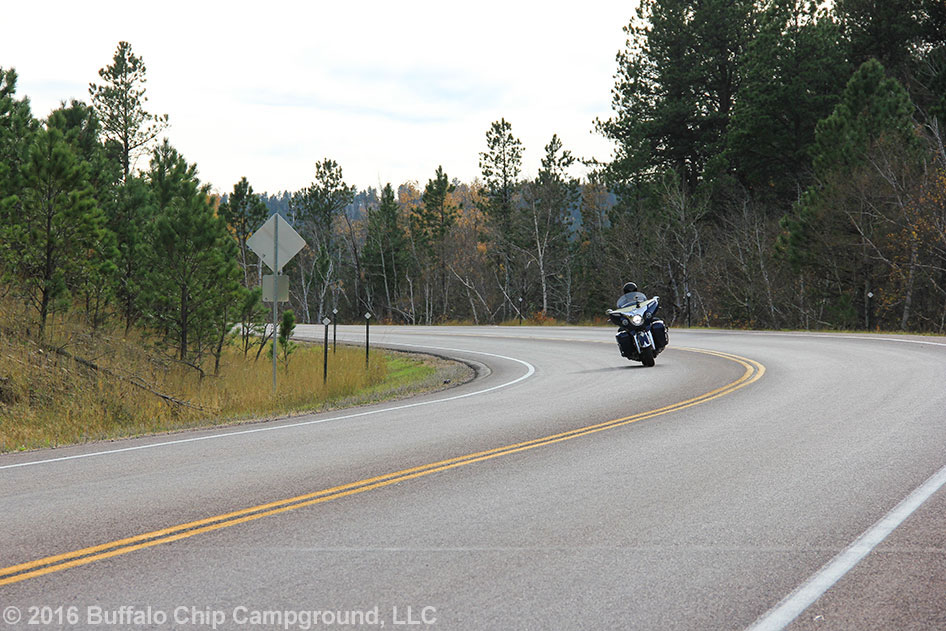 Find out more and preview what it's like to travel through Vanocker Canyon—as well as Boulder Canyon, Highway 385 and Nemo Road—in Four Black Hills Motorcycle Rides in One: The Boulder-Vanocker Canyon Loop.
Is there anywhere to go where we won't fight a crowd?
A stop at Mt. Rushmore, Crazy Horse, Deadwood's Historic Main Street, Cheyenne Crossing and many other Black Hills attractions should come with the expectation that lots of other bikers will be there when you arrive.
If you're looking to have a quieter day and fight fewer crowds, the area is also full of amazing hidden gems you'll want to discover.
Discover These Hidden Gems
Termesphere Gallery & Museum – Spearfish, SD
The Journey Museum & Learning Center – Rapid City, SD
Sanford Lab Homestake Visitor Center – Lead, SD
Rush Mountain Adventure Park – Keystone, SD
Find more attractions a little off the beaten path by checking out 10 Hidden Gems of the Black Hills and Digging Deeper – 7 More Hidden Gems of the Black Hills.
To find EVEN MORE hidden gems in the Black Hills and throughout the country, be sure to download the Sturgis Rider Friendly Establishments mobile app.

This app's interactive map contains thousands of rider-recommended businesses ready to roll out the red carpet for bikers like you. It'll show you which ones are on your route and let you know why they're worth a stop.
This handy tool is a FREE DOWNLOAD on any Apple or Android device, so revolutionize your ride by downloading the app now!
Where should I stay?
There are tons of places you could stay in the Black Hills, but if you want the authentic rally experience, there's only one place to get it—The Legendary Sturgis Buffalo Chip®.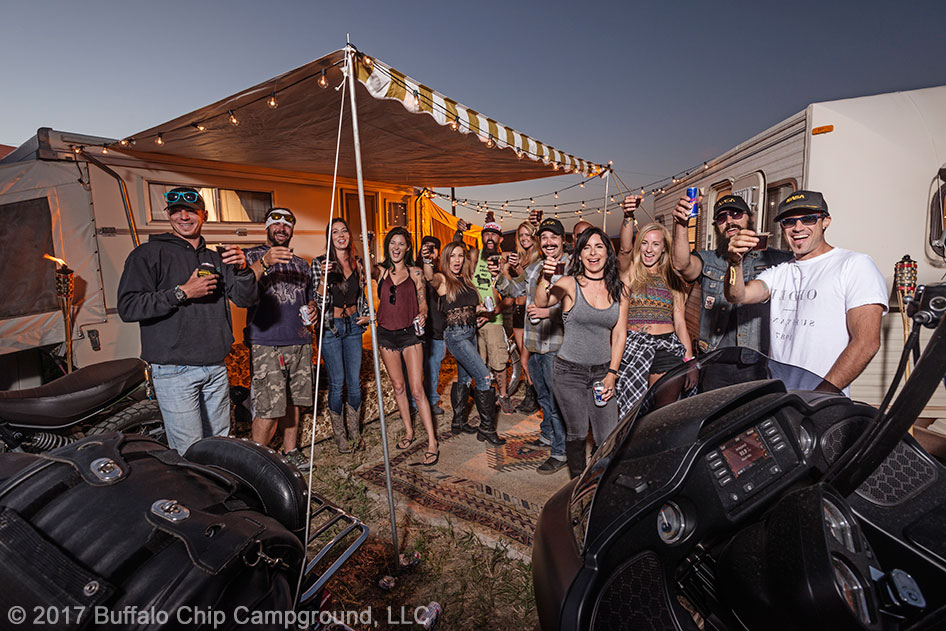 The Chip is the original biker-dedicated destination that brought together music and motorcycling during the rally. Ever since its first party in 1982, riders from around the world have flocked to this mecca of motorcycles, music, freedom and friendship.
The reason folks keep coming back? It's the Best Party Anywhere®!
The Buffalo Chip gives you more options than anybody else!
Multiple Stages of Entertainment
Dozens of World-Class Entertainers
Multiple Days and Disciplines of Racing
Daily Custom Bike Shows
World-Record Setting Stunts
World-Renowned Motorcycle As Art Exhibition
Shaded Campsites
25+ Bars
Motorcycle Retail & Mechanical Service Outlet
Bikini Beach Swim Paradise with Rope Swings & Sun Decks
24/7 Gas Station with 93-Octane Fuel Cheaper than In-Town Prices
Free Fuel Happy Hours
Free Pancake Breakfasts
Free Showers
Delicious Food Options
24/7 General Store
Paved Roads
Quick access to I-90
Much, much more!
The fact is, there's so much going on at the Buffalo Chip that there's never a reason you'd have to leave!
Learn More About Staying at the Buffalo Chip!
How do I get to the Buffalo Chip?
EXIT 37 IS A SHORTCUT FROM I-90!
You might have heard horror stories from friends who got stuck in rally traffic trying to get out to the Buffalo Chip. But thankfully the days of overheating on the hot asphalt are gone!
Fort Meade Way, a byway built in 2016, provides a direct 5.6-mile shortcut from I-90 exit 37 to the front gate of the Chip.
Take Exit 37 from I-90, travel East onto Pleasant Valley Rd. (0.8 miles)
Turn North (left) onto Fort Meade Way. Travel to the Buffalo Chip. (4.8 miles) If you are coming for the concerts and don't intend to camp, turn east (right) onto 207th (1 mile), then left onto 132nd to the concert parking lot.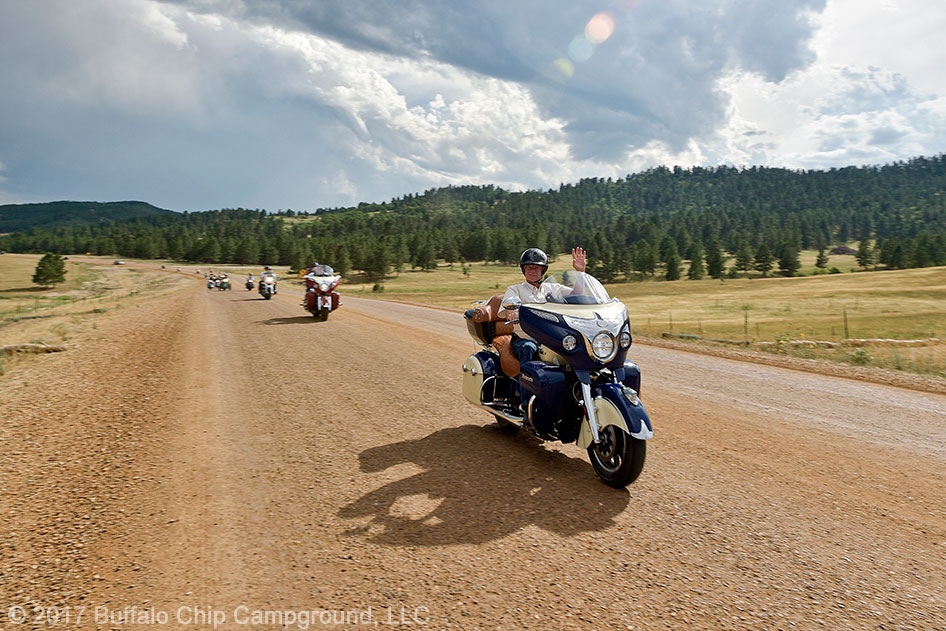 Just in case you aren't comfortable riding on gravel, we've mapped out some alternative routes below.
ALTERNATIVE ROUTES
To Approach Via Sturgis,
Take Exit 32. Turn East-NE towards Sturgis and proceed approx. 1 mile. Turn East (right) onto Lazelle St. Travel 3 miles East to the Buffalo Chip.
Or
Take Exit 30. Travel East until you arrive at the Chip. (approx. 4 miles)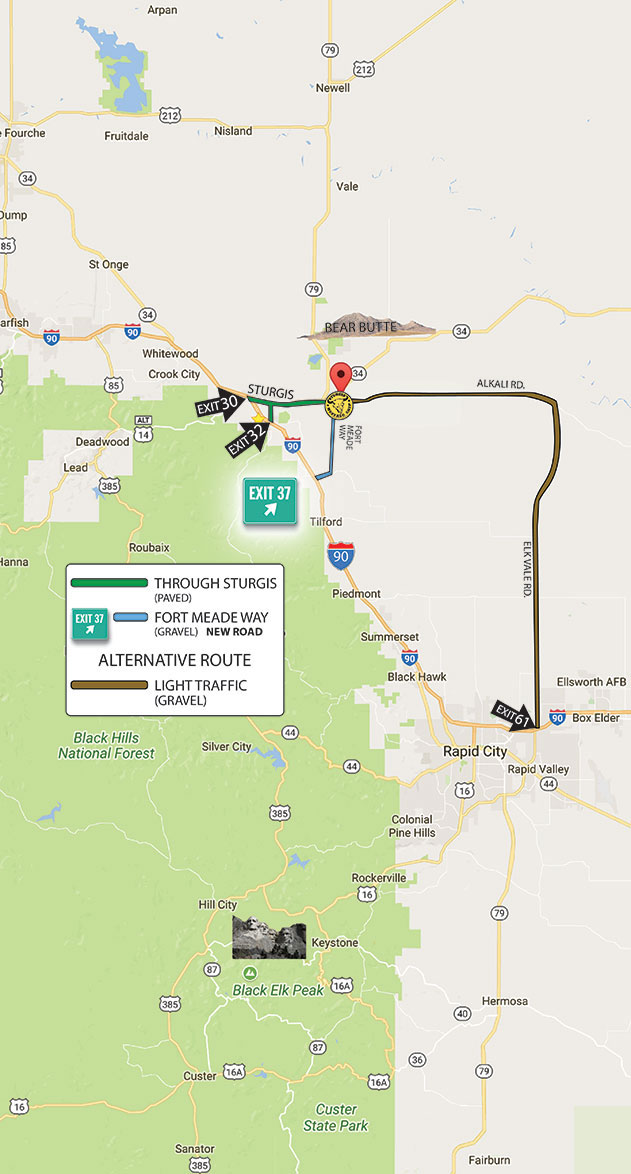 How far is the Buffalo Chip from ___________ ?
NOTE: All routes below denote the Buffalo Chip's West Gate as the final destination. Travel time estimates are based on moderate traffic and can vary greatly based on time of day.
Downtown Sturgis (Rally Point)
6.4 miles
11 minutes
Deadwood
24.8 miles
34 minutes
Mt. Rushmore
51.9 miles
1 hr 4 minutes
Spearfish Canyon
38 minutes
32.9 miles
Is it easy to get from campground to campground?
Got friends staying at a different campground? No sweat. Going to visit them or having them come visit you doesn't have to be a hassle!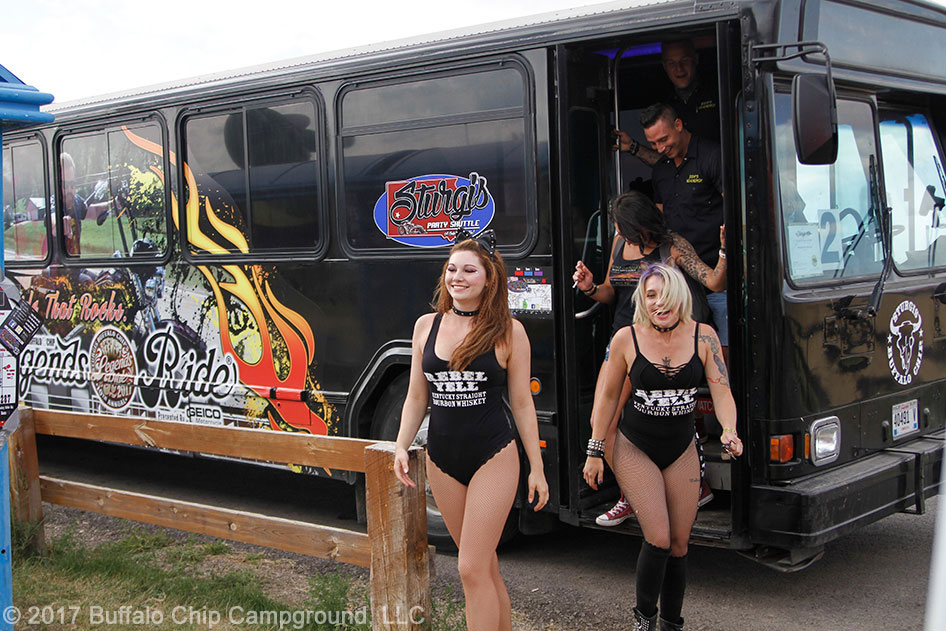 Private bus services including DaBus and JoneZ Bus make regular stops at the Buffalo Chip and travel to most of the area's campgrounds, as well as Sturgis, Deadwood, Whitewood and Spearfish.
Discounted wristbands are available in advance online or you can pay in person as needed.
Have more questions?
Check out the next installments in this informational series:
Sturgis Rider News will be continuing this series, covering a variety of topics helpful to first timers and rally veterans alike. Be sure to subscribe to the Sturgis Rider News Blog to see what's next!
What questions do you need answered? Ask in the comments below and they could be featured in a future article!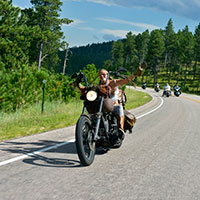 Presented by the
Sturgis Buffalo Chip®
Known as The Best Party Anywhere®, the Legendary Buffalo Chip believes festivals should be fun like a burnout, reenergize you like a broken rule, and kiss you like someone you are going to take home.
This nine-day festival remains one of the most televised festivals in the world and has been featured on the Travel Channel, the Discovery Channel, CMT Bike Week, HISTORY, TLC, National Geographic and more.