This blog page will be updated regularly, with the most recent updates starting at the top as more of the story unfolds.
December 17, 2017 Update – 95 Percent Containment, Some Roads and Parks to Reopen
Crews have been able to continue to hold containment lines and carry on with mop up efforts throughout the weekend. Although the total numbers of acres burned has increased to 54,023, the Legion Lake Fire has now reached 95 percent containment.
#LegionLakeFire Update:

Containment moves up to 95%. pic.twitter.com/nQRPpXCJP8

— Custer State Park (@CusterStatePark) December 17, 2017
Iron Mountain Road and all roads in the Sylvan Lake area are open, and Hwy 16A, Hwy 87 South and the Custer State Park Visitor Center will reopen for visitor use Monday morning.
All interior trails and roads within Custer State Park, including Wildlife Loop Road, will remain closed until park officials can deem them safe to use.
In an official statement, Custer State Superintendent Matt Snyder stated, "I want to thank all the firefighters for their relentless efforts on the Legion Lake Fire. It is because of their hard work that Custer State Park will continue to flourish for years to come. Right now we just ask for time and patience from all our visitors as we gather our resources and evaluate the damage and repair our roads and fences."
In addition to the limited access to Custer State Park, all areas of Wind Cave National Park are still closed to public entry with the exception of Hwy 385, Hwy 87, Beaver Creek Road, associated turnouts and the immediate area around the visitor center.
December 14, 2017 Update – 50 Percent Containment, Nearly 74 Square Miles Burned
After two days of exponential growth, some positive changes have begun to take place in the Legion Lake Fire. Crews have reached 50 percent containment, and officials have lifted all evacuation orders.
An official report released at 10:30 a.m. puts the total acres burned at 47,312—nearly 74 square miles of land.
A light snow has slowed the fire in the north, but dry conditions near the fire's perimeter in the south are still a concern. Steady winds out of the northwest at 10-20 mph, with gusts up to 30 mph, are in the forecast.
Crews are working to extinguish hot spots, reduce residual smoke and restore safe conditions near the State Game Lodge and Blue Belle Lodge, as well as along Hwy 79, Wildlife Loop Road and areas northwest of Buffalo Gap.
Custer State Park will remain closed indefinitely to allow officials to evaluate public and staff safety. The fire's effects on Custer State Park wildlife is also being evaluated during this time, but a tweet made by Custer State Park around 1:00 p.m. points to some encouraging news for the park's beloved herd of bison and elk.
We have located the bison herd as well as a southern herd of elk. We will continue to look for other wildlife as our staff resources become available.

Thank you everyone for your concern! #legionlakefire pic.twitter.com/AoL3n27ns3

— Custer State Park (@CusterStatePark) December 14, 2017
In addition to Custer State Park, all areas of Wind Cave National Park are closed to public entry with a handful of exceptions including Hwy 385 and Hwy 87.
December 13, 2017 11:30 a.m. Update – 40,000 Acres Burned, Third Largest Fire in Black Hills History
Reports now state that the fire has now burned an estimated 40,000 acres, equal to nearly 63 square miles. This makes the fire the third largest in modern Black Hills history.
Although Hwy 79 has now reopened, Custer State Park remains closed.
December 13, 2017 9:00 a.m. Update – High Winds, Highway 79 Closed and Multiple Evacuations
A significant increase in the size of the Legion Lake Fire has caused for the closure of a portion of SD Hwy 79 from its intersection with SD Hwy 36 south of Hermosa, to Maverick Junction east of Hot Springs.
High wind gusts that arrived Tuesday evening fanned the flames of the fire, causing it to spread rapidly. The smoky conditions that occurred as a result made it difficult for firefighters to know the exact locations where the fire had spotted.
Despite efforts to keep the fire contained to the west of Wildlife Loop Road, the fire jumped the road and began traveling east and out of the boundary of Custer State Park Tuesday evening.
WPVFD at CSP. Fire has just crossed wildlife loop road. pic.twitter.com/pofxNLrbOW

— Whispering Pines VFD (@wpvfd) December 13, 2017
Custer County Emergency Management issued an evacuation notice around 10 p.m. to residents east of Custer State Park and west of Hwy 79, as well as the communities of Fairburn and Buffalo Gap.
A Custer State Park press release stated that conditions were changing rapidly and it urged residents near evacuated areas to make a plan to leave on short notice.
December 12, 2017 7:00 p.m. Update – Additional 1,500 Acres Burn
#LegionLakeFire photos from Mt. Coolidge and HWY 87 South. pic.twitter.com/3PAtps72nf

— Custer State Park (@CusterStatePark) December 12, 2017
The Legion Lake Fire blazed through a second day, burning 500 acres overnight, and an additional 1,000 acres by early afternoon. This puts the total loss at 4,000 acres.
Although winds have calmed since Monday, extremely dry conditions have made the fire difficult to manage, and it remains at zero percent containment. High winds are expected to pick up again Tuesday evening and remain strong into Thursday.
Custer State Park remains closed as crews directed by Rocky Mountain Team Blue fight the blaze. Officials are continuing to evaluate the opening of Hwy 16A for use based on firefighter and public safety.
Keeping the fire south of Hwy 16A, west of Wildlife Loop Road, north of Ridge Road and Lame Johnny and east of Needles Highway (Hwy 87) were among crews' main objectives throughout the day.
December 11, 2017 Update
A fire that sparked around 7:30 this morning east of Custer, SD near Legion Lake has quickly consumed more than 2,500 acres of land and shut down some of the most cherished Black Hills riding roads in Custer State Park.
The roads and land impacted by the Legion Lake Fire are some of the most unique in the world. Each year countless motorcycle riders flock to the area to experience its breathtaking views by way of winding roads filled with hairpin turns, one-lane tunnels, pigtail bridges and the otherworldly granite formations known as the Needles.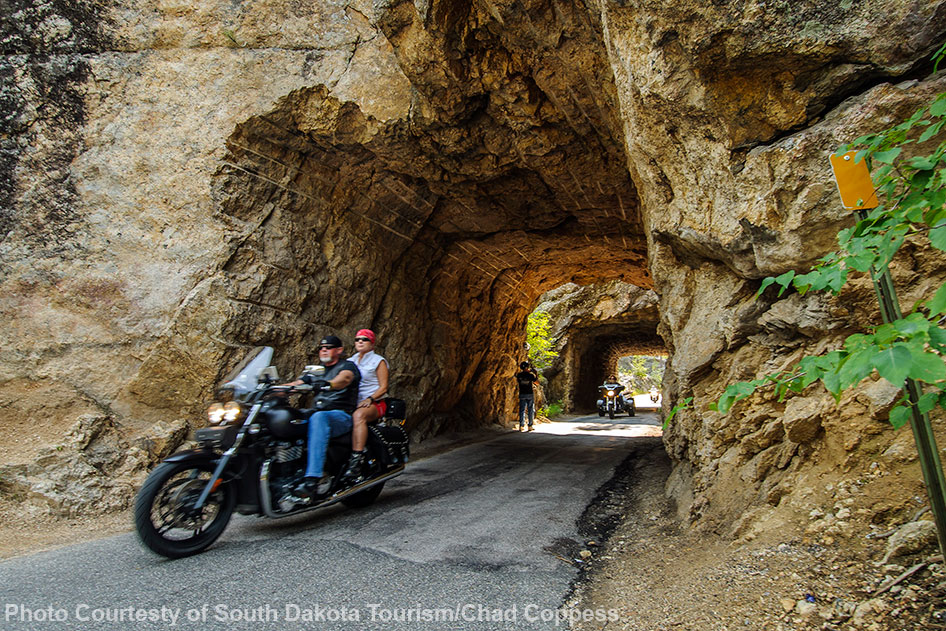 According to park superintendent Matt Snyder, the fire began near the intersection of Needles Highway (SD Hwy 87) and US Hwy 16A, but high winds and a lack of snow have caused a full closure of Custer State Park. Stretches of road that are closed include portions of Needles Highway, Iron Mountain Road and Wildlife Loop Road.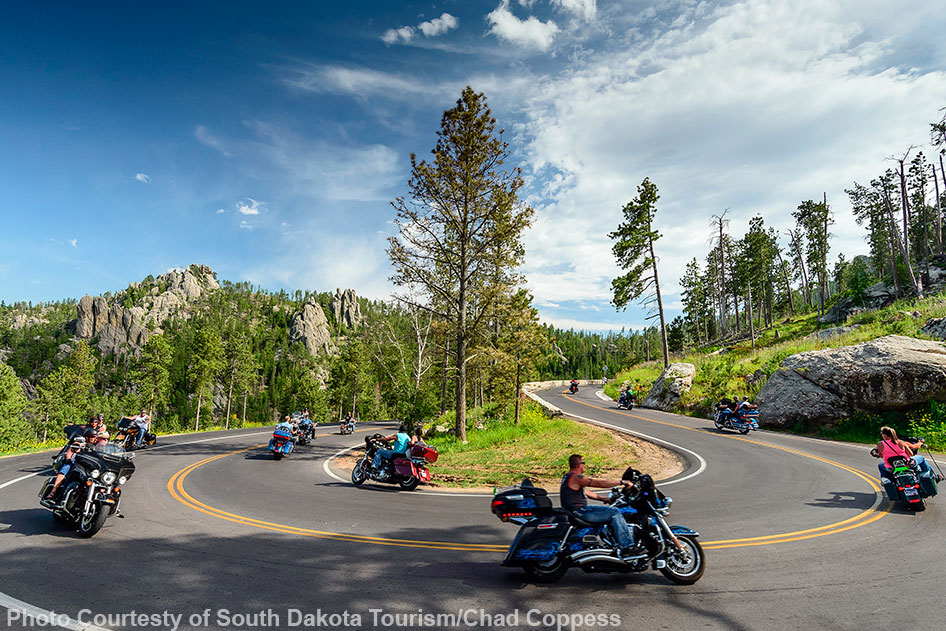 The fire is currently zero percent contained.
Two hundred firefighters from Custer, Pennington and Fall River counties are working to combat this unruly blaze, with more to be dispatched soon. Wind gusts up to 35 mph have made it difficult to achieve containment so far, and reports state the fire is spreading rapidly to the southeast.
According to an official Custer State Park news release, the State Game Lodge are Blue Bell Lodge are among areas being threatened, and one out building has been lost.
The release also states that South Dakota Wildland Fire's objectives are to keep the fire east of Hwy 87, South of Hwy 16A, west of Wildlife Loop Road and north of Custer State Park Road 4 and 5 to Ridge Road.
Officials have determined that a downed powerline caused by a falling tree caused the fire to ignite.
Stay tuned to Sturgis Rider News for more updates on this story as they develop.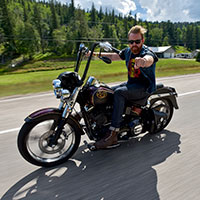 Presented by the Sturgis Buffalo Chip®
The world has millions of miles of roads to explore, but riders looking for unrivaled camaraderie as well as twists and turns, breathtaking vistas, and fun pit stops find some of the most spectacular rides in the Black Hills of South Dakota. There's nothing more powerful, unifying and exhilarating than rumbling down the road with hundreds of fellow riders. So, if your headed to the Hills this August, let the Buffalo Chip be your guide to the
best rides near Sturgis, SD
!