By now, you've probably seen all the crazy stuff that got left behind at the Buffalo Chip after the 2022 Sturgis Rally. And if you have, there's a good chance you've asked yourself, "What kind of deranged weirdos party like that in the first place?"
While the world may never know exactly who hit the road without their box of emergency underpants or the front end of their motorcycle, we've identified some people who fit the description.
Check out these wild photos and let us know if you think we've found the responsible party.
Friends playing footsie on a boatercycle


Whatever floats your boat.
The master and her freak on a leash


Yeah, I'm into BDSM—Being Dead, Surrounded by Motorcycles.
Literal Party Crashers


@DaymonWoodruff and Joe Mielke @SoDakBigJoe used brute force to crack open some cold ones for attendees of the Official Sturgis Rally Kickoff Party.
3 Couch Surfers


The Gambler 500 is well known for their clean-up efforts, so it's no surprise Jason Lightner and crew were the first on the scene.
That one guy who smashes tall boys like it's his job


Hey, I was gonna drink that!
A woman so excited to introduce you to her man, she's bursting at the seams


Nothing like staring at the goods and having them stare right back.
The inventor of camouflage pasties


Sorry, bud, no beads for you.
Santa modeling his summer wardrobe


Always be wary of any package he offers you in the off season.
Hot diggety…it's a dog!


They are pack animals, after all.
The Star-Spangled Banner's #1 fan


Giving proof through the night that our flag was still there.
Nobody's old lady


Sorry, dude.
Cletus, the Roman god of mullets


Fall victim to his arrow, and you'll never consider any other haircut.
A blind guy who thought this was the bathroom


Sir, this is a slip 'n' slide. People put their faces here…
A physicist testing the law of gravity


He failed the test.
His stage name was "Buffalo Chippendales"


…and he swept the Homemade Mankini Contest at Bikini Beach.
This poor lost soul


See more crazy things that turned up at the Chip in the Sturgis Buffalo Chip's 2022 Lost & Found!
Someone going nowhere fast


The Ives Brothers could run circles around you with their eyes closed.
Is that you, Elvis?


Don't be cruel. We just want a quick photo.
She's got zero capacity for bullsit


Ma'am…you're supposed to keep your legs the other direction.
A man demonstrating how to grow a beer belly


For best results, water daily.
A Middleweight Cockfighter


Who's got the balls to throw the first punch?
How many bikers does it take to roast one tire?


Evidently, it's six, plus one to shoot the video.
Caption This in the Comments Below
*******
They say what happens at the Chip stays at the Chip, and sometimes, that's for the best. However, many memories made during this legendary event are too good not to share with everyone. That's why the Buffalo Chip is giving you two opportunities to win killer prizes just for sharing your Sturgis Buffalo Chip experience with the world!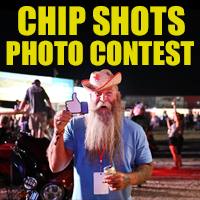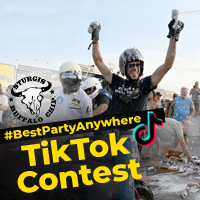 Check out the Chip Shots Photo Contest and #BestPartyAnywhere TikTok Contest to see how your experience at the Chip could land you passes to the party and VIP upgrades for 2023!
Want to see more photos of Buffalo Chip guests doing their thing? You'll find lots more Sturgis people in the 2022 People of the Chip photo gallery.
What are the craziest characters you've ever encountered? Tell us what you've seen in the comments below!

Presented by the Sturgis Buffalo Chip®
Known as The Best Party Anywhere®, the Sturgis Buffalo Chip believes festivals should be fun like a burn out, reenergize you like a broken rule, and romance you like someone you just met and have to take home.
This nine-day festival of concerts and motorcycle events promises to bring you exciting events like flat track races and live performances from artists like Aerosmith, Willie Nelson, Five Finger Death Punch, Kid Rock, Rob Zombie and many more.
Find out more or get passes to the Best Party Anywhere at BuffaloChip.com and find out why it continues to be one of the most televised festivals in the world.