As a lifelong rider, founding member of the Iron Lilies and The Wild Gypsy Tour, and commentator for motocross and supercross, Leticia Cline has rock-solid biking credentials. The former fashion model and interviewer for TNA Wrestling is busy these days as a riding journalist. Iron Trader News caught up with her prior to the Buffalo Chip's 2016 Biker Belles® Celebration to learn more.
Iron Trader News: How has riding made a difference for you?
Leticia Cline: If it wasn't for motorcycling I'd still be the shy country girl from Kentucky. It forces me outside my comfort zone and allows me to feel more courageous, more powerful.
In Laconia we rode up Mt. Washington. It was steep and windy, no guard rails. And you have to commit. I mean, you can't turn around, right? And once you do something like that everything else is easy. The confidence spills over into other areas of your life.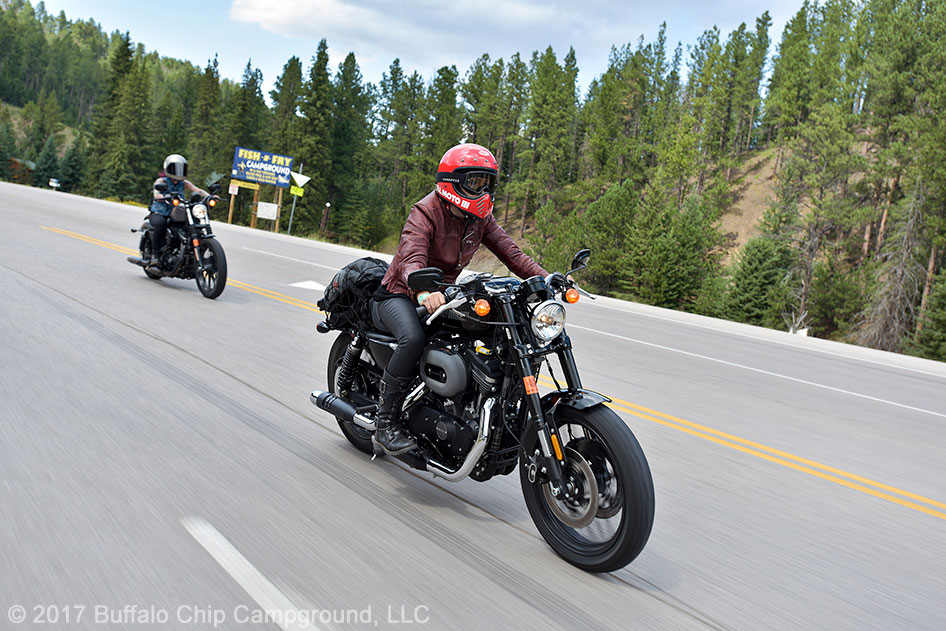 Leticia Cline helps lead the pack of riders participating the Buffalo Chip's 2016 Legends Ride® celebrity charity event.
ITN: But you're not a new rider.
Leticia Cline: No. My father put me on a Honda 50 when I was four, so riding is a strong connection to him. After he passed away eight years ago I actually gave it up for a while because it was just really painful; it made me miss him more. Since I got back into it I feel a closer connection to my dad than ever. And I put my son on a Honda 50 when he was four.
ITN: Some might say that's dangerous.
Leticia Cline: As far as being a mom, I don't live what's considered a normal life or a safe lifestyle, and I take heat for that sometimes. But I'm teaching my son to live passionately, to live a full life and to live adventurously. It was a way of continuing our tradition.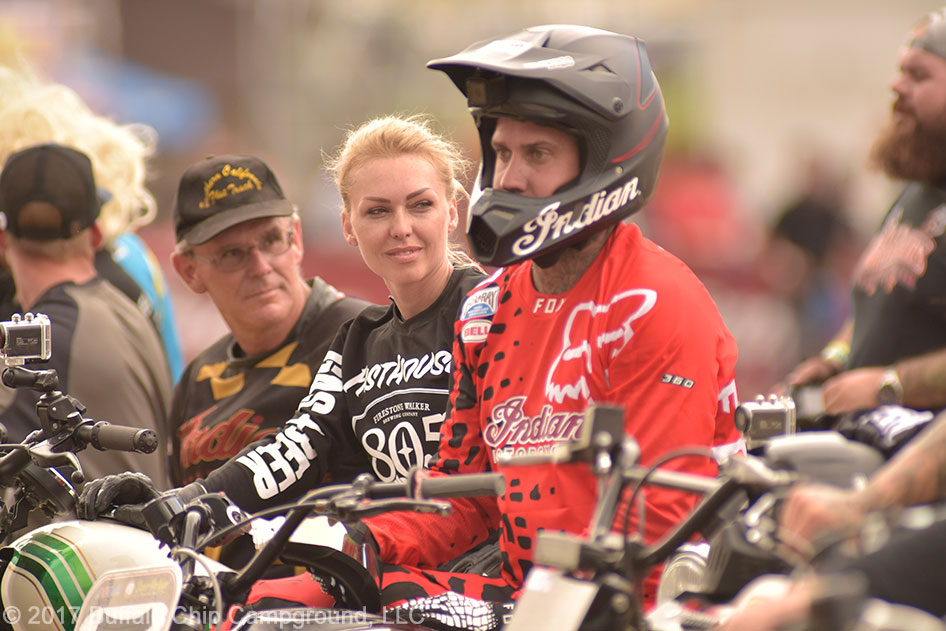 Leticia, seen next to Carey Hart, lines up prior to participating the RSD Super Hooligan Races as part of the Sturgis Buffalo Chip's 2016 Moto Stampede®.
ITN: You spent some time among wrestlers on TNA. Are they like bikers?
Leticia Cline: In so many ways. Wrestling is not a normal job and motorcycling isn't either. You think wrestlers will be tough and mean but it's so different off camera. It's really this respectful community of nonconformists and outsiders who stick together.
ITN: How did your modeling career dovetail with your motorcycling life?
Leticia Cline: I always say modeling ruined my motorcycle career because no one took me seriously, and motorcycling ruined my modeling career because I would show up all bruised from crashing dirt bikes. People judged me because of the modeling, and I lost something because of it.
Now I've gotten to a place where I won't take a modeling job related to motorcycling unless I get to ride the bike. I don't want to set us back by posing on a motorcycle in heels, you know?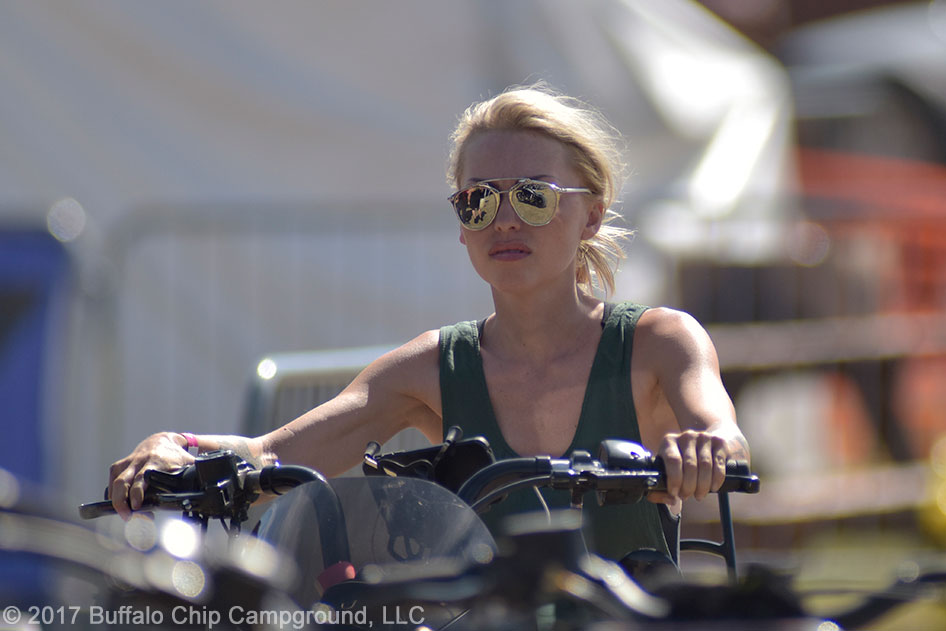 Leticia rides up to the race pits as the track is being prepared for the RSD Super Hooligan Races.
ITN: Do you have to be a tough girl to ride a motorcycle?
Leticia Cline: You can do this and not lose your femininity. You absolutely can! You can be as girly as possible and still ride a motorcycle.
ITN: What's your take on women-only riding groups?
Leticia Cline: I got a little jaded about segregated groups. I never needed that. But when I stepped back, I saw that some women do need that inspiration, that little push. I never thought I'd join a girl's group until I met women in my area who love to ride like I do and I've come to enjoy the sense of community.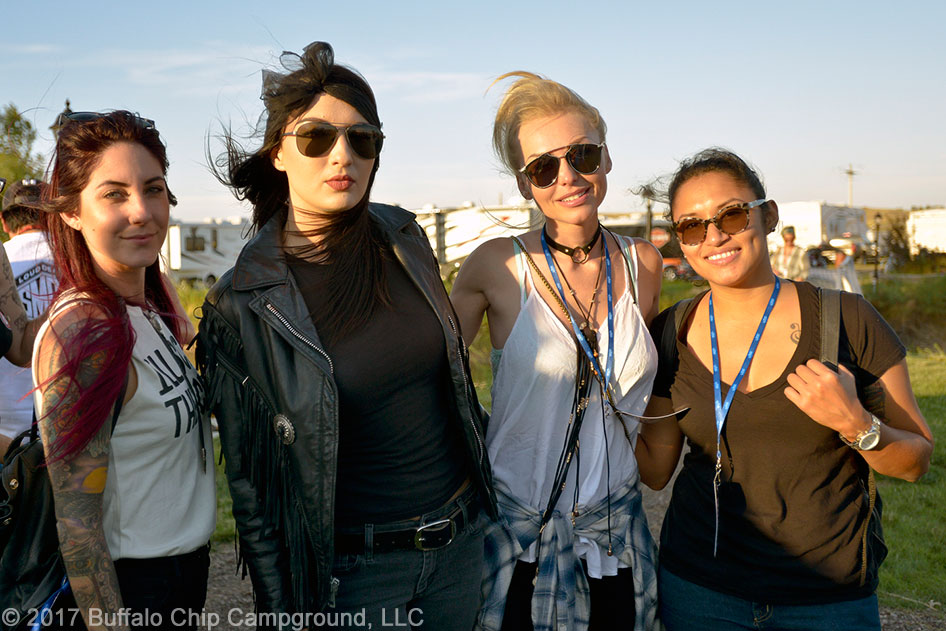 Four Iron Lilies mix and mingle with industry leaders and members of the press attending the 2016 rally during the Sturgis Buffalo Chip Industry Party.
ITN: So that's the Iron Lilies?
Leticia Cline: Right. We have eight core riders, all on Harleys. We have formed a business and are working on charity certification. We have some requirements, like you have to ride a minimum of 10,000 miles a year, own your own bike, do your own maintenance.
ITN: What's the charity component?
Leticia Cline: We help females in male dominated industries get ahead, say at welding school or going to MMI. We help new women riders afford the MSF class. We want to create change and provide longevity for the industry.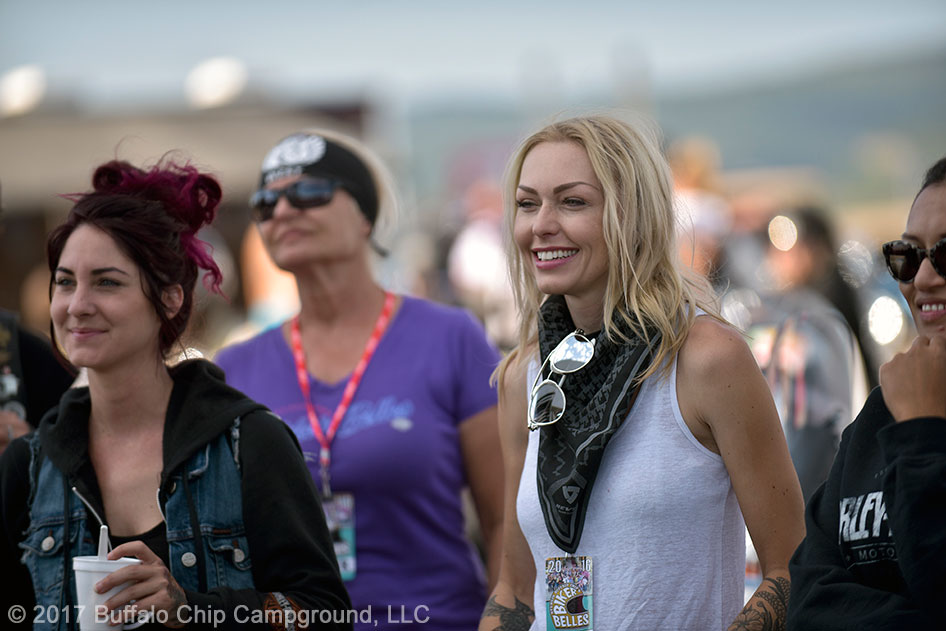 Leticia Cline gathers with riders participating in the Buffalo Chip's 2016 Biker Belles Celebration and Ride.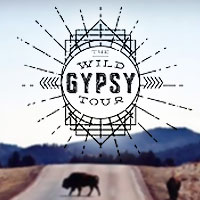 You can meet Leticia and be a part of history as The Wild Gypsy Tour kicks off the first ever all-women's motorcycle festival and campout held at the legendary Sturgis Buffalo Chip! This is a festival for the unbridled spirit, the ones looking for a place to belong and live freely. It combines the freedom of the past with the untapped spirit of the future. Come take part in an original experience that unites women from all corners of the globe with the common desire to ride, live, learn, and have fun all at The Best Party Anywhere®. Find out more here!
What other inspiring female riders would you like to know more about? Tell us in the comments below!