We hope you've got a fresh set of batteries in your smoke detector because the lively and lovely Miss Alexa, winner of the 2018 Buffalo Chip Poster Model Search presented by Rebel Yell, finished her photo shoot with Henry Roy Photography and, well… HOT DAMN! The results are stunning, but don't take our word for it. See for yourself by checking out the behind-the-scenes videos from her shoot at the Historic Franklin Hotel on Deadwood's Main Street and the sexy shots below with the Paul Jr. Designs custom Legends Ride bike built on "American Chopper"!
To quote one of the great philosophers of our time, Billy Gibbons, "She's got legs, and she knows how to use them."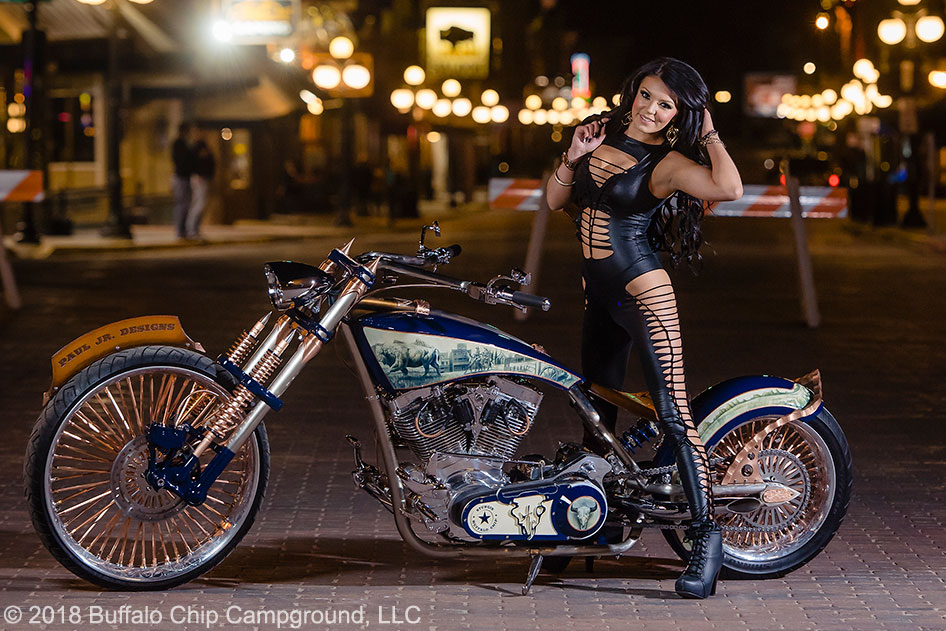 Alexa felt right at home throwing a leg over the custom chopper built by Paul Teutul Jr. on Discovery's "American Chopper."
Deadwood's Historic Main Street was the perfect backdrop for the rustic Black Hills and Buffalo Chip-inspired artwork on this immaculate machine, as well as the classic beauty straddling it.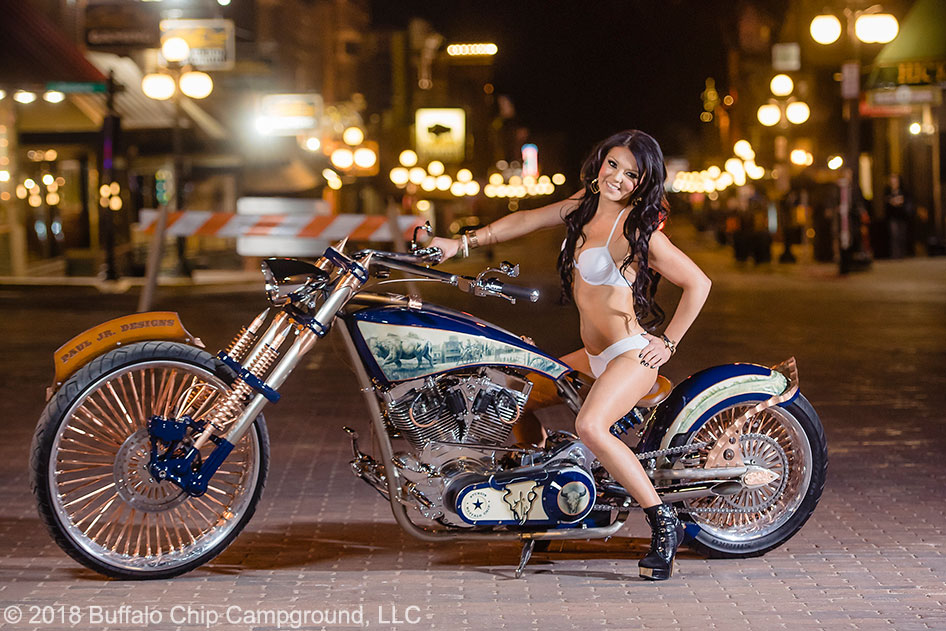 Seriously… HOT DAMN!
The traffic lights may have been green, but everybody in Deadwood that night was throwing on the brakes so they could eat up all this eye candy.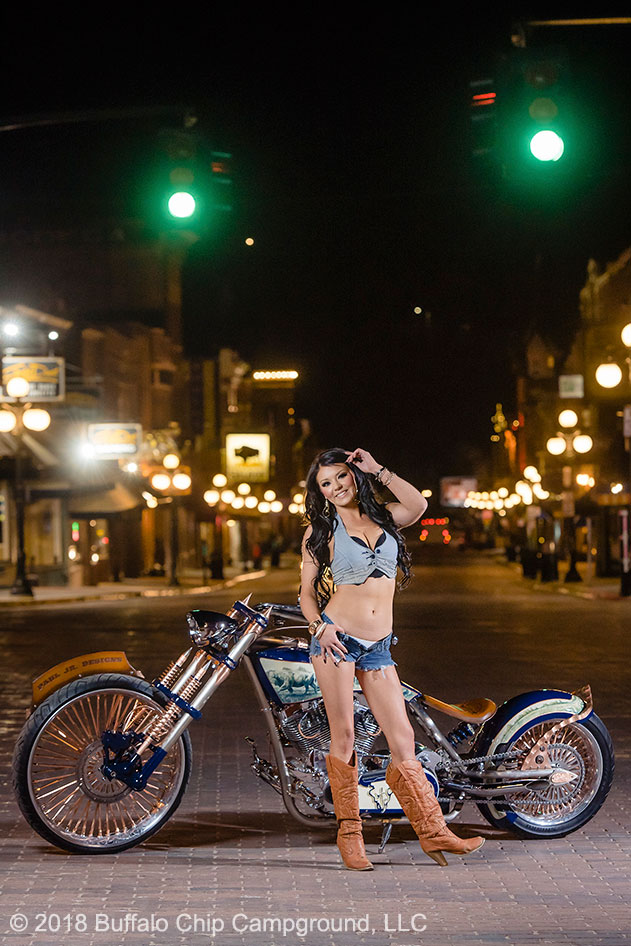 Several came back around the block for a second helping.
You'll do the same if you're at the 11th annual Legends Ride where you'll be able to see Alexa and bid to win this bike.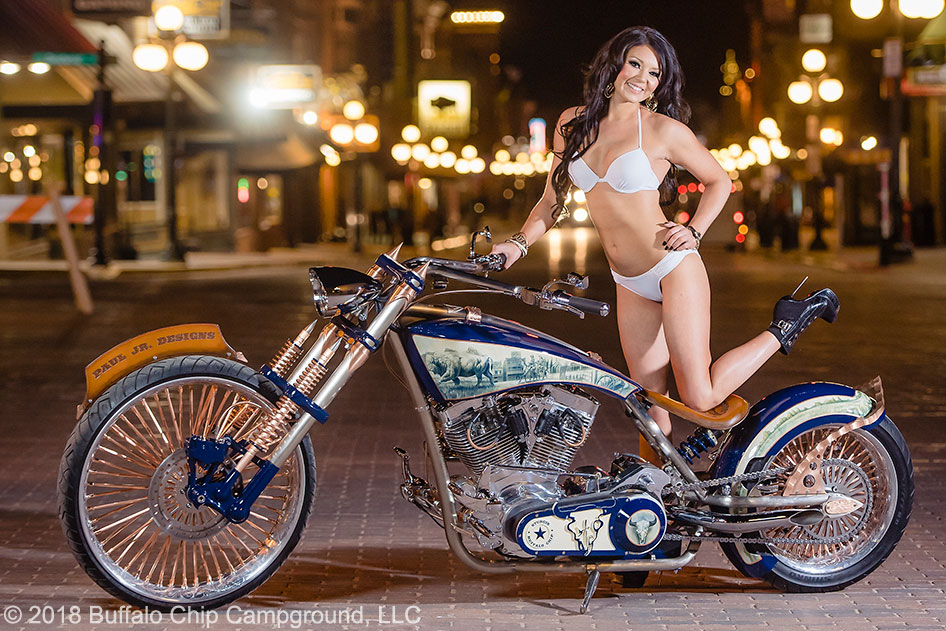 Who knows? If your bid is high enough, maybe you'll win Alexa's heart too.
One thing's for sure– both this bike and Alexa are a sight for sore eyes, and you need to see them both in person to fully appreciate their allure.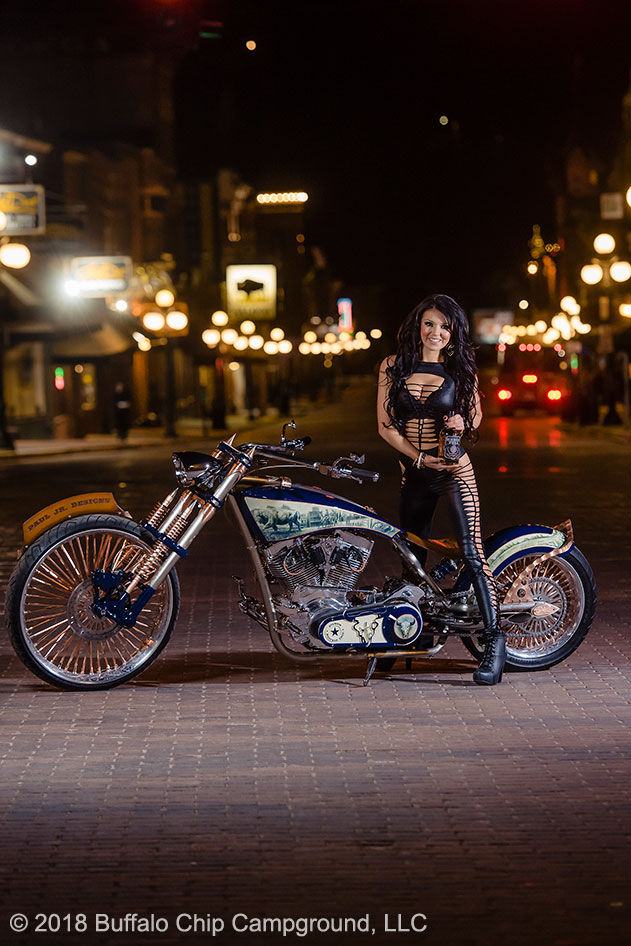 Alexa, the Paul Jr. Designs bike and a bottle of Rebel Yell are a match made in heaven.
Alexa is one classy babe, but she doesn't need a highfalutin fancy affair to have a good time. She says, "Any karaoke bar will do the trick!"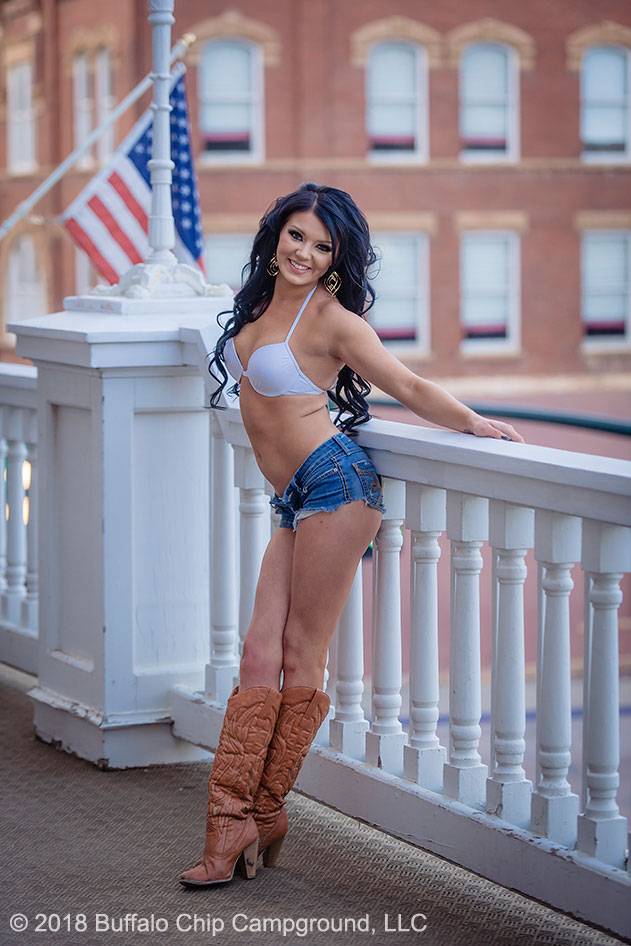 Would you duet with Alexa?
Alexa definitely isn't afraid of fun, so it's no surprise she's rocked out to her fair share of killer concerts at The Best Party Anywhere®, like Tesla, John Fogerty, Blue Öyster Cult and Kid Rock, to name a few.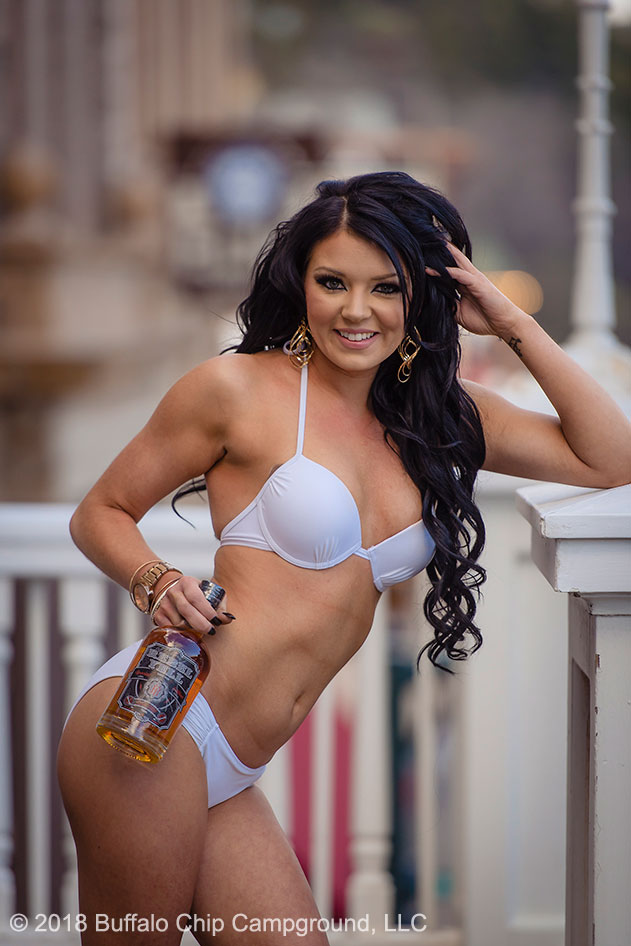 You could be partying with her at Eric Church, Kid Rock, Foreigner or one of the other great concerts happening at the 2018 Best Party Anywhere.
She considers herself a rebel. "Good girls don't have any fun," she says, "and I like fun."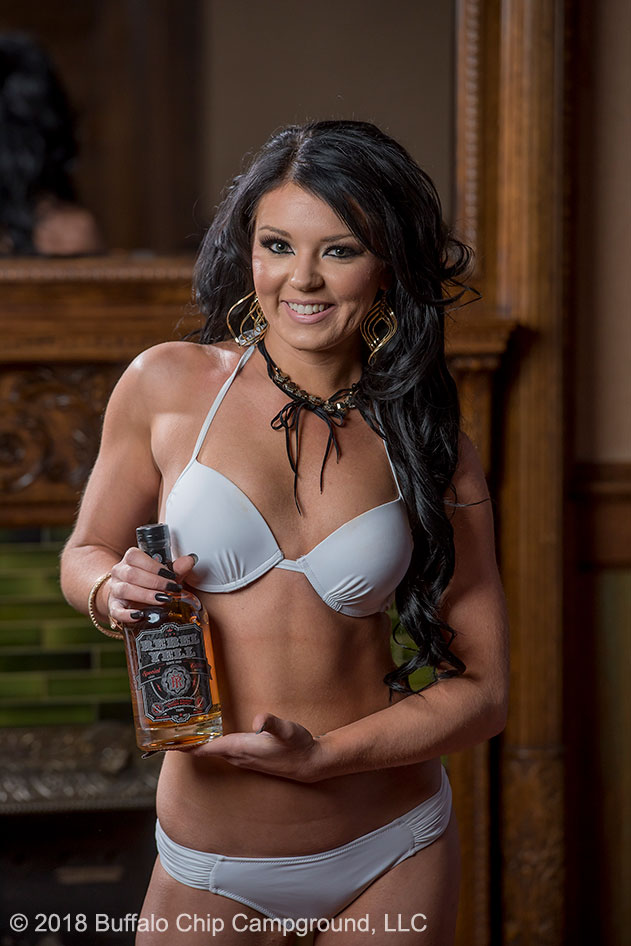 Hanging with Alexa in a bikini and a bottle of Rebel Yell Bourbon sounds like fun to us.
Alexa's nickname, "Face," originated in high school because of the animated expressions she made while telling stories.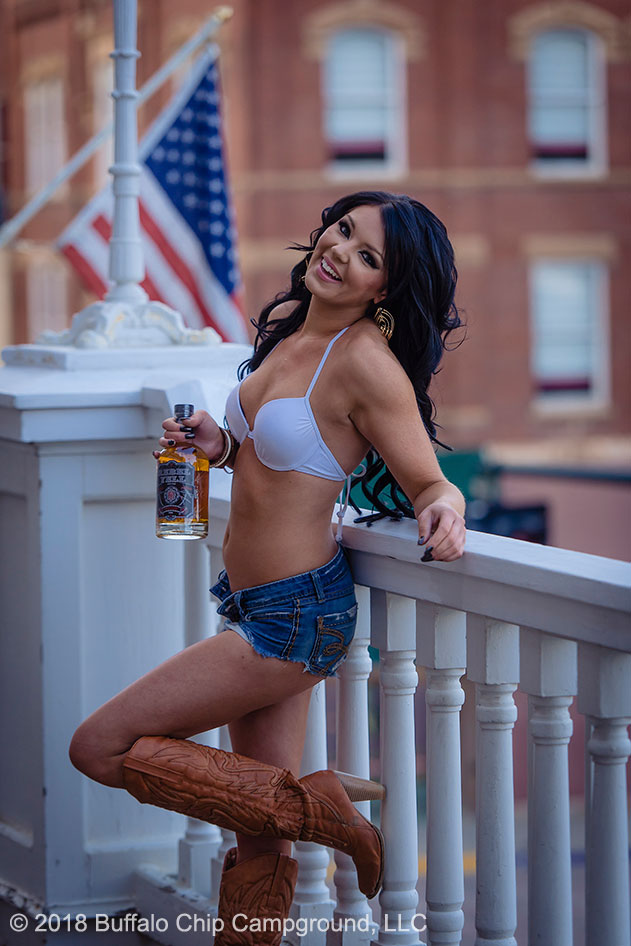 She was cracking us up during her photo shoot with Henry Roy Photography.
Alexa's spirit animal is an otter because "they're playful, engaging, social, inquisitive and spontaneous." Want to learn about her? "Just go watch an otter for awhile," she says.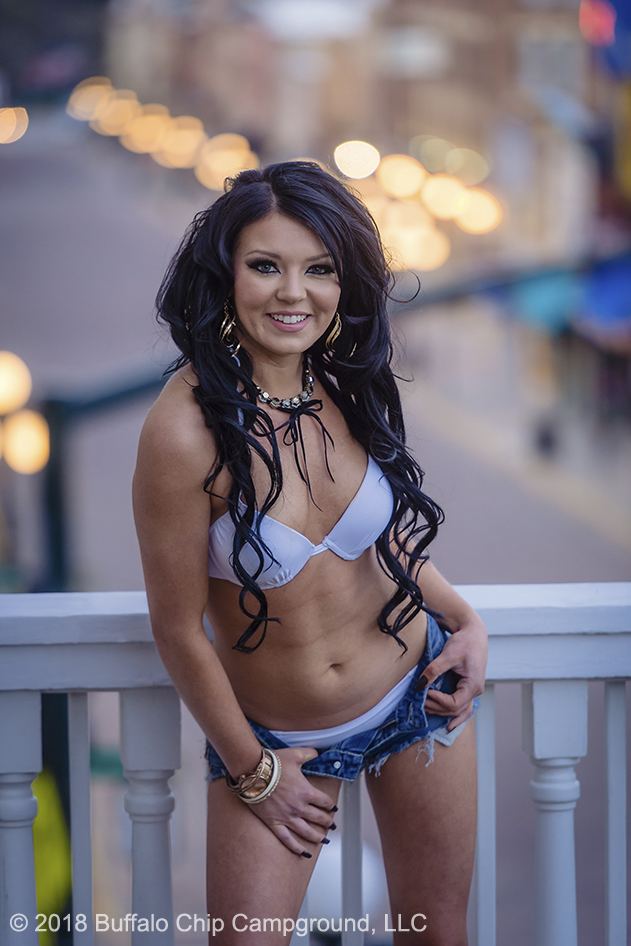 She did a solid otter impression onstage at the Poster Model Search Finals.
Want to see more of Alexa? Stay tuned for a second batch of sneak peek photos with from her shoot that include an insane bike reveal!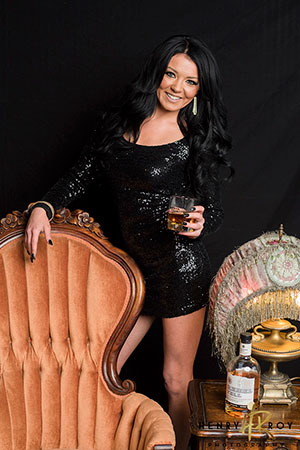 See Alexa and the rest of the Buffalo Chip Poster Model Search finalists reveal a whole lot more in the Sturgis Rider News Blog article Meet the 2018 Sturgis Buffalo Chip Poster Model Search Finalists.
The article includes fun details about all the finalists, as well as beautiful boudoir shots and one seriously sexy behind-the-scenes video of the finalists in their cocktail dresses taken during the photo shoot.
Special thank you to Rebel Yell Bourbon, KSKY, Henry Roy Photography, Black Rifle Coffee Company and The Freckled Fox for their contributions to the 2018 Poster Model Search.
Meet the Poster Models of the past!
What was your favorite photo from this sneak peek? Tell us in the comments below!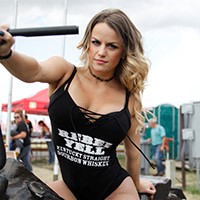 Presented by the Sturgis Buffalo Chip
Known as The Best Party Anywhere®, the Legendary Buffalo Chip believes festivals should be fun like a high five, reenergize you like a broken rule, and romance you like someone you just met and have to take home.This nine-day festival of concerts and motorcycle events promises to bring you exciting events like flat track races and live performances from artists like Aerosmith, Willie Nelson, Five Finger Death Punch, Kid Rock, Rob Zombie and many more.
Find out more or get passes to the Best Party Anywhere at www.buffalochip.com and find out why it continues to be one of the most televised festivals in the world.