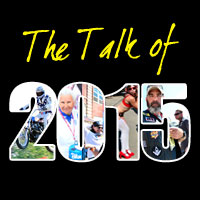 Epic pranks, shattered world-records, mega milestones and the biggest bash in the history of motorcycling had the biker world buzzing throughout 2015. Thanks to all of you for joining in on the fun and making these 15 moments the talk of 2015.
1. April Fools! Justin Bieber Was Not Really Going to Perform at the Buffalo Chip

On April 1, 2015, news that Justin Bieber would be performing during the world's largest motorcycle and music festival for the 75th rally shocked the motorcycling world for a moment—a long, uncomfortable moment. About five hours later, and to the seeming relief of many, website text and images changed, and the Buffalo Chip came clean that their Bieber Fever was merely an April Fools joke. Check out 32 Ridiculous Responses to the Justin Bieber April Fools Joke to see some hilarious reactions to the fake announcement.
2. Rod "Woody" Woodruff and Daymon Woodruff Brew Up Something Potent
Woody and Daymon spent countless hours slaving away in HAZMAT suits in an old RV down by the Wolfman Jack Stage, and the result was a concoction you couldn't wait to get your hands on or give to your old lady—The Big Woody.
3. Stars Go Head to Head to Help Students Win 1st and 2nd Place at Donnie Smith Bike Show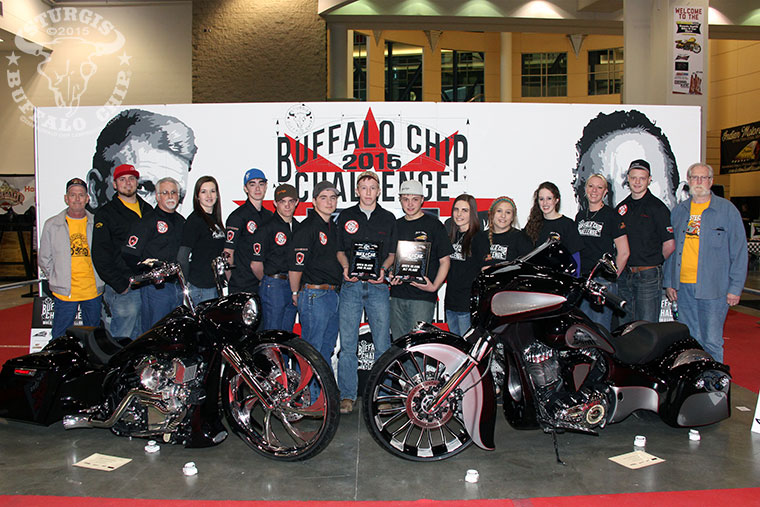 High school students from across the northern Black Hills who participated in the 2015 Buffalo Chip Challenge bike build and scholarship program got a step up when Biker Battleground Phoenix stars John Shope and Paul Yaffe joined forces with their teams. Students participants went on to earn two more trophies for the program's growing collection after competing against professional custom bike builders from around the country in the prestigious Donnie Smith Bike Show. Chris Mallow of Baggster led team Indian to first place in the Full Custom/Other Bagger Class while Randy and Nick Cramer of Dakota V-Twin led team Harley to second place in the Harley-Road King w/26" Wheel (Full Custom) Category. Keith Terry of Terry Components coordinated the program.
You can read more about the awards and the program here.
4. Raven Whitman Becomes the 2015 Poster Model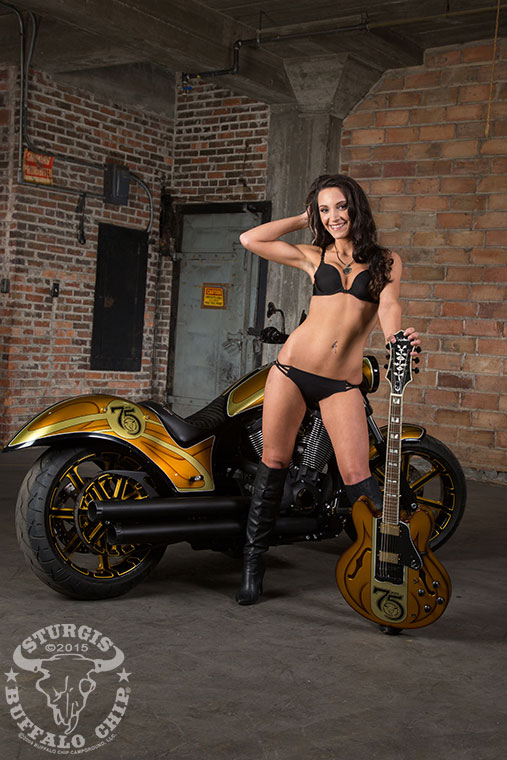 Beautiful Black Hills women came out of the woodwork for the chance to represent the Best Party Anywhere as the Buffalo Chip Poster Model during the 75th rally. Narrowing it down from 22 finalists to one winner was a tough job, but in the end, Raven Whitman proved she was Sizzlin' Hot and Ready to Rock as the face of the Buffalo Chip's Party of the Century.
Want to see more of Raven? Check out EXPOSED! 6 Sexy Shots from the 2015 Poster Model Shoot.
5. Buffalo Chip, SD Becomes First Town Built By Bikers for Bikers™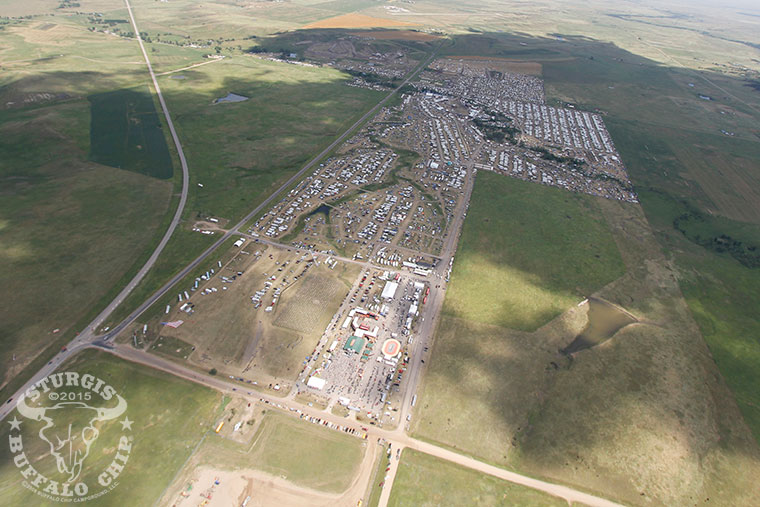 It started as a dream, matured into a plan and in 2015 it became a reality. On May 7, 2015, the legal residents of the proposed municipality of Buffalo Chip, South Dakota voted in favor of incorporation. This means Buffalo Chip Campground, LLC now sits within the town of Buffalo Chip, South Dakota. Find out more about the world's first biker municipality here.
6. Three Nights of Free Concerts during the Pre-Rally Party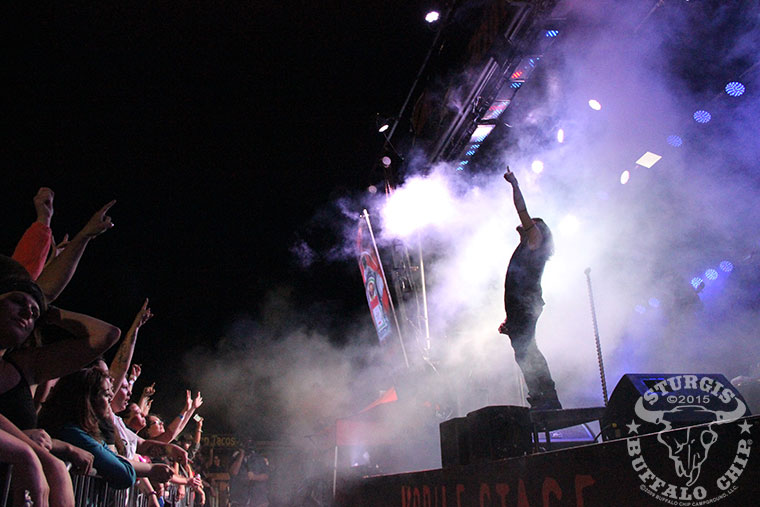 For the first time in history you had the chance in 2015 to take in three additional nights of amazing concerts, and seeing them didn't cost you a single penny!
The first-ever free Buffalo Chip Pre-Rally Party let you and your friends blow through the gates of the CrossRoads at the Buffalo Chip® one full week before the festival's official rally kickoff to see bands you'd never dream of being able to see without a cover charge including Pop Evil, Red Sun Rising and ONE – The Only Tribute to Metallica!
7. Roland Sands Unveils 75th Anniversary Custom Indian Chief Racer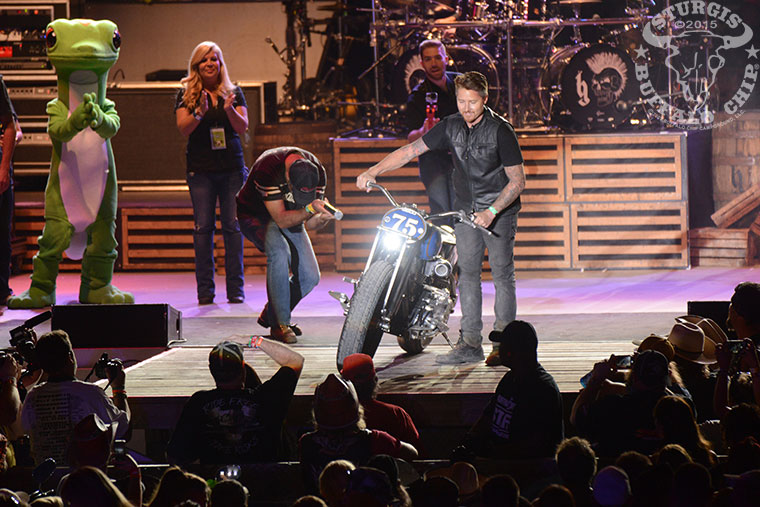 Jaws dropped across the amphitheater on Aug. 2, 2015 as the one and only Roland Sands unveiled the result of a collaboration between Roland Sands Designs, the Buffalo Chip, GEICO and Indian Motorcycle. The custom 75th anniversary Indian Chief Racer was built from the motor up, with the Roland Sands Designs Team designing, fabricating and machining every part.
8. John Shope Burns Out on the Main Stage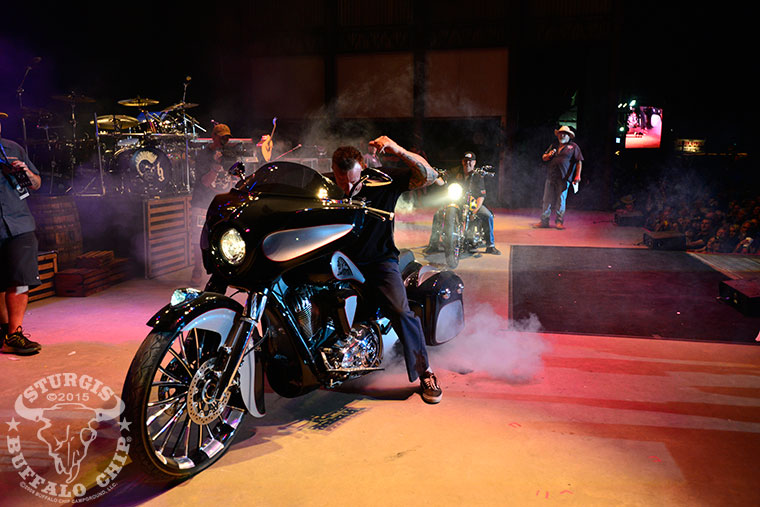 After months of friendly competition in the Buffalo Chip Challenge, legendary builders John Shope and Paul Yaffe collided on the Wolfman Jack Stage on Aug. 2 to debut the two motorcycles being auctioned off in support of the 8th annual Legends Ride®. Shope was so confident his signature Indian Chieftain would bring more money at auction that he bust out a seriously epic burnout for the audience.
9. Gloria Struck Celebrates Her 90th Birthday with the Biker Belles®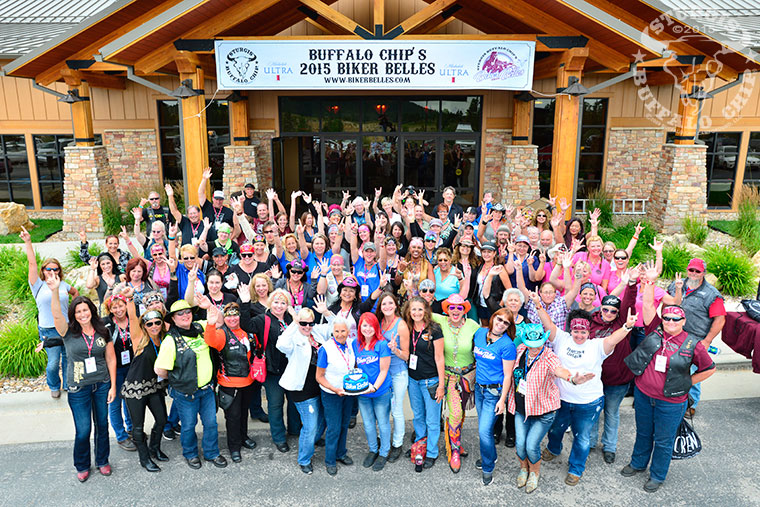 Being able to ride a motorcycle is worth celebrating at any age, but riding at age 90 deserves a party of epic proportions. That's why the Biker Belles® used their annual gathering to celebrate the birthday of Motor Maids matriarch Gloria Struck. After nearly 70 years of active riding, Gloria made the cross-country trip alongside her daughter and granddaughter to be at the event. You can find out more about this inspirational woman here.
10. Panty Party World Record Attempt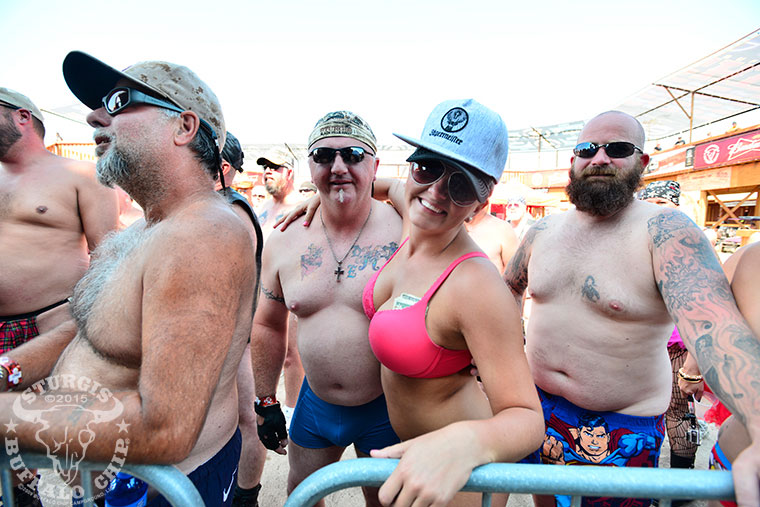 182 bikers put on their best pair of skivvies and their brightest smiles on Aug. 5, 2015 to be part of the rally's most outrageous world-record-breaking attempt – the most people in one place wearing only underwear! While the group was unsuccessful at breaking the record, that didn't stop them from having a great time and vowing to try again in 2016.
Check out How to Crash a Panty Party with Reformed Whores to see more from the Panty Party.
11. The World's Largest Human and Motorcycle Eagle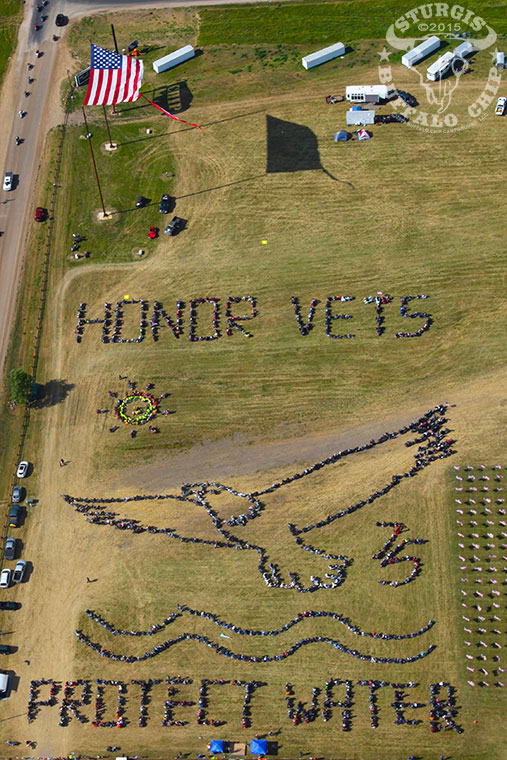 Nearly 1,000 motorcycles and riders gathered near the Buffalo Chip's Field of Flags on Thursday, Aug. 6, 2015 under the direction of artist John Quigley to form an eagle the size of a football field. Known as Eagle 75, the formation honored veterans and promoted clean water practices.
12. The 22-Car Jump Evel Knievel® was Unable to Complete
In a terrifying display of courage, motorcycle daredevil Doug Danger roared down a dirt path on Knievel's own 1972 XR-750 between packed campers, under a steel bridge, up an engineered ramp and over 22 cars lined up in the center of the Sturgis Buffalo Chip amphitheater. It was a feat that could have killed him.
13. Military Members Honored during Freedom Celebration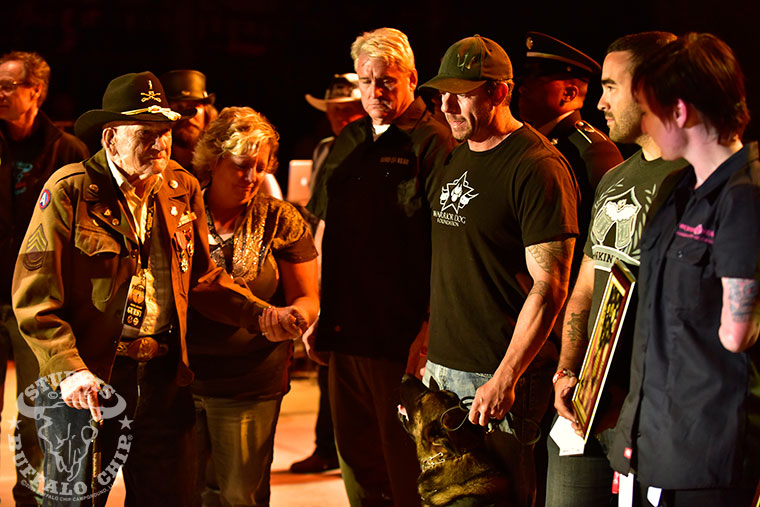 There was hardly a dry eye in the audience on Aug. 6, 2015 when WWII Army veteran Bob Hanson presented four military members with the Bob Hanson Distinguished Service Award on the Buffalo Chip main stage. The ability to enjoy the music, motorcycles, freedom and camaraderie of the Best Party Anywhere wouldn't be possible if it weren't for the extraordinary sacrifices of men and women like Mary Dague, John Rapp, Mike Ritland and Tyler Southern. Find out more about these brave individuals here.
14. First Band Announced for the Buffalo Chip's 35th Anniversary in 2016
With the release of this exciting video, those wondering whether it was possible for the Buffalo Chip to set the bar even higher after its monumental 2015 party found out the answer was YES!
15. Bid Accepted to Begin Fort Meade Way Construction
An ending is finally in sight for the decades-long effort to complete Fort Meade Way, a road that will connect I-90 to the east side of Sturgis, SD. Check out Make Way for Fort Meade Way! to find out more about this new road and how it will benefit you!
Thank you for making 2015 such a great year!
What were some of your most memorable moments from 2015? Tell us in the comments below!