The Best Party Anywhere is so close you can taste it. If you've been looking on the Chip's website, following them closely on social media and are subscribed to the Sturgis Rider® Newsletter, chances are you're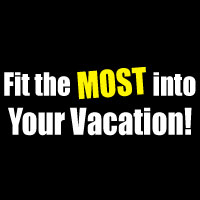 wondering how in the heck you're going to be able to fit it all in. Well, fret not, friends–the Chip's Rally-seasoned staff has assembled easy-to-follow itineraries for every single day from July 24 through Aug. 8. Read on and let these itineraries guide you through the most memorable time of your life.
Check out the full itinerary or jump ahead to the date you plan to arrive.
Friday, July 24th Itinerary
5:00 pm – Get There Early: Show up ready to party and if you're camping get your campsite ready for the weekend.
6:00 pm – Explore the campground: Check out the bus tunnel, find Woody's Plum Thicket and look for other weird stuff.
7:00 pm – Pre-Game It: Get up to the CrossRoads and start prepping yourself for the incredible night of free concerts that are coming.
8:00 pm – Catch the Red Sun Rising Concert: Get ready for a rock show that'll change your life once you come out on the other side of it. Red Sun Rising is here to rock you into oblivion.
9:45 pm – Watch the Ladies Dance: Hoot and holler as the beautiful and talented Sturgis Rider® Rhythm Rockers mesmerize you with their moves.
10:15 pm – Party to Pop Evil: Firmly plant your feet and ready yourself for shotgun blast of rock 'n' roll energy when Pop Evil gets wicked on you. Give yourself a high five for attending the first of three nights of badass free concerts.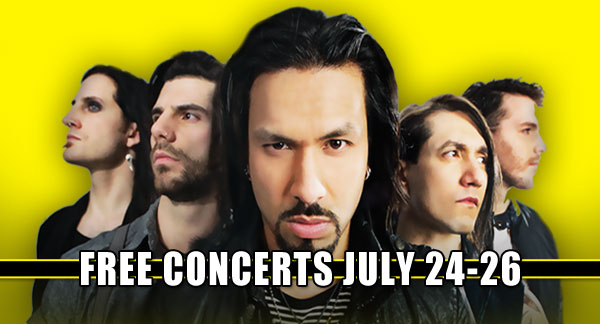 Saturday, July 25th Itinerary
6:00 pm – Take Photos: Take your picture in front of the world's largest V-Twin sculpture at the CrossRoads and step up on the platform to make its Magnaflow exhaust roar. Bask in the glory of horsepower and American-made engines.
6:30 pm – Try Something New: Get two or three of your favorite beverages in or be adventurous and try something new, a Big Woody, before night two of fantastic free concerts begin.
7:00 – Get Yourself Some Sexy Rockabilly: Discover the sexiest side of rockabilly when sultry upright bass player Symphony Tidwell and powder-loaded drummer Randy McKnight of The Living Deads take the Jägermeister Stage at the CrossRoads.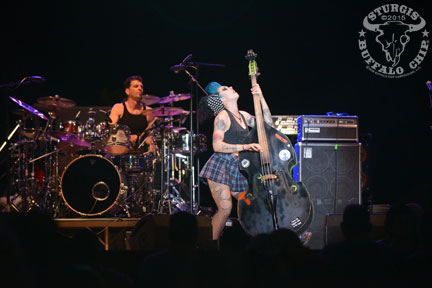 8:30 pm –Freak out and Get Wild: When Lola Black takes the stage getting wild will come naturally.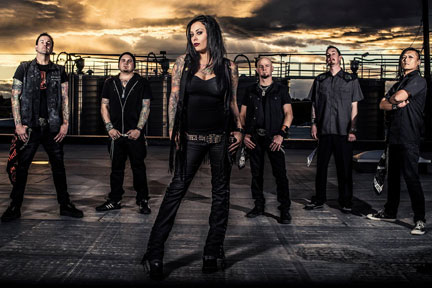 10:00 pm – Remember Why You Like to Party: Spiral out into the unknown with Scorpion Child's psychedelic desert rock. Enjoy the feeling of realizing again something you already knew–partying is awesome.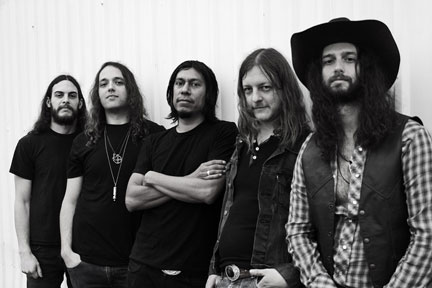 Sunday, July 26th Itinerary
5:00 pm – Explore the Massive Campground: Keep track of all the new things you discover, because you'll want to revisit them often.
6:00 pm – Pre-Funk Again -The CrossRoads Bar is still there and still waiting for you… get there and begin priming the pump for the final night of the Pre-Rally Party!
7:00 pm – Rock Out With Lola Black! Did you get your VIP? If so, try to refrain from telling the lead singer that you just fell in love with her.
8:00 pm – Deny Having a Scorpion Child Flashback: This is not a flashback… this is really happening. Scorpion Child is sweetly stinging your ears with stellar jams one moment and subtly melting your face the next.
10:00 pm – Experience a Series of Holy Metallica Moments: When "Ride the Lightning" and every Metallica hit you love is performed note for note by ONE – The Only Tribute To Metallica, sing the F*** along! You know you know every word!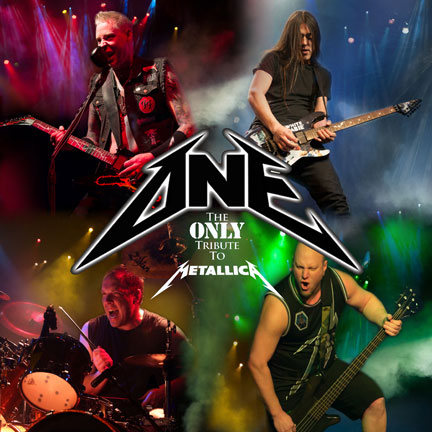 Monday, July 27th – Thursday, July 30th Itinerary
5:00 pm – Make Friends, Tell Tall Tales and Laugh it Up: Hang out at the CrossRoads and swill your favorite beverage until you feel all warm and fuzzy. You're on vacation… what else do you have to do? Here's to not knowing what day of the week it is!
7:00 pm – Hit Up the Bikini Beach Party: It's summertime. There's a swimming hole nearby. A killer band is setting up to play. You need a drink in your hand and your toes in the sand. Get down to the Bikini Beach Party. Jam with The Living Deads and Andy Babb's Big Beautiful Band when they switch it up on July 27, 28, 29, & 30!
Friday July 31st Itinerary
7:30 am – Enter the Campground and Take a Deep Breath: You made it home.
7:31 am – Find Your Way to Your Campsite: Make yourself comfortable; it's going to be your home for the few days. Take your time, pull out your lawn chairs and start making some friends.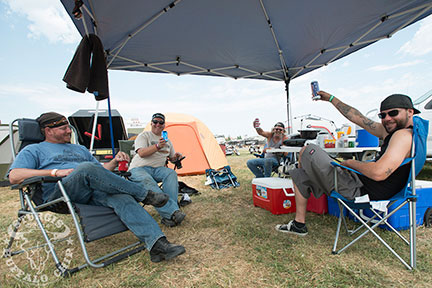 8:45 am – Pick Up an Essentials Guide: Swing over to the Chamber of Commerce and Rally Information Center at the CrossRoads. Say hello, pick up a free fab map and grab a hard copy of the Essentials Guide if you haven't found it already. You'll be referring to these a lot throughout your stay. You'll also want to register to win the Sturgis Rider® Sweepstakes Victory motorcycle and matching Epiphone Guitar while you're there.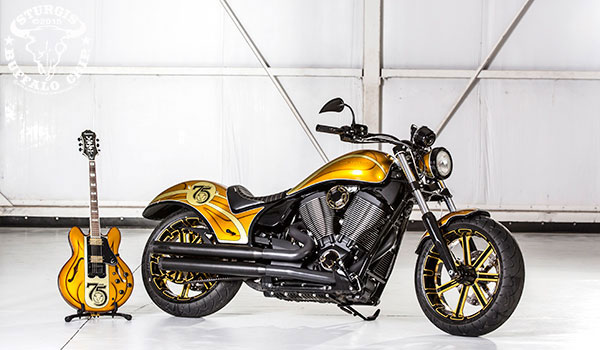 9:00 am –Cruise around the campground: Follow the map inside the Essentials Guide and familiarize yourself with all the different areas you'll be partying at over the coming days.
10:00 am –Salute the Freedom Field: Visit the American Veterans Traveling Tribute Memorial Wall, 800 American flags waving in unison and Battlefield Cross. You will be deeply moved as you think about those who've fought for your freedom over the years.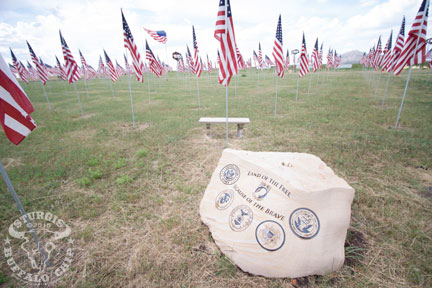 10:30 am – See the Budweiser Clydesdales: Gaze in astonishment at the gentle giants hitched at the CrossRoads. Get up close, snap a photo and marvel at the sheer size and beauty of these majestic creatures. Tour through the mobile Brewmaster and smell and feel the ingredients that inevitably become delicious Budweiser.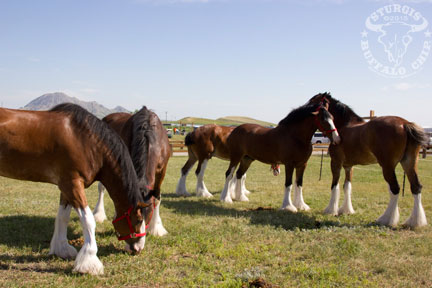 11:00 am – Ride in a Helicopter: Take your vacation to new heights and take an aerial tour of the Chip and surrounding Black Hills aboard the Husker Helicopter. Snap an aerial photo from high above the party, and see the hills in a way that few ever get the chance to do.
Noon – Socialize for a Bit on the Cheap: Settle your nerves from the amazing helicopter ride and grab two Budweiser Bowtie cans or two Jäg Bombs from the CrossRoads bar. Either way it's only six bucks! Catch your breath and grab some lunch as you check out all the different vendors.
12:30 pm – Power Up on Some Power Sports: Grab your friends and ride over to the Power Sports Complex to check out some fast-paced, dirt-shredding racing action a la the AMA Extreme Dirt Track ATV Races.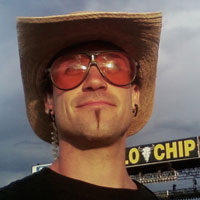 3 pm – STAFF PICK
Friday Night Kick-Off Party
"My I-don't-wanna-grow-up mentality demands that the kick start to any partying I do be just as powerful as the crescendo of good times found further down that road. Spontaneous, unexpected and unforgettable–that's my requirement for a good time. And that's why if I weren't working, you'd find me at the Friday Night Kick-Off pulling down free draft beer from a tailgate, listening to bands you'd hear me say are "f***ing awesome" one too many times, and blabbering about all the cool sh*t that's about to happen to fellow tailgaters I'd soon be calling friends. Inevitably, I'd be asking myself at 7 a.m., 'Why the hell am I still up? There are eight days of this race left to run!' "
– Daymon Woodruff
4:00 pm – Keep the Laughs Going: Chances are you have a nice buzz going by now, and you've been yukking it up with both new and old friends. Take your laughs to the next level and catch Captain Jack's set of hilarious musical comedy on the Sam Kinison Showcase Stage. Prepare to laugh until you've nearly wet yourself. Go to the bathroom and come back to laugh some more.
5:00 pm – Witness a Time-Honored Pickle Lickin' Tradition: Round one of the World Federation Pickle Lickin' Championship hosted by Hank Rotten and Captain Jack begins! Whether you choose to witness or participate in this time-honored tradition, you're already at the Kinison Stage, and it's more fun than you can shake a stick at… so hang out!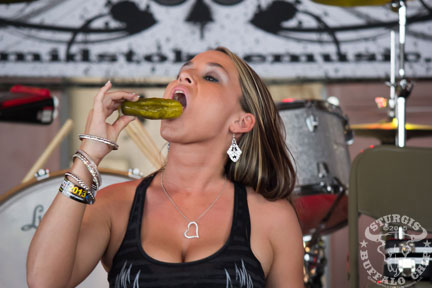 6:00 pm – It's Chow Time: Waltz on over to Stage West Café and grab some dinner. Prime rib, anyone?
6:30 pm – Get Ready to Rage: Stop by your campsite and get ready to head into the amphitheater for the first of many nights of legendary music from the Wolfman Jack Stage. Change clothes, maybe grab a light layer depending on what the weather is doing. Make sure you grab your Rat's Hole mug so you can enjoy frosty half-price beer as you take in the show.
7:00 pm – Find Your Spot for the Concerts: Weave your way into a good spot to view the stage and rock out to Stolen Rhodes!
8:00 pm – Hit the Bar during the Main Stage Break: Refill that Rat's Hole mug and take in a few tunes from Iron Cowgirl Missy on the nearby Kinison Stage!
8:30 pm – Let the Good Times Roll: Nestle back into a good spot and listen to some true-blue biker blues from the Charlie Brechtel Band!
9:45 pm – Set Your Night on Fire: Good Time Charlie and the boys may have just wrapped up, but no need to go anywhere–the Illumination Fire Troupe is about to dazzle you with their sensual dances and fearless fire manipulation.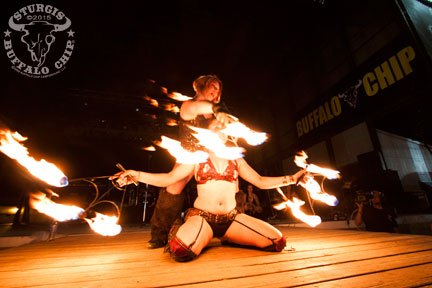 10:30 pm – Prepare for a Party the Size of Texas: Strap yourself in and get ready to TURN IT UP with Texas Hippie Coalition!
12:15 am – Dance the Night Away: Enjoy the late night show at Bikini Beach with The Mods!
2:00 am – Call It a Night: Stumble back to your campsite and party with your neighbors till you can party no more! Pat yourself on the back–you just raged the first day of The Best Party Anywhere.
Saturday, August 1
10:00 am – Devour Free Pancakes: Wake up and cruise your bike over to the Sons of Light Ministry tent at the CrossRoads and chow down!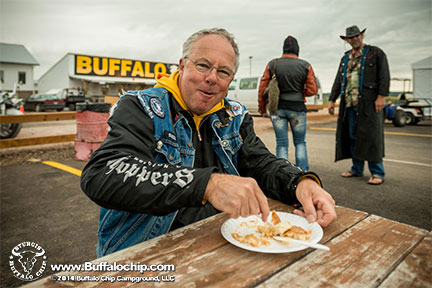 11:00 am – Get Your Wheels Spinnin': Grab some coffee from Dunn Bros., and then go for another ride around the campground. Catch up with your neighbors and see how they're gearing up for day two.
Noon – Bodacious Babes Bathe Your Bike: Ride your bike back to the CrossRoads and take it to the Bikini Bike Wash. Hang and laugh with the lovely ladies from the Miss Buffalo Chip Pageant as they scrub your scoot until it's squeaky-clean. Check out your reflection and smile–you're at the Best Party Anywhere.
12:30 pm – Suns Out, Guns Out: Park your bike and head over to Bikini Beach. Pose for some hilarious photos with the new bikini guy/girl cut outs and lay claim to your afternoon sunning spot.
1:00 pm – Belt It Out: Grab some liquid courage from the bar and get ready to unleash your angelic singing voice onto the world in the Bikini Beach Karaoke Contest!
2:30 pm – Let It Out and Swing It: Now that you've demonstrated your bravery to everyone at Bikini Beach on the mic, you might as well participate in the Ultimate Rope Swing Contest! Push your limits or just do something weird to score some points for originality.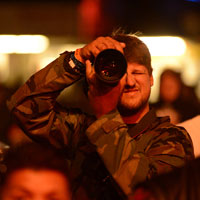 3:30 pm – STAFF PICK
Homemade Bikini Contest
"The Chip media crew works hard covering the entertainment at The Best Party Anywhere. But when we're running around the campground we're all thinking, 'When can we hit up Bikini Beach?!' The beach is the best place to cool off on a hot day and has some of the best contests to watch and photograph. My favorite is the Homemade Bikini Contest. The ladies come up with off-the-wall bikinis to show the crowd, and it's a lot of fun cheering for your favorite contestant. It's so fun there that on August first we'll be shooting an episode of Sturgis Rider TV around this contest featuring the models from the International Bikini Team. Come check it out and discover one of the 'coolest' stages at the Chip."
– Brad Schneck, Multimedia Director
5:00 pm – Laugh With Whores Until It Hurts: You've partied on the beach, now its time to cruise over to the Hoyt Axton Stage because you heard something about whores performing there. You arrive to find two adorable and innocent-looking women who call themselves the Reformed Whores singing hilariously dirty country-western songs that would make a sailor blush.
5:30 pm – Savor Succulent Steak & Shellfish: All that laughing and partying has no doubt made you hungry, so grab some dinner from the Surf-N-Turf Steakhouse in the historic barn just across from the Hoyt Axton Stage. Then, head to your campsite and get ready for another night of great concerts.
7:00 pm – Enjoy a Melodic Concoction: Sweet Cyanide takes the Wolfman Jack Stage. Let their intoxicating rock and roll cocktail take hold. Down a Big Woody or two and hold on for dear life!
8:30 pm – Take a Punch from 5FDP: All of a sudden a guitar chord rings out that seems to tilt the earth on its axis. A dreadlocked silhouette appears on the stage, and for a moment you wonder if you're dreaming. Then you realize it's Zoltan Bathory from Five Finger Death Punch and that you are moments away from getting your face completely rocked off. This is what the Best Party Anywhere is all about. Tilt your head back and howl at the moon like a deranged madman.
10:30 pm – Feel the Fright from Alice Cooper: The lights go dim and an eerie vibe settles over the amphitheater. Your skin begins to crawl because subconsciously you know that heads are about to roll. Please keep all limbs away from the guillotine as you freak out with the Godfather of Shock Rock–Alice Cooper. He's killed before, and he's about to do it again!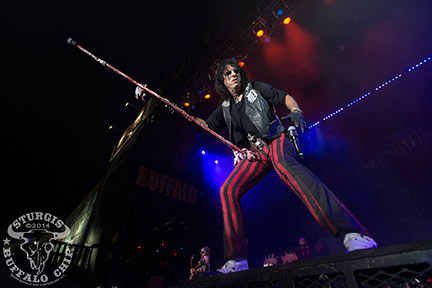 Midnight – Join the "Members" Club: Alice Cooper just finished his encore, and you're ready to keep the party going. While you were watching the Reformed Whores earlier, someone mentioned that everyone MUST return for the Magnificent Member Midnight Endurance Ride. Go see what all the fuss was about!
1:59 am – Wind Down: Day two is done and yet another weird wild party is in the books. Head back to your campsite and have a nightcap with your neighbors.
Sunday, August 2 Itinerary
10:00 am – Grab a Bite with the Best Bike Builders: Trek over to the Russ Brown Event Center and get the inside scoop on the one-off builds for the Motorcycles As Art exhibition and enjoy a delicious catered breakfast at the Flying Piston Breakfast Benefit (link to Flying Piston Breakfast landing page). Rub elbows with folks like Woody, Michael Lichter, Paul Yaffe, Brian Klock and many more while bidding on an array of auction items. You'll feel good knowing that your $20 ticket goes to support the Buffalo Chip Technical Education Scholarship Fund.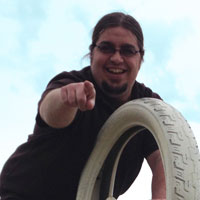 Noon – STAFF PICK
Fan Fest
"It wouldn't be the Best Party Anywhere without all the wacky famous events and crazy contests contributing a significant weird factor. Fan Fest is a conglomeration of the weirdest and most hilarious things you'll see and do during the Sturgis Rally all in one spot. So if I weren't working, I'd be there. Seriously, where else are you going to see a Beer Belly, Beard, Cherry Pie Eating and Fake Orgasm contest all in the same place within a few hours?"
– Jeff Smith, Content Specialist
3:00 pm – Scope Some Sick Sleds: You just got done scarfing down an entire cherry pie at Fan Fest for a chance at 2016 Rally passes, so maybe you didn't notice all the awesome bikes around for the Full Throttle Bike Show. Walk off a few calories and check them out!
3:45 pm – See Sexy Dancers and a Drunken Fish: What's that? A dance routine from the Sturgis Rider Rhythm Rockers is happening on the Jägermeister Stage at the CrossRoads?
Might as well check that out and stay for a few tunes from Brandon Jones and the Thirsty Fish!
5:00 pm – You've Never Seen Tractors This Mean: Get over to the Power Sports Complex to watch the Outlaw Truck and Tractor Pulls. These machines are downright insane, and you absolutely don't want to miss this action!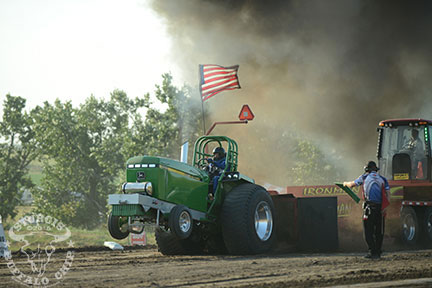 7:00 pm – Guitars and Grub: Grab some vendor food in the amphitheater and check out Brian Grilli aboard the Wolfman Jack Stage!
8:00 pm – Laugh at Captain Jack's Sex Toy Song 'til Beer Squirts Out Your Nose: Pop into the Comedy Club and listen to Captain Jack while you're waiting for the next band to start on the main stage!
8:30 pm – 38 Special Gets You Rockin' Into the Night: You might be holding on loosely at this point, but don't let go–38 Special takes the main stage right now!
10:00 pm – Check Out the Challenge Bikes: As you're wondering how its possible that 38 Special only gets better with each passing year, your attention is once again drawn back to the main stage where John Shope and Paul Yaffe wheel the bikes from the 2015 Buffalo Chip Challenge™ onto the stage. If you haven't yet, decide which one you're going to bid on during the Legends Ride auction tomorrow.
10:30 pm – See What Happens When Country Meets Rock: Time for a Town of Buffalo Chip Throwdown with Brantley Gilbert! Can we get One Hell of An Amen?!
Midnight – Burn Rubber Way Up High: It's not a bird or a plane… it's Burnouts in the Sky! Take your bike up on the Sky Walk and burn rubber with your friends!
??? am – You aren't sure what time it is but you know its time to get back to your campsite and crash out. Cross day three off your Best Party Anywhere bucket list!
Monday, August 3
10:00 am – Get Your Second (Or Third) Wind at the Resurrection Room: Feeling a little rough this morning? Who wouldn't be? You've been partying like a rock star for three days straight! Have no fear–the Resurrection Room is here to make sure you don't waste your time nursing a hangover. Get to their bus in the amphitheater near the Kinison Stage and get resurrected!
Noon – Register for the Legends Ride: Roll into Deadwood and get to the Silverado-Franklin to sign in. Grab some brunch, do some gaming and shoot the breeze with everybody getting ready for the ride!
1:40 pm – Bid on the Yaffe and Shope Signature Challenge Bikes: It's time to put your money where your mouth is. Will you be bidding on Team Yaffe's Harley or Team Shope's Indian? Or are you so torn between the bikes that you're going to try to win both?! Anything can happen.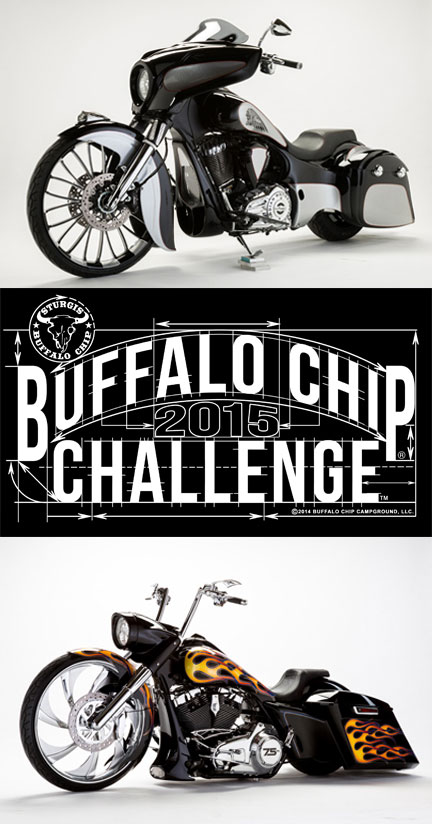 2:50 pm – Cheese out for the group photo: The auction is over. Congratulations if you placed a winning bid! If not, better luck next year!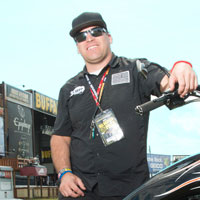 3 pm – STAFF PICK
Legends Ride®
"The Legends Ride demonstrates the generosity and goodwill of the biker community to a worldwide audience. No other event brings together stars from film, television, music and motorcycling all in one place to raise funds for local charities. The atmosphere of the auction in Deadwood is absolutely electric. Follow that with an exceptional ride and a world-class party and concert at The Chip, and you've got the single most epic day in Sturgis from start to finish. Seriously, I'm not lyin'."
– Lon Nordbye, Director of Corporate Sponsorships
5:30 pm – Celebrate another safe and successful Legends Ride: Hang with your friends and at the exclusive reception at the Russ Brown Events Center!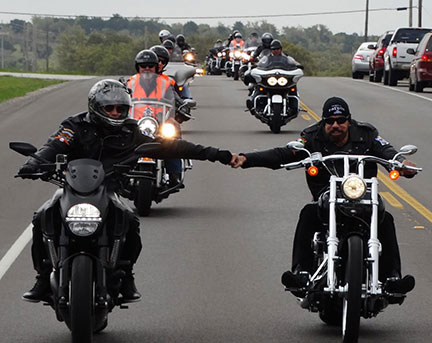 8:30 pm – Get Twisted: Dee Snider wants to rock your socks into next week. Ready or not…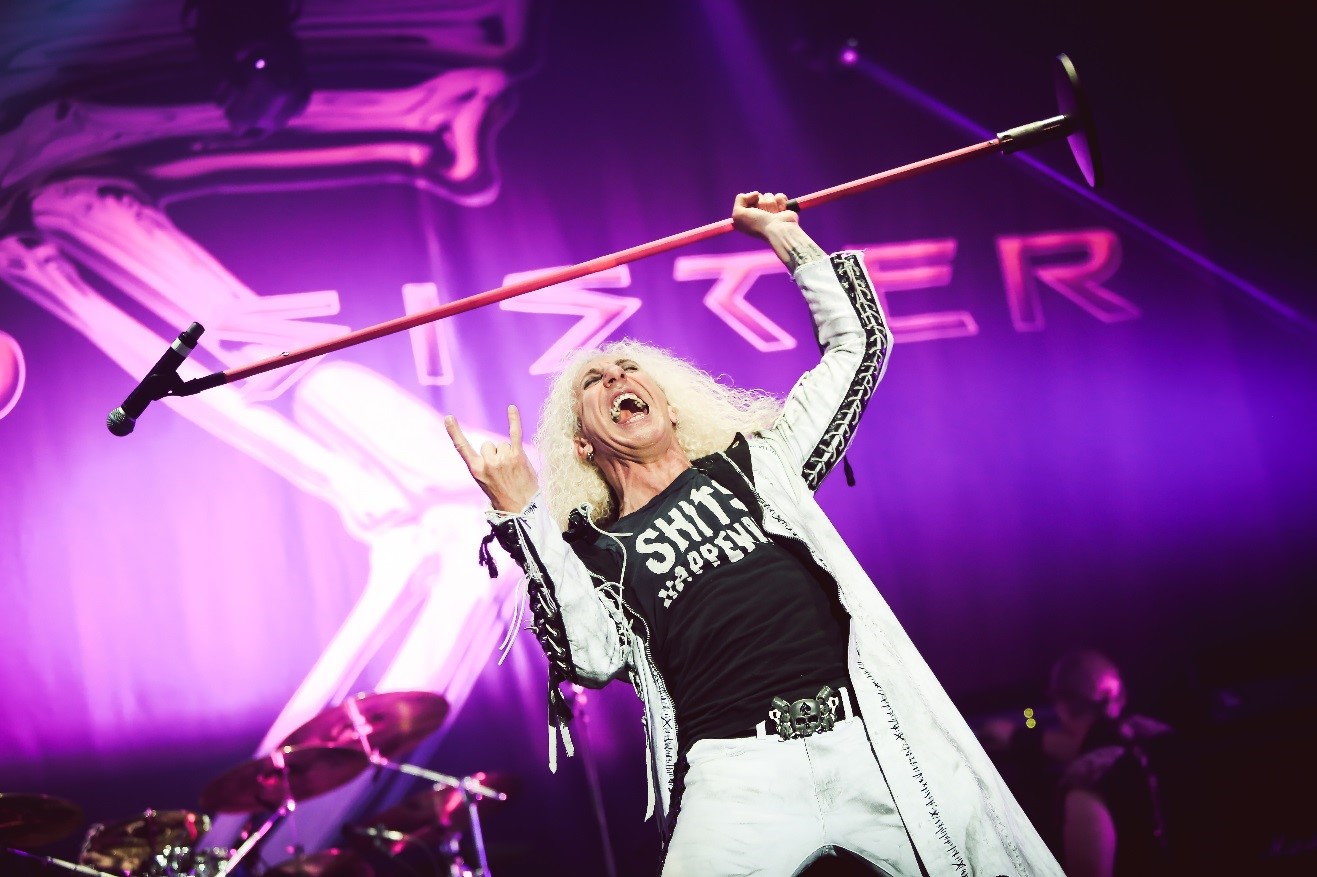 10:00 pm – Take Pride in Your Contributions to Charity: Watch the Legends Ride proceeds be given to charities on the main stage. Take part in another main stage toast with the tons of friends you've made. You're a regular Chip rockstar now.
10:30 pm – Wake The F*** Up: Are you awake? If not, Godsmack and all your friends will raise the amphitheater to 1000 horsepower! Party until your ass has fallen completely off and disappeared!
Midnight – After Party at the Brand New Stag Lodge on the Sky Walk: Get a Big Woody and a Jäg Bomb at the Jägermeister After Party!
2:00 am – See if You Can Still Find Your Campsite: Hang with your neighbors until you call it a night. You've almost hit the halfway point of the Best Party Anywhere, and that's nothing to scoff at.
Tuesday, August 4 Itinerary
9:00 am – Get Your Bearings for the Day: Grab some breakfast and coffee at the CrossRoads. Take a stroll around and check out the sweet motorcycles in the American Iron Bike Show.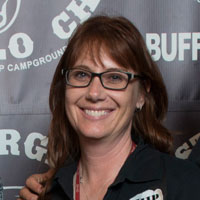 10 am – STAFF PICK
Biker Belles®
"Sometimes the hustle and bustle of Rally can be a little overwhelming, so it's nice to have a window during the week to sort of get away from it all and enjoy a social gathering with close friends. That's why the Biker Belles is the event I absolutely would not miss. Every year is a big family reunion of riders who come together to celebrate women and their contribution to motorcycling while enjoying the peaceful and air-conditioned space of the Lodge at Deadwood. Through sharing our stories, we also inspire one another. And, it's nice to enjoy a little pampering before getting back on the road. If you aren't sure when you'll connect with your friends, you know that you will see them at Biker Belles."
– Toni Woodruff, Vending Manager
3:30 pm – Fuel Up For FREE: Get back to the Chip just in time to catch the tail end of the Free Fuel Happy Hour from Renewable Fuels at the CrossRoads and top off your tank.
4:00 pm – Get Wet: Or just watch the Wet T-Shirt contest being filmed for Sturgis Rider TV at the Hoyt Axton stage. Cheer on your favorite lady or step up to the stage and get wild.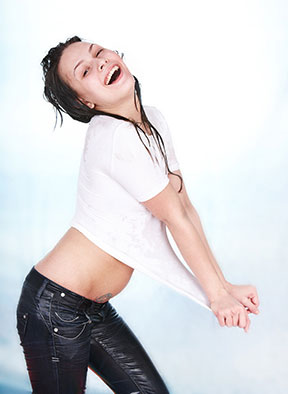 5:00 pm – See Bikes in a New Light: Cruise over to the 2015 Motorcycles as Art Exhibit, The Naked Truth, at the Russ Brown Events Center. The beauty of these raw motorcycles will make you look at bikes in a way that you never have before.
6:00 pm – Try Your Hand at Midget Bowling: Short Sleeve Sampson is all lubed up and ready to go. All you've got to do is try to grip him and rip him down the alley while his assistants cheer you on. Climb on his shoulders and take a picture when you're done!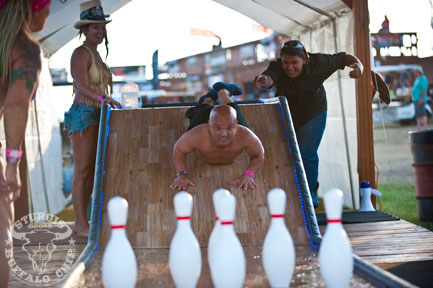 7:00 pm – Let Lukas Nelson & POTR's Positive Vibes Wash Over You: Boogie with your friend and celebrate another great night of music, freedom and camaraderie!
8:30 pm – Surrender to the Sound of Madness: Party like there's no tomorrow when Shinedown explodes from the Wolfman Jack Stage! Grin like a Cheshire Cat.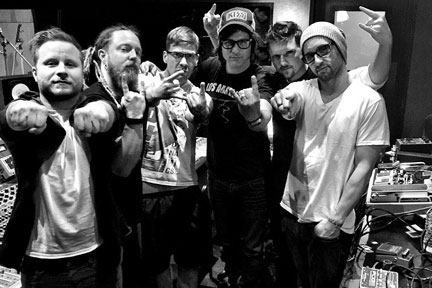 10:30 pm – Keep Calm and Skynyrd On: You're so ecstatic you're shaking… you can barely contain yourself. Southern rock gods Lynyrd Skynyrd have just taken the stage! Enjoy yourself and fly high, Free Bird.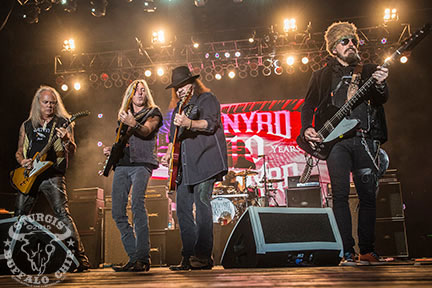 Midnight – Burn the Midnight Oil at Club Chip While You Burn Up the Dance Floor: Lynyrd Skynyrd have just wrapped up their encore which means that Tuesday is officially gone with the wind, but the party is nowhere near over. Head over to Club Chip and party down.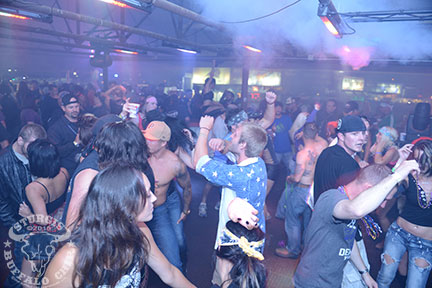 2:00 am – Call It a Night, Champ: You shut down Club Chip and downed a couple Big Woodies at last call. Now would be a great time to remember where you hid your campsite… It seems like the damn thing has a mind of its own sometimes!
Wednesday, August 5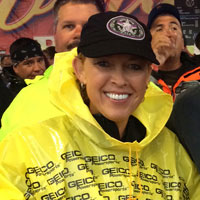 9 am – STAFF PICK
Big Woody's Panty Party
"Anyone who knows me will tell you I'm always looking for the best party, the most fun and the chance to hang out with sensational people. So if I weren't working, you'd find me wearing my sexiest 'granny panties' with Big Woody in hand at the CrossRoads for Big Woody's Panty Party. This will be one of the craziest events of 2015 as thousands show up to break the Guinness World Record for the most people in one place wearing only their skivvies. Everybody will still be talking about this event at the Rally's 100th anniversary!"
– Nyla Griffith, Media & Public Relations
12:30 pm – Bike and Babe Shows: You've helped make history in your underwear, and you've had a few drinks so you're feeling saucy. Check out the bikes in the Cycle Source Bike Show, and then stay to watch the Sassy & Classy Over 35 Model Search! Both events take place at the CrossRoads at this time.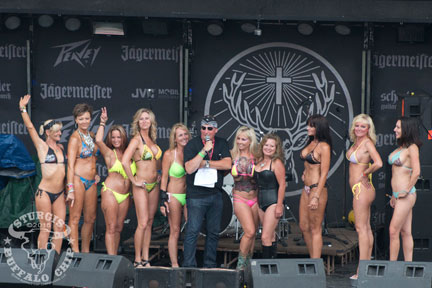 2 pm – Watch Daring Motorcycle Acrobats: The Seattle Cossacks do things on motorcycles that seem to defy the laws of physics.
3:30 pm – Brew Up a Belch from the Depths of Hell Beers 'n' Burps Contest: You've been practicing all year, especially the last four days, and now you're ready to rattle the entire campground!
4:00 pm – Watch a Group of People Struggle to Put on a Frozen T-Shirt: You've seen a lot of funny stuff so far on your vacation, but this contest is the new winner. Grab a beer and watch, or hop in for a contest that's as fun as it is challenging.
4:30 pm – Enjoy a Little Afternoon Delight in the Air Sex Championships: You're in the mood. Watch and laugh or perform your own pelvic poetry jam.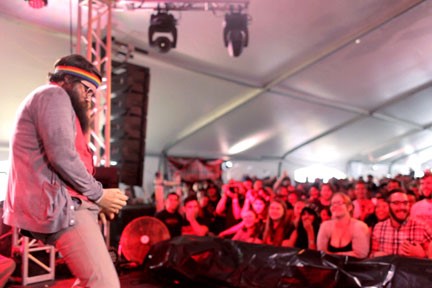 5:00 pm – Punch It Over to the Power Sports Complex for TORC: The Off-Road Championship: Dose up on adrenaline with this fast-paced and high-flying racing action.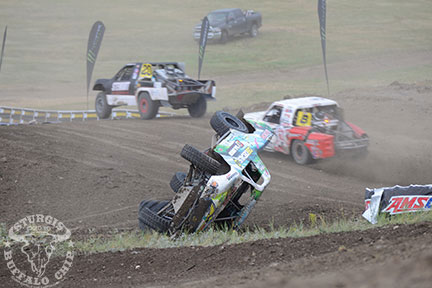 7:00 pm – Party with Brent James: Trip through Americana music history when Brent James and the Vintage Youth take the main stage.
8:30 pm – Social D is Freedom at Its Finest: Twist the throttle and slam through a wall of pure rock 'n' roll when Social Distortion takes the stage.
10:00 pm – Don Your Waders for a Swamp Music Legend: John Fogerty is serving a swath of the swamp to the Black Hills from the main stage. Go ahead and sing along; we know you know all the songs by heart.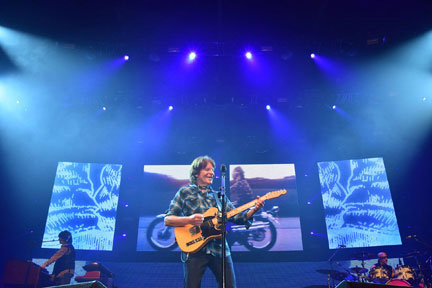 Midnight – Partake in a Wild After-Party: All the ingredients for a great time are waiting for you at the Sam Kinison Stage–sexy dancing from Illumination Fire Troupe, fantastic showcase bands, delicious cold beer and all of your friends. Where else would you rather be?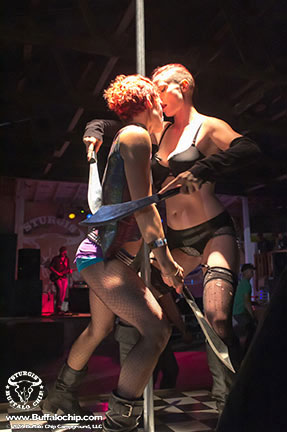 2:00 am – Last Call for Alcohol: Its time to rally the troops and head back to the campsite for another late night with the neighbors sharing laughs, stories and a few drinks. You're an unstoppable partying machine!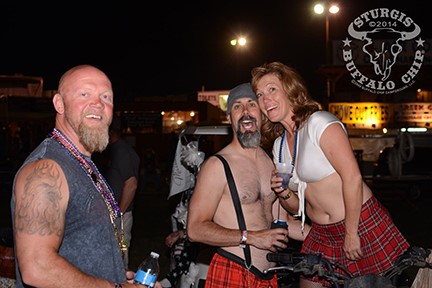 Thursday, August 6
10:00 am – Check Out the Bikes in the Rat's Hole Bike Show:
Enjoy some breakfast and coffee while you're at it.
11:00 am – Register for the Freedom Celebration Ride:
Get to Spearfish and get 'er done so you can start enjoying your day!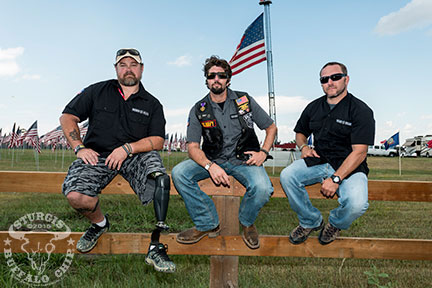 12:30 pm – Meet the 2015 Dignitaries: Then join the group photo with all your friends and line up and get ready to ride!
1:00 pm – Enjoy the Ride: Tons of great scenery between Spearfish and the Chip make for one memorable ride.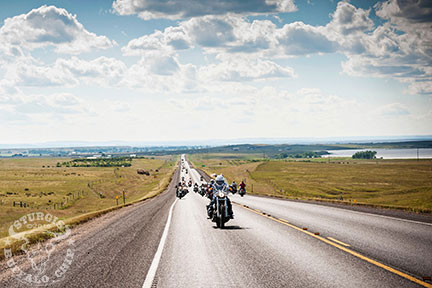 2:00 pm – Join 1,000 Bikes and Bikers to Create a Living Work of Art: Get into formation at the Buffalo Chip for an epic aerial photo in Eagle 75.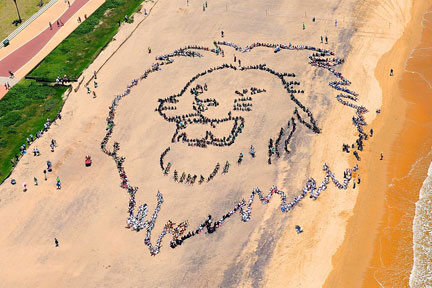 3:30 pm – Join Fellow Patriots at the Freedom Celebration Ride Reception: Hang out and celebrate freedom with and catered brunch!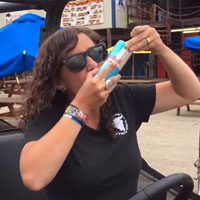 5 pm – STAFF PICK
Doug Danger's Killer Jump
"On an average day, it's the crazy amounts of caffeine coursing through my veins that allows me to perform the most basic of functions. But on Thursday, August 6, I'll have an even more efficient method of getting my heart racing–watching Doug Danger's Killer Jump. No drug could ever produce the rush I'll feel seeing this insane stuntman soar over 22 cars in the amphitheater on Evel Knievel's XR 750. The odds are sure stacked against him, but if Doug pulls this off like he's promised, we're all gonna be jacked up on adrenaline till September."
– Mary Panerio, Showcase Promotions Manager
7:00 pm – Let Your Inner Outlaw Loose with Brian Grilli: You're feeling inspired and fully alive after witnessing this feat of motorcycle bravery. Party down to some rockin' outlaw country.
8:30 pm – Come Sail Away with Styx: That great music you're hearing is not a Grand Illusion.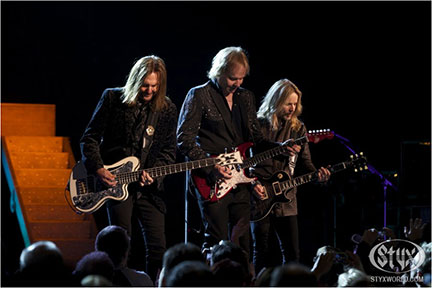 10:00 pm – Guess what? The Guess Who are about to rock the main stage: Find an American Woman and get with her. If you are an American Woman, start Shakin' All Over.
10:00 pm – Rev Your Engines for the Bob Hanson Distinguished Service Award Recipients: These are the people who truly make the party possible.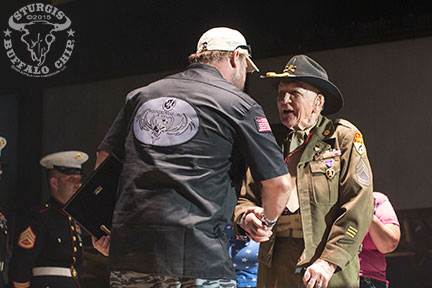 .
Midnight – See the Epiphone Guitar Giveaway: Jump for joy because you just won or just congratulate the person who did.
Friday, August 7
11:00 am – Explore the Oddities of the Evel Knievel® Thrill Show: A strange collection lies within. Get to know the inspiration behind Doug Danger's jump in the amphitheater.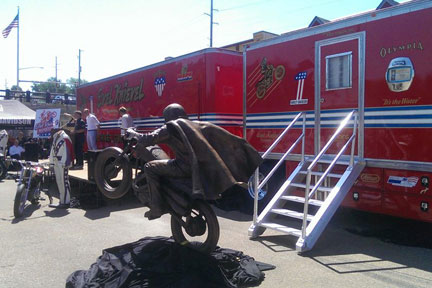 1:30 pm – Down Some Dollar Dogs & Drafts: Head down to Woody's Watering Hole in the amphitheater and enjoy one of the biggest food and drink specials of the Sturgis Rally.
3:00 pm – Get an Appointment at Tattoo Café: Reserve a time to be inked up by some of the best artists in the industry. You can finally get that tattoo of a heart with "Mom" written on it that you've always wanted.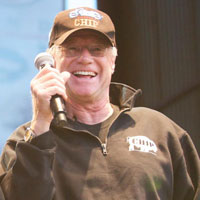 4:30 pm – STAFF PICK
Nitro National Pro Hill Climb
"I've hit a few bumps on my bike over the years, but nothing compared to the competitors in the Nitro National Hill Climb; these guys are incredible. They shoot 250-horsepower paddle-wheeled bikes straight up, and I mean STRAIGHT UP a friggin' cliff. I get queasy just looking over the edge from the top of the climb. Don Beers told me how 'easy' it really is to shoot up the three cliffs and fly over the top when you stroke the horses just right. Nope. Not me. I'll watch as these real-world champions make it happen."
– Rod Woodruff, Buffalo Chip President
7:00 pm – Keep Your Appointment: Return to Tattoo Café and get your ink done!
7:30 pm – Take a Rip Down the Zip Line: Get an extra rush while Sweet Cyanide is rocking the main stage.
8:30 pm – Bang Your Head for Ninety Non-Stop Minutes of Metal Mayhem: Skid Row is about to take the stage and you are locked, cocked and ready to rock.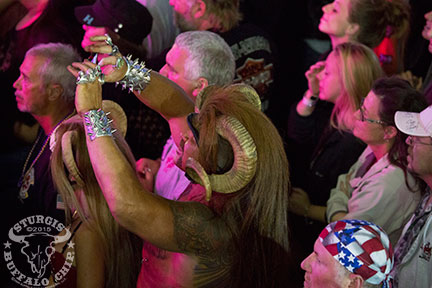 10:30 pm – Be Blessed by Def Leppard's Hallowed Sounds of Rock: Hallelujah! The Gods of Rock hath smiled upon you today. Def Leppard is blasting out the Rock of Ages that will turn your party to eleven.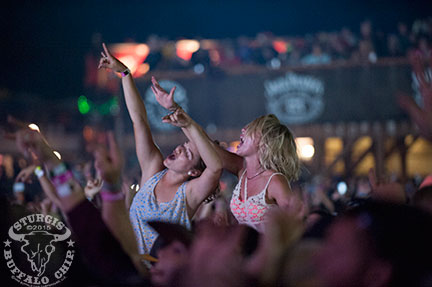 Saturday, August 8
11:00 am – Conduct a Series of Ridiculous Poses: The mini bike next to Miss Chippie in the amphitheater is the perfect place to get a little goofy.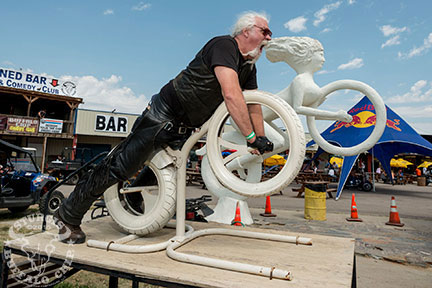 Noon – Chill Out at the Ultimate Vape Lounge: This area in the amphitheater next to the Budweiser Roadhouse Deck offers with a great place to relax and some of the finest vaping products on the market.
1:30 pm – Have a "WTF?!" Moment at the Unimotorcycle Drag Races: If that wasn't weird enough for you, follow the races with some lesbian oil wrestling and burlesque Mardi Gras contests.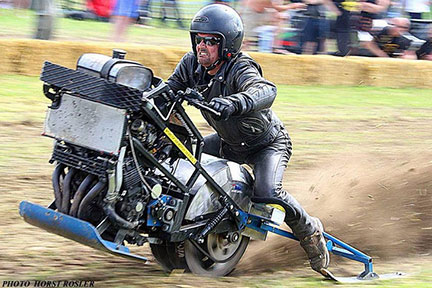 6:00 pm – Feed Your Love for Strong Women: The Rolling Sturgis Roller Derby bout is beginning and these ladies don't mess around.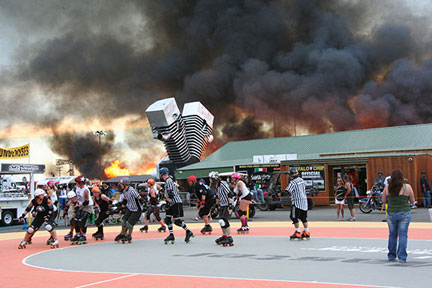 7:00 pm – Show Your Love for Vintage-Flavored Real Deal Rock 'n' Roll: Nicnos is rocking the main stage and you're in the front row with your fist in the air yelling, "I LOVE YOU GUYS!"
8:30 pm – Start Jumping and Don't Quit 'til Adelitas Way is Done: You're feeling a little sick, a little crazy. Kinda wild and a little unpredictable. Go with it.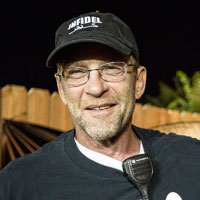 10:15 pm – STAFF PICK
Miss Buffalo Chip Finals
"The Miss Buffalo Chip Pageant contestants are some of the hardest working ladies at the Rally. They bust their butts all week long bartending, washing bikes, appearing at events and more. While they do make your bike gleam, where they really shine is the stage, and they love an audience. That's why I wouldn't miss the Miss Buffalo Chip finals for the world. Be there and show your support by revving your engine for your favorite contestant–they deserve it."
– Greg Smith, Sponsorship
10:30 pm – Make Love and WAR at the Same Time: WAR wants to be your friend. They want to make you dance, groove, boogie, get down, shake a leg, flap your wings, get funky and have a good time. Do the right thing–be WAR's friend and party with them as they kick out the jams from the Wolfman Jack Stage.
Midnight – Have One Hell of a Last Hurrah: You've been to every after party that happens at the Chip, and you've done it all. You're a certified Chipster and Sturgis Rally badass, and you partied like an absolute rock star at the Party of the Century. Pick your favorite after party location, and get after it. We'll see your smiling faces next year.