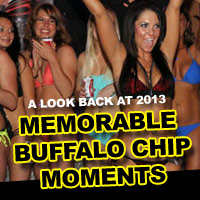 Who says the number 13 has to be unlucky? We happened to think that 2013 was one of the best years the Buffalo Chip has seen yet! So as the year draws to a close, we are reliving the 13 most memorable Buffalo Chip moments from the last year.
But First, Five Moments that Didn't Quite Make the Cut
1. Man Sets New World Record on Colonel Tom's Crazy Bike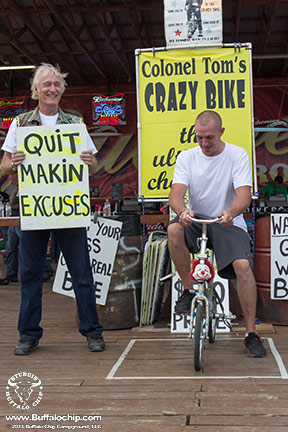 Want to lose your dignity real fast? Take a ride on Colonel Tom's Crazy Bike. We dare you. This guy now holds the title for longest ride at a whopping 6.2 seconds!
2. Fire Department Called to Remove Motorcycle Stuck in Camper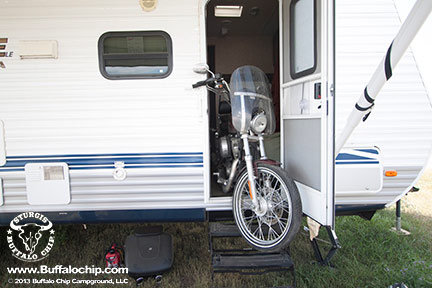 The real question was, how in the heck did they get it in there in the first place?
3. Professional Wrestler Says Model's Homemade Bikini "Looks like a Diaper"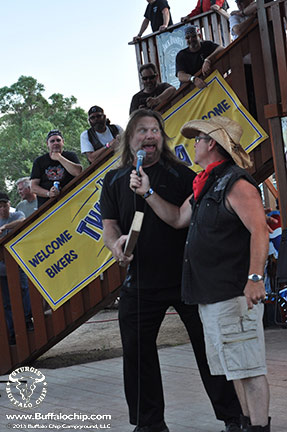 Whether right or wrong, no one argues with the opinion of a guy named "Hacksaw." No one.
4. Midstokke's Horned Helmet Goes Missing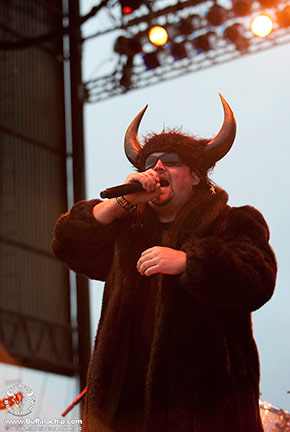 Turns out Steve's tent-mate couldn't stand the smell and had taken it in for an emergency dry cleaning. Now how about that fur coat?
5. Unsuspecting Gopher gets Caught in Homemade Trap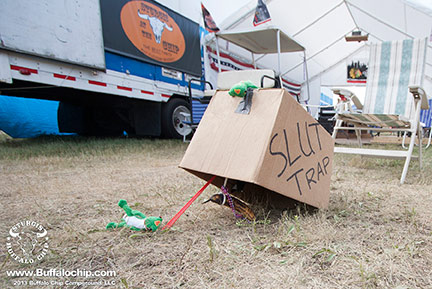 Trappers react by creating a second, significantly more elaborate "Booby Trap."
The 13 Most Memorable Buffalo Chip Moments of 2013
Be sure to tell us about your most memorable Buffalo Chip moments in the comments section below!
Kid Rock Surprises Crowd with Rain Dance (In Biggest Lightening Storm of Sturgis Rally)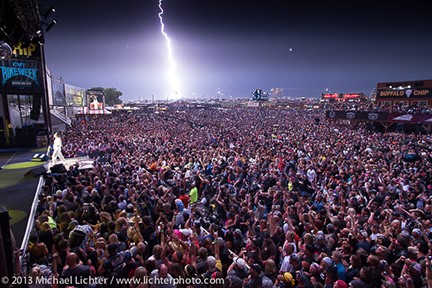 The "American Badass" didn't let a little bad weather get in the way of his performance at the Buffalo Chip, even if his light show had a little competition.
Clint Ewing Narrowly Escapes Death by Crashing Out of Tunnel of Fire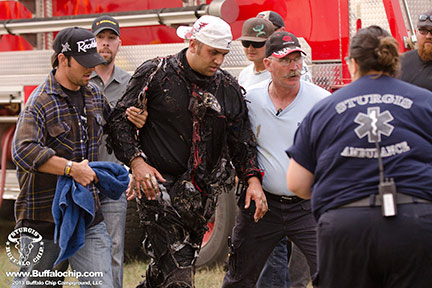 Motorcycle daredevil, Clint Ewing, miraculously stood up and walked himself to the ambulance after crashing through the side of the Tunnel of Fire during his world record attempt. What a badass!
Doobie Brothers' Guitarist Buys Biker Belles® Bike for His Wife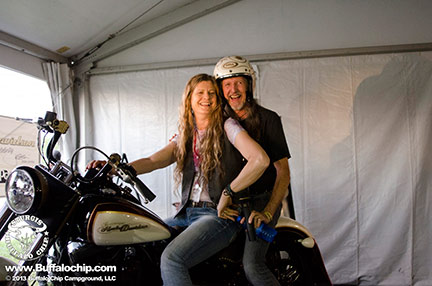 Pat Simmons first met his wife, Cris Sommer-Simmons, at the Chip over 20 years ago. This year, he surprised Cris by giving her this beautiful custom Harley that he won during the Biker Belles auction.
Student Build Challenge Bike Wins 1st Place at Donnie Smith Bike Show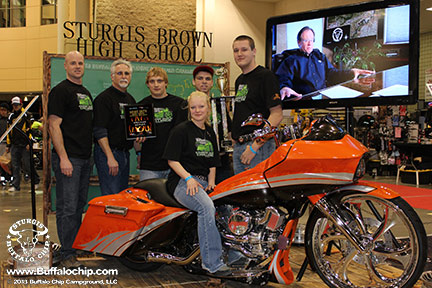 Students from Sturgis Brown High School customized this bike in the annual Student Build Challenge. Their motorcycle beat out some of the nation's top custom builders and took home first place in the Full Custom Bagger Class.
Christine Ruby Wins Poster Model Search
Countless women competed at bars across the Black Hills to win the 2013 Buffalo Chip Poster Model Contest. Judging this competition was a tough job, but hey, somebody's gotta do it!
Crowds Part as Budweiser Clydesdales Parade Through Amphitheater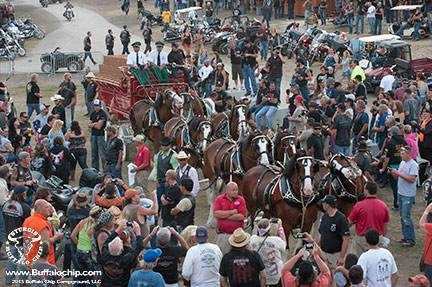 Crowds raised their glasses to the gentle giants as they paraded through the amphitheater during the Freedom Celebration.
Buffalo Chip Signs Agreement with TORC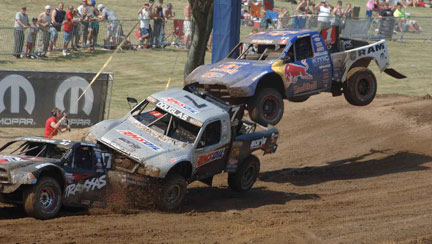 TORC will bring short track off-road racing to the Sturgis Rally in 2014. The new track will be built in the Buffalo Chip PowerSports Complex.
Awestruck Chipster Wins Custom Motorcycle and Matching Guitar in Sturgis Rider® Sweepstakes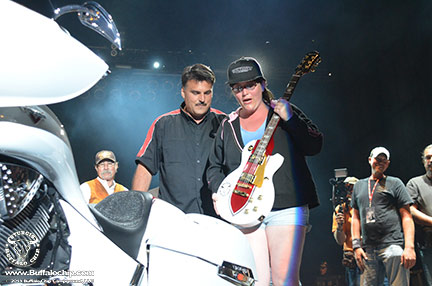 After a moment of disbelief, Tracy Hildebrand was all smiles for the rest of the Sturgis Rally…and probably the rest of year.
CMT Crews Go Behind the Scenes During Chip's Craziest Events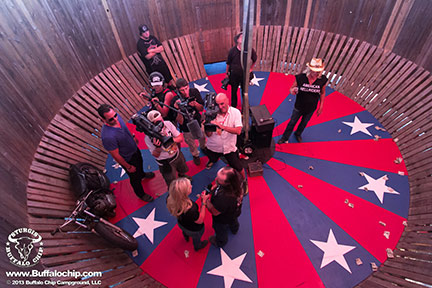 Country Music Television was there to capture the hottest, loudest and most dangerous Buffalo Chip events for its self-proclaimed "Seven Nights of Badass." CMT Bike Week aired Aug. 18-24 and episodes are available online.
Plans Unveiled to Customize a 2014 Street Glide for Student Build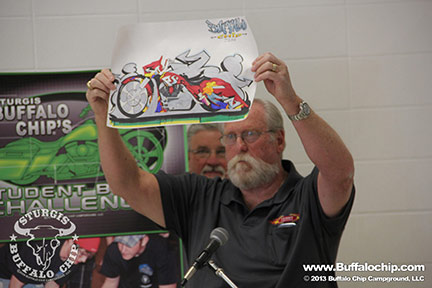 Crowds gasped as Keith Terry of Terry Components revealed plans to help Student Build Challenge™ participants transform a 2014 Harley-Davidson® Street Glide into a custom graffiti bike.
First Ever Sturgis Cafe Racer Exhibit Unveiled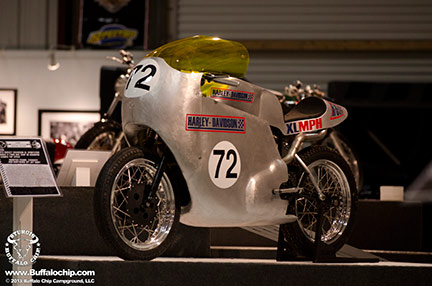 The Buffalo Chip's annual Motorcycles as Art Exhibition was the first-ever Sturgis Rally exhibit to feature the storied Café Racer. The exhibit and its curator, Michael Lichter, were later featured on an episode of Café Racer TV.
Legends Ride Donates Record Funds to Charity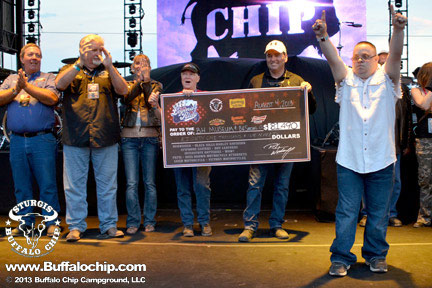 After record turn-out, the fifth annual Legends Ride raised over $80,000 for the Black Hills Special Olympics and the Sturgis Motorcycle Museum and Hall of Fame.
Buffalo Chip Honors Fallen Heroes During Freedom Celebration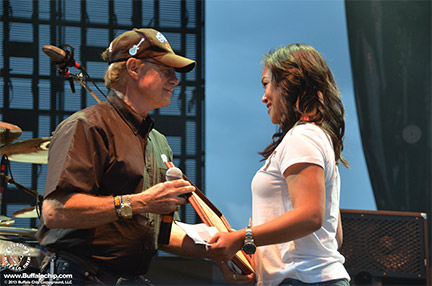 The Buffalo Chip paid tribute to fallen Navy SEALs Tyrone Woods and Glen Doherty, who lost their lives in Benghazi, Libya.