They're freaky, kinky, seriously strange and utterly hilarious. They'll leave you with stories you'll want to tell, but won't be able to. They're not kid tested, nor are they mother approved, but that doesn't mean you shouldn't join in anyway. Check out this guide to the most off-the-wall Sturgis events at the Buffalo Chip so you can start planning an unbelievable Sturgis Rally vacation. Just make sure you've also planned a rock-solid alibi before you attend these…
Air Sex Championships
Bikini Beach Stage and the Jägermeister Stage
Bikini Beach Stage
See Chip Daily Schedule for Daily Contest Times
Are you a master of pelvic storytelling? Do you have a whole lotta motion in your ocean? If you're an expert at making love to nobody in particular, then you'd make a serious contender in the Air Sex World Championships. If you're not an air Casanova, you can laugh yourself silly watching people do the dirtiest and most ridiculous stuff you've ever seen anyone do to the air.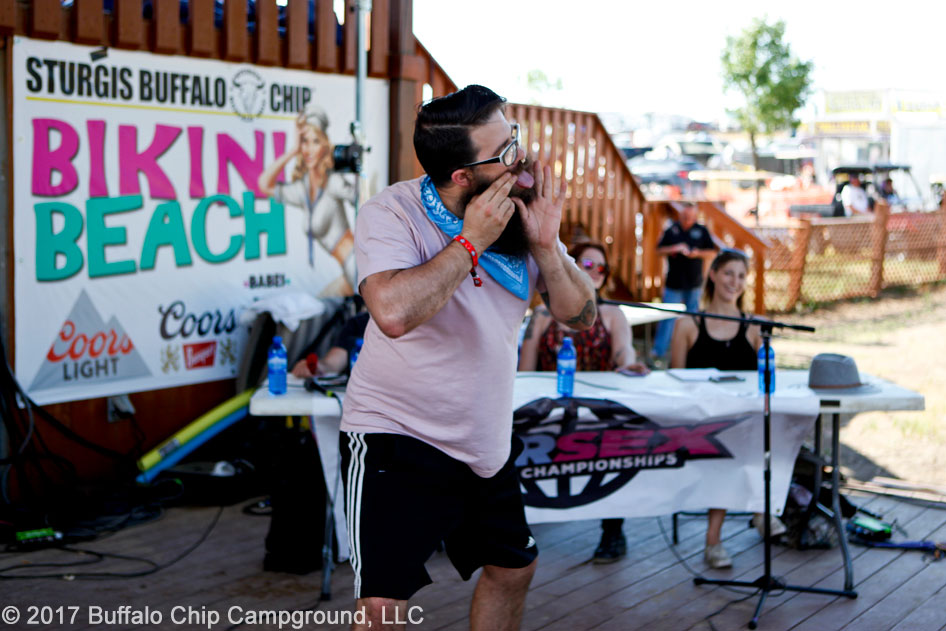 Arm Wrestling Contest
CrossRoads Stage
Sunday, Aug. 6 during Fan Fest
This Sturgis Buffalo Chip contest can win you big prizes and major bragging rights. Just pray you don't get paired up with someone who's been single for longer than six months!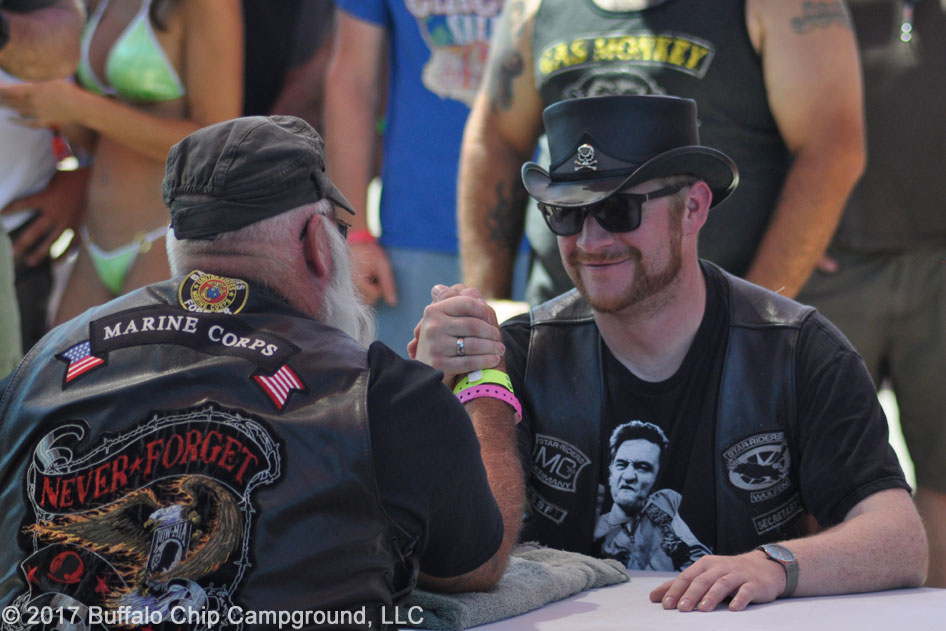 Bikini Beach Stage
See Chip Daily Schedule for Daily Contest Times
To hell with minding your manners! The Chip wants your longest, loudest, juiciest burp, and they'll give you the liquid ammunition you need to get 'er done!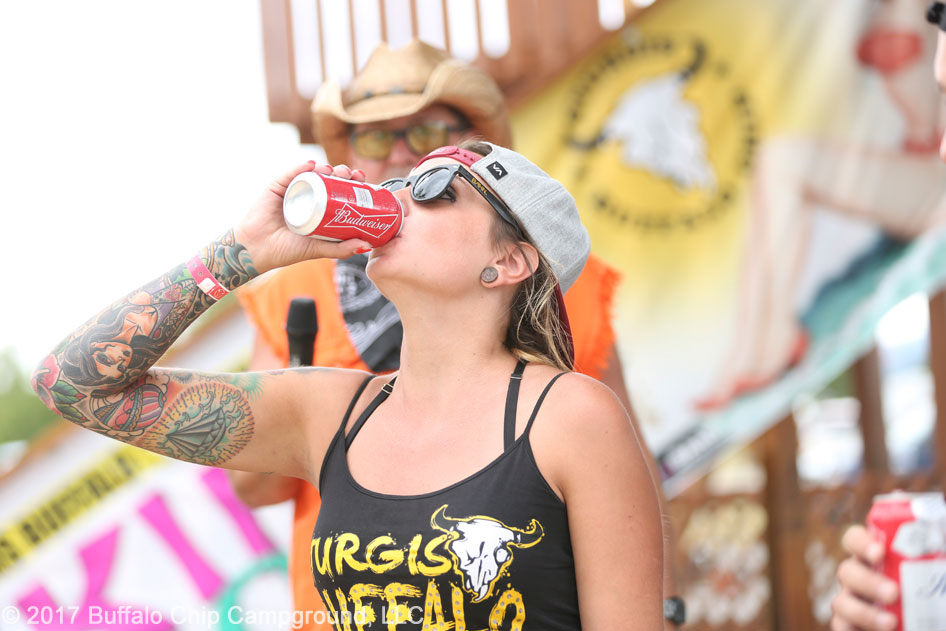 CrossRoads Stage
Sunday, Aug. 6 during Fan Fest
It takes years of dedication to shape the perfect beer belly, but it only takes a few moments to win the Chip's Beer Belly Contest. Show the judges you're the biggest beer buff alive and have the belly to prove it!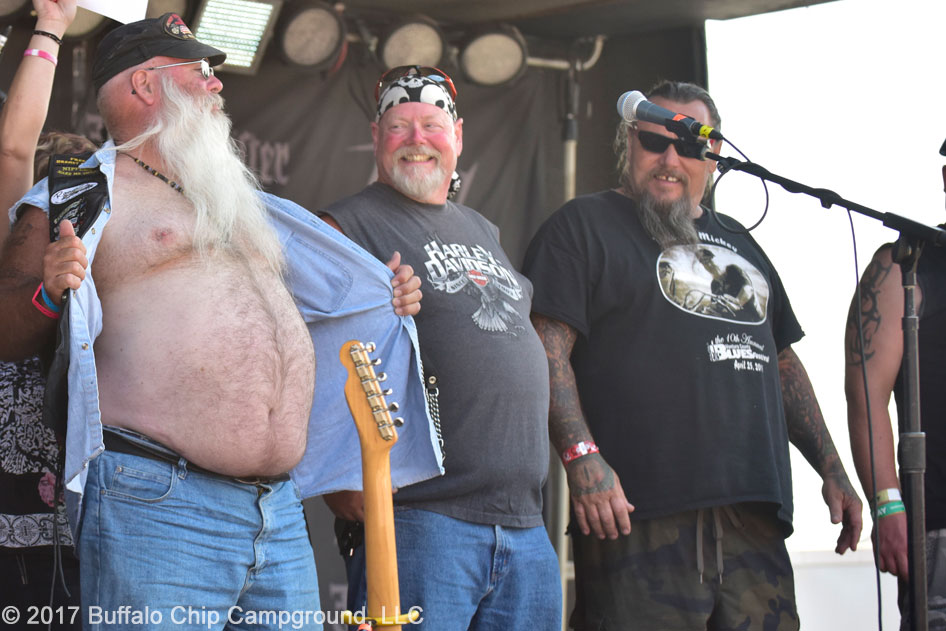 Best Beard Contest
CrossRoads Stage
Sunday, Aug. 6 during Fan Fest
Does your beard make Billy Gibbons look like he's rocking a 5 o'clock shadow? This is your contest!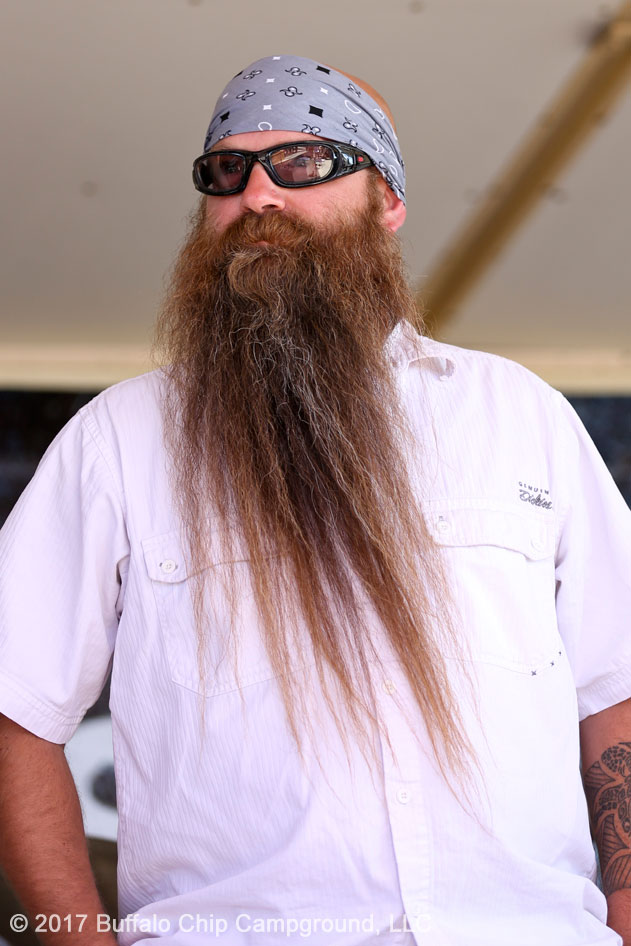 Burnouts in the Sky
Burnout Bridge
Nightly 6:00 p.m. – 1:30 a.m. (Crowd Permitting)
There's nothing like the smell of burning rubber to get your blood pumping. Win the admiration of everyone in the amphitheater by taking your burnout to a whole new level high atop the Chip's steel bridge.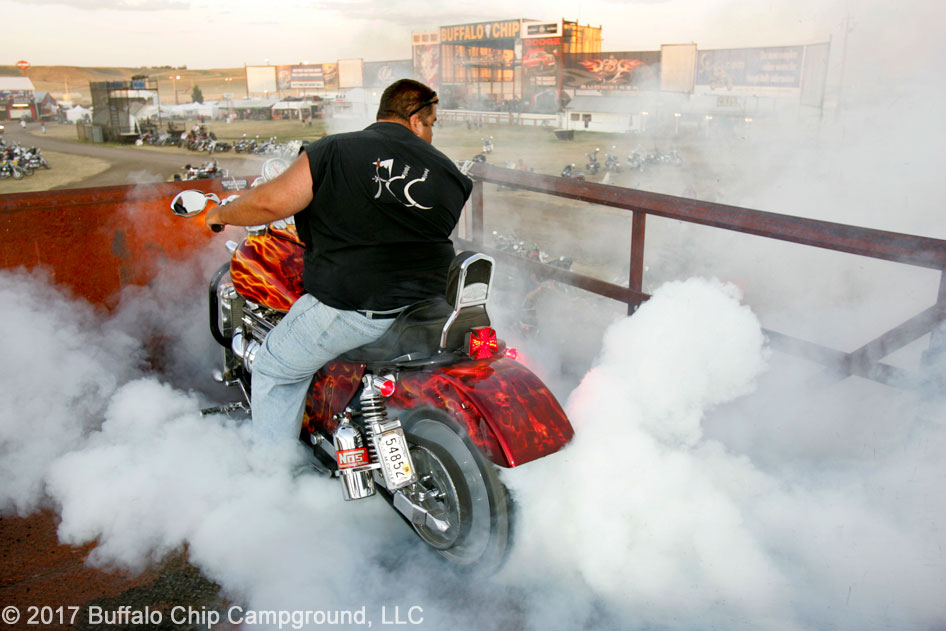 CrossRoads Stage
Sunday, Aug. 6 during Fan Fest
No one can deny that it's fun to get pie-eyed at the Best Party Anywhere, but it's even more fun when you're doing it for your chance to win free Rally Passes!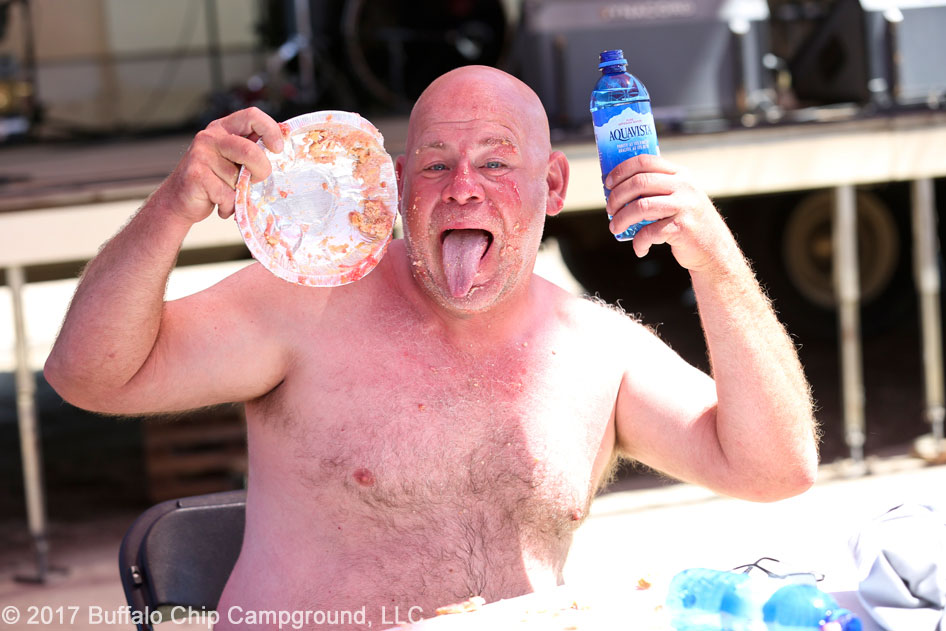 Amphitheater
Thursday, Aug. 10 – 5 p.m.
The roar of motorcycles in the Buffalo Chip amphitheater is about to be drowned out by the sound of your own heart beating wildly out of your chest and the rattle of some extremely deadly rattlesnakes. Motorcycle daredevil Doug Danger plans to fly 120 feet through the air on a 1972 Harley-Davidson XR750 over the top of a holding tank containing vicious, venomous vipers. But if the plan fails, this could be deadly.
CrossRoads Stage
Sunday, Aug. 6 during Fan Fest
Are you a screamer? Do you moan and groan? Maybe you bite! Whatever your style, get on the stage to show the world how you get off during the annual Fan Fest Celebration. Come alone or come with a friend. Just come!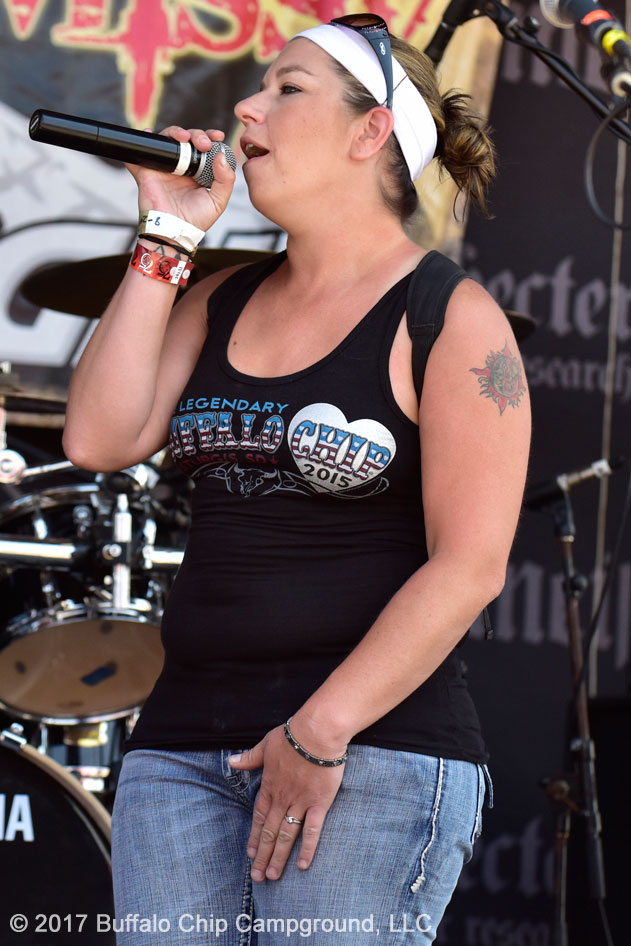 CrossRoads Stage
Sunday, Aug. 6 – 12:00-2:00 p.m.
Do you stay connected to the Chip and your Chip Family throughout the year? If so, then you're invited to the Buffalo Chip's 2017 Fan Fest! Meet up with the friends made both at the Buffalo Chip and through the Buffalo Chip's Facebook, Twitter, and Instagram at Fan Fest, and you could win valuable prizes for competing in crazy events like the Beer Belly Contest, Fake Orgasm Contest, Best Beard Contest and many more!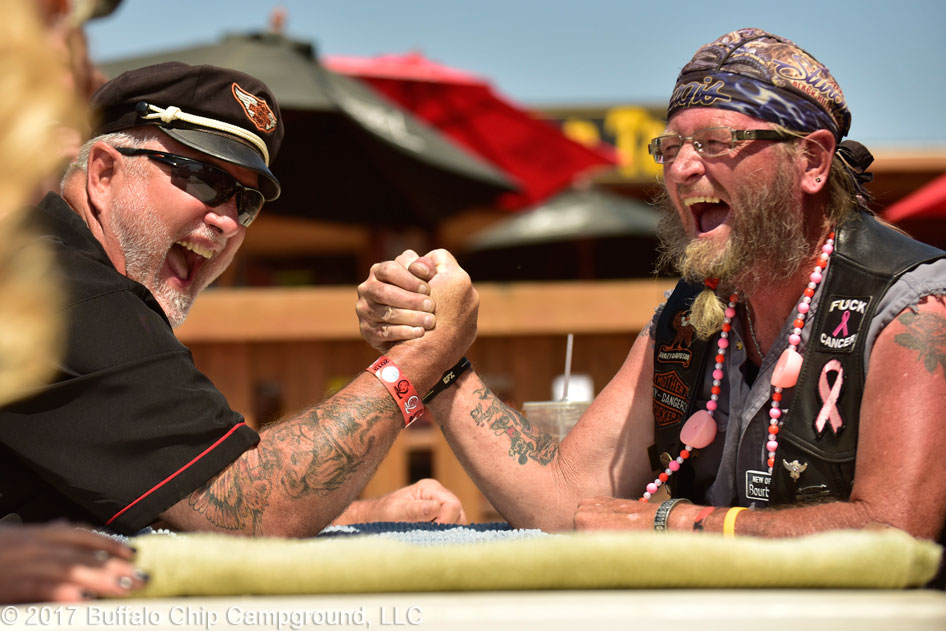 Flaunt School of Burlesque
Kinison Playground
Friday, Aug. 4 – Saturday, Aug. 12, 6 p.m.
Ladies, have you ever wanted to know some of the sexy moves The Flaunt Girls use to tantalize their audiences every night? Is the art of the tease and sultry burlesque dancing something you'd be interested in learning more about for FREE? If so, then get ready because class is about to be in session with The Flaunt Girls' School of Burlesque!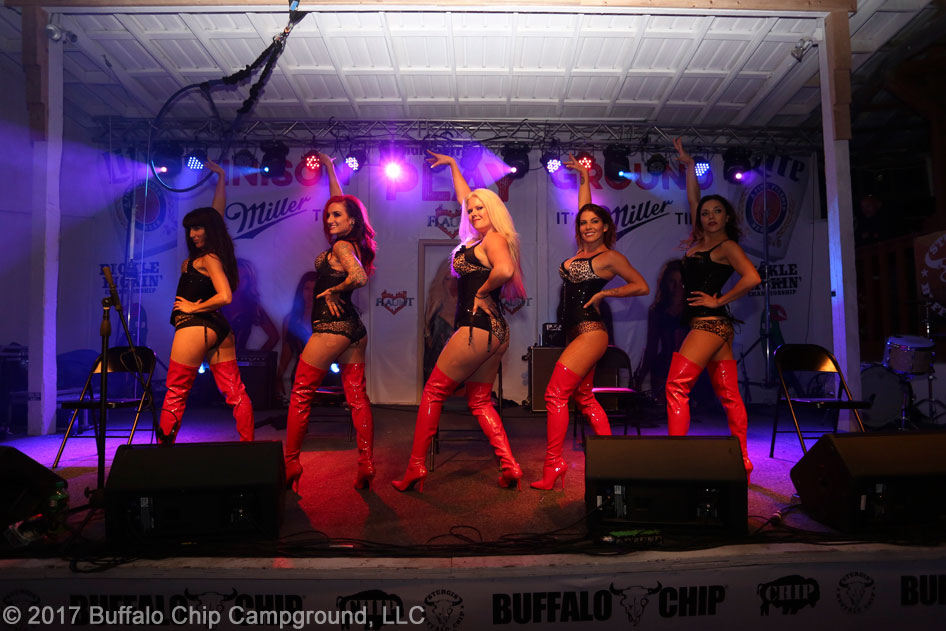 Frozen T-Shirt Contest
Bikini Beach Stage
See Chip Daily Schedule for Daily Contest Times
Everyone knows wet t-shirt contests are hot, but since the daily party at Bikini Beach is already so smokin', this contest's contestants have to use frozen t-shirts to cool things down! Pull it, tear it, sit on it, or soak it with your beer; it doesn't matter how you get it on, just do it before the other contestants.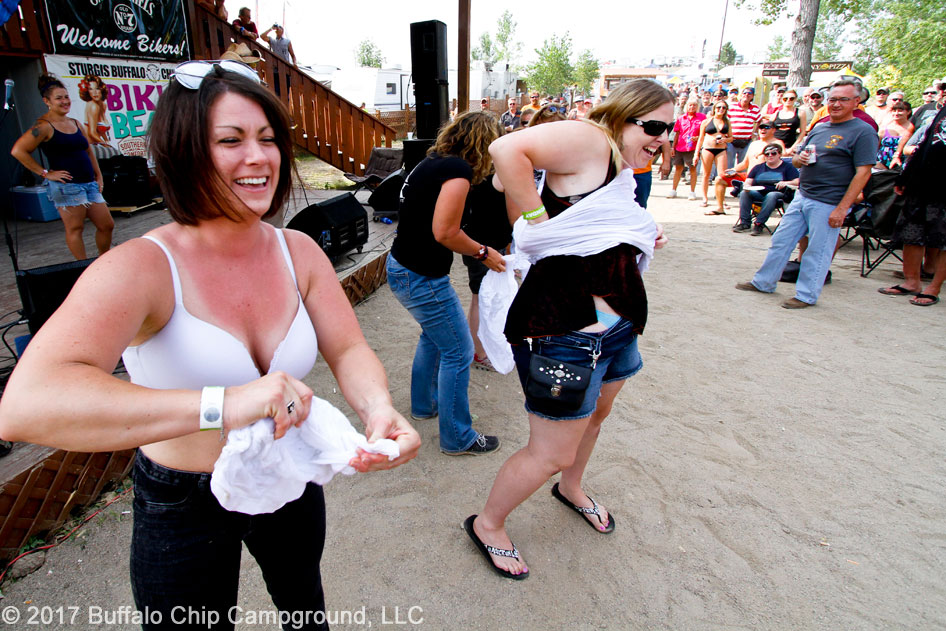 Bikini Beach Stage
See Chip Daily Schedule for Daily Contest Times
How do you feel about duct tape, bandanas, bubble wrap and party beads on babes? Would you like to put your creativity to the test and strut all over the stage like some alpha chick? Well, here's a daily contest at Bikini Beach that forces you to pull something mysterious out of a box and make something deeeeelightful to wear.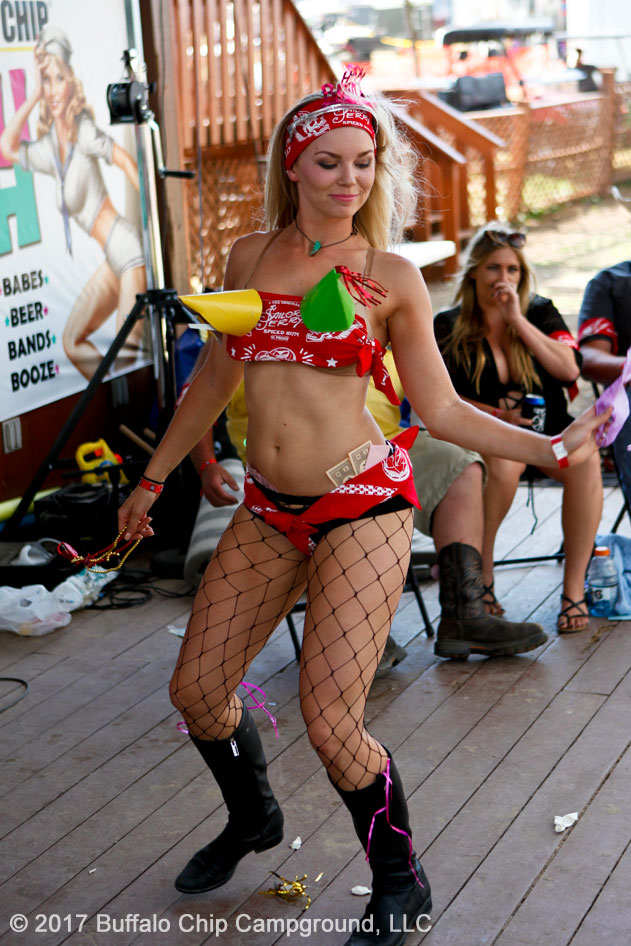 Amphitheater
No trip to the Chip is complete unless you've gotten your hands on the lubed up midget in the Buffalo Chip amphitheater. Short Sleeve Sampson will show you that when it comes to having a good time in Sturgis, size really does matter. And by that we mean, the shorter the better!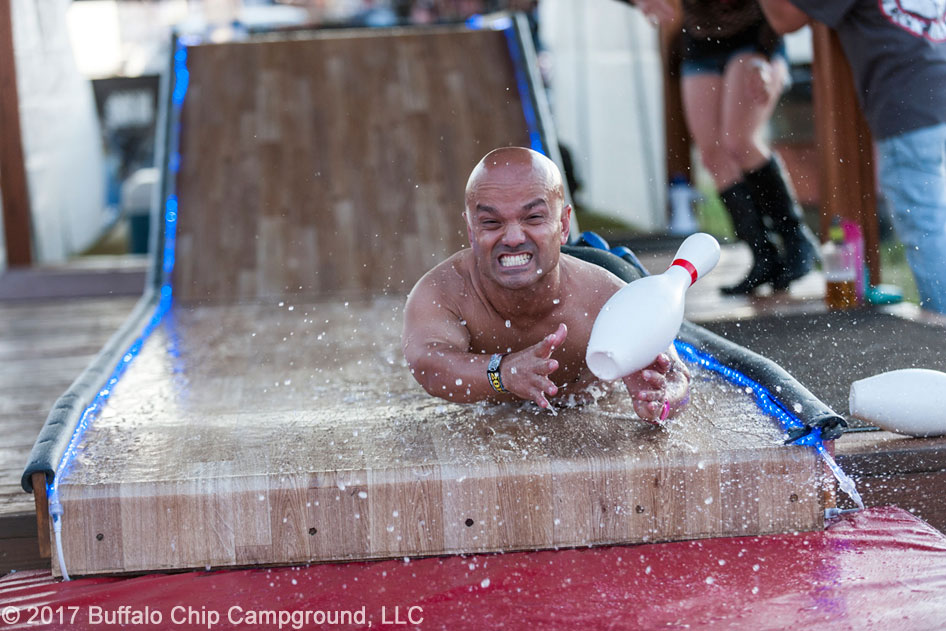 Miss Chippie
Amphitheater
24/7
This iconic sculpture stands 15 feet high, overlooking all of the action in the amphitheater. Have your picture taken with this ultimate biker babe; it's the perfect addition to your Rally scrapbook!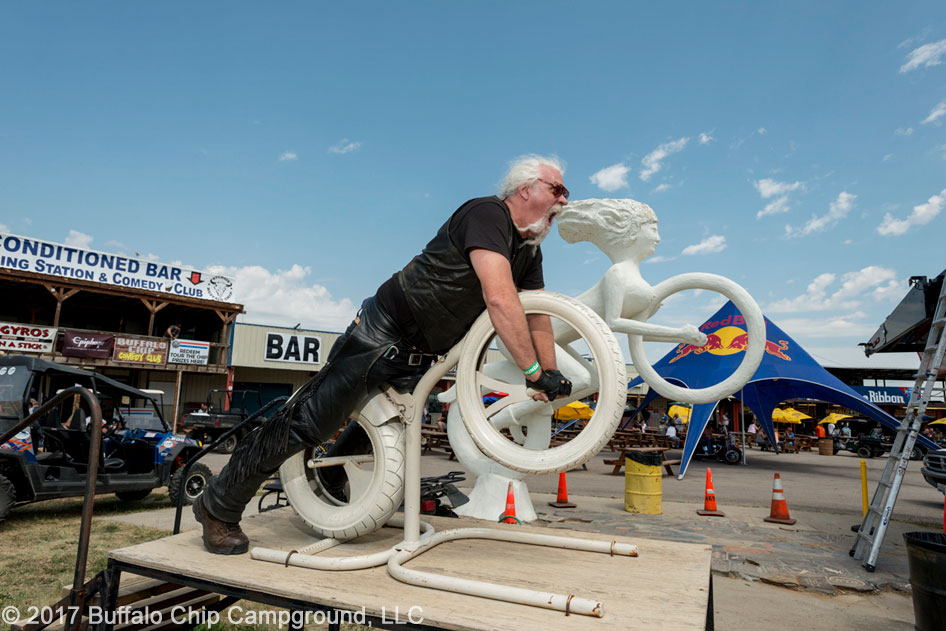 CrossRoads Stage
Wednesday, Aug. 5 – 12:30-1:30 p.m.
You don't have to be in your 20s to strut your stuff at the Buffalo Chip. Like a fine whiskey or your favorite pair of leather boots, the women of the Buffalo Chip's Sassy & Classy Model Contest are proof that certain things just keep getting better with age!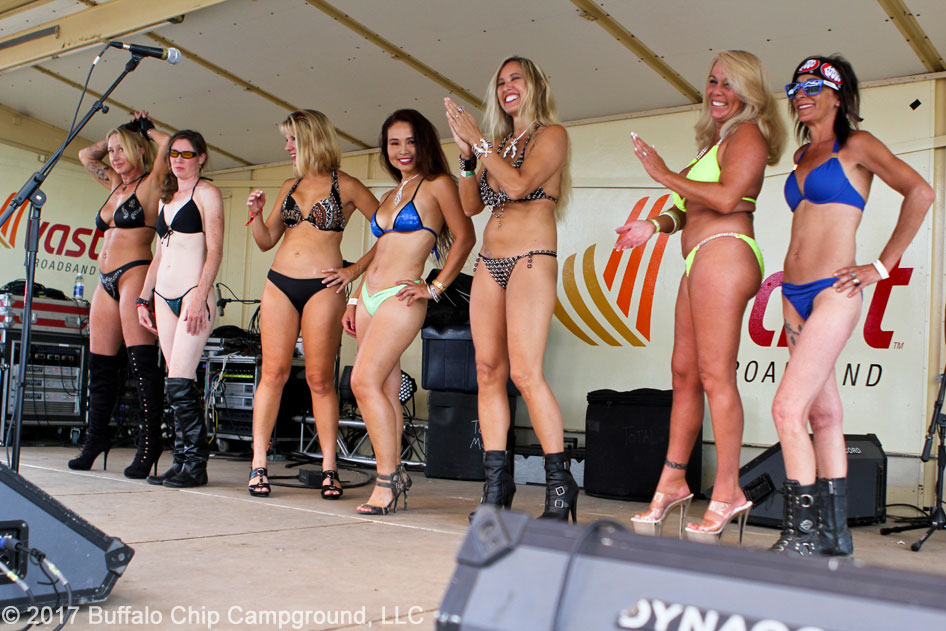 Slip 'N' Slide Relay
Bikini Beach
See Chip Daily Schedule for Contest Times
This event is the ultimate party pentathlon (yep, there's five parts) that'll test your mettle in ways you never before knew possible. Two teams face off in a relay race to see who can get all their teammates to go off the slip 'n' slide, swim across the pond, climb up the ladder, chug a beer and then successfully flip the cup. Only when a teammate has successfully completed all the parts of the relay may the next teammate take off for the slip 'n' slide. It's an all out Bikini Beach brawl!
Stud Contest
CrossRoads Stage
Sunday, Aug. 6 During Fan Fest
Are you the picture of manliness? If so, then come strut your stuff for the panel of female judges for you chance to win big!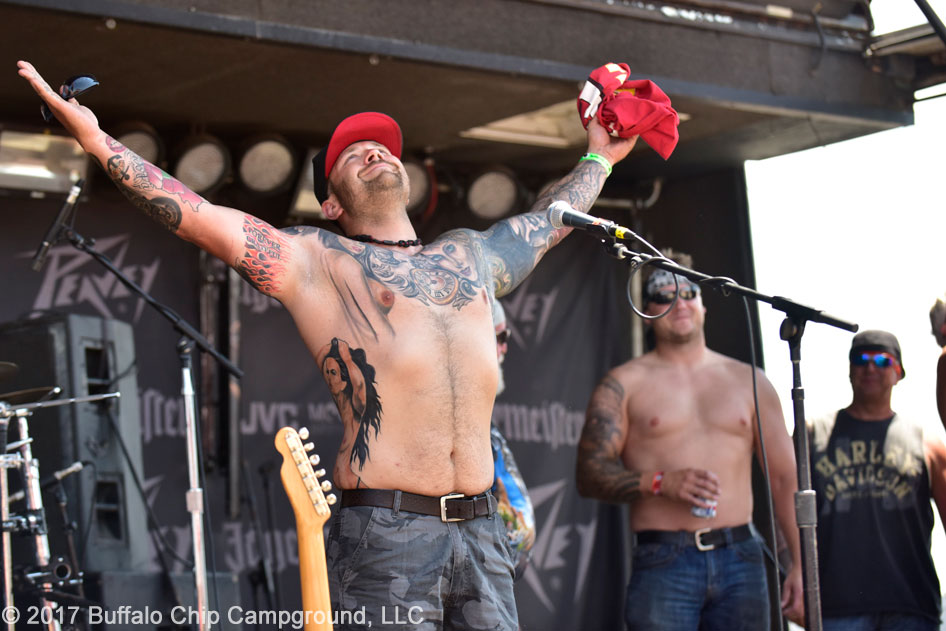 Bikini Beach Swim Paradise
See Chip Daily Schedule for Contest Times
Belly flop, face plant, back flip, cannonball, you name it—this is the event where anything goes. Whether you've got real skill or just want to act like an idiot, this Sturgis Buffalo Chip contest will help you cool off during the hot days.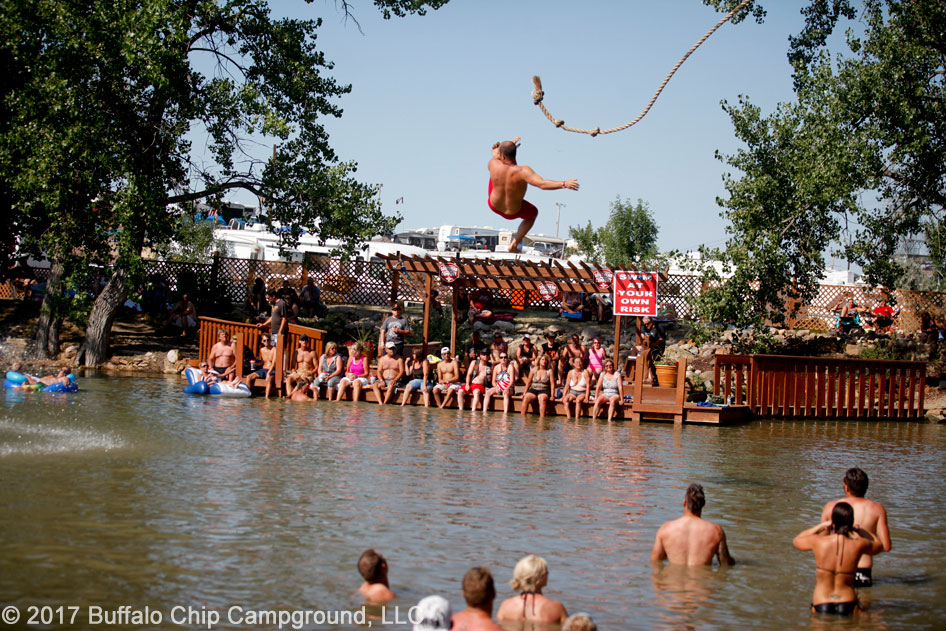 V-Twin Engine Sculpture
CrossRoads at the Buffalo Chip
24/7
Everything's bigger at the Buffalo Chip, including this colossal sculpture two Chip employees created out of some old water tanks in 2011. Commemorate your trip to the CrossRoads by having your picture taken in front of this five-ton, illuminated engine sculpture, which towers 50 feet above the ground!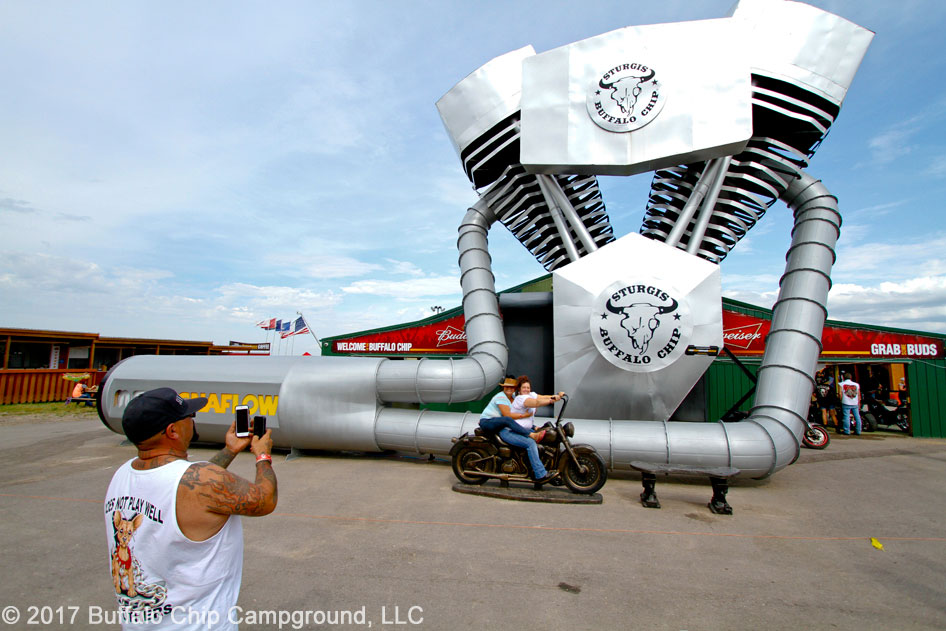 Whipped Cream Twister
Bikini Beach
See Chip Daily Schedule for Contest Times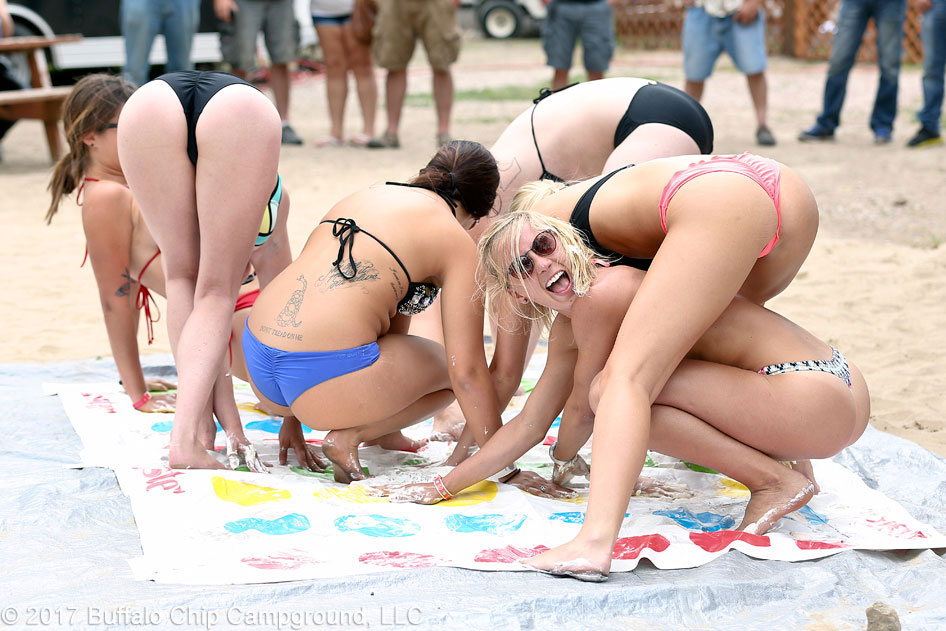 Take in a Buffalo Chip concert as you soar above the audience on South Dakota's longest zip line! Jump from a seven-story platform and sail through the amphitheater while your buddies watch in awe! Or if they've got the cajones, they ride right along beside you! Either way, you'll be riding high after blasting over happy Sturgis Rally concert fans at speeds of up to 30 miles per hour and traveling more than 800 feet in mere seconds!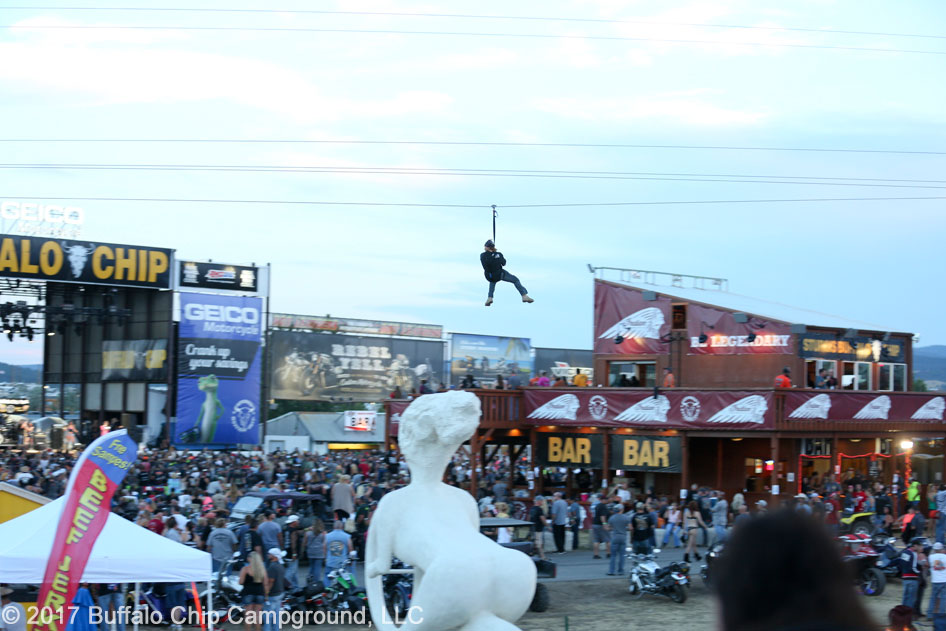 If kooky, kinky and utterly strange events aren't your thing, there's plenty of other things going on you can tell mommy dearest about that won't worry her as much.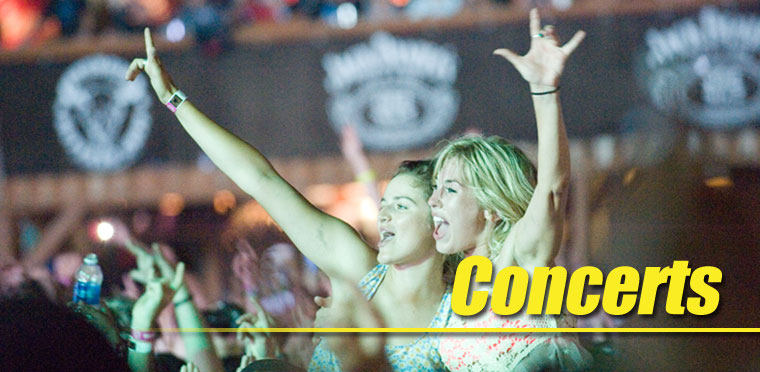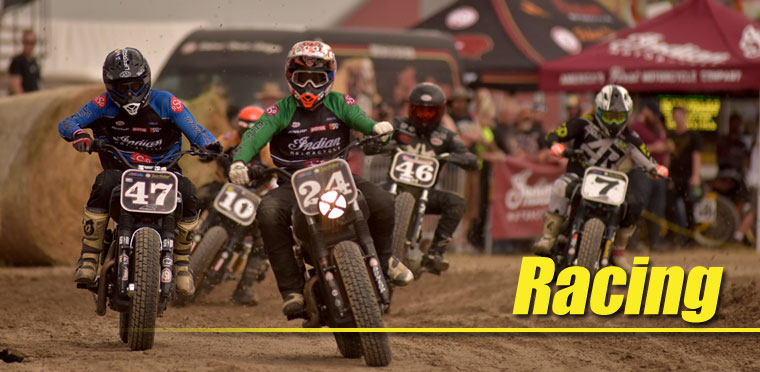 Races Like None Other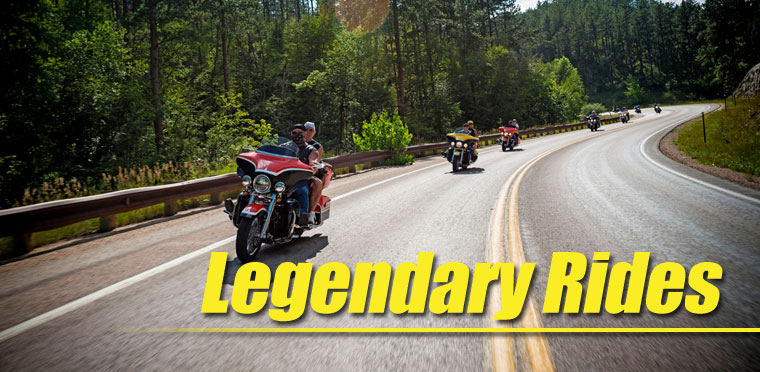 Legendary Rides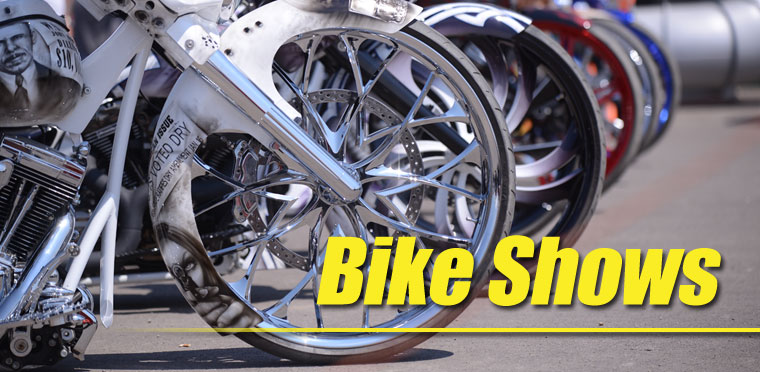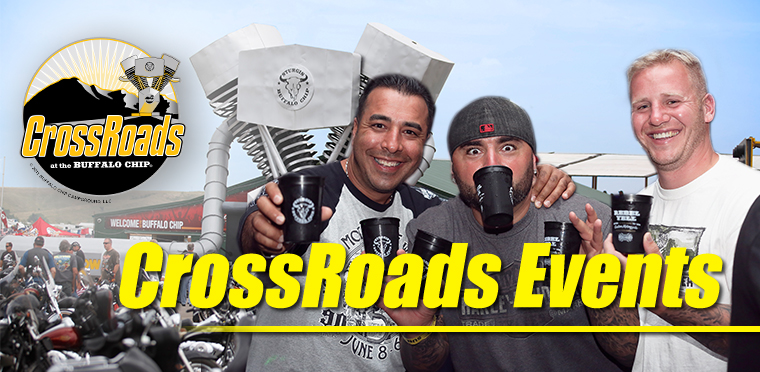 Attractions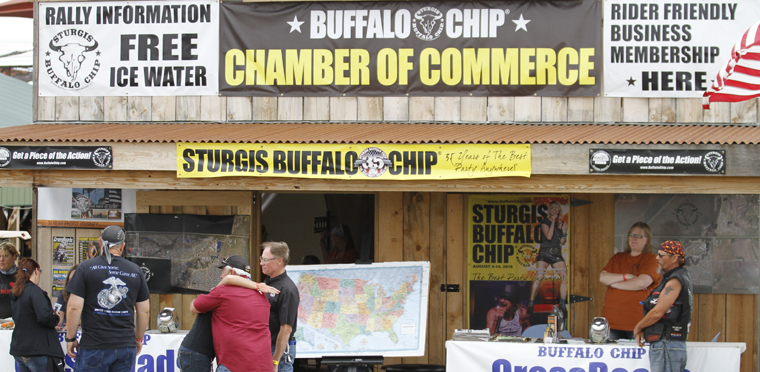 Information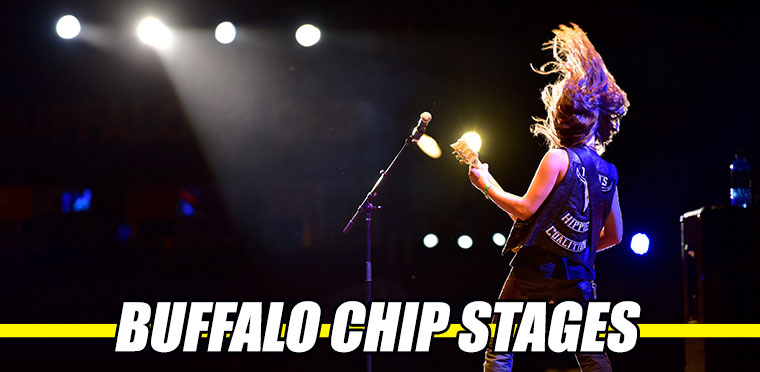 Stages of Entertainment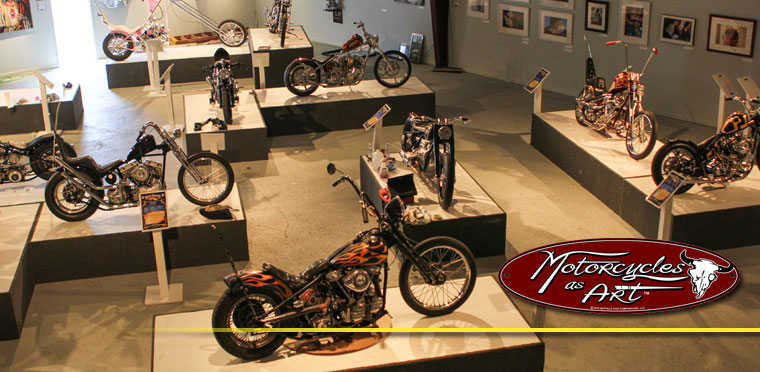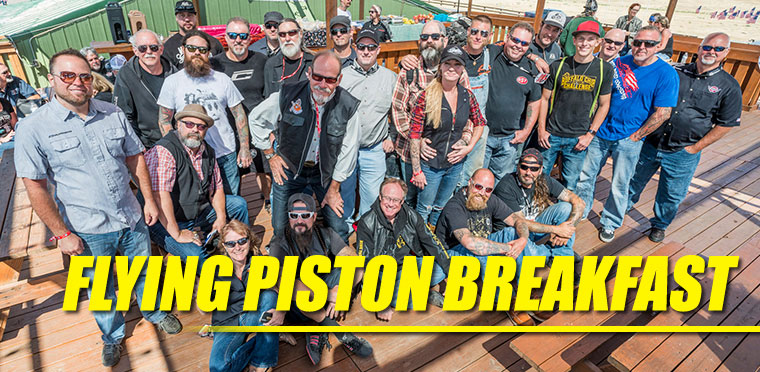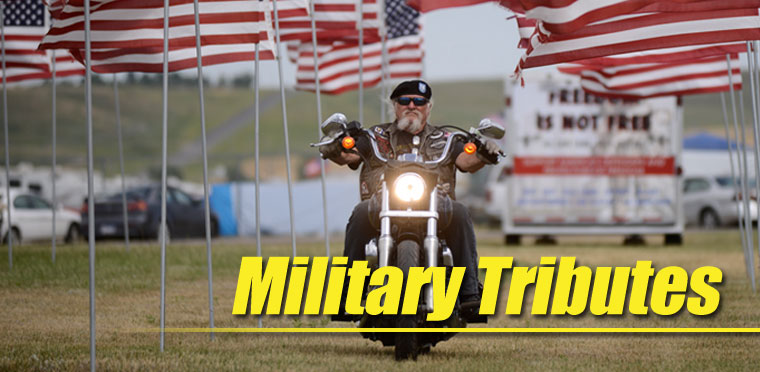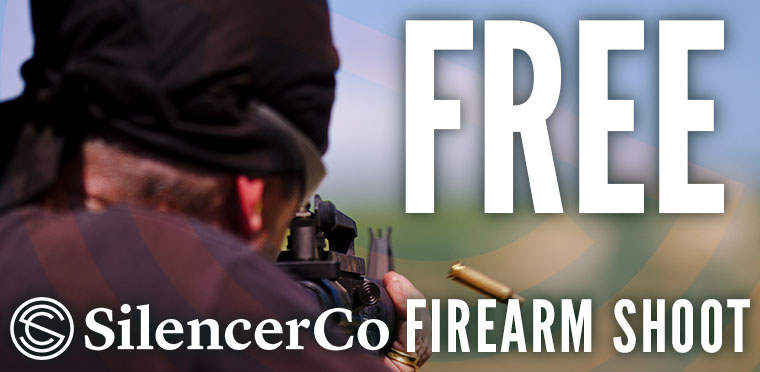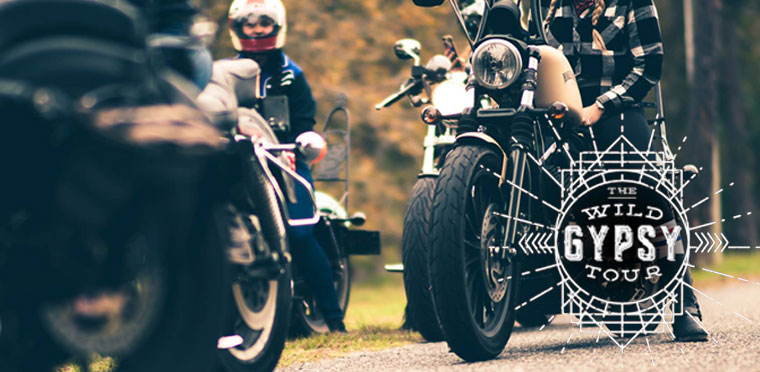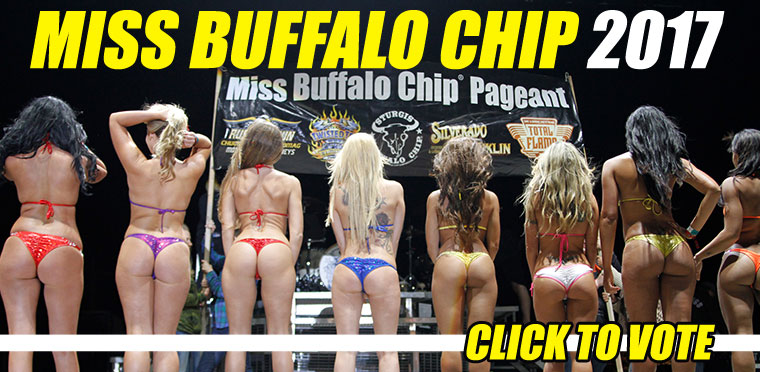 These events at the Best Party Anywhere® will undoubtedly make for the most unique vacation experience of your life.
What will you be doing during this year's Sturgis Rally… playing it safe at home or creating crazy memories during the Best Party Anywhere? Tell us in the comments below!